This 24 Carat Gold NES Will Set You Back a Whopping $5,000
---
---
---
John Williamson / 7 years ago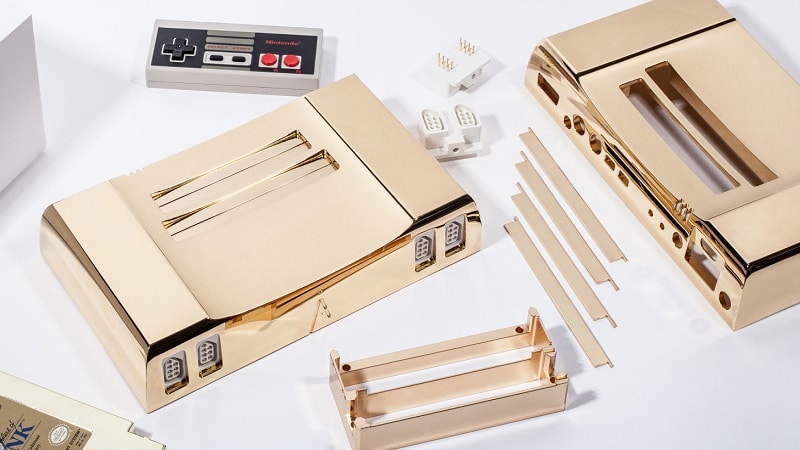 The Nintendo Entertainment System revolutionized the video game industry and instigated a new era of incredibly successful home consoles. Even though the Atari 2600 had its charm, the games were quite primitive and overly simplistic. In contrast to this, the NES was home to a number of iconic franchises including Mario, Zelda, Contra, Kirby and more! Evidently, Nintendo's innovation helped forge the modern gaming industry and many of their creations are still just as popular today. For example, retro collectors often browse auction sites to acquire NES titles, or attend conventions to try to acquire their favourite games at respectable prices.
To honor the 30th anniversary of The Legend of Zelda, console maker Analogue has unveiled a 24-carat gold NES console. In a similar vein to their other projects, the company creates a new NES instead of refurbishing the original model. As you might expect, the extremely high gold value has a marked impact on the retail price and there's only 10 units available. This isn't surprising when you consider the staggering $5000 price point which also comes with a gold-plated Legend of Zelda cartridge. So what are you waiting for? Oh right, the absurd cost! Of course, this is intended to be the ultimate addition to a Nintendo aficionado's collection and individuals who purchase retro games are renowned for spending huge sums of money.
It's not uncommon for certain rare titles to cost above $1000, and many collectors see these as an investment for the future. The NES is an absolutely fantastic piece of video game history but I'd personally prefer to own the original hardware instead of a gold-plated modern alternative. The price really is mind-blowing and I'm interested to see how many units the company can shift. I'm met some very passionate Nintendo fans but I'm pretty doubtful that any of them would even consider this unusual creation.