Toshiba Introduces Next-Generation FlashAir Wireless SD Card
---
---
---
Bohs Hansen / 6 years ago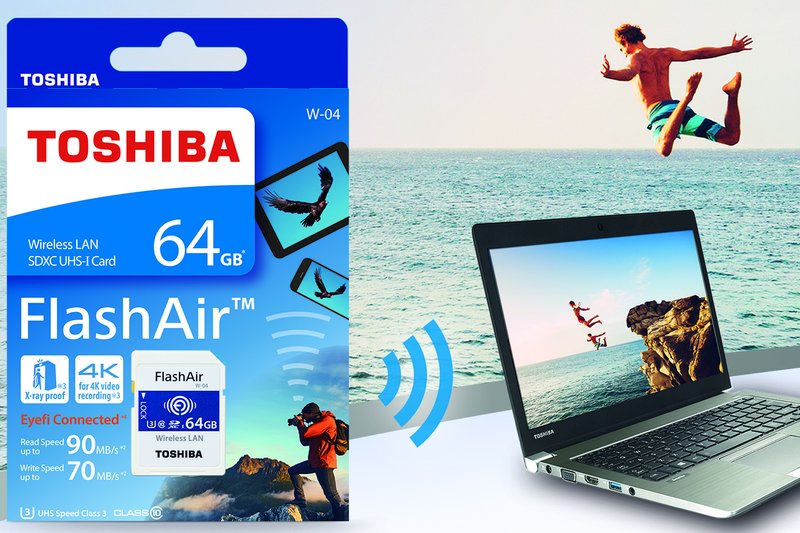 Toshiba is ready to showcase their latest wireless memory cards and they're starting to do so at CeBIT this week. The new FlashAir wireless cards are the fourth generation and as you would expect, they come with an improved performance over the predecessors.
FlashAir products are SD cards with built-in wireless network functionality. This allows data stored on the card to be transferred to external devices such as PCs, smartphones, and tablets without them being removed from the camera they're seated in. The 4th generation of FlashAir will be compatible with the UHS-I standard and offer UHS speed class 3 to support 4K video recording. The maximum read and write performance is rated at 90MB/s and 70MB/s respectively, for direct connections, and wirelessly they've been tested to deliver a performance of 31.4Mbps. That is approximately 2.9 times faster than Toshiba's previous and 3rd generation FlashAir.
The fourth generation Toshiba FlashAir memory cards feature a new processor design that enhances the wireless performance as well as the standard SD memory card functionality. It also comes with Eyefi Connected feature that prevents a camera from automatically powering off when a wireless transfer is in progress. Of course, the camera also needs to support the Eyefi Connected function.
Toshiba's new FlashAir cards will start shipping in Q2 CY2017 and be available with capacities of 16GB, 32GB and 64GB. Toshiba didn't reveal any pricing at this time.