Toshiba MQ02 Series 500GB SSHD Review
---
---
---
Bohs Hansen / 7 years ago
Introduction
---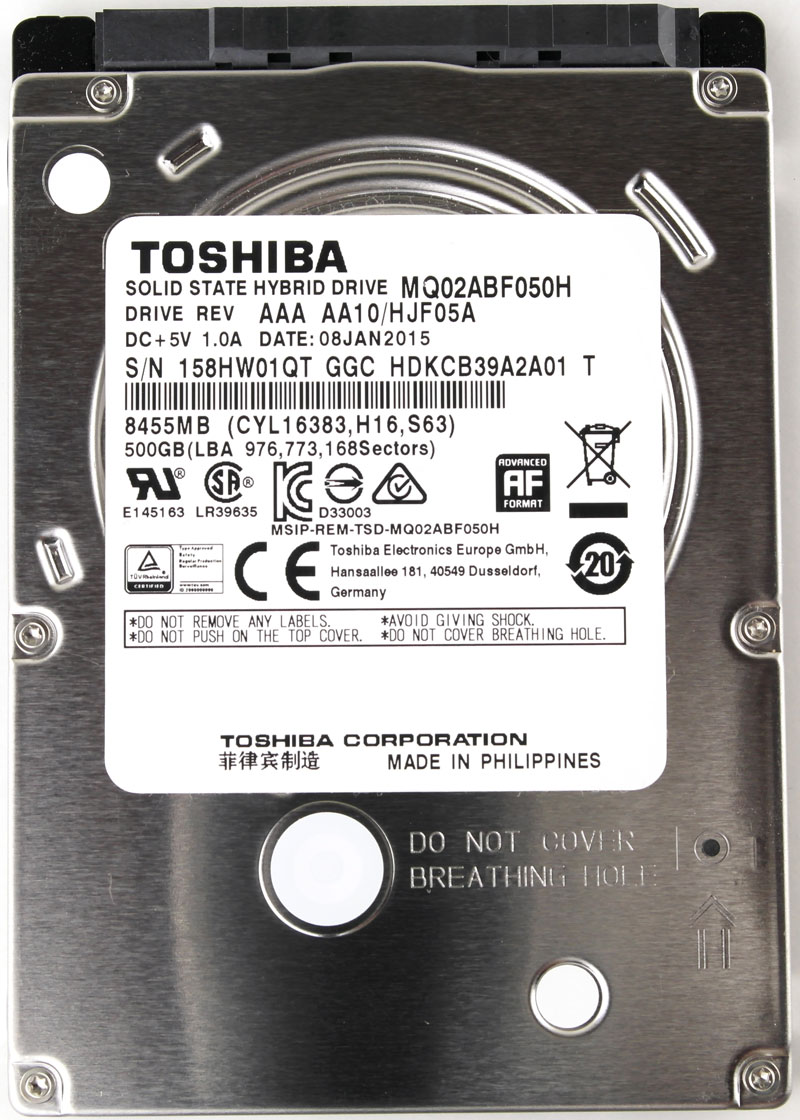 There are a lot of storage drives on the market to choose from and picking the right drive is a matter of budget and situational needs. Notebook users don't have as many choices as they're often limited to the 2.5-inch form factor and today I'm taking a look at such a drive.
We've got Toshiba's latest 2.5-inch Solid State Hybrid Drive (SSHD) on the testbench, the MQ02 series. The Toshiba MQ02ABF05H is an extremely silent 2.5-inch drive SSHD with 500GB capacity, but it is also available as 1 TB version.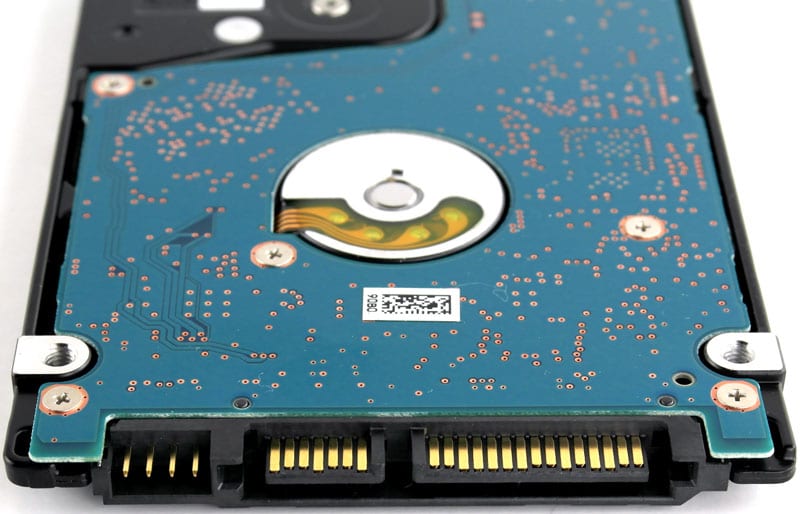 The hybrid drives combine two things from different worlds into one, the cheap storage, storage capacity, and reliability of mechanical hard drives and the speed of NAND-based SSDs. The drive will sort the most used files into the flash memory for speedy access while keeping the cold data on the mechanical part of the drive.
This method will provide you with better boot times than traditional hard disks and your most used apps will too. This is an ideal drive to upgrade older notebooks and give them a needed performance boost.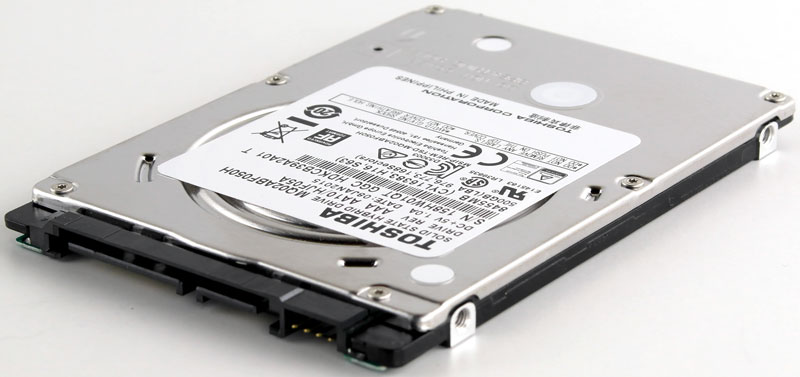 The SSHD's self-learning algorithm is optimized by Toshiba for 2-bit-per-cell MLC NAND and will continue to develop throughout the lifespan of the drive, constantly improving your PC's performance. This is also one of the things that make this drive a tough one to benchmark. It will not show its true potential in synthetic tests.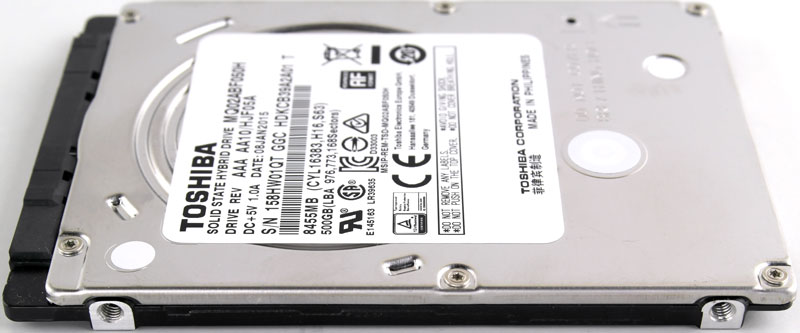 There is a good chance that you'll take this drive with you on the road inside a laptop and you'll want your data to be secure while doing so. The MQ02 SSHD features a carriage lock mechanism that prevents the heads from sliding off the ramp and onto the media during power off. Activated automatically upon power down, the lock protects your drive from shocks of up to 900 G.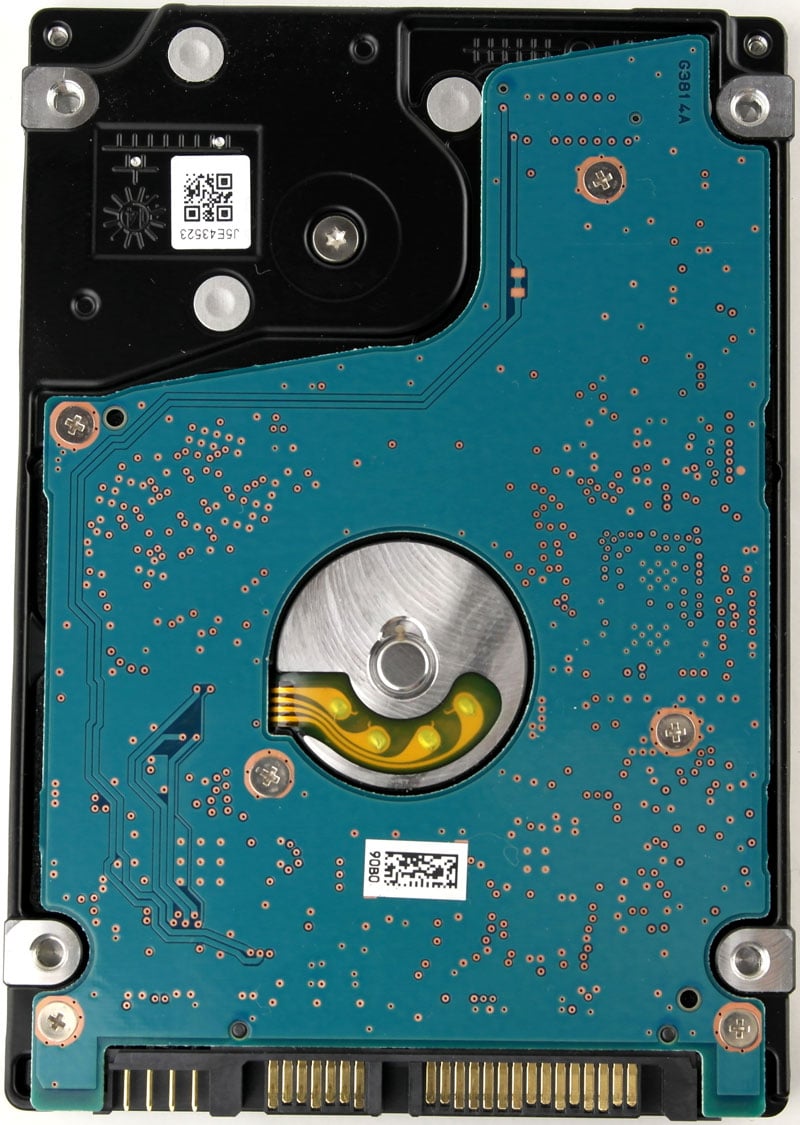 As with all Toshiba SSHDs, the MQ02 Series is halogen-free and RoHS compatible, making it a very environmentally friendly drive. That is continued in the adaptive power mode and serial ATA devices reduce power consumption without affecting performance. Supporting three levels of idle mode, the SSHD is supremely efficient and only draws up to 2 W during seek.
The mechanical drive has a spindle speed of 5400RPM and comes with 64MB cache. The  NAND part is 8GB big, enough to store a lot of frequent access data.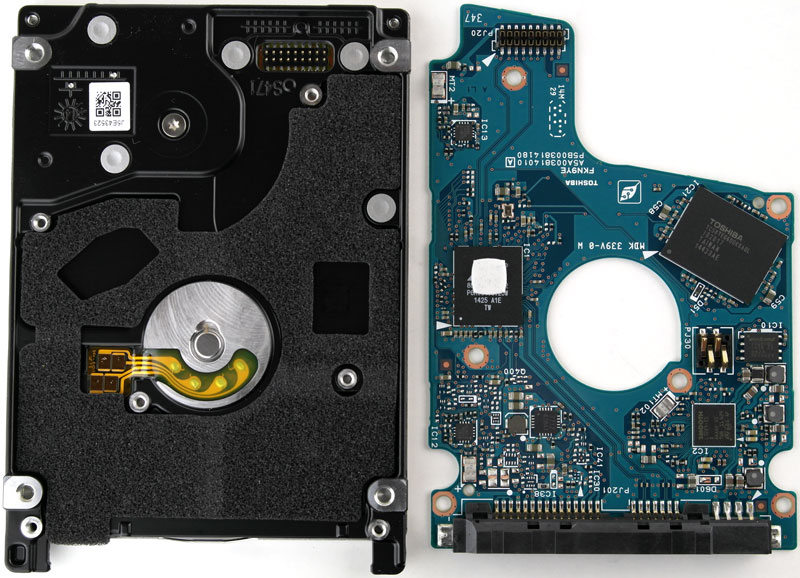 Toshiba is the only storage vendor that designs and develops both HDD and NAND flash memory that are the two core components of SSHD technology. This gives us a good security that they know what they are doing and that we get a quality drive.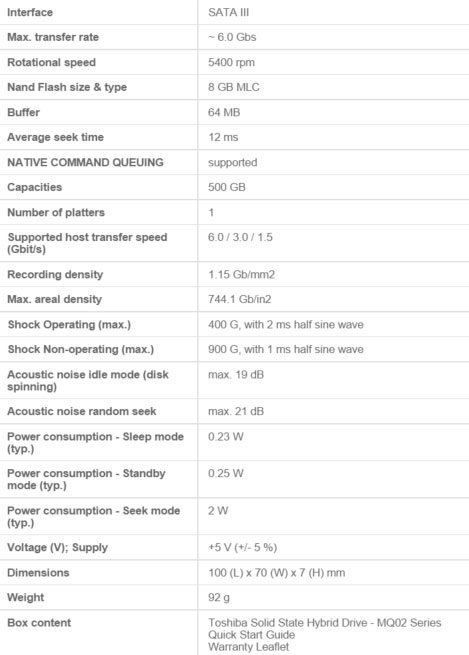 We see a Marvell 88i9412 controller on the PCB along with the Toshiba MLC NAND and the Smooth L7289 spindle motor controller.