Toshiba N300 6TB NAS HDD Review
---
---
---
Bohs Hansen / 6 years ago
Introduction
---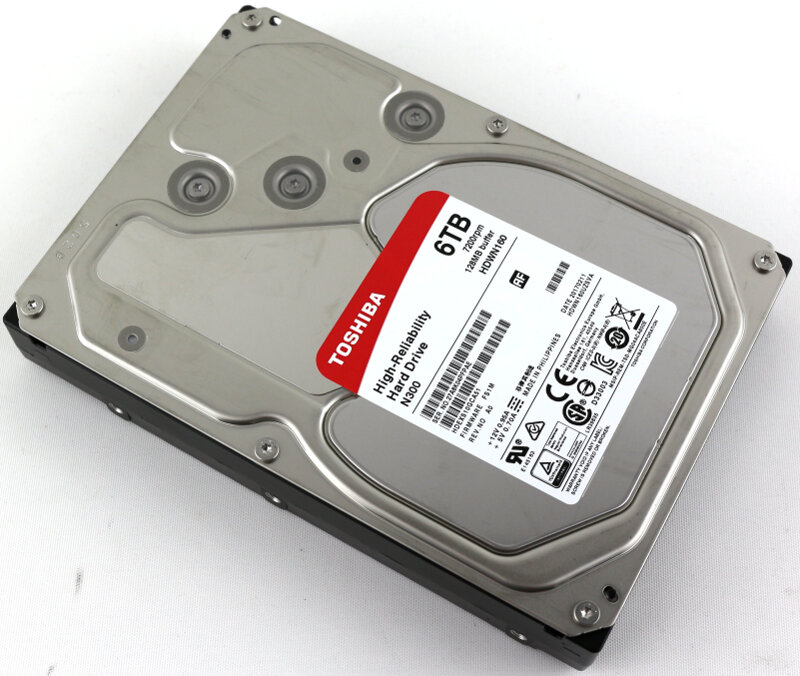 Toshiba released their new N300 series of hard disk drives designed for use with NAS devices a little while ago, and I'm pleased to have the 6TB capacity version in my lab for a closer look and some benchmarking today.
Toshiba is one of the largest growing storage companies at the moment and we already had a look at their X300 desktop series a little while ago. Today we're moving towards headless units with the N300 series designed for NAS usage. Toshiba worked closely with NAS manufacturers in order to deliver a product that is optimised for NAS usage, and the N300 is just that. It is certified for 24/7/365 usage in multi-RAID systems with up to 8 hard disk drives. Whether it is for streaming, backup, or archiving, the N300 delivers.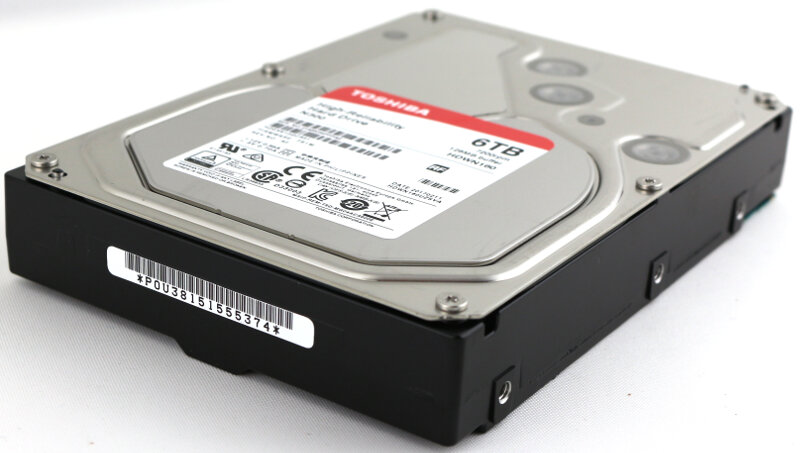 There are two main reasons, besides endurance, why you will want to use a NAS optimised drive in your NAS device: Vibrations and heat. Storage setups are tightly packed with a lot of storage drives which creates both vibration and heat. Vibrations from the system itself and the other drives can impact the performance and damage the drives if they aren't designed for this kind of usage.
The Toshiba N300 drives feature RV sensors that help the reliability y minimising vibration effects through advanced control and sensing technologies. Multiple sensors detect the slightest shock and built-in RV sensors also compensate for rotational vibration. That eliminates the possibility of 'knock-on' vibration in multi-bay NAS configurations system.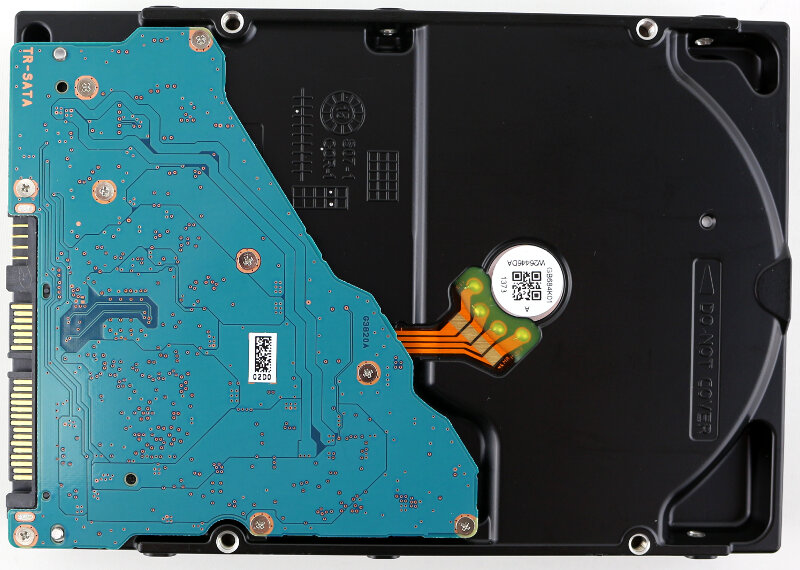 The components used for the drive are of high quality and allows the N300 series to offer better durability than desktop hard disk drives. At the same time, automatic adjustment of seek speed to reduce heat during high-temperature operation further improves endurance in demanding situations.
While we're talking endurance, let's dive into the numbers too. The N300 series is rated for a work load of 180TB per year and it is backed by a 3-year warranty for this. The mean time before/to failure (MTBF/MTTF) is rated at 1 million hours. Those are some good numbers for a drive like this and it should provide a stable storage container for your files for a long time. Naturally, the drive is certified for 24/7/365 usage.
The data transfer speeds variate a little depending on the capacity. The largest 8TB model can deliver up to 240MB/s throughput, the 6TB that I'm testing today can deliver up to 210MB/s, while the smallest 4TB model can deliver 200MB/s. They all feature a 128MB cache and an average access latency of 4.17ms. This is achieved through the 7200 RPM spindle speed which results in a 33dB to 35dB acoustic level.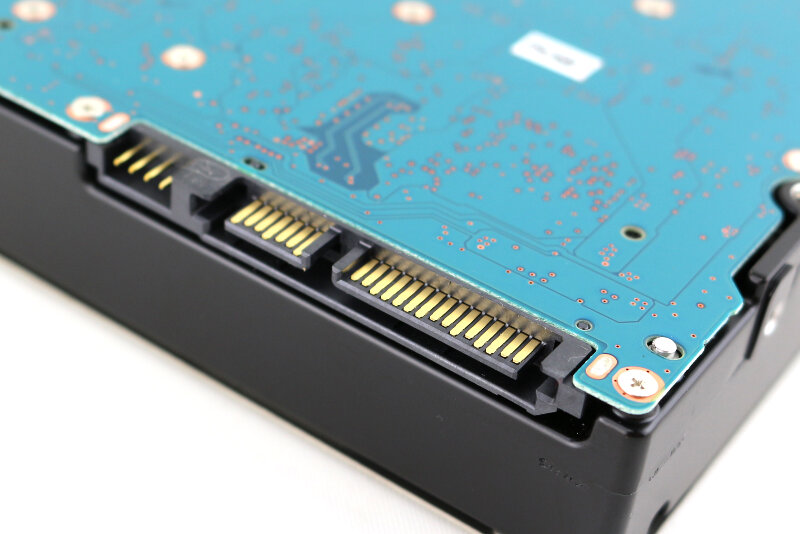 Feature Highlights
Optimal for 1-to-8 Bay NAS
4 TB / 6 TB / 8 TB capacity
7200 RPM spindle speed
High reliability and enhanced real-time performance
High anti-oscillation performance
Heat prevention technology
High-endurance design
Data protection technology
Specifications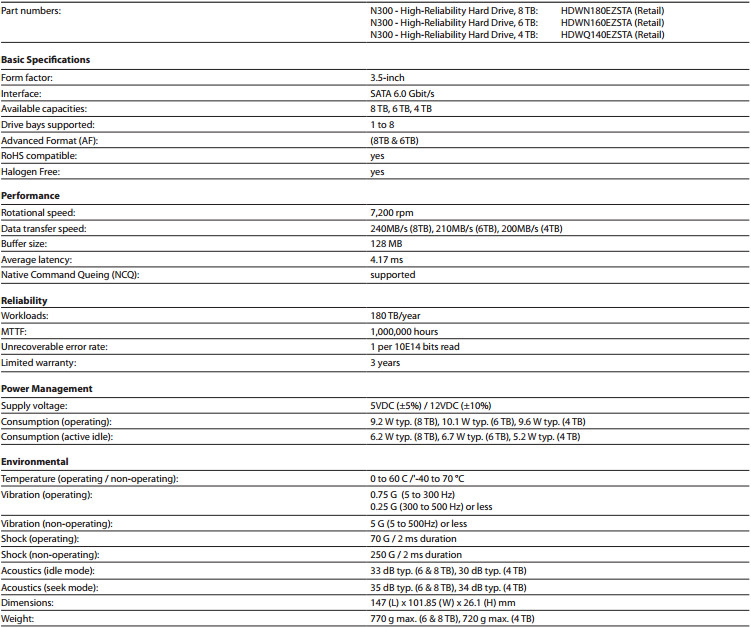 Package and Accessories
The Toshiba N300 is available as OEM drive and as the retail version that I received here. The retail package shows the highlights such as capacity and usage scenario on the front, so you know what you're dealing with right away. The sides have a few more details on the features.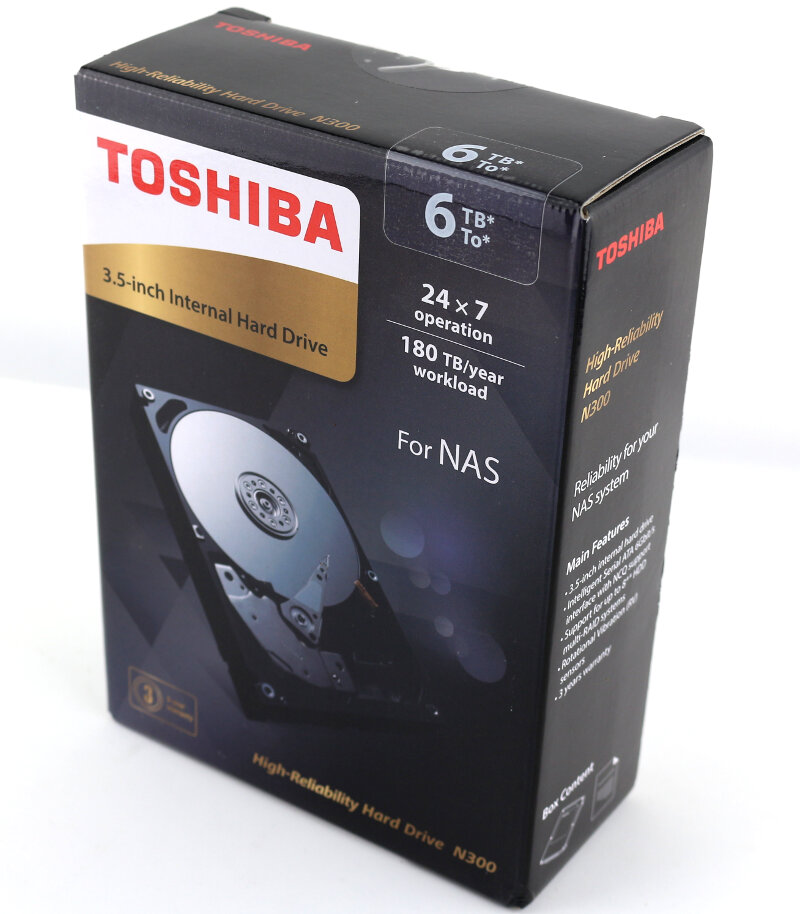 There are detailed information on the rear of the package in several languages.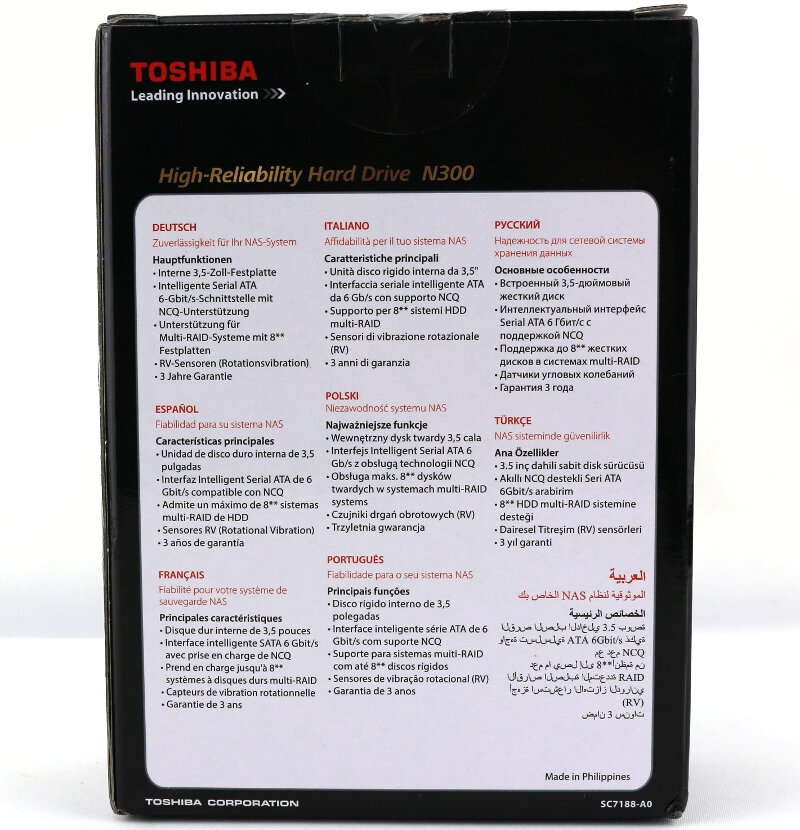 The drive is well secured in an air-pocket wrapping inside the package where you'll also find a small installation and safety guide.