Toshiba Now Sampling 64-Layer, 512-Gigabit 3D Flash Memory
---
---
---
Bohs Hansen / 7 years ago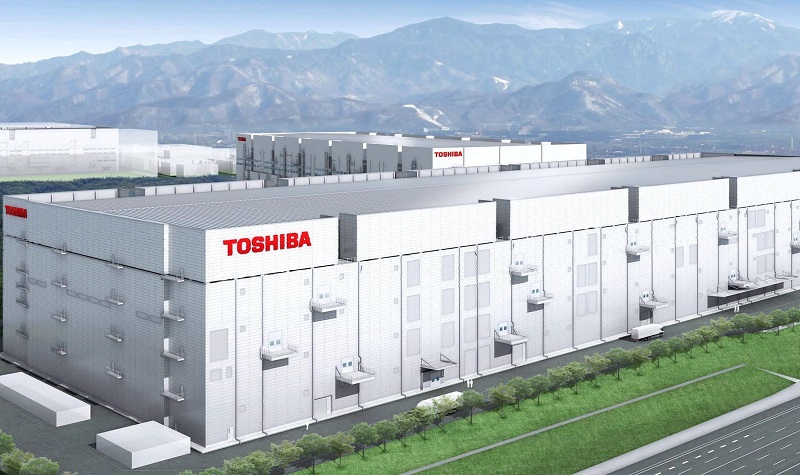 The cooperation between the large NAND manufacturers to create BiCS (Bit Cost Scaling) flash memory is bearing its fruits. Toshiba has now unveiled and announced its latest addition to the industry-leading three-dimensional flash memory, a 64-layer device that achieves a 512-gigabit (64-gigabytes) capacity with 3-bit-per-cell (triple-level cell, TLC) technology. The new memory will be used in both upcoming enterprise and consumer SSDs. The sample shipment has started this month, and the mass production of it is scheduled for the second half of this calendar year.
Toshiba has big plans for their BiCS which is shown in both their continued research and improvement in the area, but also because they just commissioned a new factory dedicated to this type of flash production. The next milestone for the company is already in development and it will e the industry's largest capacity NAND package: A 1-terrabyte product with a 16-die stacked architecture in a single package. Now, if you look at back at our SSD reviews that show the number of packages possible to fit into a 2.5-inch SSD and onto an M.2 module, then it's easy math to get an idea what we can look forward to in regards to storage options. Samples of those are planned for April this year.
The improvements in the BiCS memory will help the current NAND shortage as it's simply possible to create more capacity per wafer. For the new 512-gigabit device, Toshiba deployed leading-edge 64-layer stacking process to realise a 65% larger capacity per unit chip size than the 48-layer 256-gigabit (32-gigabytes) device. That has increased the memory capacity per silicon wafer and also reducing the cost per bit. Cheaper production costs mean cheaper products or products with more capacity for the amount of money – and we all like that.
Toshiba's Memory business already mass produces 64-layer 256-gigabit (32-gigabytes) devices and this seems like the next natural step in the evolutions.