Toshiba OCZ RC100 240GB M.2 2242 NVMe SSD Review
---
---
---
Bohs Hansen / 3 years ago
Introduction
---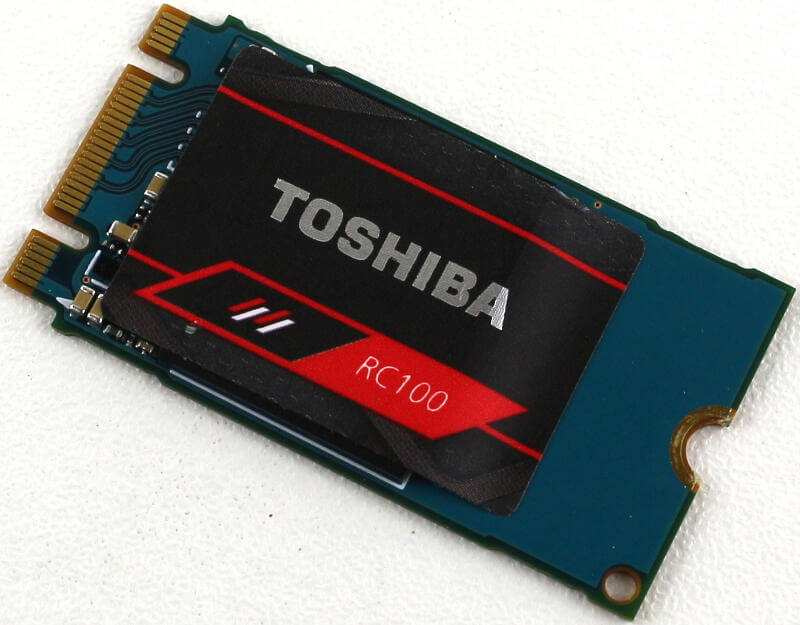 Toshiba OCZ RC100 M.2 2242 NVMe SSD
NVMe SSDs are no longer reserved for the high-end market as they once were. We've seen more entries into the budget-end recently and today I'm taking a closer look at such a solution. On the test bench is Toshiba's OCZ RC100 M.2 NVMe SSD (product link) which comes in capacities from 120GB to 480GB. That in itself isn't unusual, but the form factor is. Most of the M.2 drives we see these days come in a standard 2280 form factor, but not the RC100. This little drive is a 2242 module which will fit the smallest systems.
Toshiba OCZ RC100 Hardware Components
There is a lot that is unusual about Toshiba's RC100, at least when you compare it to the SSDs which we usually test. I've already mentioned that it comes in a smaller form factor, but that's not all.
The RC100 continues Toshiba's line of Ball Grid Array (BGA) SSDs. On these SSDs, everything is stacked into a single chip. The controller, NAND, and sometimes DRAM, all in one BGA package. That makes the drives highly suitable for small form factor systems as everything can fit on a 2230 module. For compatibility reasons, Toshiba increased the size to a 2242 module which is supported in most systems.
The BGA package on the RC100 is made up of an unnamed Toshiba controller and their 64-layer BiCS3 3D TLC NAND. There is no DRAM within, but there's something else.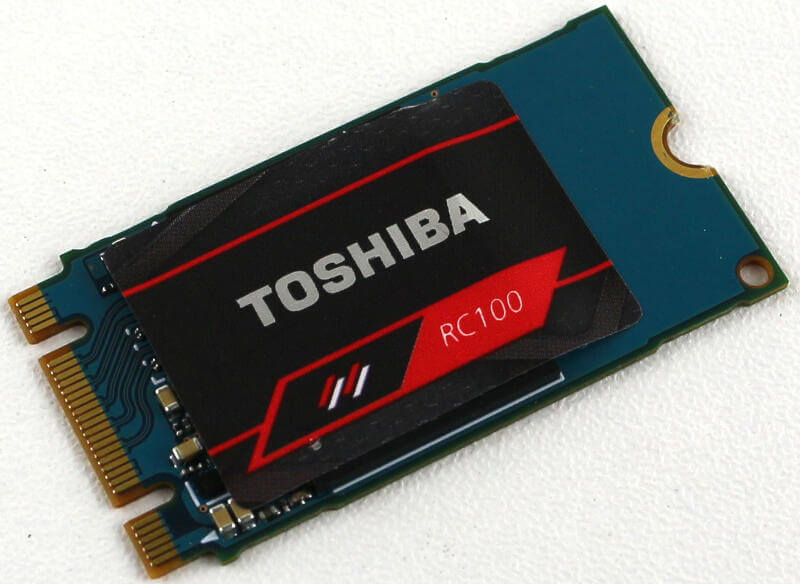 NVMe HMB Instead of DRAM
Without DRAM, you'd expect a drive to perform lower than those with. And yes, that is kind of the truth. While there is no DRAM included in the RC100, there is support for NVMe Host Memory Buffer (HMB). HMB is a feature which was implemented with the NVMe 1.2 specifications. While NVMe 1.2 has been finalised since 2014, we haven't really seen drives take advantage of it yet – mostly because of the lack of driver support until recently.
So, what is HMB? Well, without getting too technical, it allows the SSD to use a small part of your system's memory instead of onboard DRAM. As a user, you won't notice the small part which the SSD grabs, but the drive will perform equally to one that has the DRAM. But the drive gets cheaper, smaller, and uses less power. All the things we like.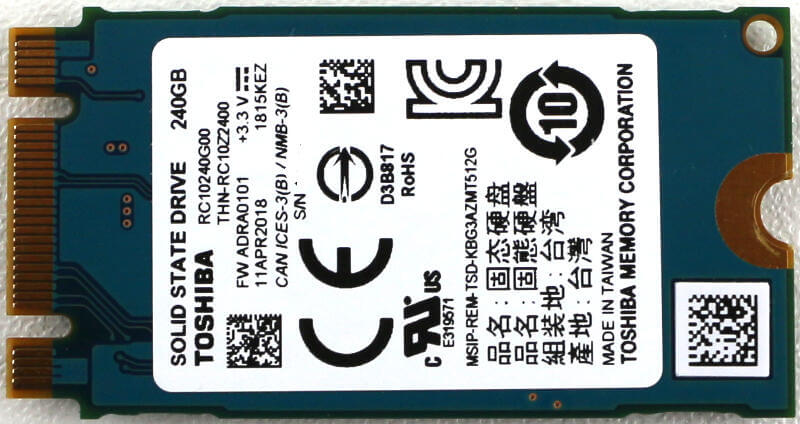 Performance
Okay, I've talked performance above, but not mentioned any figures. So let us get to them. As with any drive, there are differences between the capacity options and it is no different with Toshiba's RC100. The 240GB model which I'm testing today can deliver up to 1600 and 1050 MB/s at sequential read and writes. The random performance comes in at 130K and 110K IOPS when reading and writing. The larger 480Gb model can write a little faster with 1100MB/s and the random performance goes up to 150K when reading. The smallest 120GB model is also the one with the lowest performance figures. Here you get up to 1350 and 700 MB/s sequential and 80K and 95K random read and write performance.
Endurance
With a tiny drive like Toshiba's RC100, you might get worried about the endurance. However, there is no reason to be. Toshiba rates the RC100 for 0.45 DWPD which equals to 120 TBW for the 240GB model. It is slightly less than ordinary SSDs, but barely. Toshiba backs the drive with a standard 3-year warranty and it has a 1 million hours MTBF.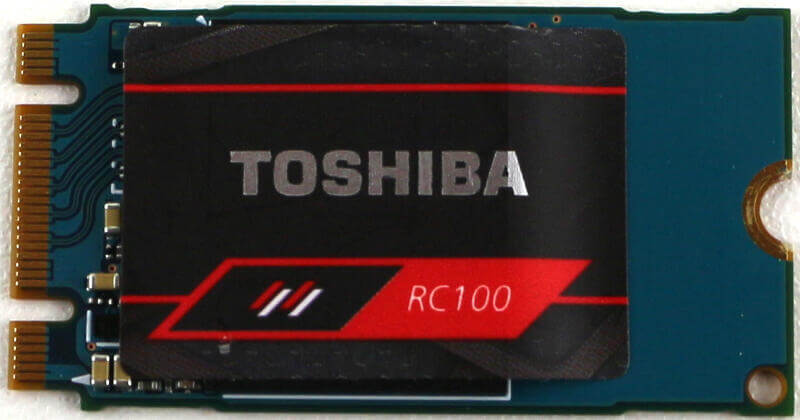 SSD Features
Toshiba didn't pack the RC100 with a lot of features, but you do get the basics such as TRIM and idle-time garbage collection. There is also support for the SSD Utility which is an SSD management software.
What Does Toshiba Have to Say About this Drive?
"Want to take advantage of the latest storage technologies without breaking the bank? The Toshiba OCZ RC100 brings NVMe to everybody with performance surpassing that of SATA drives, but without the killer cost. Based off Toshiba's single package BGA SSDs, the RC100 brings strong performance and power efficiency in a compact form factor suitable for both desktops and laptop systems."
Feature Highlights
Better than SATA-SSD Performance
Affordable NVMe Solution
Power-Optimised Architecture
Small 2242 Form Factor
Power by 64-layer BiCS3 Flash
Package and Accessories
The package looks very familiar as it is the same type we're used to from Toshiba and OCZ SSDs. It could have been a lot smaller due to the drive size, but it makes things easier from a factory point of view when every drive has the same type of package.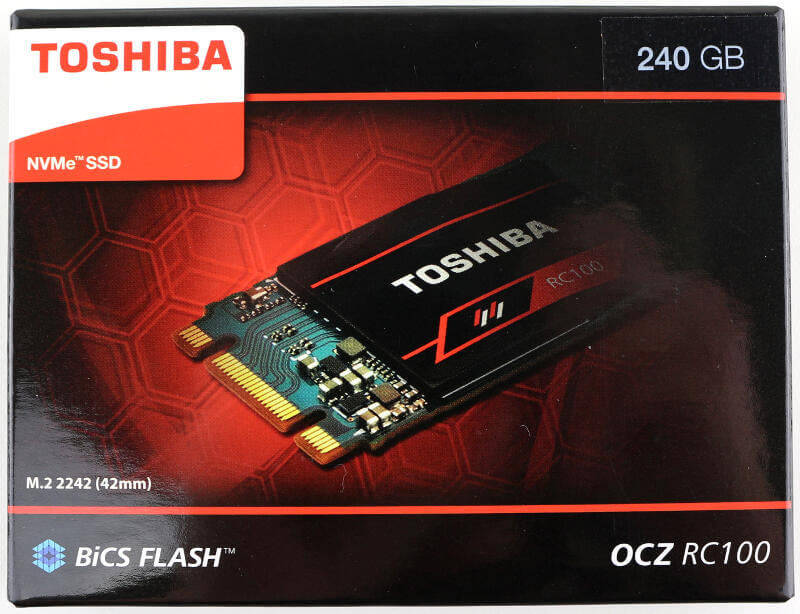 The front has the most vital features mentioned such as the drive size and capacity. On the back you'll find a few more details as well as links for more detailed specifications.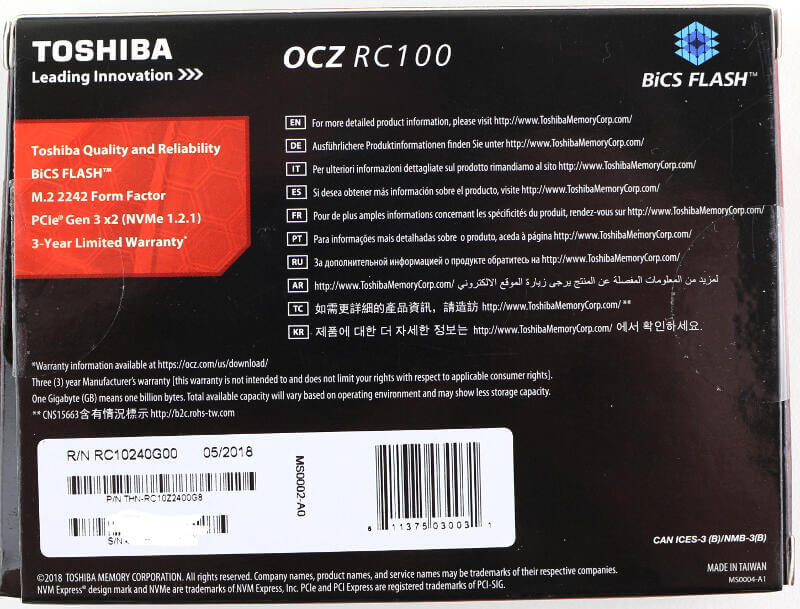 Inside is a small quick-start manual as well as the drive itself.