Toshiba Reveals 768Gb BICS3 QLC With TLC Like Endurance
---
---
---
Samuel Wan / 4 years ago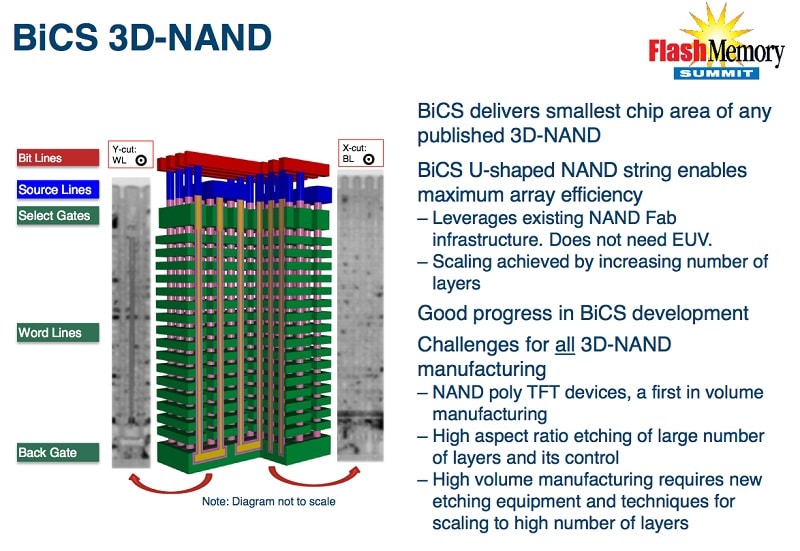 Over the past year, one of the biggest stories is the ongoing NAND and DRAM shortage. With the rise of SSDs, the market has developed an insatiable demand for flash memory storage. In order to meet demand, many fabs are moving to ever denser 3D TLC. Western Digital and Toshiba recently revealed their 96 layer BICS4 3C TLC for instance. Due to the massive demand, some manufacturers, such as Toshiba, are now experimenting with QLC.
QLC NAND  or Quad Level Cell is currently the densest NAND you can get using any given manufacturing process. At the top, we have SLC which stores 1 bit per cell. MLC doubles that to 2 bits and TLC to 3 bits. SLC only needs to manage one voltage level, MLC 4 and TLC 8. Once you get to QLC, you're managing 8 bits and 16 different voltage levels. Due to the greater level of voltage differentiation, performance and endurance tank. This has meant QLC has largely been regulated to slower devices like flash drives. With their latest QLC, Toshiba is aiming to change this paradigm.
Toshiba BICS3 QLC Hits 1000 P/E Cycles
With the new BICS3 768Gb QLC 3D NAND, Toshiba is claiming a P/E endurance number of 1000 cycles. Using a total of 64 layers, the new NAND may be competitive against the current budget standard TLC. At 1000 cycles, that is just reaching into the area of TLC which is about 1000-1500 cycles. Compared to the 100-150 cycles expected of regular QLC, Toshiba has done some black magic to have performance an order of magnitude higher.  To hit these numbers, Toshiba is likely using their new QSBC (Quadruple Swing-By Codes) error correction as well as process tweaks.
If this new QLC is density competitive against TLC, we may soon see QLC SSDs make their way into the market. While 3D MLC and 3DXPoint push the boundaries of performance, QLC and TLC will continue to meet the massive consumer demand. Once QLC becomes viable, we may finally see price/capacity of SSDs reach parity with HDDs. With Toshiba already sampling QLC to customers, that day is inching ever closer.