Toshiba Unveils MG07ACA 14TB CMR HDD for Enterprise
---
---
---
Ron Perillo / 4 years ago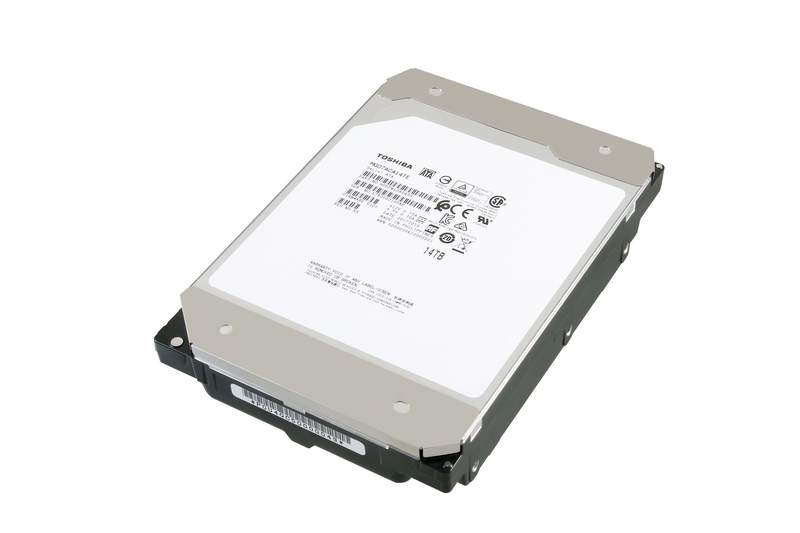 Toshiba is announcing the launch of their MG07ACA series drives up to 14TB in capacity. The company claims that these are the world's first Conventional Magnetic Recording (CMR) HDD. It uses a 9-disk, helium-sealed design that is power efficient and perfect for cloud-scale storage providers.
"We have raised the bar with the new MG07ACA Series 9-disk helium-sealed design". Said Akitoshi Iwata, Vice President of Storage Products Division at Toshiba. "By utilizing an innovative design, we continue to improve the benefits that high-capacity disk storage can deliver to our broad global customer base."
Available in 14TB and 12TB Capacities
"While enterprise server and storage customers realize that shingled magnetic recording (SMR) technology can improve HDD capacity, the adoption of SMR HDD products into server and storage systems is a transition that will take several years," according to John Rydning, Research Vice President for hard disk drives at IDC. "Toshiba Electronic Devices & Storage's new helium-sealed enterprise HDD is the world's first 14TB of storage capacity using conventional rather than shingled magnetic recording technology, giving enterprise customers the highest capacity HDD available in the market today for existing server and storage system architectures."
Aside from the 9-disk 14TB version, a 12TB 8-disk model also exists. Moreover, each use a 3.5-inch form factor supporting a SATA 6Gbit/s interface and 7200 RPM access performance. The new 9-disk 14TB model is actually 50% more power efficient than previous models.
For more information on our full line of HDD storage products, please visit: https://toshiba.semicon-storage.com/ap-en/product/storage-products.html