TteSports Challenger Gaming Keyboard Review
---
---
---
Peter Donnell / 9 years ago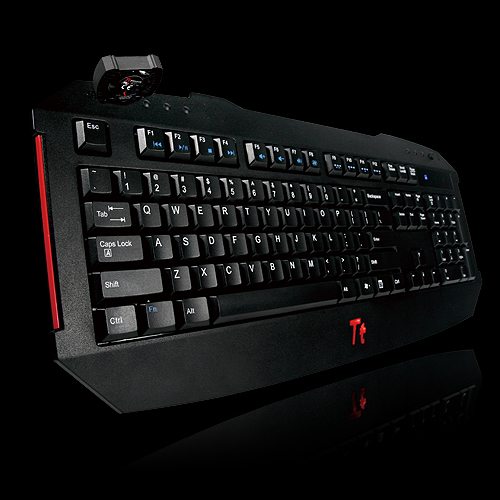 In the office today we have the Challenger gaming keyboard from TteSports, a budget friendly and somewhat unique gaming keyboard that features a rather interesting feature (gimmick), a cooling fan!
TteSports have a great product line up, and the moment and they've got some of the top gaming peripherals on the market too, of course that is a subjective matter, but I have to say I am a big fan of their gaming mice as well as their mechanical keyboards. Yet for all their fancy toys the best part of TteSports for me is their prices, they do seem to offer the best return for your investment and the Challenger keyboard looks set to do the same. Priced at around £25 its far from being expensive, I would even go as far to say this its a pretty modest price tag for any standard membrane keyboard, let alone one that's been designed with gaming in mind, or that comes with high-end gaming brand name on the box.
Of course, price is nothing if the performance and quality are worthless, but TteSports have proven themselves in the past and I expect to find the same standards here today. Given how involved TteSports are with pro gaming and the eSports scene, they have quite a reputation to maintain and I doubt their in a hurry to ruin that reputation with an inferior product. Yet at £25 I can hardly expect this to be the best keyboard in the world, but it will be interesting to see just where it fits in as TteSports have little to no competition for a full size gaming keyboard within this price range.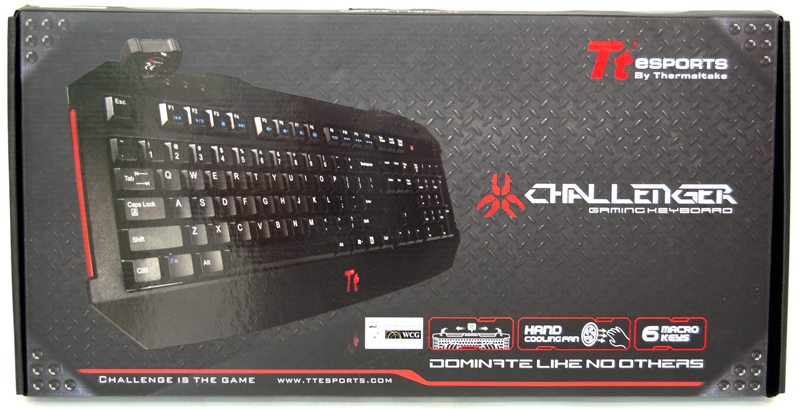 The Challenger comes as nicely packaged as anything else in the TteSports range, featuring a really nice styled box, with a good image of the keyboard and a few logos that detail some of the major features such as the cooling fan and macro keys.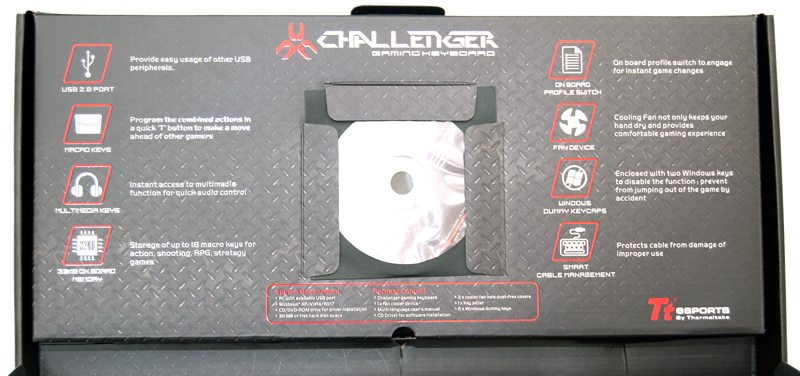 Inside the box we have a fold up panel that features some further details on features such as the USB port (input), Macros, multimedia keys, 32KB memory and more.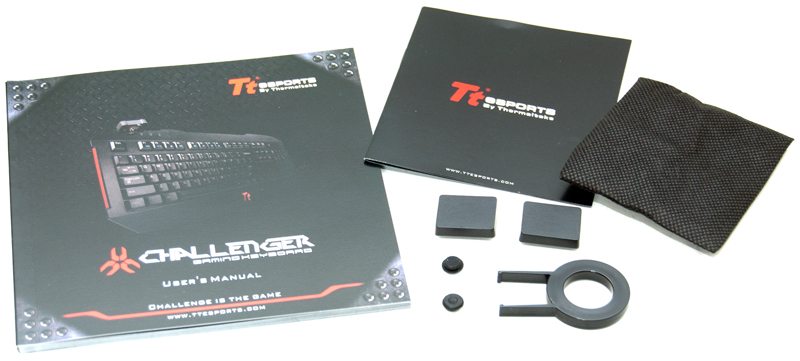 There are a few nice little extras in the box too, aside from the manual and setup guide we have a little black pouch that contains two false key caps for the Windows keys, a key cap removal tool and two rubber plugs that can be used to cover the fan mounting holes to keep dust out.

The keyboard is hard-wired, but it does still feature a really nice quality braided cable.

The keyboard its self features a full size layout with an extra wide chassis, this provides a sturdy looking design and also offers up a built-in wrist rest.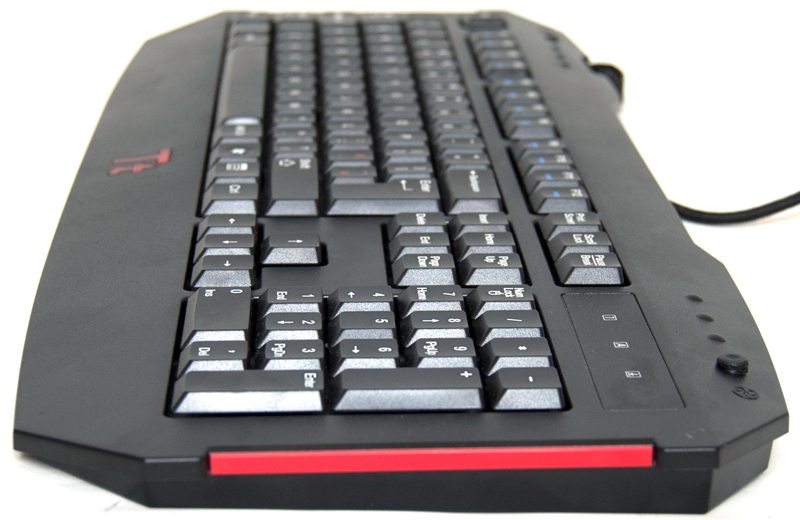 A stylish little strip of red down each side serves no purpose, but it does add a touch of colour to an otherwire fairly dull colour scheme (not unlike 99.9% of keyboards).

Around the back you can see a single USB 2.0 port, perfect for your headset, USB drive, or similar device and it means the Challenger won't leave you one USB port down after connection the device. More interestingly is the little device you can see on the right, which is in fact a tiny fan.
It's a fairly simple and inoffensive little thing, with a simple jack plug on the base ready to be clipped into the keyboard.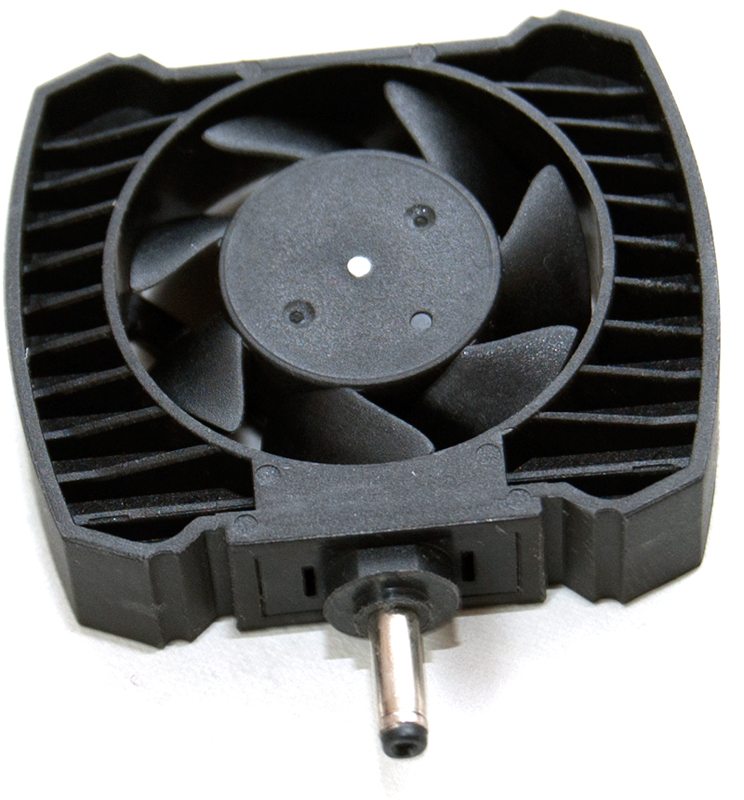 It doesn't look to fancy but its pretty compact and it feels fairly robust too.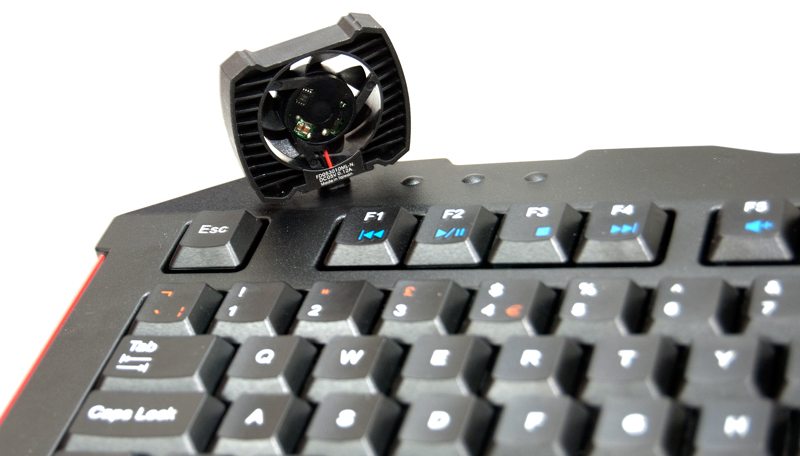 It's as simple as plug and play, clip it onto either the left or right side of the keyboard and it will provide a nice little breeze across your finger tips.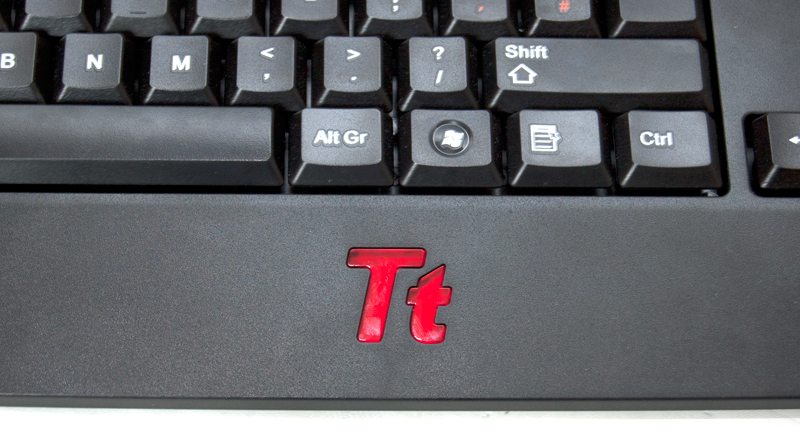 The keyboard features the usual Tt logo in the centre of the wrist rest and while it doesn't feature LED lighting or other fancy features it does add a nice touch of style to the overall design.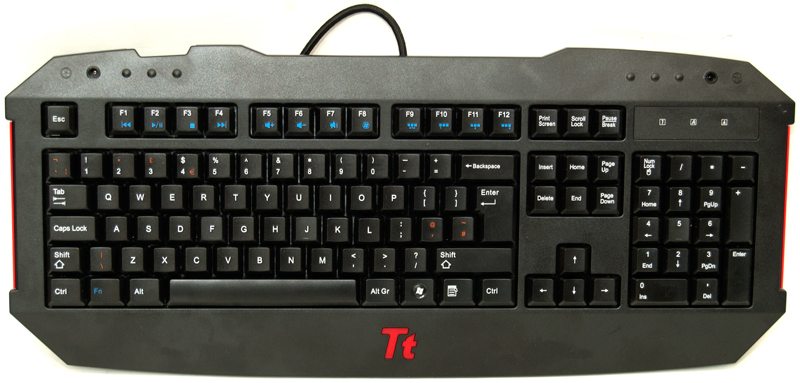 The Fn key opens up a full set of multimedia keys that are paired with the top Function keys, handy for controlling your music and volume mid game.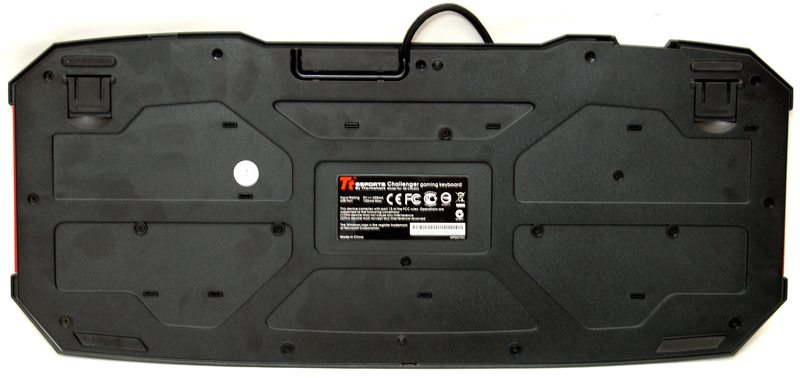 the reverse of the keyboard is pretty basic, featuring four rubber feet and two fairly standard flit up stands.


Setup & Installation
The keyboard is super easy to set up thanks to its plug and play design, windows found the drivers straight away and the included driver CD serves as a nice backup.
Gaming
I put the keyboard through its paces in a few of my favourite games, although since I've spent more time playing League of Legends recently than anything else it was a great way to really put the keyboard through its paces. While I didn't have anything bad to say about its performance, I've nothing amazing to say either, it's just a membrane keyboard with a few macros tacked on. It is however quite nicely laid out and the key height, wrist rest and the little fan make for a relaxing gaming position, so it's not exactly bottom of the list in terms of performance.
General Performance
As far as budget keyboards go this isn't too bad to type with on a daily basis, sure it's not as nice as the TteSports Knucker, or their Meka mechanical keyboards, but it was never designed to be either, it's just a straight forward keyboard, with a few little bonus features tagged on to improve its value. If you're looking for something to do some light gaming, a bit of work and some web browsing, then this is the perfect tool for the job.
I think TteSports may be over selling this keyboard a little by calling it a gaming keyboard, even though they're a gaming brand and they make gaming products, I just can't see anything that stands out as a major gaming feature on this keyboard. The only feature that really makes a difference are the Macros but even while playing League of Legends I didn't feel inclined to use them to their full potential as I personally much prefer dedicated macro keys.
If I sound like I'm being too hard on this keyboard though, that isn't my intention, this is a great little product. It's really nicely built, TteSports have used some good quality plastics in its construction and design, the Tt inlay looks great and the overall profile of the board is slim and light. The inclusion of a braided cable is also highly welcome and it gives a more premium look to the keyboard overall.
The fan might seem a little bit silly, but that's because it is, its ridiculous, it looks stupid, people will laugh, I laughed, but there is one important factor… it actually works quite nicely! When eTeknix was at iSeries a few weeks back we were in a hot gaming hall and had to do a lot of typing, that little fan blowing across the keyboard was lovely, it's an extra feature and it adds something new to the mix.
What we have here then is a regular keyboard, with better than normal construction and a few little features packed in to sweeten the deal. Sure it's not about to win awards for being the greatest gaming keyboard ever, but as a day-to-day, budget friendly product I think we have a winner. At just £25 your getting a great brand name and a little taste of what TteSports have to offer, but if you want something that is really going to blow you away (no fan pun intended), you need to look a little higher in the TteSports keyboard range.