Tucows Shuts Down its Once Iconic Download Website
---
---
---
Mike Sanders / 2 years ago

Being a relatively early user of the internet (and by proxy regularly annoying my Dad as he picked up the phone to only hear the dial-up crackle), it's pretty hard to describe to someone younger these days just how mad a place the online world used to be. Oh, don't get me wrong, the internet is still nuts, but generally speaking, the madness is much better organized now.
Going back to a time where actually finding software downloads was very difficult (since so many companies had yet to 'go online), however, Tucows represented one of the best websites around. – Put simply, they hosted thousands of software applications meaning that, through a quick browse of their search engine, you could almost certainly find what you were looking for. And better still, it was all in one place! – Well, sadly it seems that all good things must eventually come to an end as following an update to their website, Tucows has announced that their download section has now officially been shut down.
Tucows Downloads is Gone!
Following an announcement by Tucows CEO Elliot Noss, he has confirmed that following the company's highly-successful transition into domain name registrations, they've only largely kept the download portion of their business open for nostalgic purposes. With it generating such little traffic these days, however, it seems that keeping it functional and operational is simply no longer worth the time, money, and/or effort.
"For the past several years, history, well sentimentality, has been the only reason to keep Tucows Downloads around. We talked about shutting the site down before. Most seriously in 2016 when instead, we decided to go ad-free, keeping the site up as a public service.

Today is different. Tucows Downloads is old. Old sites are a maintenance challenge and therefore a risk. Maintaining the Tucows Downloads site pulls people away from the work that moves our businesses forward.

Tucows Downloads has had an incredible run. Retiring it is the right move but that doesn't alter the fact that it will always hold a special place in hearts and our story. We're thankful to the thousands of software developers who used Tucows Downloads to get their software in front of millions of people, driving billions of downloads over more than 25 years."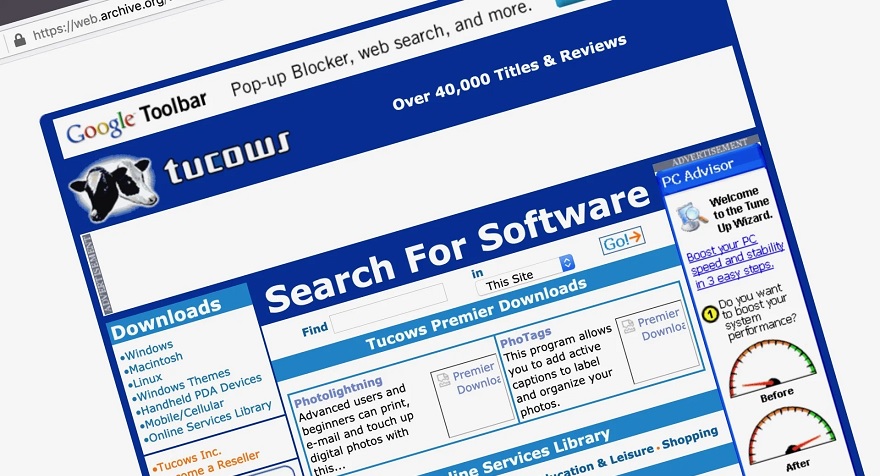 Another Piece of the Old Internet Dies
As noted in their statement, it's sadly a fact that as early websites begin to age and time and technology moves on, there is only so much you can do to warrant their continuance. – I mean, how many of you reading this upon hearing the name 'Tucows' suddenly have a huge bout of the nostalgia bug?… – Well, now it's gone, while I doubt it will ultimately be missed for anything other than the memories, it does perhaps sadly mark yet another piece of early-internet iconography that time has ultimately seen consigned to the achieve!
If you do, incidentally, want to read the full statement regarding the website shutdown, you can click on the link here!
What do you think? – Let us know in the comments!