Turtle Beach Impact 700 Mechanical Keyboard Review
---
---
---
Peter Donnell / 7 years ago
Introduction
---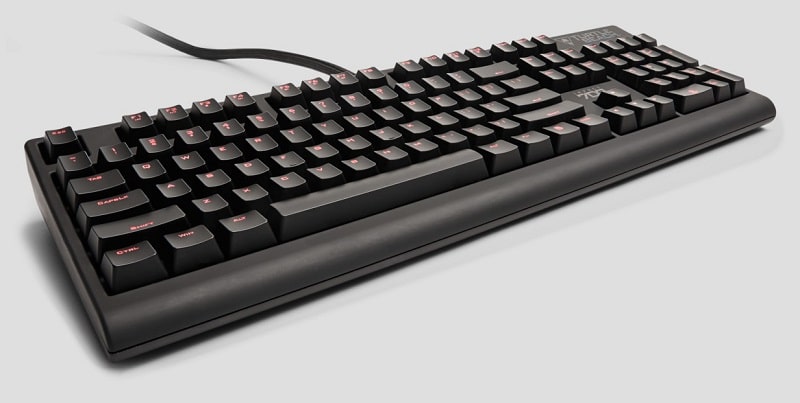 Recently, I've been getting engrossed in the world of Turtle Beach peripherals. The company announced they would be breaking away from being an audio only company, set to explore the world of keyboards and mice and we were very impressed with the products we saw at CES 2015. More recently, we've been lucky enough to play around with their gorgeous GRIP series mice, such as the GRIP 500 which we recently review and if that's just a taste of things to come, we should be in for a real treat with their keyboard products.
"The Turtle Beach IMPACT 700 premium-quality backlit mechanical PC gaming keyboard sports Cherry MX Brown key switches for a smooth responsive, tactile feel and laser-engraved keycaps with keyboard-controlled adjustable soft-to-hard red backlighting and multiple illumination modes, all set in a steel-reinforced chassis for stability and maximum durability. Six-key rollover with full anti-ghosting gives fast-moving fingers instant and accurate gameplay control even when hitting multiple keys, including double or triple taps. The IMPACT 700 also includes 3.5mm mic and audio jacks, and two USB 2.0 ports with direct audio pass-through to support a gaming headset and mouse."
You can't go far wrong with a mechanical keyboard and since the Impact 700 is equipped with Cherry MX switches, we already know were going to get a great quality product. However, given the rather high price of the Impact 700, which we'll get to in a little while, I'm expecting or at least hoping for something really special from Turtle Beach and their new keyboard.
The model I have at my disposal today comes equipped with Cherry MX Brown switches and as you can see from the packaging, it follows a similar design to most other Turtle Beach products.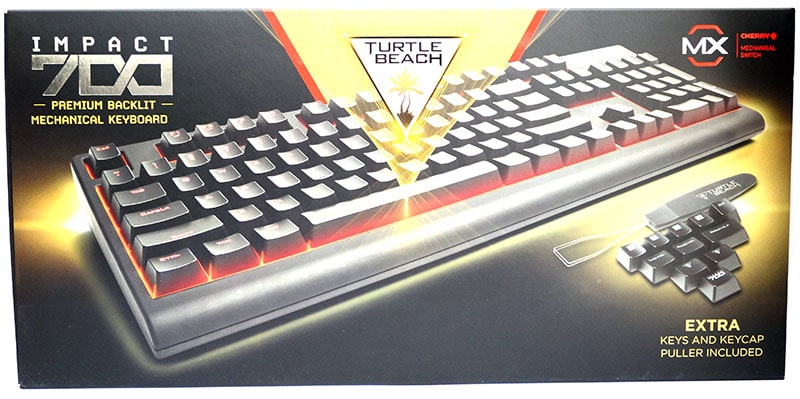 A few cool features on the back of the box, such as audio and dual-USB pass through, LED back-lighting, a steel-mounted chassis and more!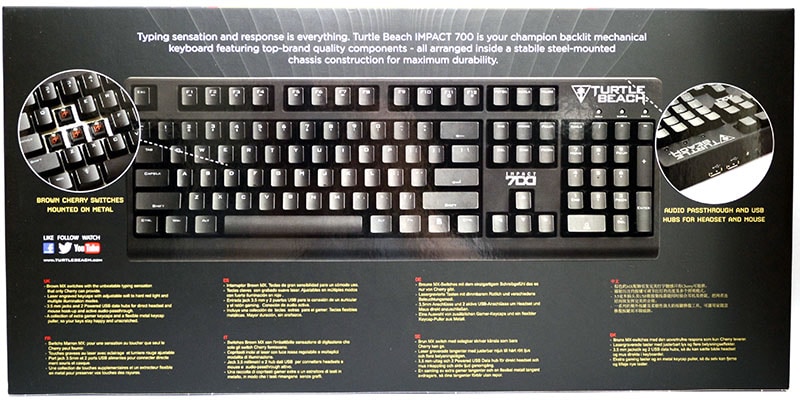 In the box, you'll find everything you need to get you started, the keyboard, obviously, as well as a quick start guide, some extra key-caps and a key-cap pulling tool.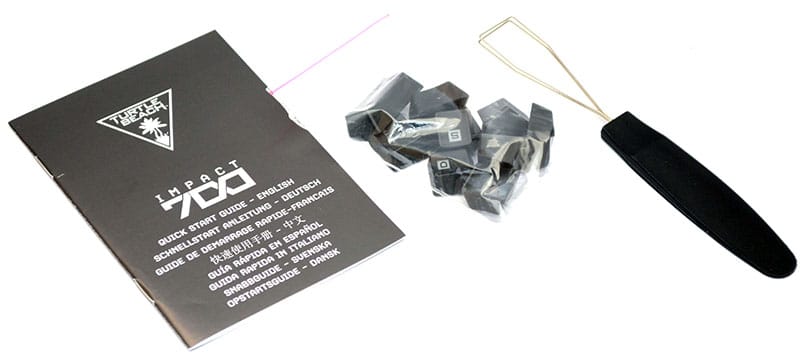 The extra key-caps are particularly interesting, even if they're almost unnecessary. There's replacement WASD keys, which has a white block around the letters, that'll let more backlighting through and help you better differentiate the keys. Then we have some rather funky alternative key-cap replacements, such as GG, InCTRL and NoCTRL, they're just a bit of fun, but I like them.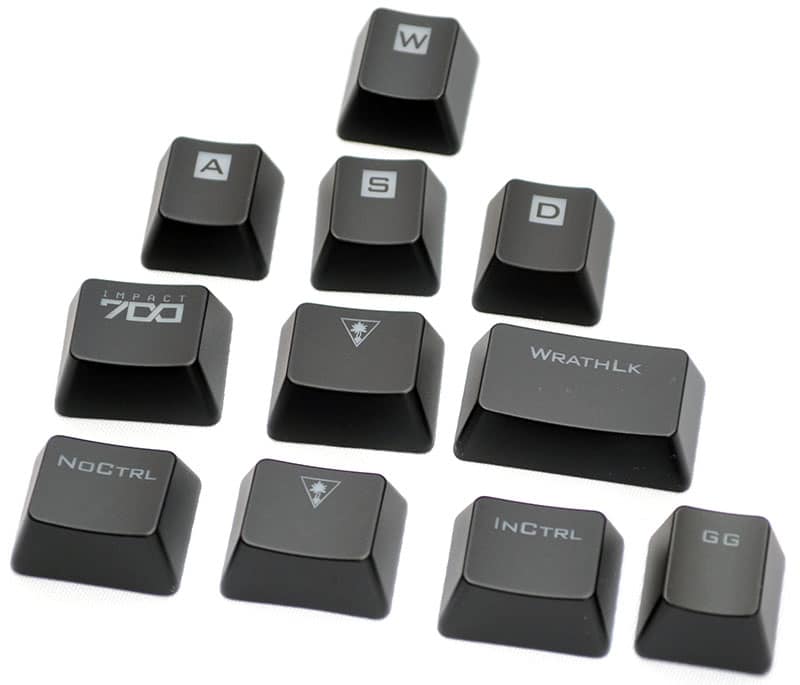 the Impact 700 comes hard-wired with a rather bulky, but incredibly durable sleeved cable. The thickness is dictated by the fact that the keyboard has two USB headers and two 3.5mm cables.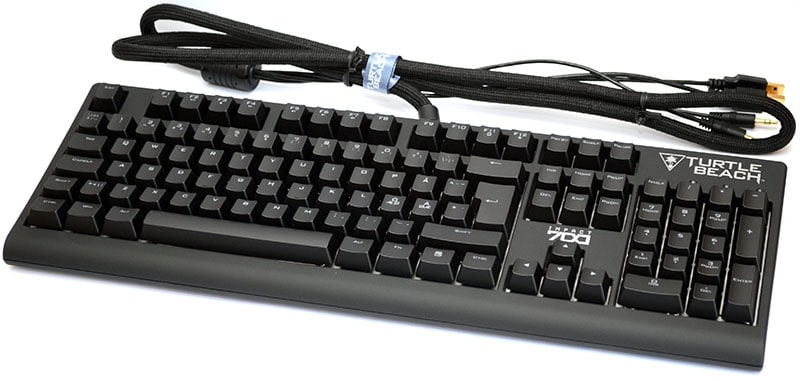 The key-caps are of a very high quality, with a really nice silky black finish to them. They are laser etched to allow the LED backlighting to shine through and have a nice clear font on them.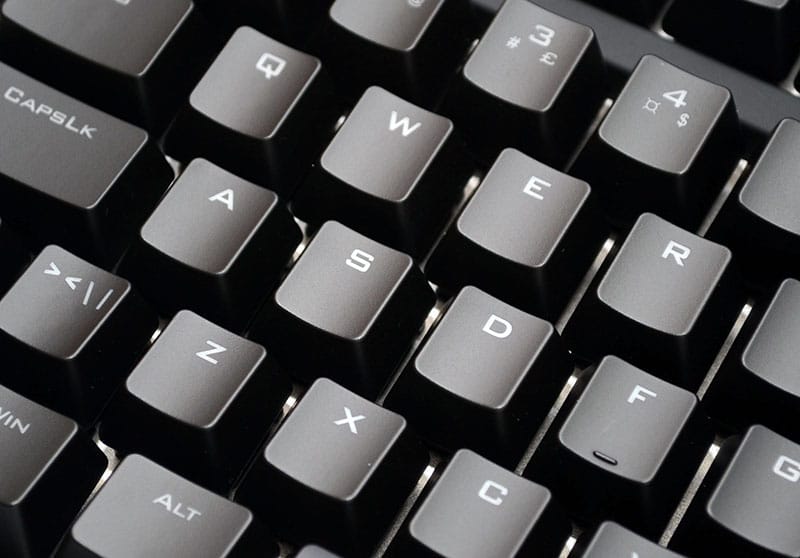 Like most keyboards these days, the F-Keys also act as multimedia keys, which can be accessed via the Fn-Shift key; I prefer dedicated multimedia keys, but this is certainly better than nothing.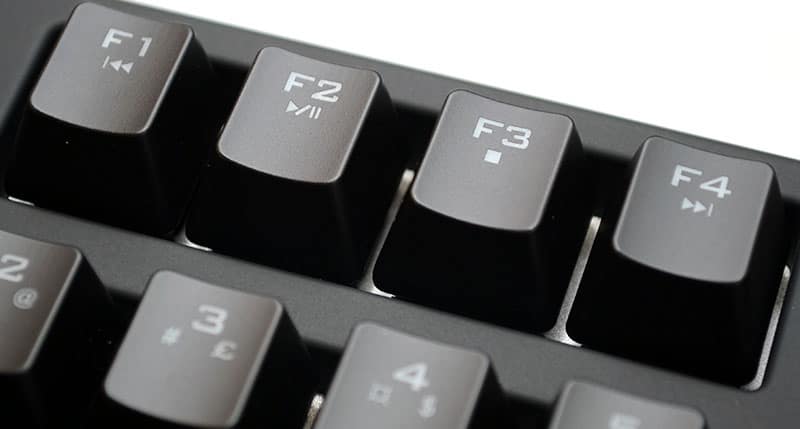 More multimedia functions here, this time for volume control.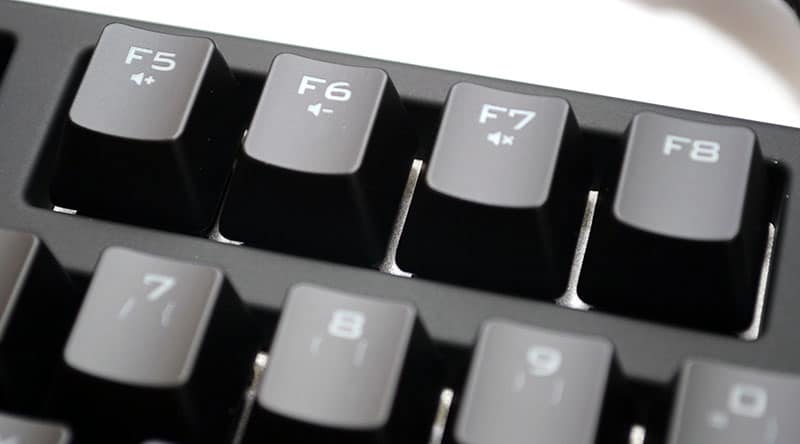 The LED brightness can be dialed up or down using F11 and F12, again, via the Fn-Shift function.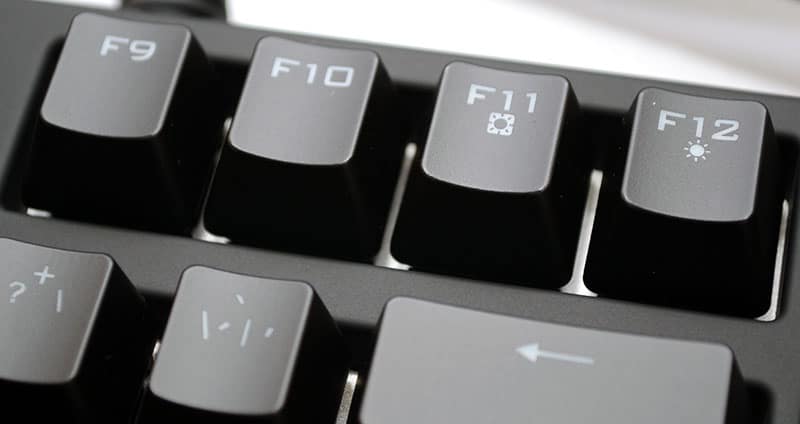 The arrow keys are as you would expect and the key spacing is pretty standard stuff; nothing to complain about, that's for sure.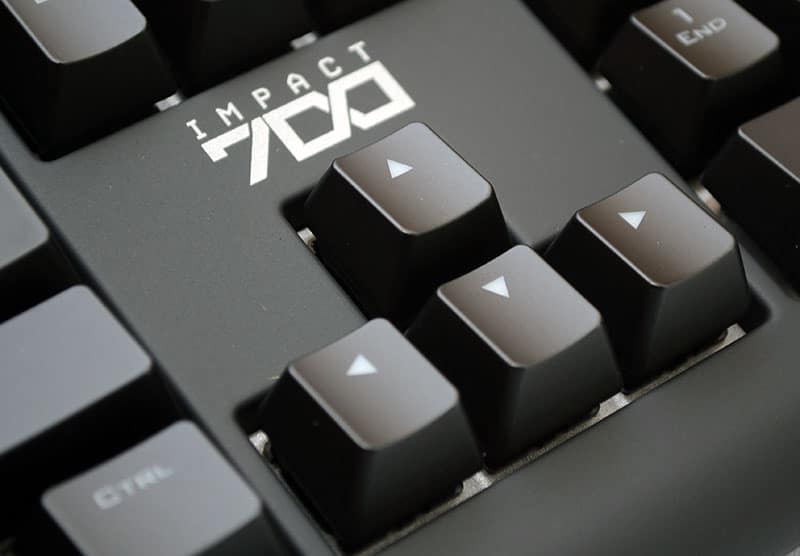 Those with a keen eye will notice I don't have a UK layout keyboard here today, but UK/US will be available dependant on your region when the keyboard is released.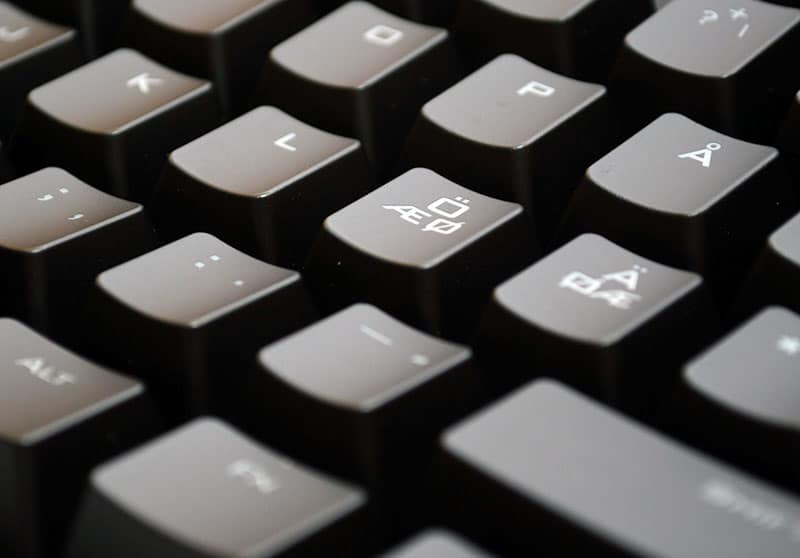 The 700 is quite a chunky keyboard, but that's no bad thing as it's as durable as it looks. The Steel chassis on the interior does add weight, but it also means the 700 is strong, rattle free and isn't going to slide around your desk in the heat of battle.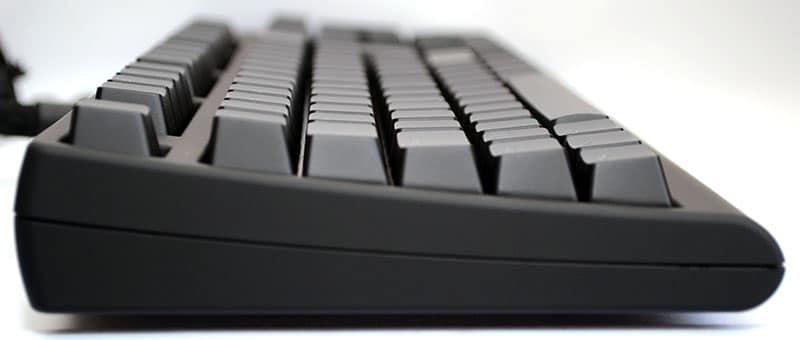 The included key-cap removal tool is a welcome bonus, as it makes cleaning and general maintenance a lot easier. It also means it's nice and easy to swap out the stock key-caps for the included alternatives.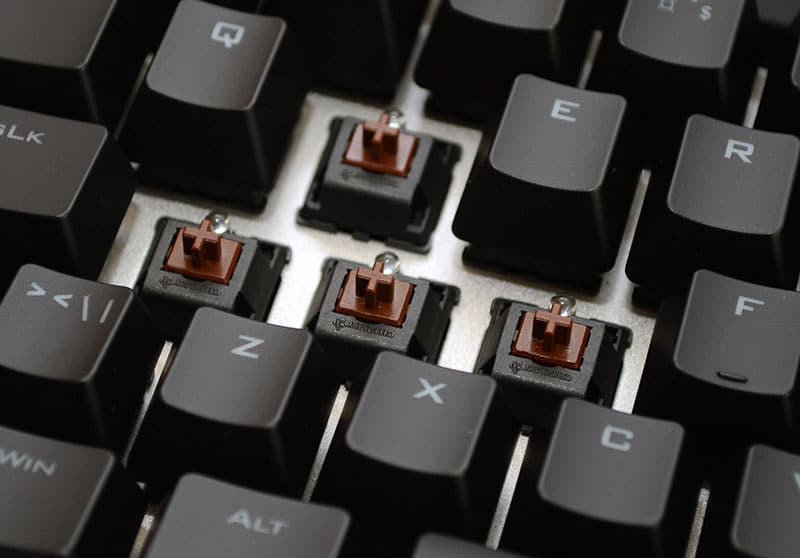 Such as these lovely WASD keys which you can see below.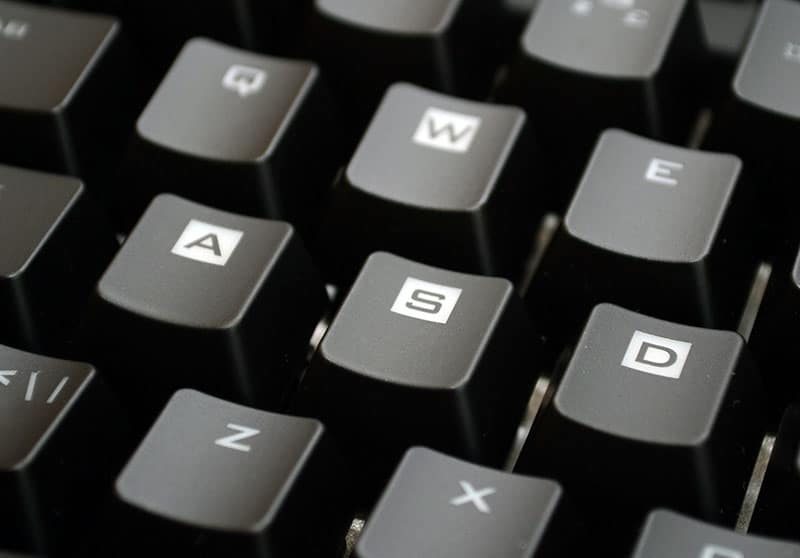 Around the back of the keyboard, you'll find a pair of USB ports and a pair of audio jacks. This is perfect for connecting your other peripherals, such as a gaming mouse, microphone, headset and similar devices, without having to fiddle around behind your computer.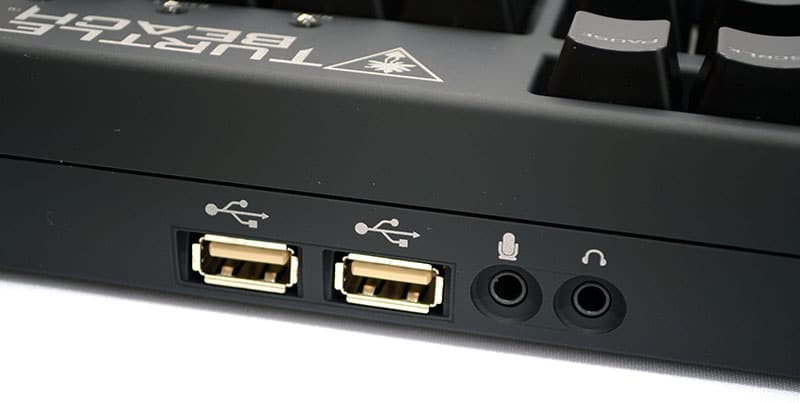 There are four side and tough rubber grips on the base of the keyboard, giving it a firm hold on your desk.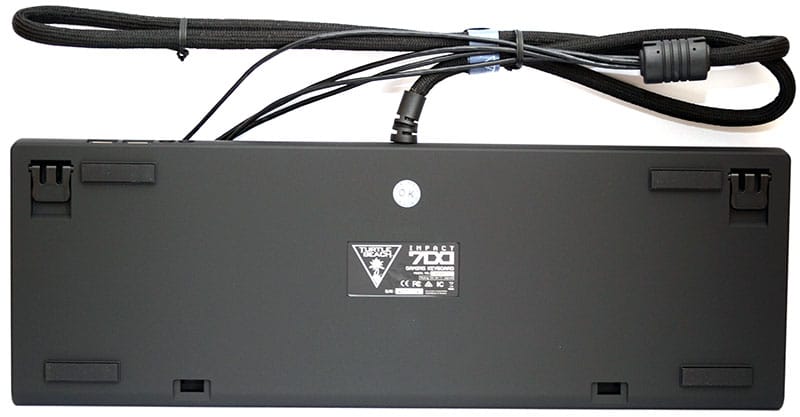 the kickstands are plastic, but they're thick and strong, so it's unlikely they'll break anytime soon; they've also been treated to small rubber grips of their own so you don't lose too much traction on your desk.