Turtle Beach PX22 Gaming Headset Review
---
---
---
Peter Donnell / 10 years ago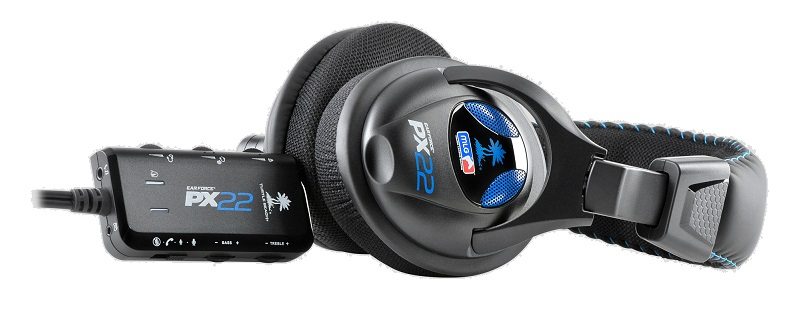 Turtle Beach are a brand that need almost no introduction to the gaming community, love them or hate them you cannot deny that they are a popular brand with a rock solid fan base. I personally haven't dealt with too many Turtle Beach products in my time, but for the ones I have been fortunate to test I have been more than impressed and I'm hoping to see something similar here today.
For those of you who read our reviews regularly you will know it wasn't long ago that we reviewed the luxurious and expensive XP Seven headset, the flagship Turtle Beach headset and it just so happens to be the effective big brother of the headset we are looking at today, both of which are MLG branded and aimed right at the heart of the eSports community.
Of course with the XP Seven being over £200 at retail, the headset can be more than out of reach for many gamers and consumers, the PX22 however are a much more modest £69.99 and while that is still a big investment for many it's a snip compared to the flagship model. However, we are keen to see what the PX22 have to offer, so let's get stuck straight into the good stuff and see what Turtle Beach have to offer.
The PX22 come neatly boxed in a blue themed box, featuring lots of marketing information and listing many of the headsets features such as the 50mm drivers, independent volume controls, AUX input and multi format compatibility. There is also some information about the inline amp, but we'll take a closer look at that shortly.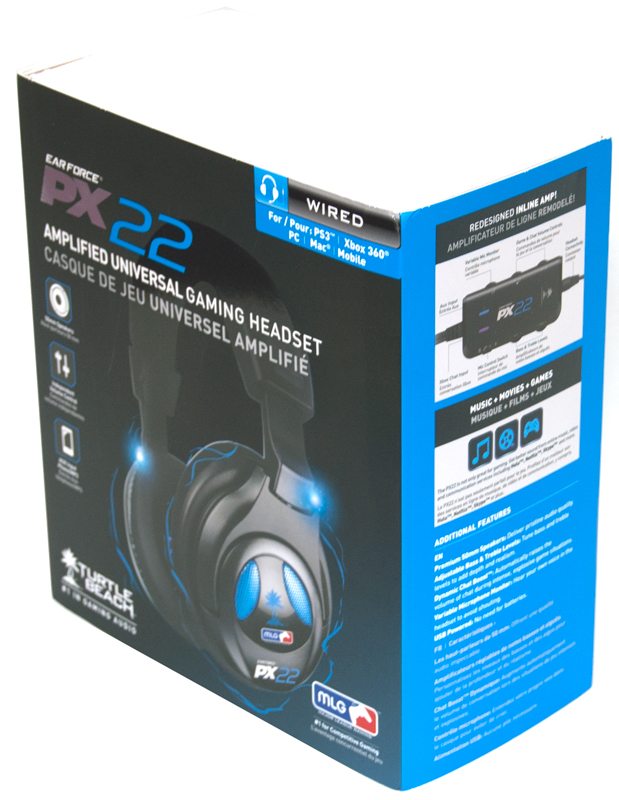 Inside the box I also discovered three smaller boxes, one containing the inline amp, some user leaflets and stickers in another and the final one contained the extra connection cables.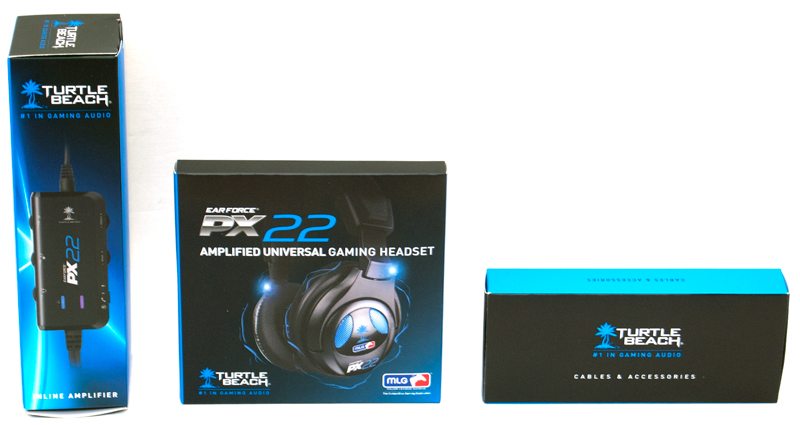 The included cables are a RCA pass-through to female 3.5mm, three pole cable for connection of Xbox 360 controller and a four pole cable for AUX devices such as MP3 player or mobile device.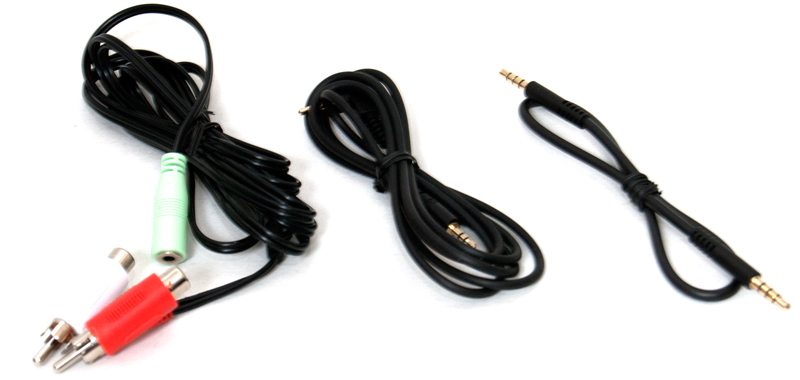 The inline controller and amp is really well made, it's a little chunky, but it's also fairly lightweight. It provides extensive control over volume, microphone master mutes and EQ for bass and treble, meaning the whole headset can be fully controlled without dedicated software on PC, or consoles for that matter.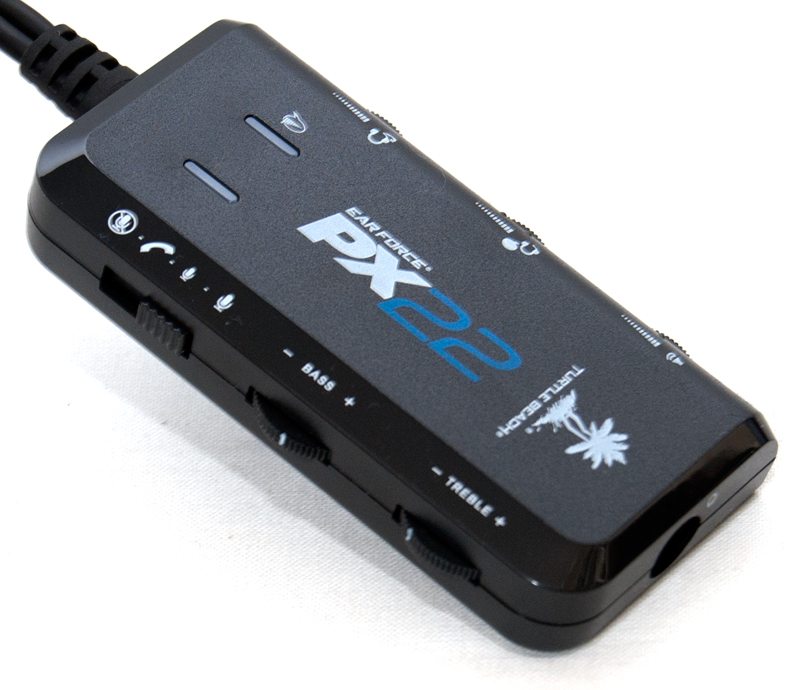 The rear of the controller features a study shirt clip, perfect for keeping the controller handy in the heat of battle.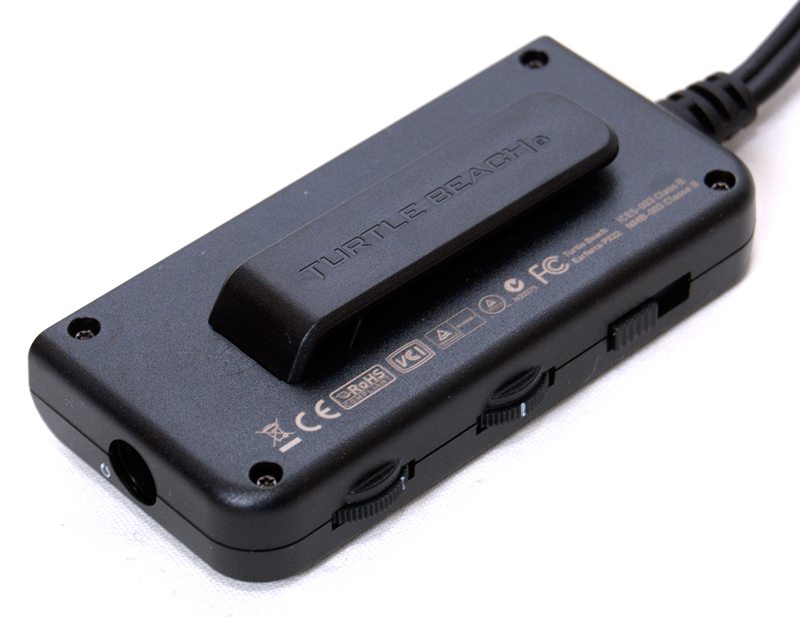 The headset is finished in a dull looking matte black plastic, although I am only referring to its colour when I say dull, overall I actually think it looks rather stealthy and sleek. Of course it's only a little stealthy give that is highlighted by some bright neon blue stitching on the headband, blue mesh on the rear of the ear cups and the logos within the ear cups.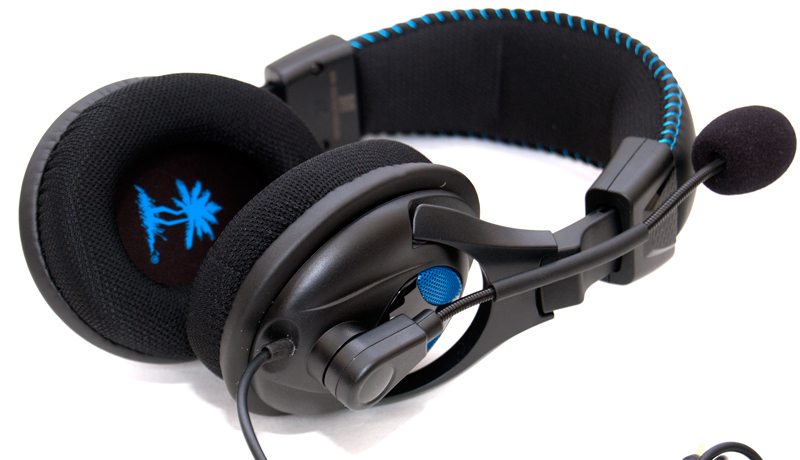 The headband can be extended to provide a better fit, while each ear cup also swivels a little to ensure an even closer fit to your ears. The brackets are only made of plastic, but they feel sturdy and well-built.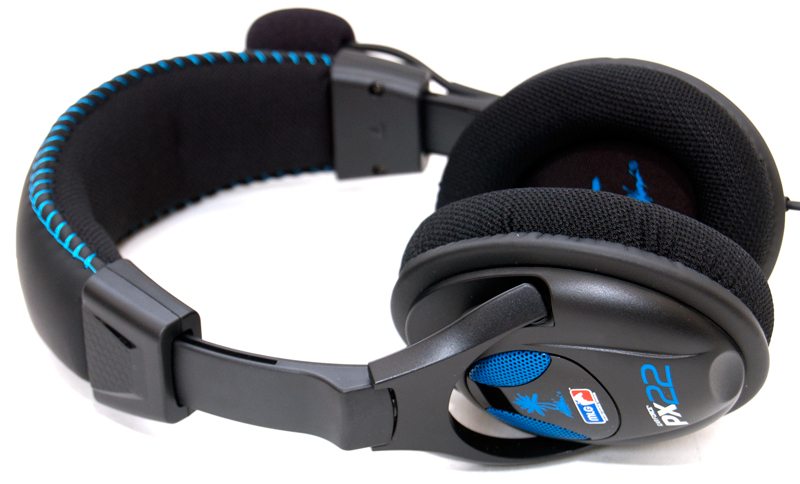 The ear cups are finished with a super soft padding and fabric covers that provide a very luxurious fit and feel when worn.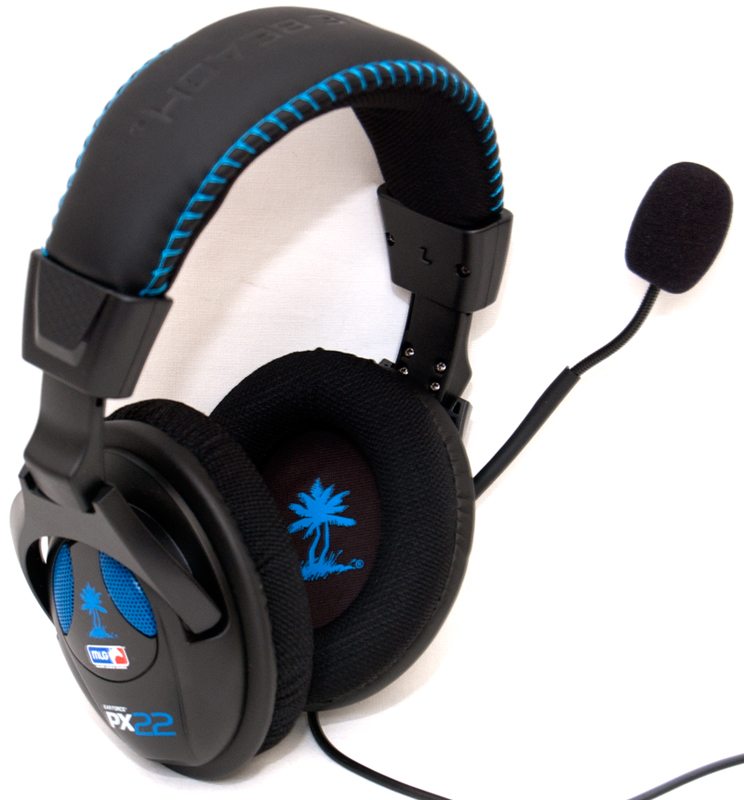 The microphone features a fold up design but cannot be removed, while it can be moved down for use it can also be bent to your idea position thanks to a very flexible boom.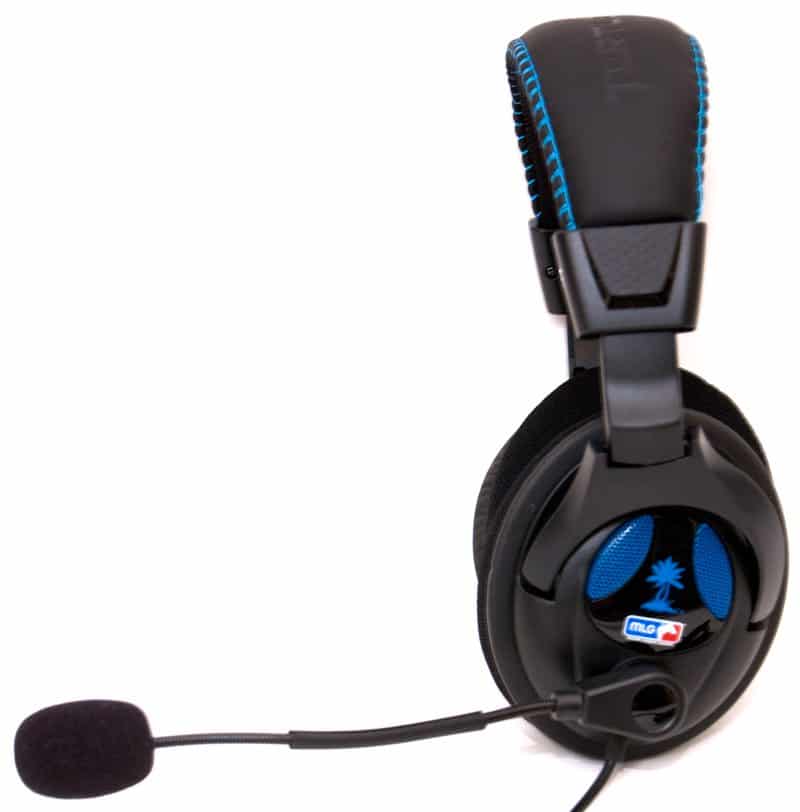 The headset comes hard-wired with a 4 pole 3.5mm cable, this means that it can be used directly connected to a headphone port on your mp3 player or phone, including use of the microphone for taking calls.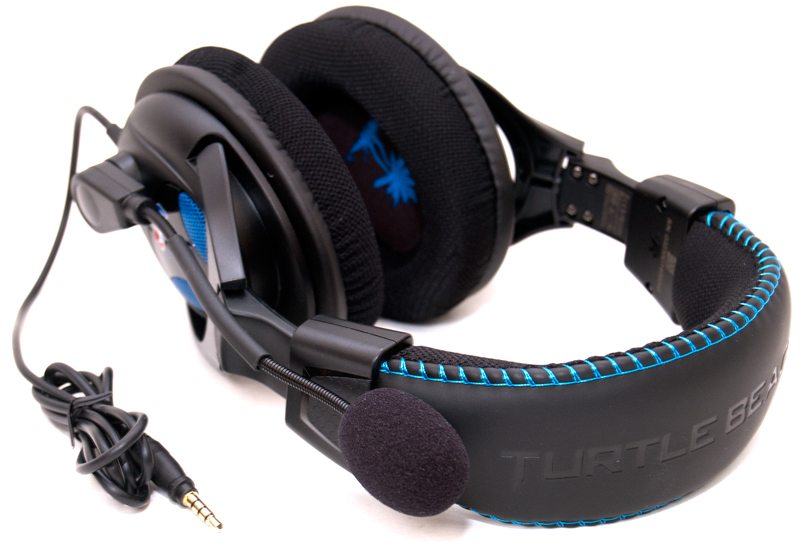 Setup & Installation
Setup of the headset was extremely simple, on PC it was a simple case of connection the USB and 3.5mm jack plugs to my system. The PlayStation 3 required the USB and AUX pass through, while the Xbox 360 also required the controller connection cable. There were separate guides for each configuration that gave clear and easy to follow instructions.
Performance
Since this is a gaming headset I felt it was appropriate to get straight into the action. I fired up Halo 4 multiplayer and the first thing I noticed was just how powerful this headset is, having to back off from max volume quite a bit. There is certainly more than enough audio power to get right into the thick of the game's atmosphere. The separate volume controllers are a wonderful thing to have and being able to dial in my preferences for game and voice chat had big benefits to team play and solo play, as I could focus on what was important at the time, team chat, or the action.
The initial performance of the headset is a little muddled, bass is thick and powerful and high tones are a little washed out, but that's easily fixed with a tweak of the EQ wheels, mid tone presence is good too and this really helps bring out the detail in music playback. For those who love taking their game seriously it's also possible to drop nearly all the bass frequencies, making it a whole lot easier to hear the footsteps of your enemies, that being said you can also drop out the treble and crank the bass till your teeth shake if you're so inclined.
All round performance is simply stunning, powerful drivers with a wide range EQ that can easily manage any style of music without distorting, as well as provide you and your team with clear chat audio no matter how heated the game audio gets.
Final Thoughts
I was expecting this headset to sound a less exciting than it did, given that it's nearly £200 cheaper than its big brother. Now of course you're not getting the same mind-blowing quality as the XP Seven headset, but your still getting audio quality that is on par or better than anything else in this price range and for £70 you'll be hard pushed to find anything that sounds better in the gaming headset market, with only some dedicated headphones offering any noticeable improvement.
The microphone is fantastic too and while I never usually have much to remark on for microphone performance, the PX22 had a noticeable clarity about it while gaming on the Xbox and using Skype on PC. It's also great that you can hook this up to your mobile phone to take calls and I'm never one to knock extra features that improve value for money, even if I may never use that feature myself.
Build quality is good and while I think Turtle Beach may have over-done the use of plastics on the headset, they have used high quality plastics that don't feel cheap, but they do look it. It's about on par with everything else in this price range and that's impressive given that you normally find build quality may take a hit once you add so many extra features (in this price range).
Mobile connectivity, adjustable boom microphone, good quality cables, comprehensive in-line amp, comfortable and adjustable fit, multi format support for major consoles and PC, great design and a brand name that is well-known around the world, all this adds up to an impressive package that you'll be hard pushed to beat within this price range.
Pros
Impressive feature list
Good build quality
Stylish design
Reliable brand name
Faultless sound quality
In-line amp / controller
Cons
Some plastics do look a little cheap (But don't feel it).
eTeknix says: "It's getting harder and harder to choose the right headset as the market is filled with impressive options, but when it comes to ticking boxes the PX22 ticks more than most thanks to its impressive range of features and system support, easily one of the best sub £100 gaming headsets on the market today."