Turtle Beach Star Wars X-Wing Pilot Gaming Headset Review
---
---
---
Peter Donnell / 8 years ago
Introduction
---
Turtle Beach are one of the biggest names in the gaming industry, having had many years experience catering to both the budget friendly and enthusiast ends of the gaming audio market, as well as everything else in-between. With that in mind, I'm very happy to see their new special edition Turtle Beach Star Wars X-Wing Pilot Gaming Headset on my desk. Given the seemingly endless success of the Star Wars franchise, a colossal pile of official merchandise following the new movie was to be expected, but a gaming headset certainly stands out as the obvious addition to that. With Battlefront keeping many people sat at their gaming system of choice and the fact that you can wear a headset that has a heavily inspired design from the movies, it just seems like something a Star Wars fan would want in their collection.
"The Turtle Beach® Star Wars™ X-Wing Pilot headset features a unique design inspired by the Starfighter Pilots of the Rebel Alliance. Engage in battle with full-range audio delivered through 40mm Neodymium speakers, and call for reinforcements using the high-sensitivity boom mic which provides crystal-clear chat. The lightweight design provides hours of comfort, and the 3.5mm jack connection is compatible with PlayStation®4, Xbox One, PC, Mac mobile/tablet and portable gaming devices. May the Force be with you!"
Of course, the performance is what we really care about the most, although since this is a special edition, the design is a big factor for this review. The headset appears to be based around the budget end of the Turtle Beach range, and with a £34.99 price tag, that seems to be a safe guess. It looks like a tweaked Recon 50 type design, so I'm eager to hear how it performs overall.
Star Wars™ Design
The X-Wing Pilot headset design is inspired by the signature orange jumpsuits worn by the Starfighter Pilots of the Rebel Alliance.
Full-Range Audio
Hear Star Wars™ the way it's meant to be heard through the X-Wing Pilot's high-performance 40mm Neodymium speakers that deliver sizzling highs and thundering lows.
Convenient Controls
The X-Wing Pilot's in-line controls place Mic Mute and Volume conveniently at your fingertips.
Be Heard Loud & Clear
Team-up with friends and chat in online multiplayer games with the X-Wing Pilot's adjustable, high-sensitivity boom mic, which can quickly and easily be removed when listening to music and watching movies.
Lightweight & Comfortable
The X-Wing Pilot features Turtle Beach's latest lightweight and comfortable design, ready to provide hours of comfort during those long, marathon gaming sessions.
Versatile
Fans can use the Star Wars™ X-Wing Pilot headset for playing games like Star Wars™ Battlefront™, and also use it to enjoy their favorite movies, music and more.
The packaging is very nicely designed, although with it being Star Wars branded, it's obvious that Turtle Beach would need to capitalise on this as much as possible. Detailed on the box, we can see that it sports a comfortable fit, removable high-quality microphone and in-line volume controls.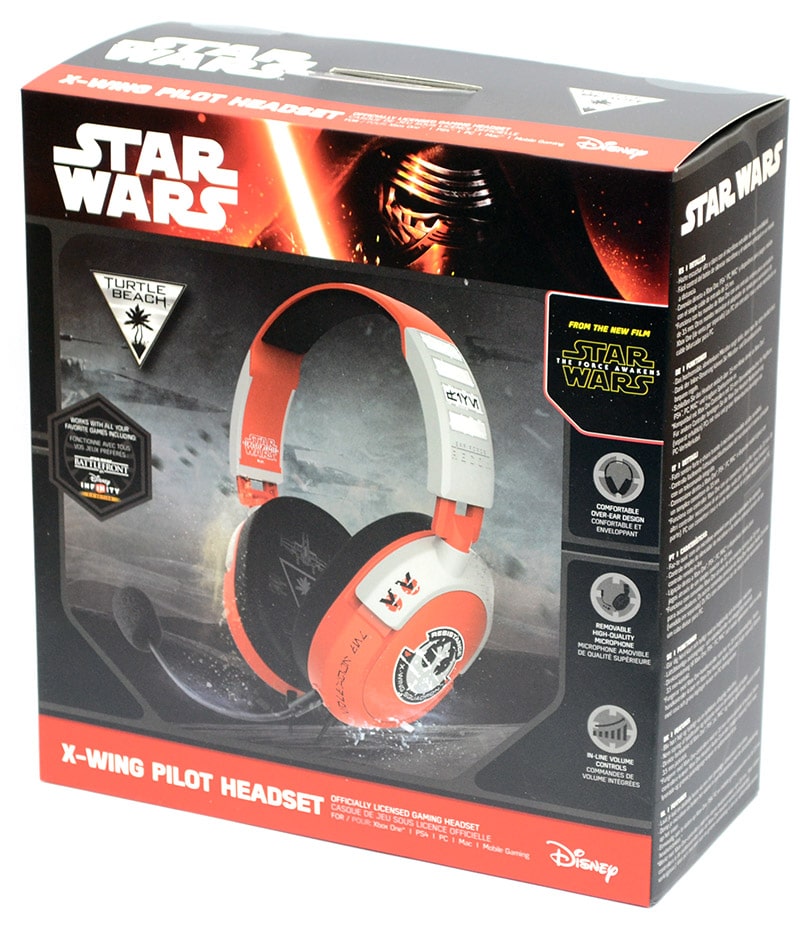 Around the back, more details about the multiformat support, design and the in-line controller; but we'll take a closer look at all this shortly.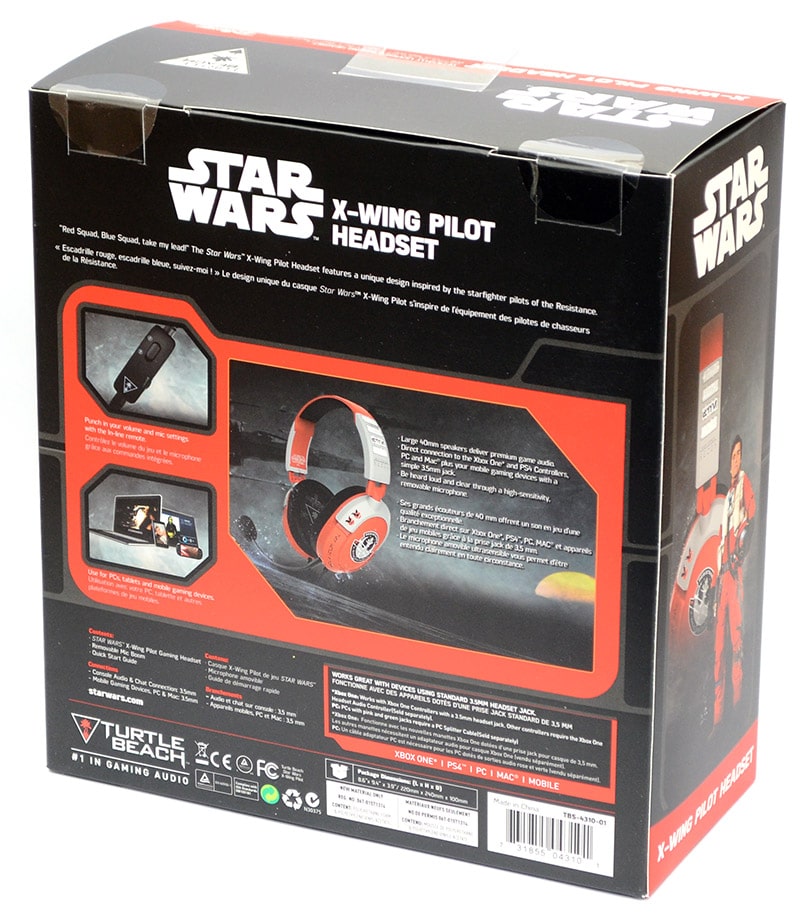 The first thing we find in the box, a detachable boom microphone. It comes with a large foam head as well as a flexible arm that should allow for easy positioning.

Next, we have the headset, which comes hard-wired with a fairly standard cable that joins to both ear cups and ends with a 4-pole 3.5mm jack.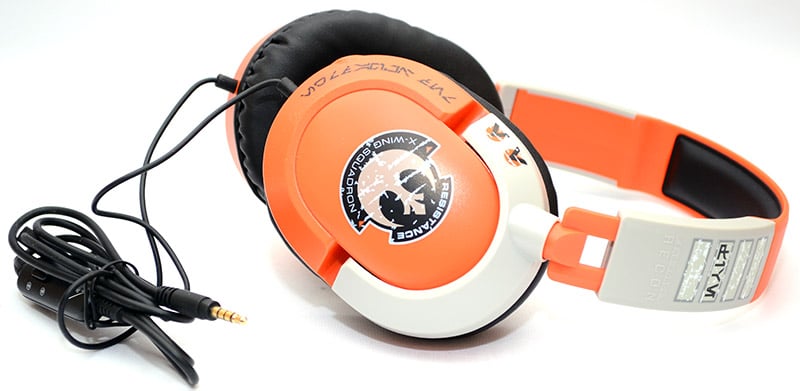 On the cable, a small in-line controller. It's pretty basic, offering a microphone mute switch and a master volume wheel, but that's all you'll really need anyway.