Fancy Using Starlink for Piracy? Good Luck With That
---
---
---
Peter Donnell / 1 year ago
It's no secret that piracy is still a huge deal, albeit one that we don't talk about openly too often because of the fact it's illegal. However, end-users rarely get stung, with most of the (fairly limited) policing focusing on the source rather than the destination these days. Furthermore, ISPs police their own networks to some degree, leading to you getting a letter/email with a strike notice. I've never had one myself, but I have seen them issued to people I know… promptly leading them to invest in a VPN too, no shock there.
So what about SpaceX's new satellite internet service, Starlink? It's a fairly new platform, so it doesn't have millions of subscribers for you to blend in with. However, Starlink user "substrate-97" tempted fate… on purpose (apparently) and surprisingly quickly got a piracy warning from SpaceX. Thankfully, he/she promptly posted the results on reddit for us all to gawk at.
Using Starlink for Piracy?
"We received the attached notice from a content owner claiming that your Starlink internet service was used to download copyrighted material without the right to do so. To the extent that you believe the notification from the content owner was inaccurate, please contact the content owner directly. Note that downloading copyrighted content without a license or other right to do so is a violation of the Starlink Acceptable Use Policy (AUP). We must insist that you and/or others using your Starlink service refrain from illegal downloads of copyrighted materials. Downloading copyrighted materials without a license may lead to suspension or termination of your service, and put you at risk of legal action by the content owner. Please review the AUP to better understand what activities are prohibited."
In a further comment on reddit, Substrate-97 said, "Been doing it since I got Starlink, so like two months. It's been pretty low key stuff though. Finally downloaded something from a Fortune 500 company and my assumption was that it was specifically that." It's interesting to see them respond so quickly, and I would have loved a list of what they did download, but I guess they don't want to kick up too much trouble for themselves.
Still, if you are planning on getting Starlink, it's an interesting experiment.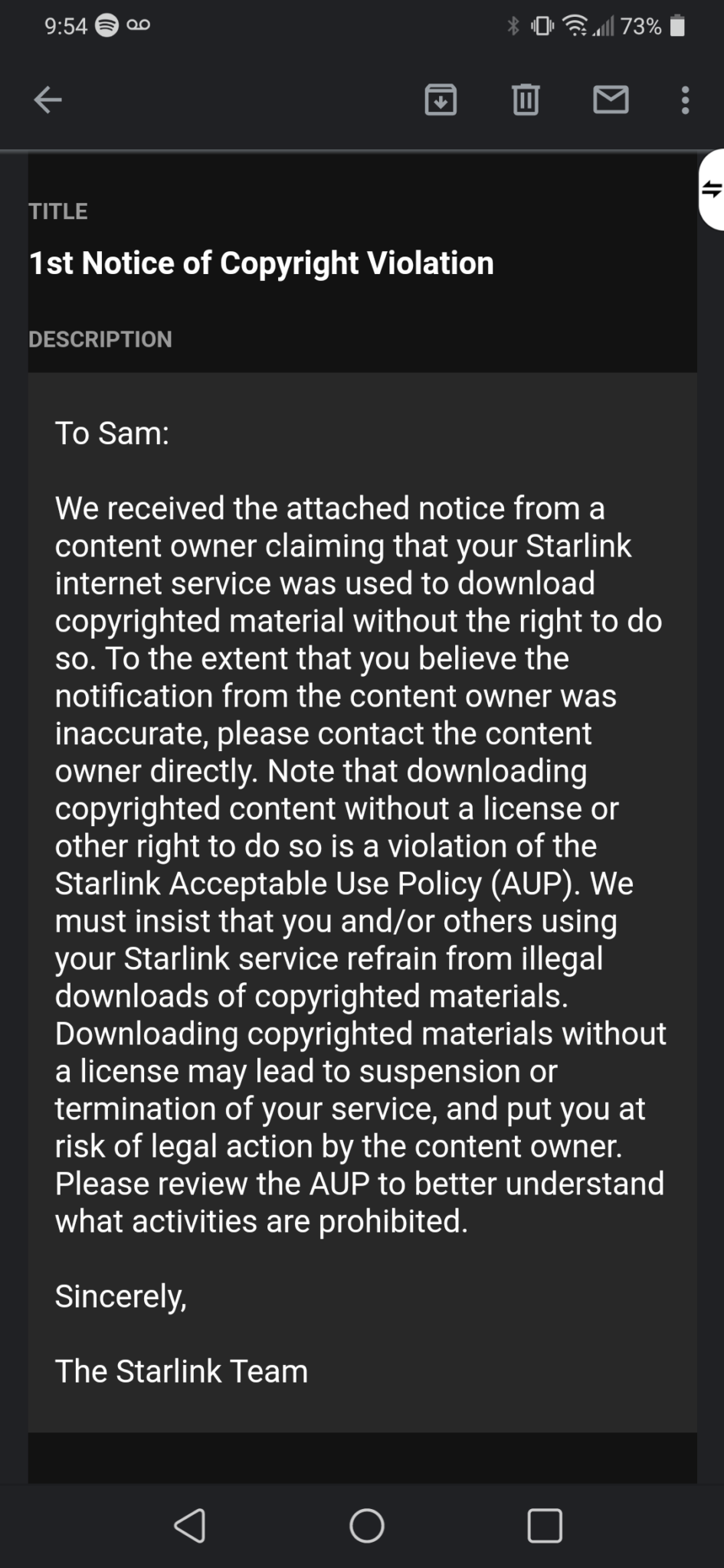 Thoughts
I'm not sure they did it on purpose or not. There's no way of knowing. However, I am curious how many of you have had a similar warning from an ISP in the past. As in my own experience, I think they're pretty rare… especially given the level of piracy I'm aware of that does go on.