Valve Releases SteamVR Performance Test Utility
---
---
---
John Williamson / 7 years ago
SteamVR is a virtual reality platform developed by Valve which offers an immersive 360 degrees full room experience and designed with the HTC Vive in mind. This incredible feat of technology uses laser-bases positional tracking and a detection system to prevents users from walking into physical objects in their environment. Virtual reality is often praised for its potential to revolutionize entertainment in a way never thought possible. Even though 2016 is the year when VR begins to really take off, it's still a very expensive proposition which makes the HTC Vive a niche device. Recently, HTC announced the Vive would cost $799 which almost defies belief. Despite this, there is a great deal of potential and the prices will come down eventually.
As you might expect, VR devices require a fairly high specification PC, which alienates the potential user base. Both HTC and Oculus have released the minimum system requirements to achieve an optimal VR experience and inform users in the best possible way. However, to simplify the process even further, Valve has released a tool which scans your PC and provides a rating based on its suitability for SteamVR. The tool isn't officially available on the Steam store right now because it keeps refreshing back to the main page. However, you can install it via steam://install/323910.
Reddit users have already been sharing the results and comparing various scores. Here we can see a really good configuration with a Fury X, and Intel Core i5-6600K. This showcases that the i5 variant without Hyperthreading isn't a major issue when it comes to VR.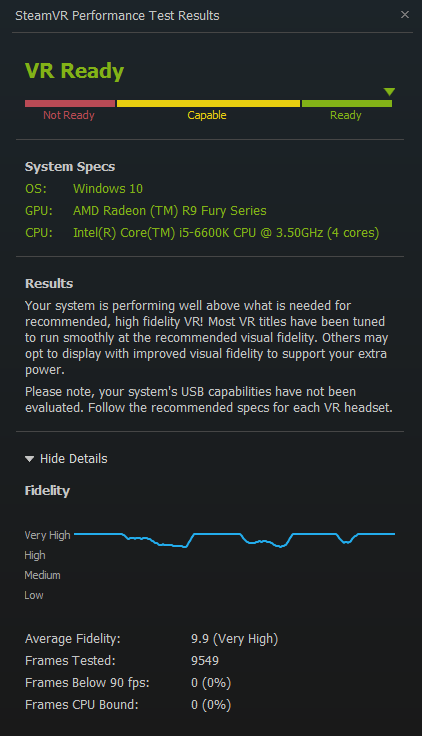 Here's a slightly lower-end specification featuring an 8 core AMD FX 8320 processor and R9 380 graphics card. The wording of capable is interesting because this system's GPU is technically below the HTC Vive's requirements. It's unclear what the difference will be between a capable and ready system. Perhaps, it's to do with a smoother frame-rate, but surely Valve wants the VR experience to be consistent.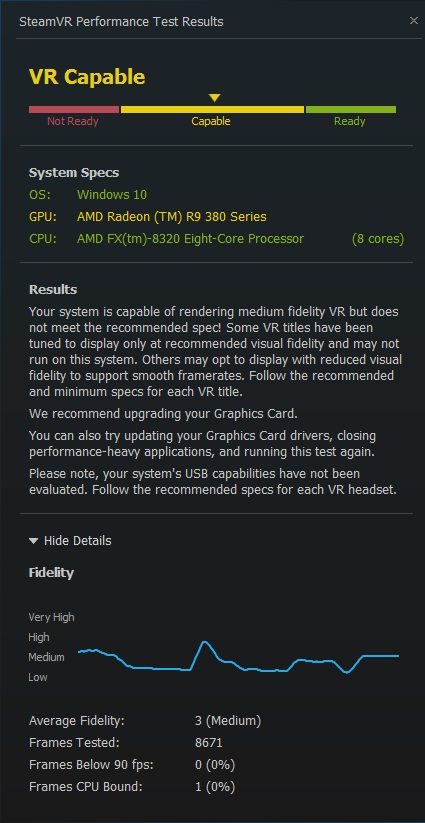 Is your system ready for VR?