Vanguard K08 Mechanical Gaming Keyboard Review
---
---
---
Peter Donnell / 6 years ago
Introduction
---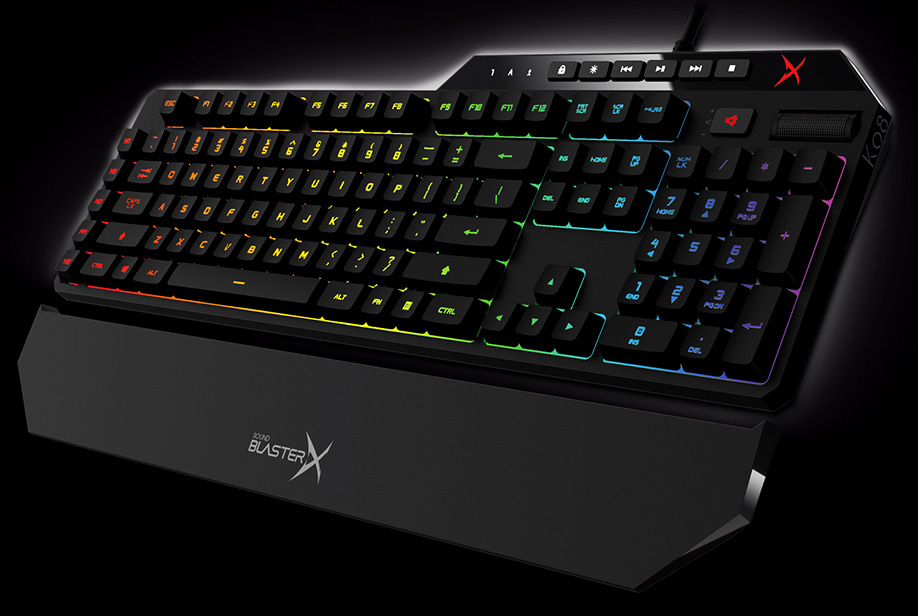 With a history of creating many of the most popular desktop audio products over the last few decades, Creative has a long history of working with PC gamers for all their acoustic needs. From their soundcards to their modern-day DAC and headset products, they've got something for everyone. Now the audio company is breaking from its routes to put their high-end engineering knowledge to the test in the peripherals market, with the release of their first ever keyboard, the Vanguard K08.
Ditching the common Cherry or even Kailh mechanical switches, Creative have gone for the well-known OMRON for their switches, the same company that make the most popular switches we often find in gaming mice!
"Co-designed with OMRON, PRES (Perceive-React-Execute Switches) are custom mechanical switches professionally developed for high actions per minute gaming and typing comfort with a centered light guide for a brilliant RGB backlighting experience. Built for durability and reliability, each switch can withstand over 70 million keystrokes and feature double cross-point technology for fail-safe contacts." Said Creative. "PRES allows you to reach your full potential, offering quick input action and instantaneous rapid-fire keystrokes while minimizing typos and mistakes – giving you the perfect balance of speed and control."
The keys are designed with a shorter actuation than most mechanical keyboards, at 1.5mm its 25% shorter than the common 2mm travel distance, which can cut your response times while gaming, while also requiring less force to trigger the switch.
Unlike normal mechanical switches with single connectors, OMRON implemented cross-point technology for fail-safe contacts in PRES. With dual connectors in each switch, each PRES is guaranteed to fire off even in the event of one connector failing due to oxidation or dirt particles.
Specifications
Product Color: Black
Dimension (HxWxD): 215mm x 465mm x 37.6mm
Dimension Without Wrist Rest (HxWxD): 149mm x 465mm x 37.6mm
Lifespan: 70 million actuations
Mechanical

Actuation force: 45g
Actuation distance: 1.5mm
Total travel distance: 3.5mm
Packaging and Accessories
The box features a nice large image of the keyboard on the front, showing off the lovely RGB lighting, as well as the detachable wrist rest and an icon showing that it feature Omron switches.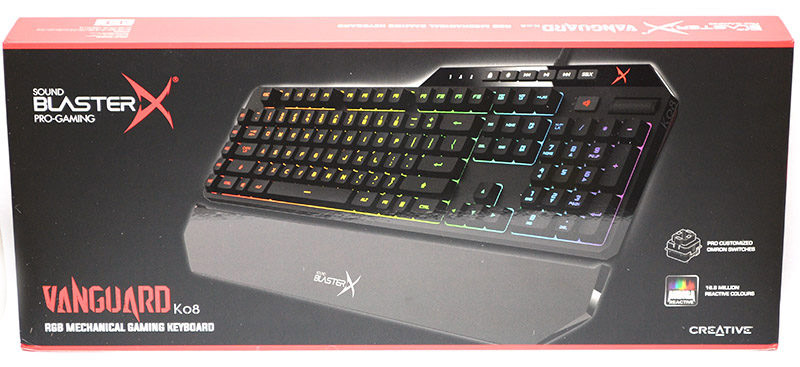 Around the back, a quick breakdown of the features, as well as a few details about the benefits of the new Omron switches.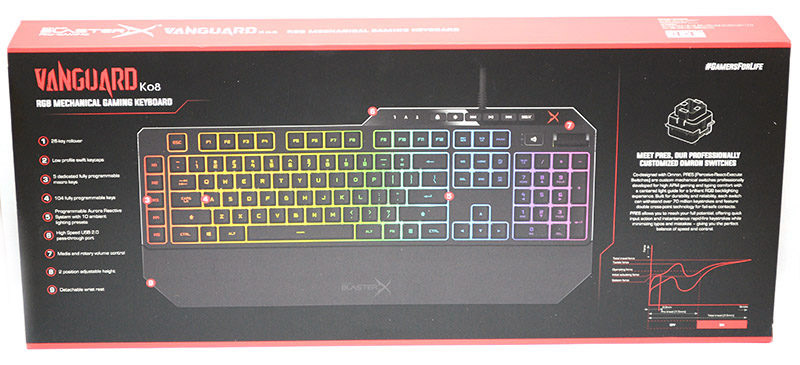 In the box, you'll find the keyboard, which comes hard-wired with an extra-thick black braided USB cable. There's two USB headers on the cable, one for the keyboard, one for the USB pass-through. There's also an optional plastic detachable wrist rest included.