WD My Passport SSD 256GB USB 3.1 Gen.2 SSD Review
---
---
---
Bohs Hansen / 4 years ago
Introduction
---
Today we take our storage on the go, or at least we can do so with ease. I have the WD My Passport SSD with a 256GB capacity in the office and I think we'll keep it there. A review full of benchmarks is better than me telling you a story of my walk with the My Passport SSD.
My Passport SSD is portable storage with fast transfers and password protection options with hardware encryption. The drive is shock-resistant, compact, durable, and it also looks quite fancy.

Pocket-Sized Storage
There are more important criteria with portable drives than you might think, but the My Passport SSD fulfils them well. First of all, a portable drive needs to be small and light. You'll want to be able to take it anywhere, but you don't want to notice that you do. The drive is only 10mm high, 90mm long and 45mm wide while weighting nearly nothing. So that's a check on the list.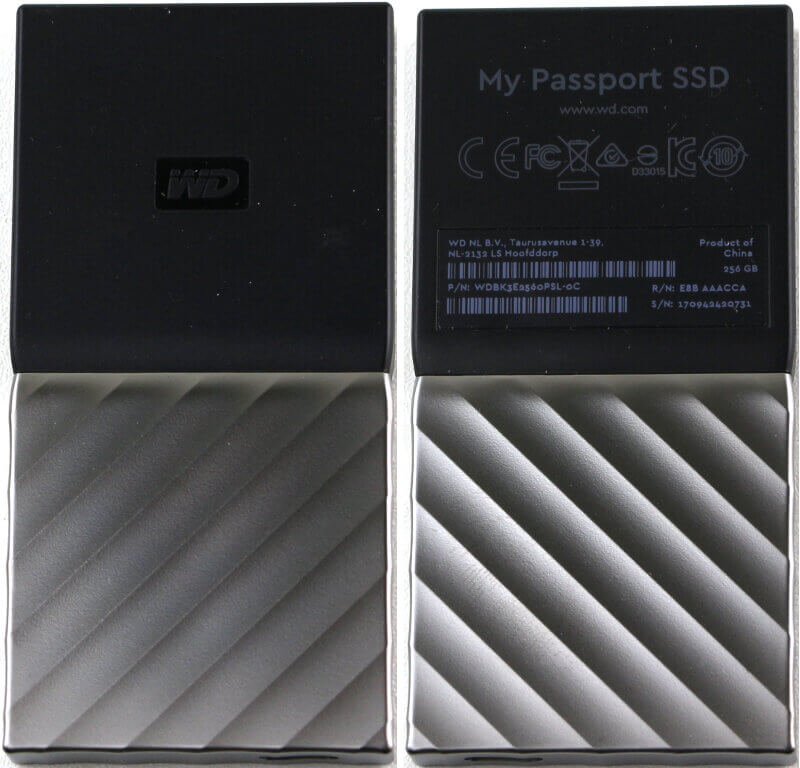 Compatibility is another important factor and we got that covered too. While the drive is using the latest USB standard, USB 3.1 Gen.2 with 10Gbps bus speed, it is fully backwards compatible. The drive itself features a USB-C port and there's a Type-C to Type-C cable included. However, WD included a Type-A adapter for systems without the new and clever Type-C port.
Durability Matters
The My Passport SSD isn't the best protected external drives, but it still has a good resistance. It is built to withstand a drop of up to 6.5 feet (1.98 meters), for example. My Passport SSD is engineered from the ground up by Western Digital to be a quality drive, inside and out, to deliver reliable performance. It also has a natural shock resistance as any solid state drive has. Since there aren't any moveable parts, there's less that could be damaged.
Capacity and Performance
Despite the small size, you can get the My Passport SSD with up to 1TB capacity, but I have the 256GB version in the lab today. There's also a midway capacity with 512GB. All of them are backed by a 3-year warranty.
The only official speed rating is that it can deliver up to 515MB/s throughput. That isn't a lot, but luckily we'll have plenty of benchmarks in this review to satisfy our curiosity on that part.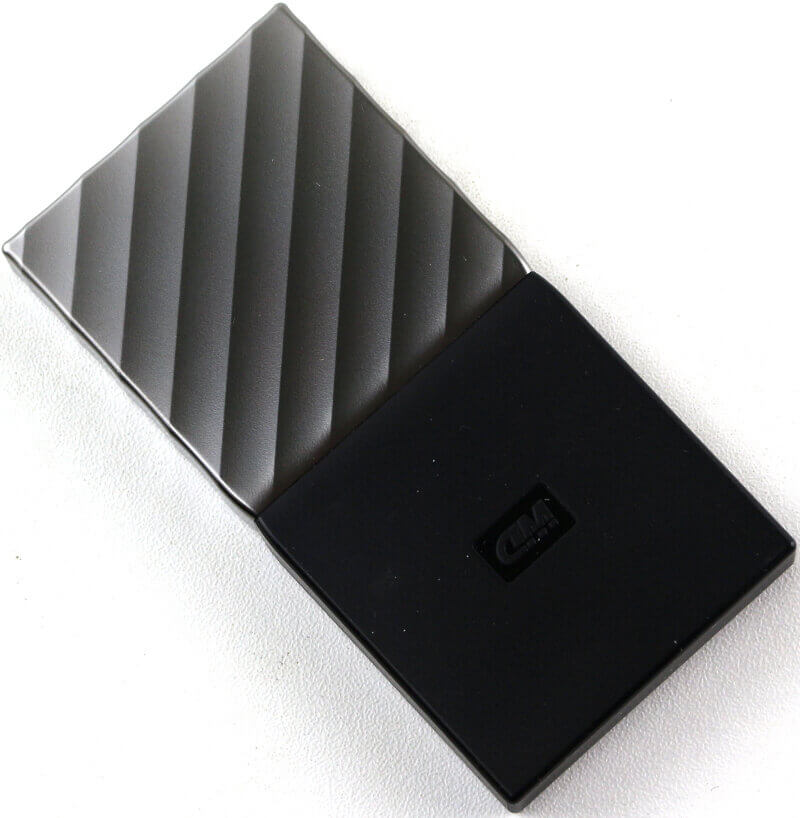 Ready to Use and Loaded with App Installer
WD made sure that the drive is ready to be used right out of the box, at least if your operating system supports exFAT. If not, then you always have the option to reformat it to NTFS or something else. The original partition does contain some useful things, making everything ready to use as it is. You can also download all those things from official product support page, but why bother if you don't need to.
The included software pieces are WD Discovery for WD Backup, WD Security and WD Drive Utilities. The WD Backup software makes it easy to automatically back up high-capacity files to your drive or Dropbox cloud service account. Best of all, it works on a set it and forget it principle. It is also compatible with Apple Time Machine, but that will require a reformat too.
Password Protection is another option and the My Passport SSD comes with hardware encryption. With it, you can password protect your files and keep them protected with a 256-bit AES encryption. The last piece of software, the WD Drive Utilities, is the general toolbox which will work with and detect all your WD drives.

Product Video
This is the official product introduction video. It isn't long and doesn't contain a lot of information, but it's still worth including.
Feature Highlights
Transfer speeds up to 515 MB/s
USB 3.1 Gen.2 with Type-C interface
Type-C to Type-C cable and Type-A adapter included
Hardware Encryption engine
2-meter drop protection
Light and portable
Up to 1TB capacity
Specifications
The specifications are valid at the time of review. They might be subject to change in possible future revisions of the product. It is unlikely to change, but it is possible.

Package and Accessories
The front of the box shows how the included drive looks along with a list of the most important features.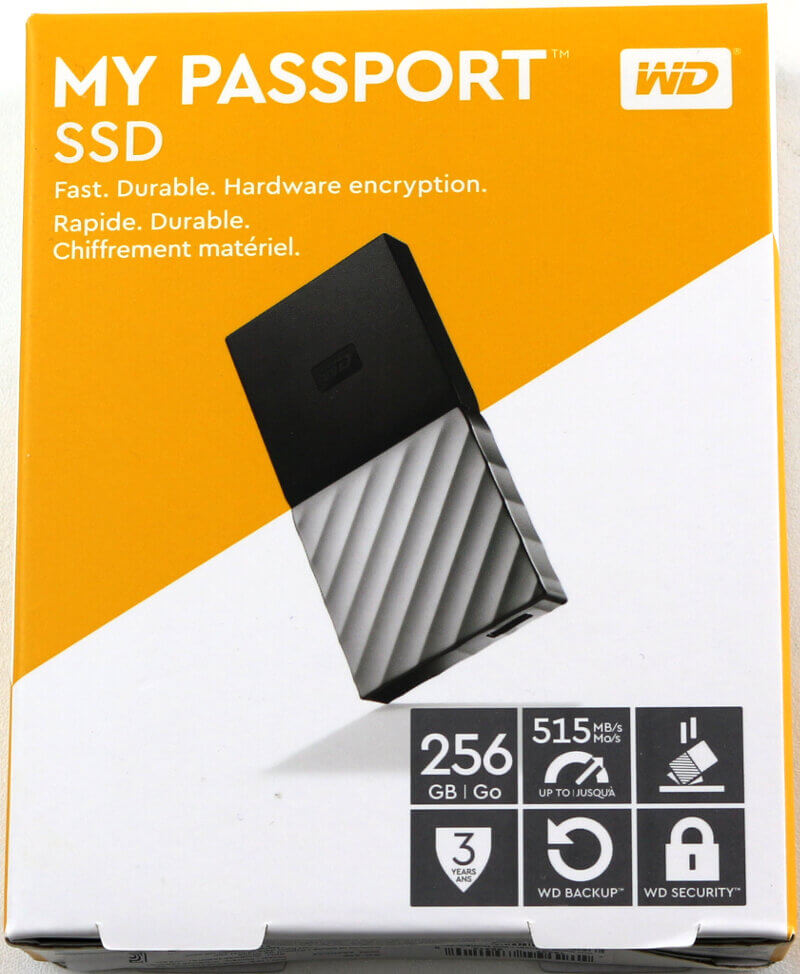 The rear side has more information about the product and its compatibility.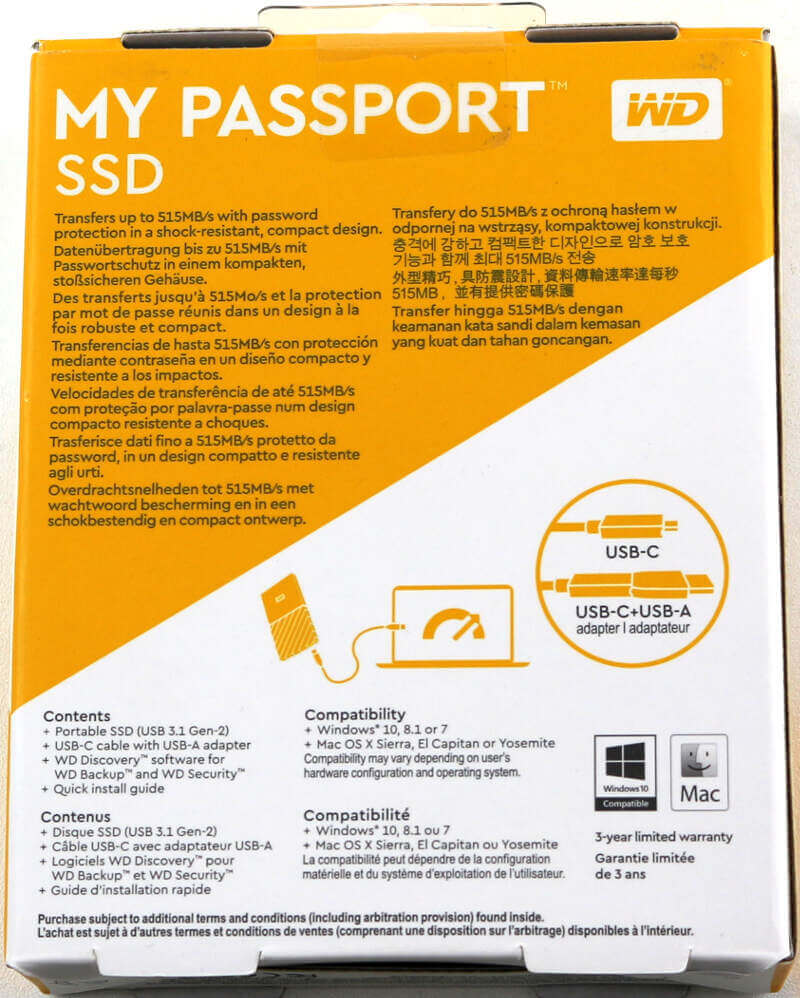 Besides the My Passport SSD, you get a welcome and getting-started guide as well as a warranty guide in case of a worst-case-scenario.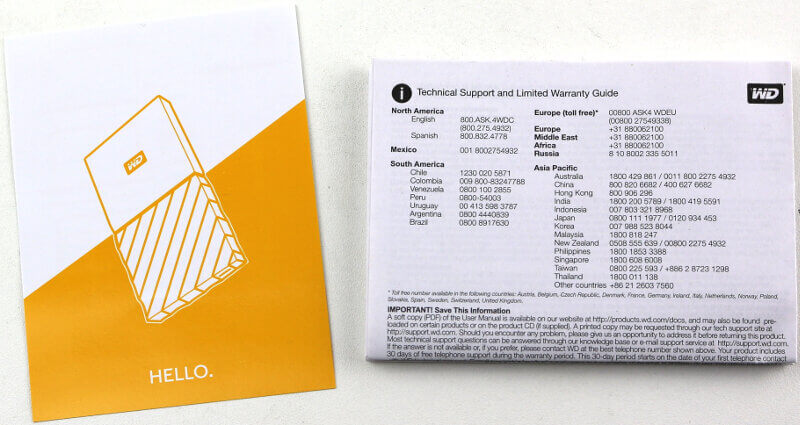 You also get a cable to connect the drive, naturally. The cable is a Type-C to Type-C cable for use with the latest generation USB hosts. There's also a Type-C to Type-A connector included for compatibility with traditional USB ports.