WD Unveils Raspberry Pi Storage Drives
---
---
---
Ashley Allen / 5 years ago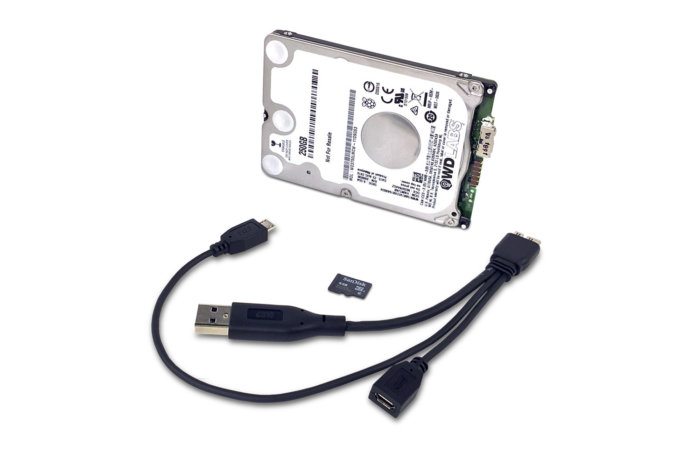 Western Digital has unveiled a new line of hard disk and flash storage drives specifically designed for use with the Raspberry Pi single board computer. The WD PiDrive Foundation Edition and WD PiDrive Berryboot Edition drives are optimised to be powered directly from the Raspberry Pi, require no external power, and come with project-specific partitions and Rasbian Lite preloaded.
"It is similar to about 30 years ago when hard disk drives went mainstream in PC's – no more swapping floppy disks in and out to load the OS, applications and data", Dave Chew, Chief Engineer at WDLabs, said. "This third generation WD PiDrive solution uses a USB HDD or USB Flash drive to run the OS and host multiple Raspberry Pi projects instead of having to do this on a collection of microSD cards. We have combined our technologies to work as a team."
The WD PiDrive Foundation Edition HDDs are available in 250GB and 375GB models, plus a 1TB Berryboot Edition HDD and a 64GB flash drive, while all come with a MicroSD preloaded with Rasbian PIXEL, the official Raspberry Pi operating system.
"Raspberry Pi fans will absolutely love the WD PiDrive Foundation Edition", Matt Richardson, Product Evangelist for the Raspberry Pi Foundation, said. "Not only is it a fantastic storage solution, but its Project Spaces feature is an innovation that will empower users with more possibilities for creation, experimentation, and fun with Raspberry Pi."
"We're excited that WDLabs is tapping into Western Digital's full portfolio of storage technology to support the growing needs of this market," Steve Campbell, Executive Vice President and CTO at Western Digital Corporation, added. "This community's focus on education, invention and new product creation makes it an important segment to seed with new tools and scalable building blocks."
The WD PiDrive Foundation Edition drives are out now – the 250GB and 375GB HDD models are priced $28.99 and $37.49, respectively, while the WD PiDrive Berryboot Edition HDD costs $59.99, and the 64GB flash drive is $18.99.