Website Calculates Time "Wasted" Watching Your Favourite Shows
---
---
---
Peter Donnell / 8 years ago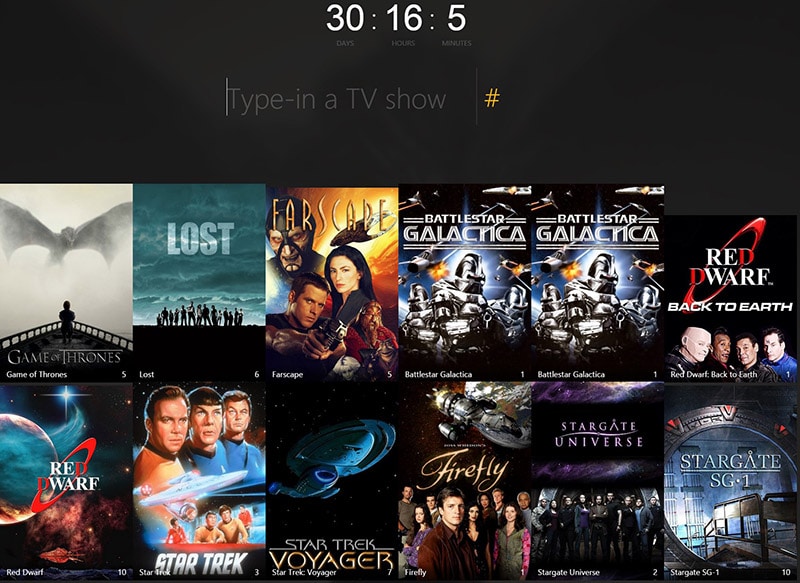 Ever sat there on a rainy weekend and binge watched your way through an entire boxset of your favourite TV show, got hooked on Game of Thrones and got lost in every episode for days on end, or given yourself a headache working out what the hell is really going on with Lock and Sheppard in Lost? Of course you have! We've all been guilty of watching a lot of TV in our lives, I realise that's an assumption, but I'm confident it's a pretty accurate one.
TV shows can span huge seasons, over many years and keep us going back for more. Ever wondered just how much of your life you've spent watching your favourite shows? Although, keep in mind, you may not want to actually know the truth, the result may be longer than you think!
tiii.me asks you to search for your favourite shows, how many seasons you've watched and tells you how many days, hours and minutes they take up. I put in the first twelve of my favourite Sci-Fi and fantasy shows and clocked up almost 31 days just on those alone and that's without factoring in the amount of times I've rewatched them, yikes! Let's not even bother counting that I've seen quite a lot of episodes of Red Dwarf over a hundred times (really).
So go on, what's your big number? and do you have any regrets for "wasting" so much time watching it all? I know I don't!