Western Digital Announces 10 TB WD Purple HDDs
---
---
---
Bohs Hansen / 6 years ago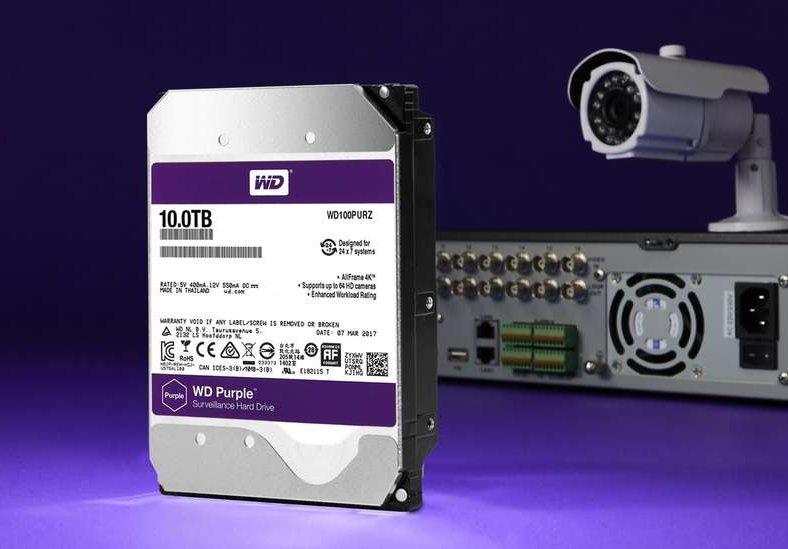 Western Digital announced that they are upping the capacity of their surveillance drives with 25% and releasing the new 10TB version in their Purple series. The WD Purple HDDs are designed for NVR and DVR systems which increase in resolutions just as any other camera system.
Beside the 25-percent capacity boost, the new 10TB Purple drives offer support for up to 64 HD cameras and they're ready for the next generation of 4K surveillance too. Naturally, the drives are designed for always-on scenarios as surveillance systems rarely pause.
"Advanced imaging technology advancements are expanding the value that video surveillance provides for applications ranging from retail and public safety monitoring to smart-city infrastructure, all of which are driving new storage needs," said Brendan Collins, vice president of product marketing. "Our new 10TB drive inherits the high performance, reliability and endurance qualities of our WD Purple family, with maximum capacity to offer VARs, integrators and consumers a 4K-ready solution for current and next-generation surveillance systems."
While the 4K security camera market only is at around 2 percent right now, it is estimated to increase to as much as 29% by 2020. With that in mind, the new drives in the Purple series might be just what you're looking for. The drives feature the AllFrame 4K technology which enhances ATA streaming support to help reduce video frame loss with proprietary cache policy management. That should improve overall data flow and playback. The new 10TB WD Purple is also using the HelioSeal technology which is why they're able to fit so much capacity into the size. This is the third generation HelioSeal technology.
Naturally, the WD Purple drives are rated for 24/7 usage and an annual workload of 180TB. These larger WD drives don't use the IntelliPower technology but rather run at a fixed 5400 RPM spindle speed. It is equipped with a 256MB cache which is double that of the 8TB version and four times that of the 6TB or smaller versions. Other than that, the official specifications haven't been updated yet, so we don't know if something else has changed from the smaller Purple drive versions.
With the new 10TB drive, the surveillance-class hard drive line is available in capacities ranging from 1TB up to 10TB, all covered by a three-year limited warranty. the Manufacturers Suggested Retail Price (MSRP) for the 3.5-inch 10TB drive (WD100PURZ) is $399.99.