Western Digital Debuts the 15TB Ultrastar DC HC620 SMR HDD
---
---
---
Ron Perillo / 2 years ago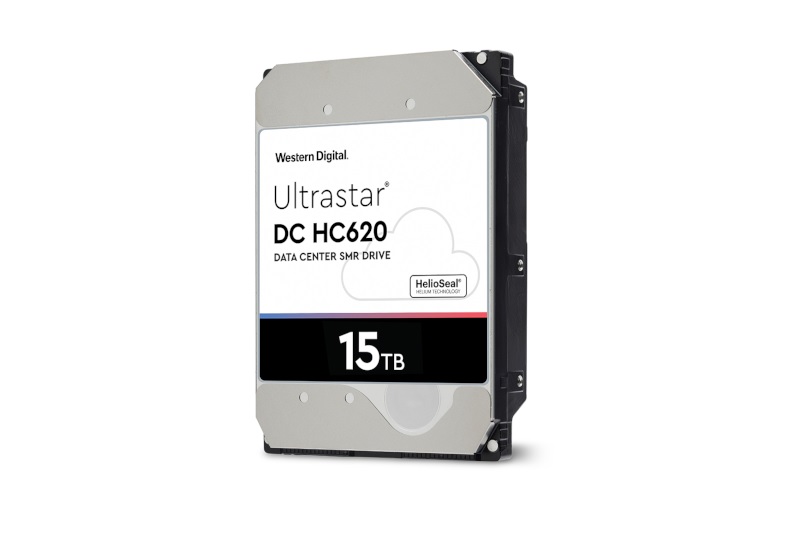 15TB Western Digital SMR Drive for Data Centers
Last year, Western Digital released a massive 14TB SMR drive for data centers. Now they are improving upon that even further with the launch of the 15TB Ultrastar DC H620. SMR of course, stands for 'Shingled Magnetic Recording'. SMR overwrites a bit of data on previous tracks to allow for higher density. Think of it like shingles on a roof or CD-rewriting. Only part of the next shingle is covered by the one that comes after. This comes at the cost of reducing performance as some extra data needs to rewritten. Also, writing to the middle of a section of the shingle is not possible without overwriting over two previous ones simultaneously.
"Setting a new bar for TCO, the Ultrastar 15TB host-managed SMR HDD is well positioned for hyperscale cloud and traditional data center workloads, including large video surveillance "smart city" initiatives, storage for regulatory compliance and Big Data storage. Enabling the world's densest server and storage systems, incorporating 15TB HDDs allows a fully populated 4U60 HDD enclosure to reach a raw storage capacity of 900TB, which is an additional 60TB per 4U rack in the same footprint compared to those utilizing 14TB HDDs. In an at-scale environment where floor space, $/TB, TB per square foot, or watts per terabyte are critical, this TCO savings can be significant"
The DC HC620 is based on Western Digital's HelioSeal platform, which was originally acquired from HGST. Its primary use is for data archival storage, rather than for continous operation with a regular drive. These DC HC620 drives are available in either SATA 6Gbps or SAS 12Gbps interface like the 14TB version before it. It also shares the same 2.5 million hour MTBF rating and the 5-year warranty.
How Much is the Western Digital 15TB Ultrastar DC HC620?
Western Digital does not disclose per-unit pricing. However, samples of these units are already shipping out to select customers at this time.