Western Digital WD Black 1TB M.2 NVMe SSD Review
---
---
---
Bohs Hansen / 3 years ago
Introduction
---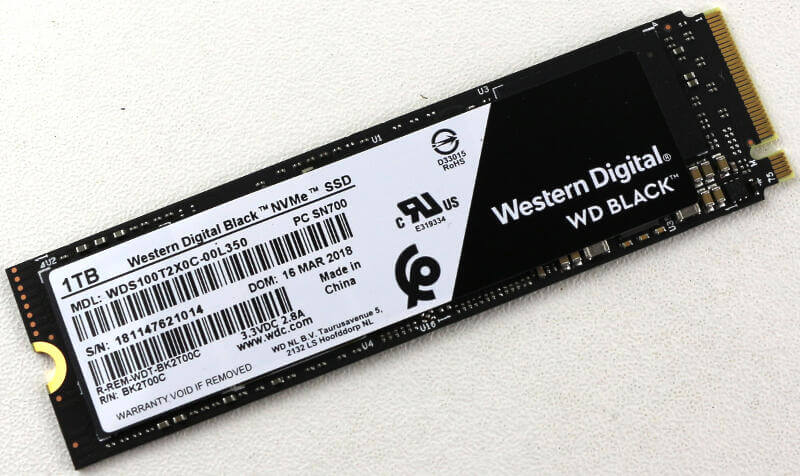 Western Digital WD Black 1TB NVMe SSD
Today is a grand day as I get to test Western Digital's WD Black NVMe SSD (product link). Western Digital has used colours to identify their drives for a long time and black has always been the crown. That is no different now that we're moving from HDDs into the SSD area. The drive on the test bench is a 1TB version of the M.2 2280 PCIe NVMe SSD.
This is actually the second version of the WD Black NVMe drive and this time it is a full in-house production. The easiest way to spot the new version is that it now uses a black PCB where the first version had a blue PCB.
Drive Design
There isn't a whole lot to say about the design of this drive, after all, it is a bare M.2 module. The top features a sticker with the logo and drive's colour as well as all the vital information. Other than that, it's a classic M.2 2280 module. The default form factor and no heatsink make sure that it will fit into almost any modern system. Whether you have a high-end notebook, a workstation, or a gaming system: the WD Black PCIe SSD will deliver an amazing performance.

It is also a nice touch that Western Digital decided to make the PCB black on this version. After all, it is the WD Black. A fitting colour match. Black will also fit well into close to any colour scheme your setup might have.
It is a one-sided module, leaving the rear side completely empty. For most systems, this won't matter, but a select few can have trouble with two-sided drives.

How Fast is WD Black PCIe SSD?
I've already hinted that the drive is fast, and it is. But let's take a look at the official drive ratings for a minute. The 1TB version of the WD Black is rated for a sequential performance of up to 3,400 MB/s when reading and up to 2,800 MB/s when writing. That's impressive! But that isn't the thing that wets my appetite, that's the random performance. Here you get up to 500K IOPS when reading and 400K IOPS when writing. Not THAT's truly impressive!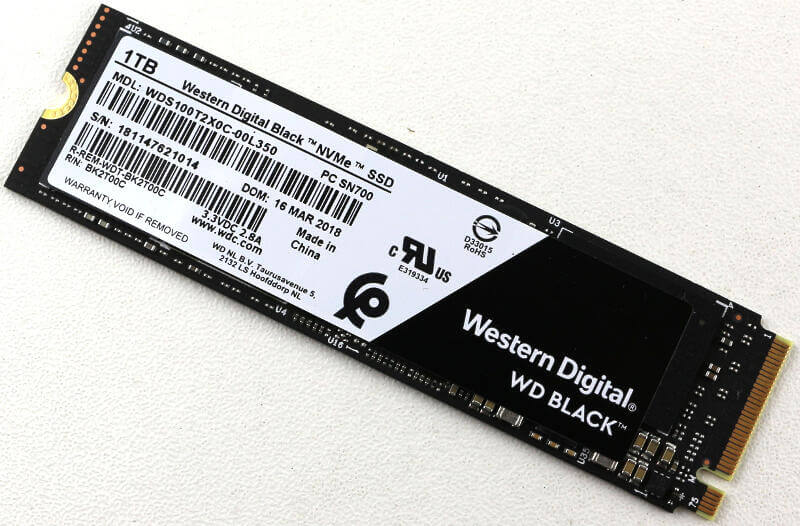 Hardware Features
As mentioned above, the Black NVMe SSD from Western Digital is a full in-house production. Since the company acquired SanDisk, they have everything they need. Years of experience in the field of NAND technology as well as the technology to utilize it. At the heart of the drive is a SanDisk 20-82-007011 controller which has been paired with Western Digital's own BiCS 3 64-layer 3D flash. A wonderful pair as we saw from the performance figures above.
Will It Last or Will the Endurance Run out of It?
Endurance is more important than ever when you invest a lot of money into a drive, so let us take a look at that aspect. Western Digital backs the drive by a 5-year warranty which already shows that it's one to last. If it wasn't, the company wouldn't offer such a long warranty. In numbers, we get 1.75 million hours of MTBF and a 600TB TBW rating for the 1TB version. The smaller 512GB drive has a TBW of 300TB.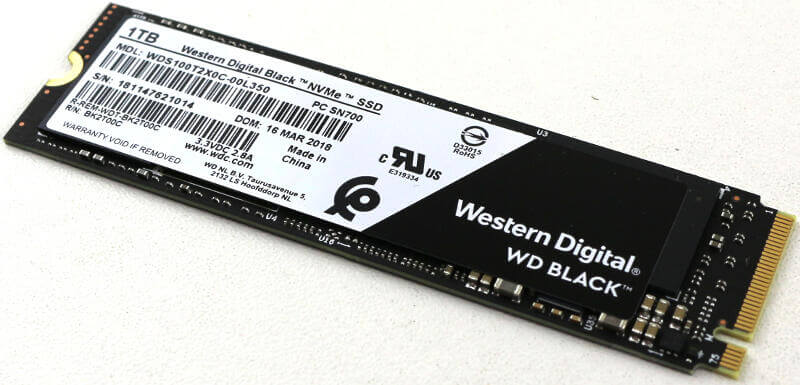 Bonus
You get two pieces of bonus software with the purchase of a WD Black PCIe NVMe SSD. The first is the WD SSD Dashboard which is a toolbox for WD SSD owners. While not particularly exciting, it's very useful to have. The second part is more interesting as you also get Acronis True Image WD Edition as a free download. With it, you can easily clone your drives for backup reasons or to clone your current drive directly onto your new and impressive WD Black.
What Did Western Digital Have to Say About It?
"Go ahead—do it all. The WD Black NVMe SSD is driven to keep up with even the most demanding workloads."
Feature Highlights
Strong sequential and random performance
Up to 1TB capacity options
Full in-house creation
High compatibility grade
600TB endurance and a 5-Year Warranty
Package and Accessories
The drive is well packed within the box in comes in and all the vital items are displayed right on the front. We have the name and product type, a photo of the drive, and the feature highlights such as the warranty and speed rating.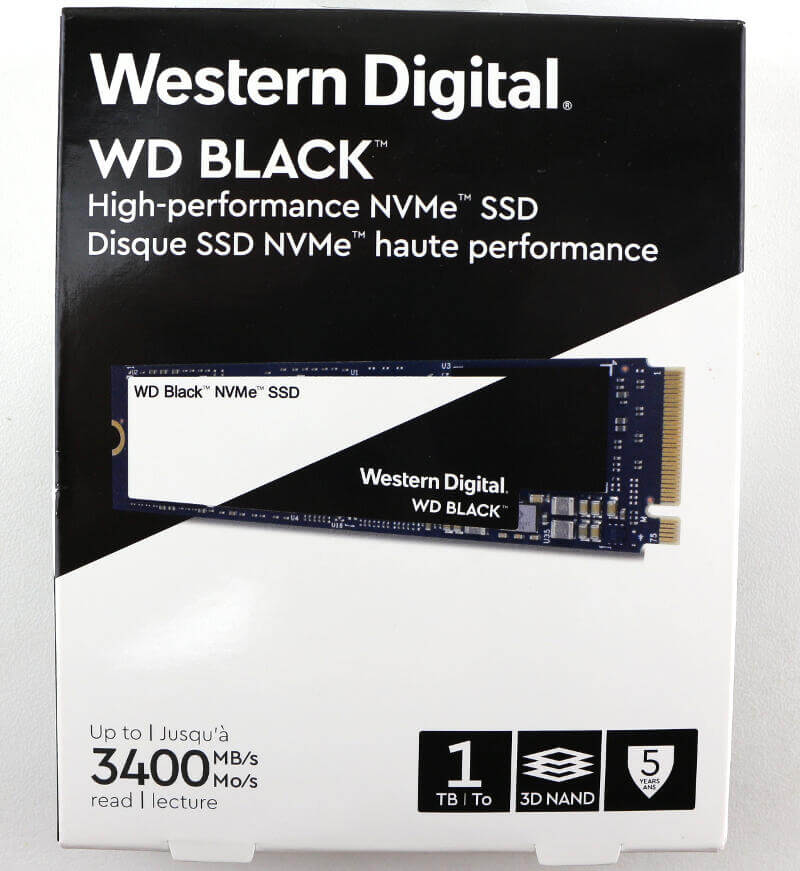 The rear side doesn't have a whole lot more information, but there is a small window which shows the drive's label and thereby information succh as capacity, serial, and product numbers.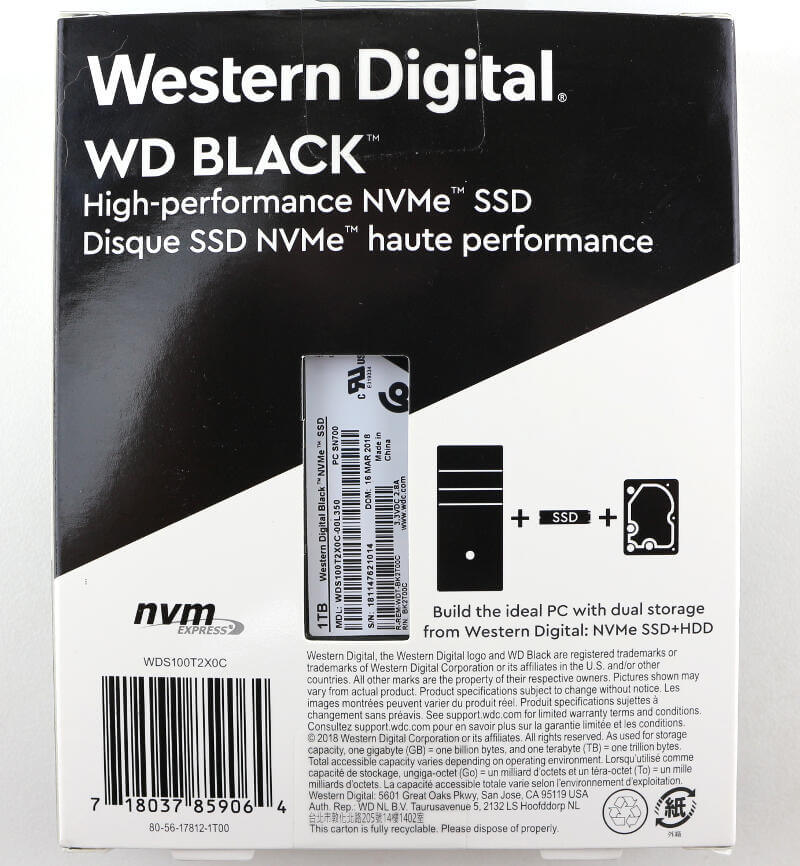 Inside is the drive itself along with a warranty guide.