In Win Tou Tempered Glass Special Edition PC Chassis Review
---
---
---
Peter Donnell / 9 years ago
Introduction
---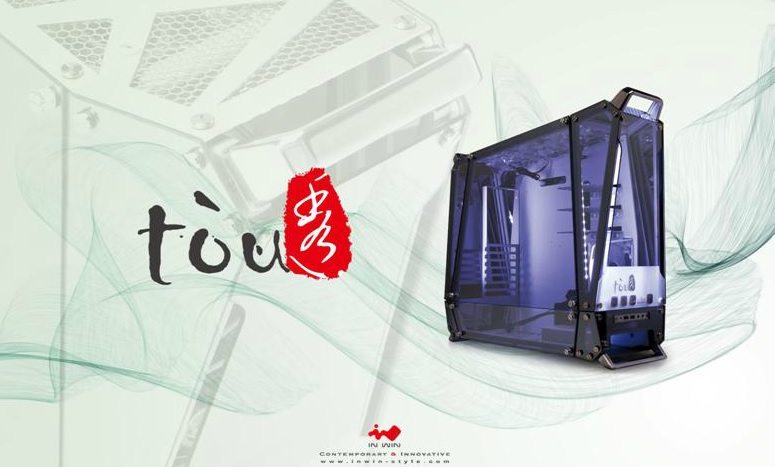 In the eTeknix office this week we have something a little different, ok a lot different! We have the super rare, expensive and exclusive In Win Tou PC chassis and we feel very lucky indeed.
The In Win Tou is part of the premium range that In Win have been building, this means it sits alongside unique products such as the H-Frame and the D-Frame, both of which are pretty insane in their own right, but it looks like In Win are pushing the boundaries of what we think of as a PC chassis even further than before.
"tòu in Chinese means transparent. The design concept comes from glass building, we use 3mm tempered glass together with aluminium structure. With special glass coating if you switch on the LED you can see the components inside. When the internal lights are off, the chassis is pretty much just a mirror." – In Win
The Tou, which I'm told is pronounced "toe or tow", is made from glass and lots of it! Set upon an aluminium frame and at first glance it resembles more of a display case than a pc case. The concept behind the Tou is based around modern architecture, much like we see on fancy glass faced office blocks and as you can see from their concept design are work there are some unique inspirations that you don't really see in PC chassis designs… until now at least.
The chassis is fairly well equipped and supports a single 5.25″ drive, 2 x 2.5″ drives, 3 x 3.5″ drives, a PSU of up to 220mm. There is also full USB 3.0 support, room for 7 expansion cards and there are four 120mm fans included (pre-installed), with room for water cooling radiators of up to 360mm.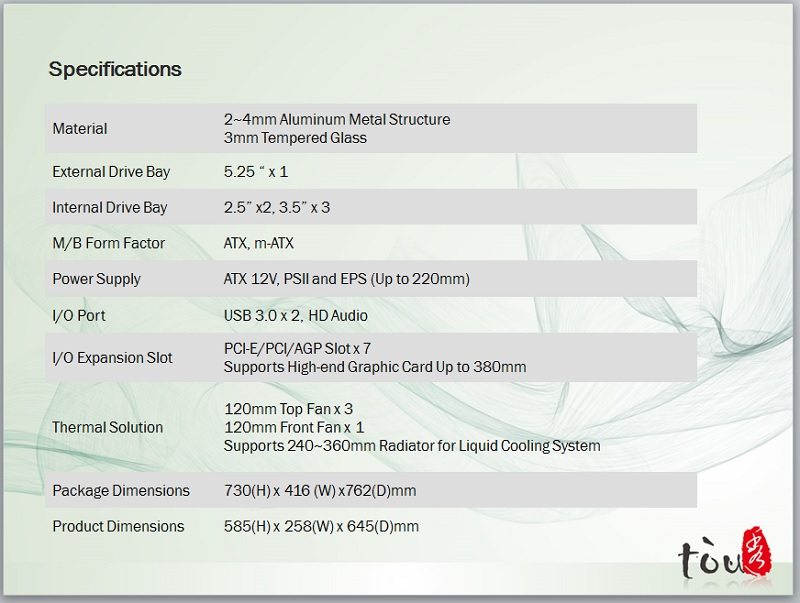 As you can see from the specifications above, the Tou isn't a small chassis and is about on par with other premium full-tower chassis, although I suspect this product wasn't really intended to be tucked away under a desk where it can not be seen, it should still fit into most under desk spaces.
We normally fire on with a look at the packaging here, but since we had a non retail box I shall pass over that bit. In the box you can expect to find a few extras, these including the usual booklet and screws you will find some screw down cable ties, these are great for keeping things tidy and cable management will be extremely vital in a build of this type.

Glass is a fingerprint magnet, so when you have a nearly all glass exterior on your chassis you are going to need to keep it clean, fortunately In Win provide a good quality microfibre cloth to help with maintenance.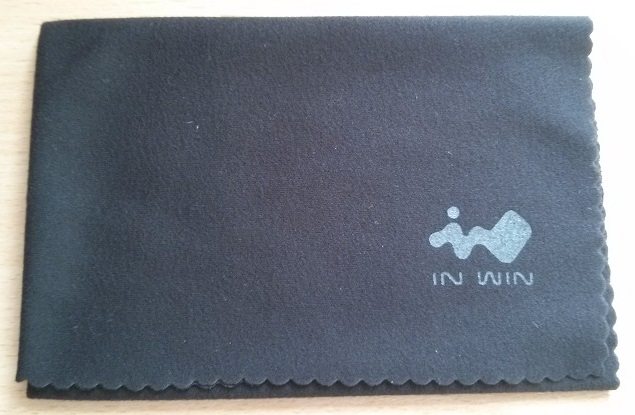 Finally we have these squeezable suction cups, these can be joined onto the side panel windows and will assist you in lifting the glass panel away from the frame. You can use your hands, but it's obviously good to keep finger prints away from the shiny PC case.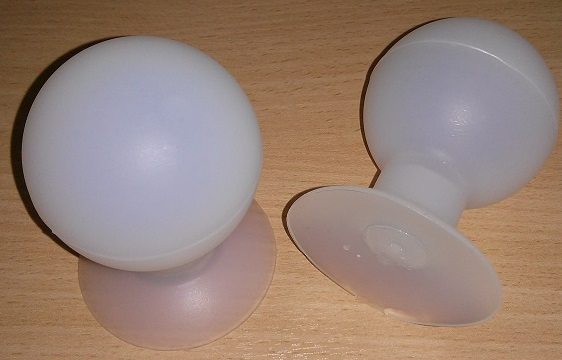 That's the accessories out of the way, now let's get right into the cool stuff and take a look at the chassis up close.