Zotac also launches its GT 640
---
---
---
Ryan Martin / 11 years ago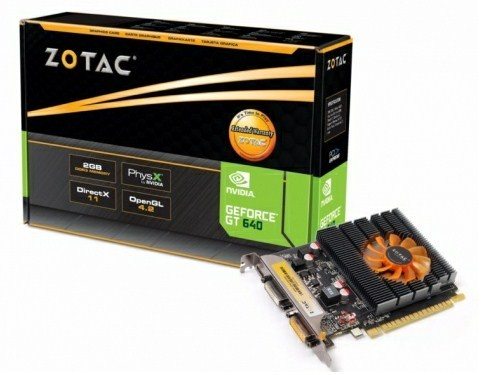 ZOTAC today continues the GeForce 600 series momentum with the new mainstream ZOTAC GeForce GT 640 graphics card for users that desire dedicated graphics and memory.NVIDIA's Kepler architecture forms the heart of the ZOTAC GeForce GT 640 graphics card with new SMX unified shaders that deliver superior performance and energy efficiency. New NVIDIA Surround technology brings triple independent displays mainstream on the ZOTAC GeForce GT 640 to create a massive workspace for greater productivity and an immersive point of view.
"Our latest ZOTAC GeForce GT 640 introduces high end features such as NVIDIA Surround and SMX architecture that debuted with our GeForce GTX 600 series graphics card to the mainstream segment. The new ZOTAC GeForce GT 640 features provide users with a rich visual computing experience that boosts productivity and performance with outstanding energy-efficiency," said Carsten Berger, marketing director, ZOTAC International.
A mini-HDMI and pair of dual-link DVI outputs provide the ZOTAC GeForce GT 640 with display connectivity to the latest digital displays. Users with analog displays can use the included DVI-to-VGA adapter with the ZOTAC GeForce GT 640.
General details
ZOTAC GeForce GT 640
384 processor cores
Engine clock: 900 MHz
2GB DDR3 memory
Memory clock: 1782 MHz
128-bit memory interface
DVI-I, DVI-D, and mini-HDMI outputs
PCI Express 3.0 interface
NVIDIA SMX architecture
NVIDIA Surround ready
NVIDIA Adaptive Vertical Sync
DirectX 11 technology & Shader Model 5.0
OpenGL 4.2 compatible
Hardware-accelerated Full HD video playback
Blu-ray 3D ready
Loss-less audio bitstream capable
TrackMania 2 Canyon 3-Day Game Pass included
Source:PR