Zotac MEK1 Gaming PC System Review
---
---
---
Mike Sanders / 5 years ago
---

Zotac MEK1 Gaming PC System Review
Zotac is slowly but surely carving a decent reputation for themselves in regards to pre-built systems. After all, not everyone knows how to put a computer together, let alone a good looking one. In addition, ensuring full compatibility is a tricky business and with the price of components these days, it's hardly a cheap matter either. So, why not let someone else do the hard work for you?
Zotac generally tends to prefer sticking to the smaller or sleeker designs taking space very seriously. As such we regularly see Zotac systems carrying mini-ITX style cases be it in a full system or in the 'barebones' system we reviewed earlier this year.
In comparison, while the 'barebones' system was exactly that, in this instance we have the Zotac MEK1 Gaming PC to check out. A fully fledged gaming PC, ready to run out of the box and crammed full of excellent components to handle even the toughest of games. Well, at least on paper. This system, however, is not all about performance, it also carries some pretty impressive looks. It is, after all, nice to have a gaming PC that not only runs great but looks fantastic while doing so. Lets put the Zotac MEK1 Gaming PC to the test to see if this could be a great option for your next system!
Features
ZOTAC GeForce GTX 1070 Ti graphics card
7th Gen Intel Core i7 processor (our specific model had the Intel i7 7700 Processor)
Ultra-slim
Full body SPECTRA Lighting
VR Ready, Gaming Ready, 4K Ready
Mini ITX Form Factor
Specifications
Aside from the general system specifications below, you do get a choice of processor and graphics card. For this specific system, the processor was an Intel i7 7700 and the graphics card was a Nvidia 1070ti with 8gb of VRAM. Further system details and specifications can be viewed on the official product website.

What Zotac has to say
"Live To Game with MEK1 Gaming PC, the ultra-slim desktop built for gaming. With a design themed after future robotics and mechanical anatomy, the Gaming PC harnesses future technologies representing an overpowering presence and commands you to take control, respond crisply to every action, and game at the limit." – Zotac
Product Trailer
Packaging and Set-Up
The system exterior is rather plain and that sometimes can work against the product. Given that this one though has nice bright LED lighting, it works really well in showcasing what is at least aesthetically the stand-out aspect of the product. You do have an image of the box and the MEK1 logo is also lightly embossed on the box work. We would usually include more photographs, but given that the boxing gives no technical specification, there really isn't much point. This isn't, incidentally, a criticism. This is very common in pre-built system boxes.
In terms of loose components, the only real part that you need to get the system ready to plug in and use are the stands. These are provided in separate packaging and clip simply onto the base of the system. The design is both simple and effective and when installed the system feels more than solid and stable in an upright position.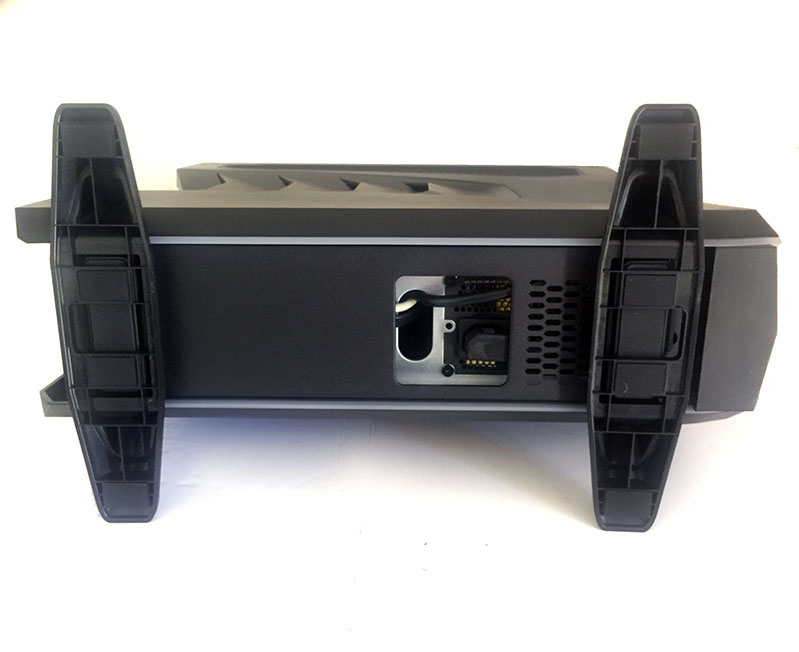 Accessories
All of the product accessories are included in a nice black Zotac branded box. Everything within is well organized and we shall details the inclusions shortly. It is, however, worth noting that the system does come with a clip-on strap pre-installed around the chassis. This allows for you to easily remove it from the box and given that it is clip-on, it can be re-fitted for carrying or re-packaging with no problems.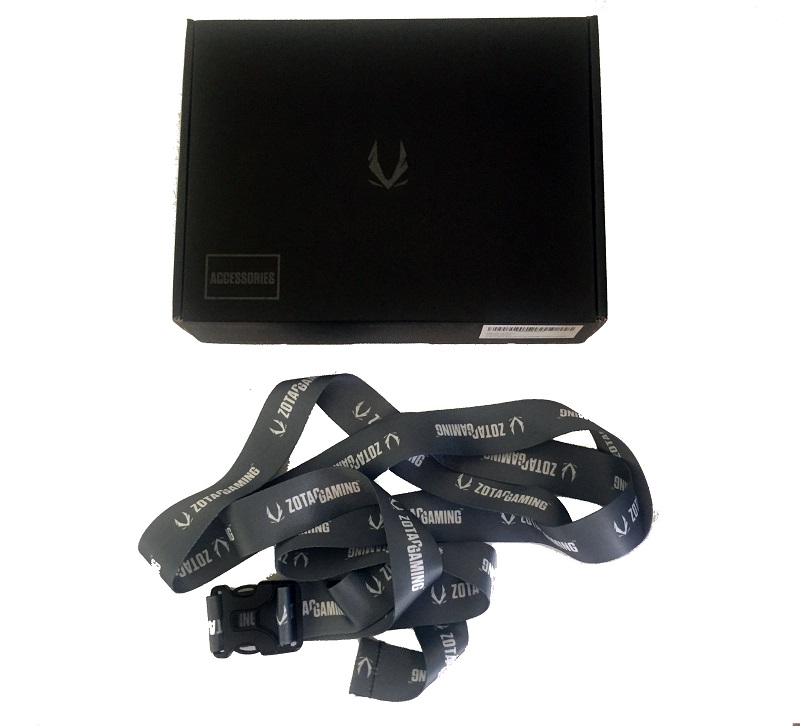 In terms of loose components, things are kept to a minimum. Aside from the aforementioned stands, you are provided with a cd-case (which will get onto in more detail shortly), a UK and EU power supply as well as the 2 wireless aerials. As you would expect everything is neatly organized into separate plastic containers.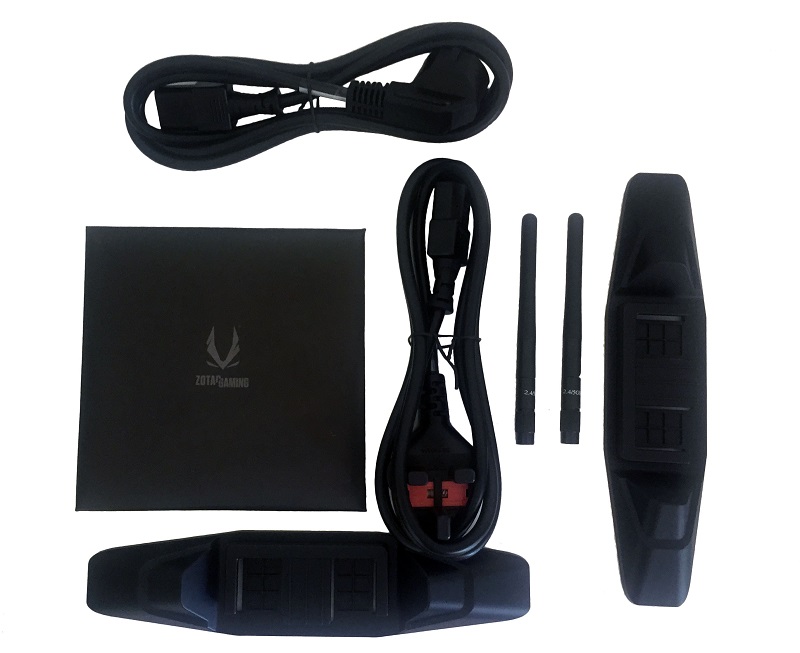 The manuals included in the set up include both a product specification, the quick start guide and some promotional material. In addition, the recovery information including system drivers are usefully provided on both a DVD-ROM and USB stick. Admittedly the system doesn't have a DVD-Drive and as such it's inclusion is a little strange. The USB stick though should be more than sufficient. It is, however, if nothing else, great that they included both.