Zotac Sonix 480GB PCIe NVMe SSD Review
---
---
---
Bohs Hansen / 7 years ago
Introduction
---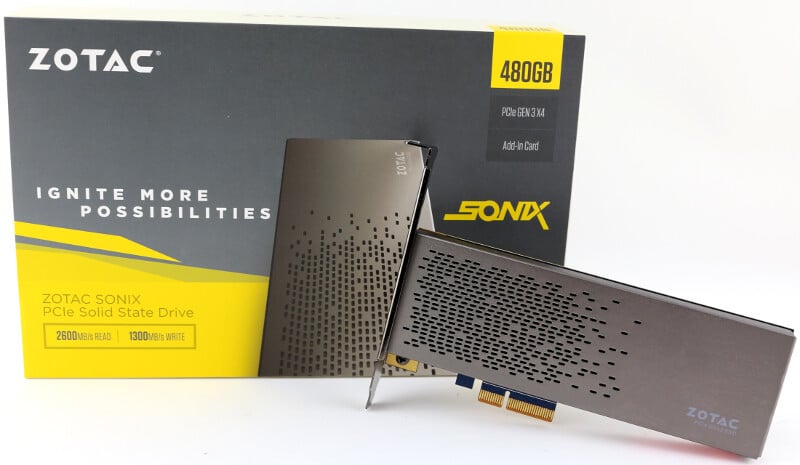 We have finally entered the new storage era and it is no longer just a few selected manufacturers that have NVMe drives on the market. More competition and more options are great for us consumers and it is a pleasure for me to take Zotac's Sonix PCIe-based NVMe SSD with 480GB capacity for a test drive here at the office today.
Zotac describes the drive as a silent silver bullet and that is not a far-fetched statement. NVMe is a standard created for solid state drives where SATA was made for mechanical drives and originates all the way back from IDE. NVMe can handle a lot more and in return, we get improved access times and blazing fast transfer speeds. This is to part due to better components, but mainly the ability to utilize the CPU a lot better and take advantage of modern architectures.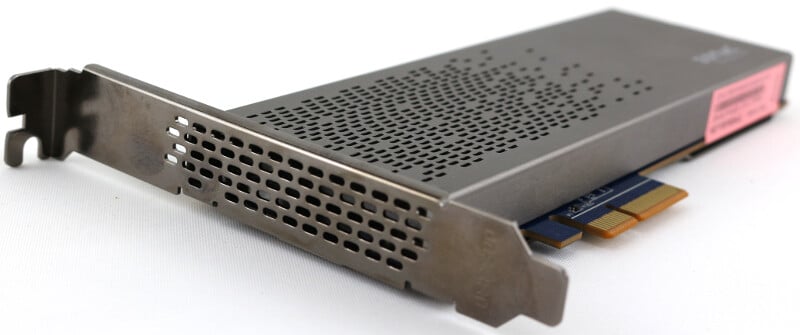 The Zotac Sonix PCIe SSD takes full advantage of the PCIe Gen 3 technology, utilizing x4 express lanes to deliver a great performance. The next generation of storage. NVMe drives aren't limited to PCIe add-in cards, but having a card comes with some advantages over just an M.2 module. The compatibility rate is higher as it is far from everyone that has a motherboard with an x4 speed M.2 slot and it also allows for better cooling options such as we see here. Zotac's Sonix is packed with a large heatsink that will make sure that the drive runs optimally even in space and ventilation restricted areas. The Sonix also uses the latest NVMe 1.2 standard.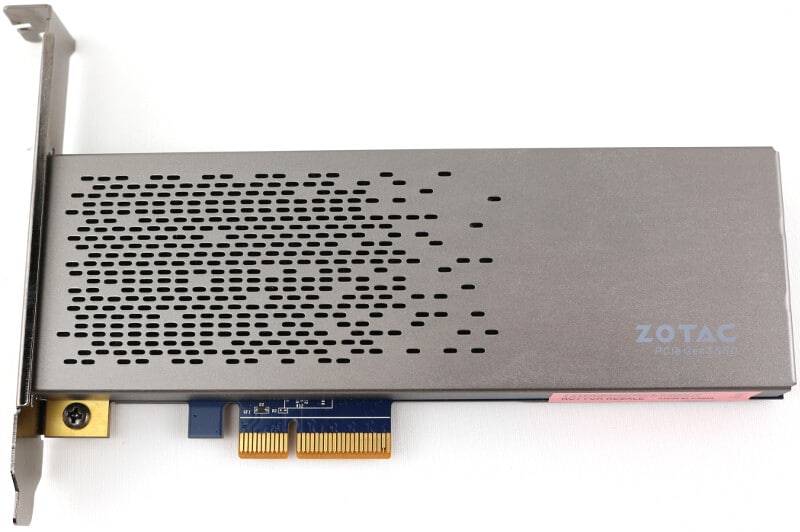 While the Sonix features a large heatsink, the card isn't that large either and it still allows for installation in low profile cases with the secondary adapter bracket which is included with the drive.
Wear and tear is a problem for solid state storage, or it would be if we didn't do something about it and that is handled by wear leveling. The Sonix maximizes the endurance with dynamic wear leveling. A healthy NAND memory is faster than a damaged one and a whole cluster of healthy NAND is even better. The dynamic wear leveling will even out the wear over all NAND modules, making sure that the drive doesn't fail because a single NAND package gets damaged. This results in a rated meantime before failure of 2 million hours. Other features include the standards such as Trim and SMART.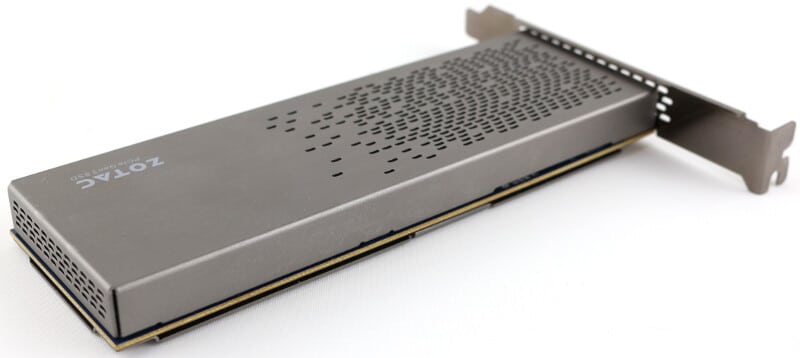 We should also talk a bit more about the specifications and the ratings here. The PCIe add-in card uses NVMe 1.2 and a PCIe Gen 3 x4 connection to achieve sequential performance figures up to 2600 MB/s while reading and 1300MB/s while writing. The random performance doesn't have a rating, but we'll see that soon enough when we start our own benchmarks. After all, that's what we're interested in.
The Sonix is built with a Phison PS5007-11 controller and Toshiba MLC NAND and comes with 512MB DDR3 cache. The power consumption is rated to 5.57W reading, 7.27W writing, and 0.5W when idle.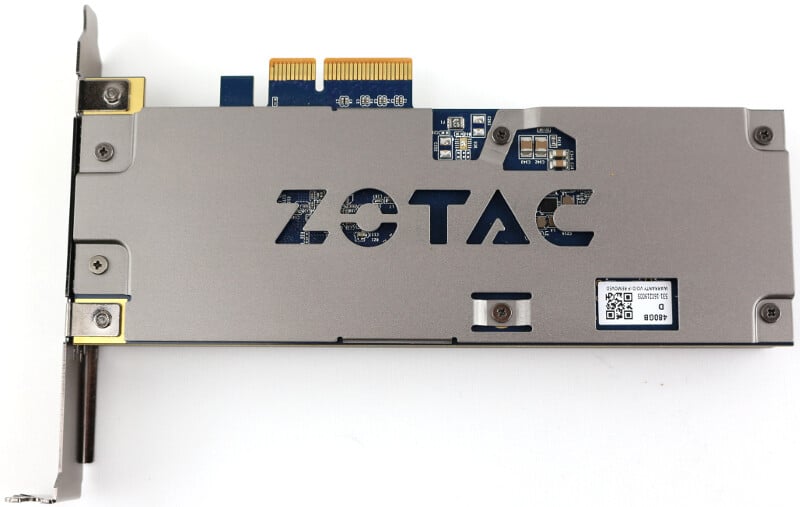 It doesn't matter whether you're an enthusiast, creative, professional, gamer, or just the average Joe, you'll love this drive and what it has to offer. This is simply nothing that can be compared to an ordinary SATA3 solid state drive and it will deliver a noticeable performance difference no matter what you will be doing with your Sonix equipped system.
Feature Highlights
NVMe 1.2 and PCIe Gen 3 x4 speeds
Up to 2600MB/s read and 1300MB/s write speeds
Dynamic Wear Leveling
Toshiba MLC NAND
3-Year Warranty
Packaging and Accessories
Zotac packed the Sonix into a beautiful box that showcases the drive design and performance on the front.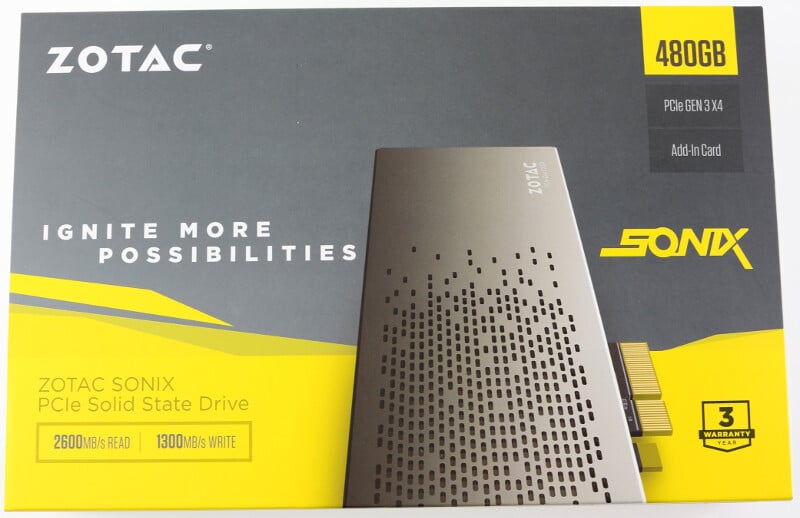 The rear features a little more information on the specification and features as well as a list of what's in the box.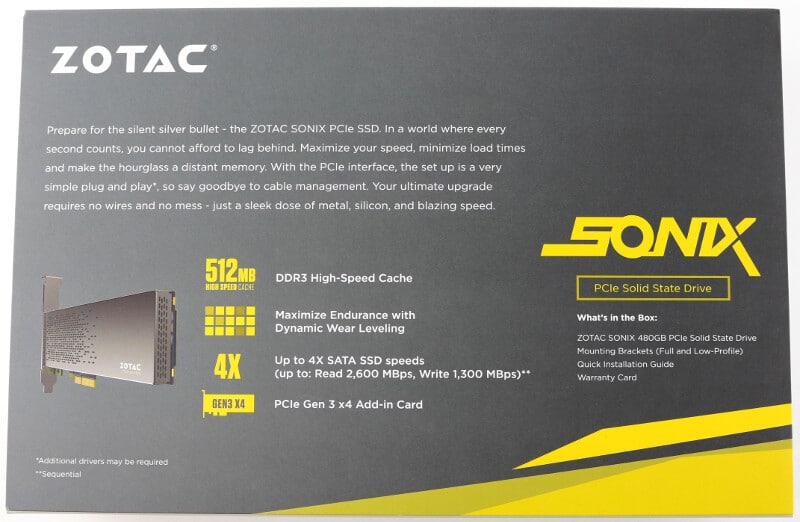 Our review sample only contained the drive, but the retail version will also feature a low-profile mounting bracket, a quick installation guide, and a warranty card.