AMD 7900X Benchmarked – Lacklustre Single Core With Temps Questioned Again!
---
---
---
Mike Sanders / 2 weeks ago
With AMD set to officially release its Ryzen 7000 processors in a week's time, anticipation is clearly high for their next-generation designs and particularly so in regards to what kind of performance uplift users can expect from the transition to the new AM5 socket on DDR5 memory. – With this in mind though, we're clearly at a point now where review samples will be in media hands, and, by proxy, benchmarks leaks will start appearing thick and fast ahead of the official embargo (September 26th).
One such benchmark was seen earlier this month when a Ryzen 7600X was tested and while the results were certainly encouraging, with 91.2C recorded at 100% load, this was clearly operating at a rather toasty temperature. – It did, therefore, raise concerns as to whether the Ryzen 7000 series as a whole might've been set to run on the hotter side of things than we had previously gotten used to. – So, will this be the case? Well, following a report via TechPowerUp, new AMD Ryzen 7900X benchmarks have appeared online and while the temperatures are a little more encouraging, they're still on the fairly warm side of things!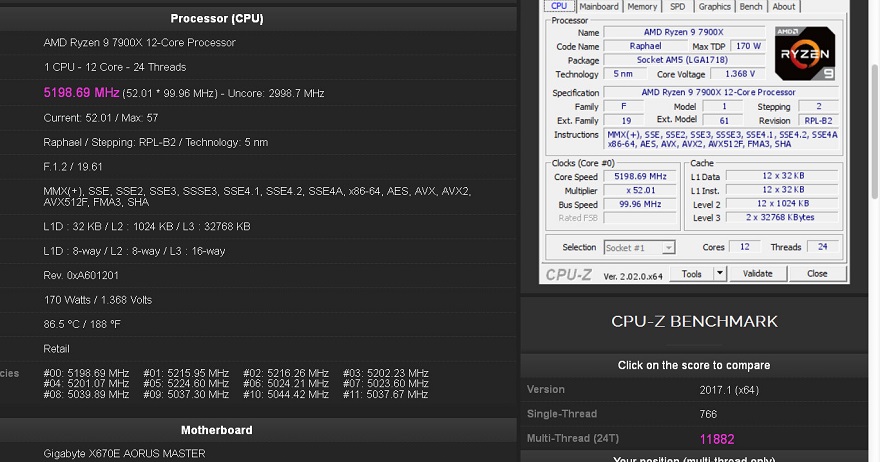 AMD Ryzen 9 7900X
Firstly, taking a look at the benchmark figures themselves (CPU-Z), the AMD Ryzen 7900X performs exceptionally well in multi-core performance which, in fairness, is exactly as expected. It is, however, a little surprising to see its single-core performance so comparatively lacklustre. In this regard, however, many sources already believe that this may well be due to throttling due to the CPU temperature hitting a fairly hot 86C.
No, this isn't obscenely toasty, but it is undoubtedly hotter than you might've expected to see from its standard configuration on what presumably must at least be a component cooling solution.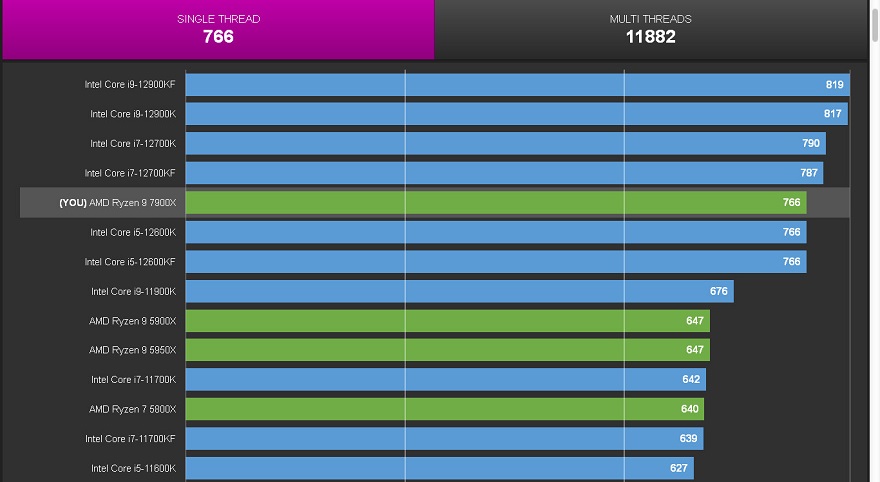 Like the prior leak from the 7600X, question marks have been raised as to exactly what kind of cooler was utilised for this testing. With the 7600X's 91.2C reportedly being achieved on a 240mm or 280mm AIO, it does seem to add to the growing rumours (or should that be concerns) that AMD Ryzen 7000 is going to massively benefit from having a pretty hefty cooling solution attached to it.
No, we don't know what cooler was used in this Ryzen 7900X testing. If this is a top-spec 360mm AIO, however, then it clearly raises some fairly worrying questions about how lower-tier products might cope!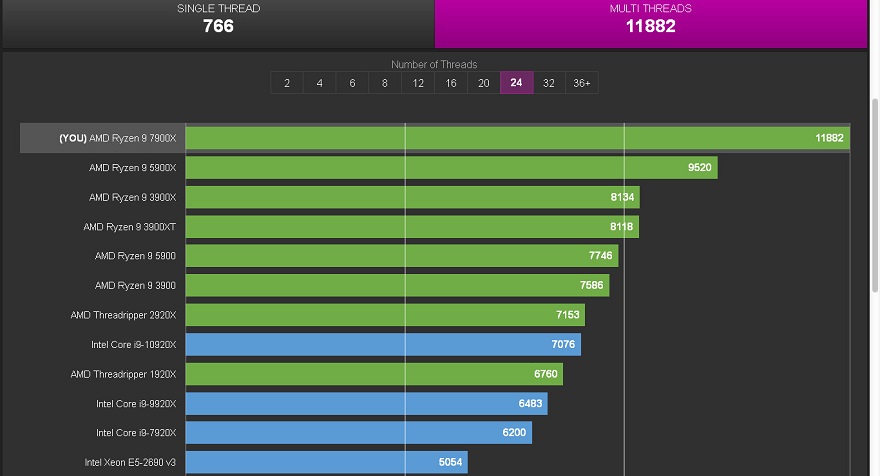 What Do We Think?
Is AMD Ryzen 7000 set to run at a toasty level of performance not seen since their FX chipsets? – We certainly hope not, but with that being said, it does seem to be a growing theme among the leaks so far. Albeit, leaks which are clearly lacking in terms of full details and specifications regarding the overall configuration. – Rest assured though, we'll be ready to tell you exactly what we think of all the Ryzen 7000 processors as soon as the embargo lifts!
What do you think? – Let us know in the comments!