AMD Starts Q3 2017 with 5.8% CPU Market Share Gain Over Intel
---
---
---
Ron Perillo / 4 years ago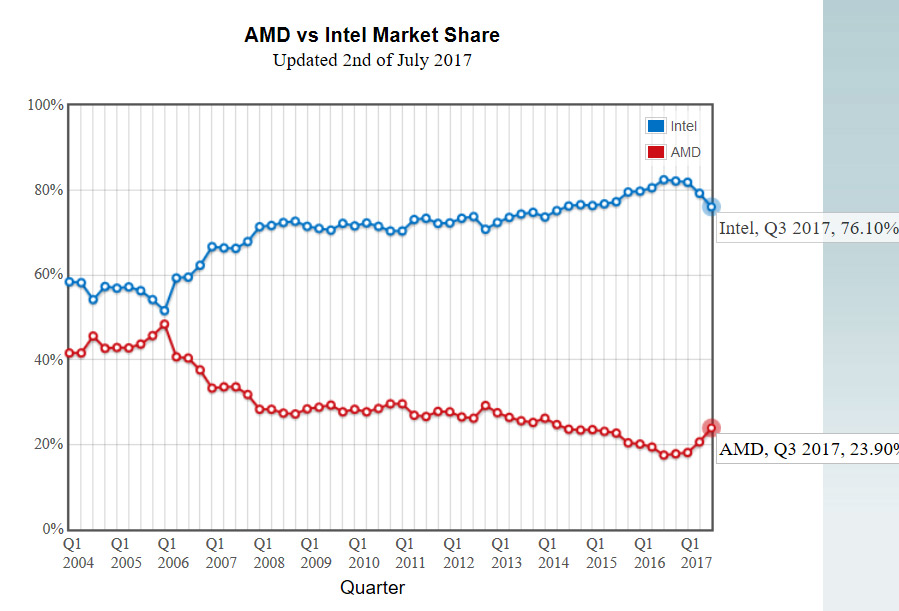 Passmark's market share data showed substantial gain for AMD two months ago over Intel's CPU share. Now at the beginning of Q3 2017, it appears that AMD is able to keep that momentum going, getting its largest share over chipzilla since 2008. In Q1 2017, Intel's market share according to the Passmark graph shows 81.90% total while AMD has 18.10%. A snapshot taken on July 2 however, shows the Intel share drop to 76.10% while AMD rose to 23.90%.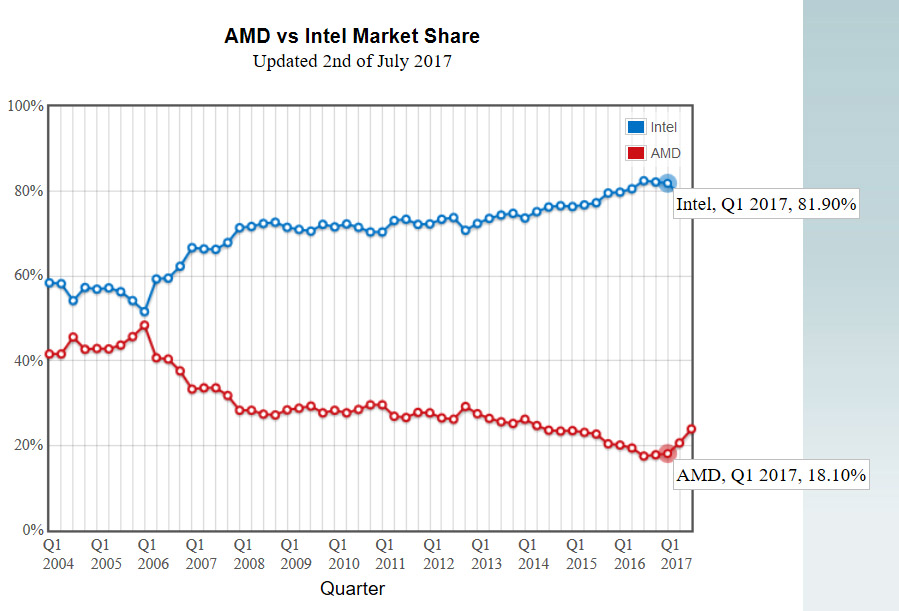 Ryzen's CPUs remain very popular among system builders and it appears to keep the momentum going. AMD is set to announce their Threadripper CPUs soon, in response to Intel's HEDT platform. However, Intel's HEDT is getting mixed reception which could tip the scales further to AMD's side. AMD also has yet to release their Ryzen 3 and Raven Ridge APUs, which should tip the scales further away from Intel. The Passmark measurement only accounts for all x86 CPUs so it does not include Intel's other non-desktop or non-mobile processors. It also excludes console processors such as the AMD APUs used by Microsoft on their Xbox console.
Passmark Market Share Data vs Actual Market Share Data
The CPU sales figures come from PassMark quarterly report which measures the CPU market share via individual system benchmarks performed using their program and is not pulled from store sales figures. This has the advantage of showing CPUs that are actually used rather than just stock on hand or pre-orders. Obviously, there are some short comings to this metric since it does not account for all sold CPU. Plus, there is no way to measure the unnaccounted sold units unless they run the program. However, it does provide a decent snapshot of an upward trend and momentum on AMD's part.
There is also the fact that PassMark's market share changes dramatically from day to day. Many other sites have posted a 10.4% gain on July 1st for example, but that has since normalized to less than a 5.8% gain.