AMD Kaveri A10-7850K Overclocking Analysis
---
---
---
Ryan Martin / 9 years ago
Introduction
---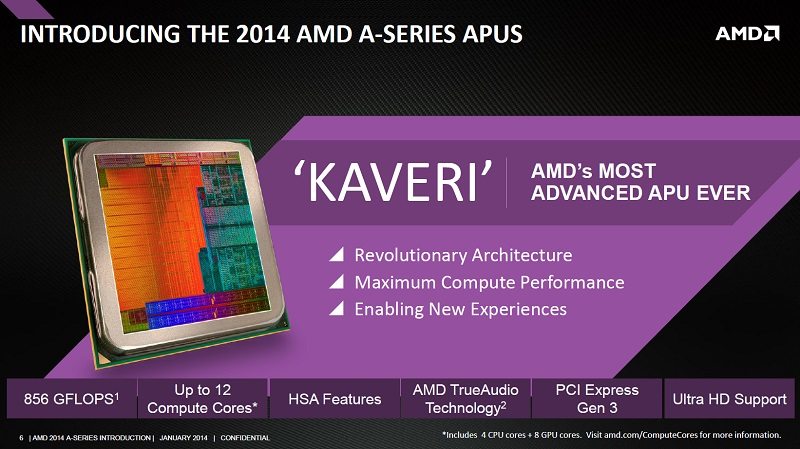 AMD's Kaveri K Series APUs have a wealth of untapped performance potential: out of the box they come with a modest 720MHz GPU core clock speed, yet anyone who has toyed with AMD APUs in the past knows there's going to be a lot of overclocking headroom. Before we progress any further I'm going to make my intentions with this article clear – AMD's Kaveri APU is about the GPU and that's where our focus lays today. Sure you can overclock the CPU, but because the CPU and GPU are combined, overclocking the CPU reduces the thermal and power headroom of the GPU, and vice versa. Not to mention that the GPU offers the most potential for performance scaling whereas the CPU doesn't offer anywhere near as much – so picking the CPU over the GPU will leave you with less performance than if you'd have picked the GPU. Picking only the GPU for overclocking also makes sense as the A10-7850K is primarily designed to be a gaming chip, and a chip that takes advantage of GPU acceleration, so overclocking the CPU with detriment to the GPU makes no sense at all. How does the CPU have the potential to detriment the GPU you might ask? Well it is quite simple – the CPU produces more heat and uses more power than the GPU so overclocking it is likely to lead to thermal throttling of the entire APU package. With regards to TDP/power-based throttling you can get around this by disabling AMD's APM (Application Power Management) but you still have the heat issue to contend with. Therefore for the purposes of this article we're going with a GPU overclock only. For those interested in overclocking the CPU you're better off waiting for the standalone Steamroller based Athlon CPUs to hit the FM2+ socket, or going with existing FX and Athlon series AMD CPUs.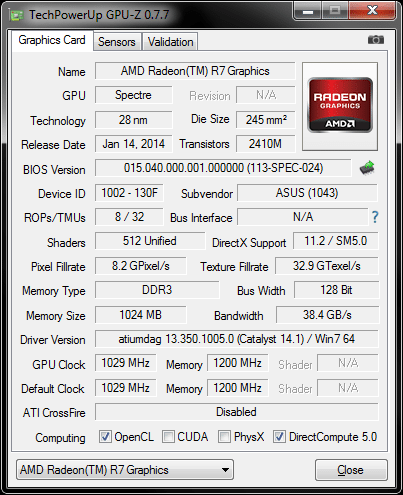 After a bit of toying we've found our GPU clock sweet spot, or the highest point that was stable without any voltage tweaks – 1028MHz. That's an impressive 308MHz overclock from the out of the box speed, in percentage terms that's a staggering 43% boost in frequency! Aside from overclocking the GPU we haven't touched the CPU or any other clock speeds, but I can inform you we have paired the overclocked APU with faster memory than we used in the original testing on our Kaveri Ultimate Review. We are using 2400MHz RAM but for reference we also have results in the graphs with 2400MHz RAM without any overclocks applied so you can see the true scaling from the GPU overclock alone. As we're focusing on the GPU we've also omitted re-running any tests that are CPU-only, or use minimal GPU resources, because we'll only end up showing you identical results which is a waste of your reading time as well as our testing time.
Before we delve into the results from our overclocking let's first take a brief look at some of AMD's own internal testing. As we can see they are illustrating our point about Kaveri overclocking, if you overclock the CPU the gains in performance are pretty modest compared to overclocking the GPU where you can see substantial jumps in performance.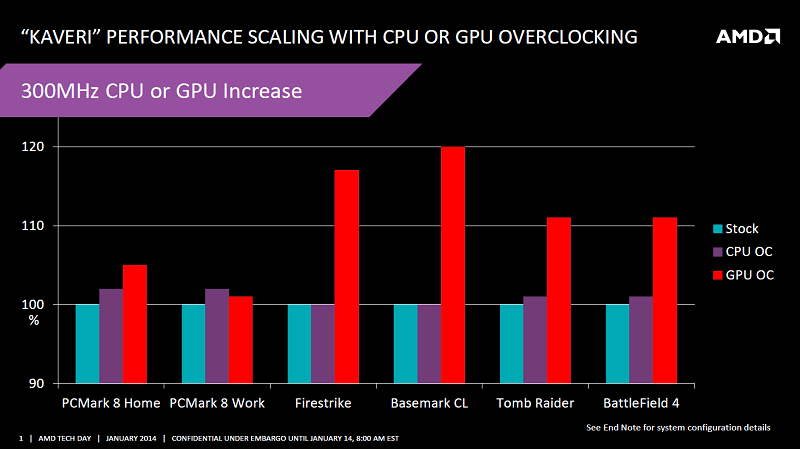 Memory scaling actually offers almost as much performance as GPU overclocking alone according to AMD, one of the reasons why we're using 2400MHz memory here. If you're going to be buying a Kaveri A10-7850K based system then 2400MHz memory, or at least 2133MHz, is an absolute must.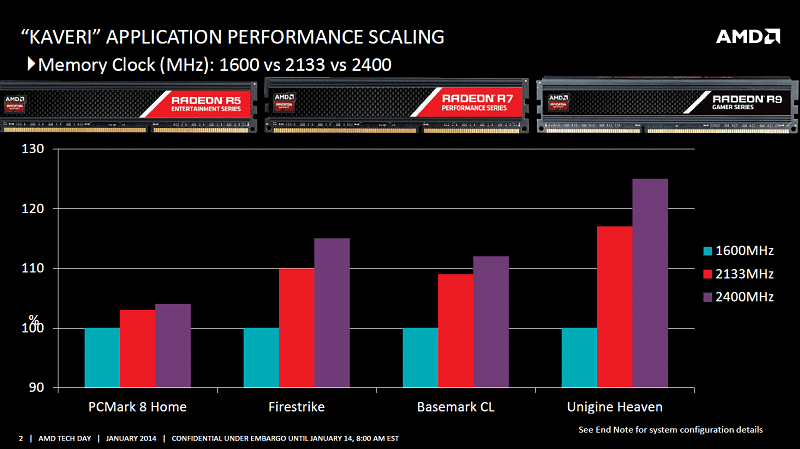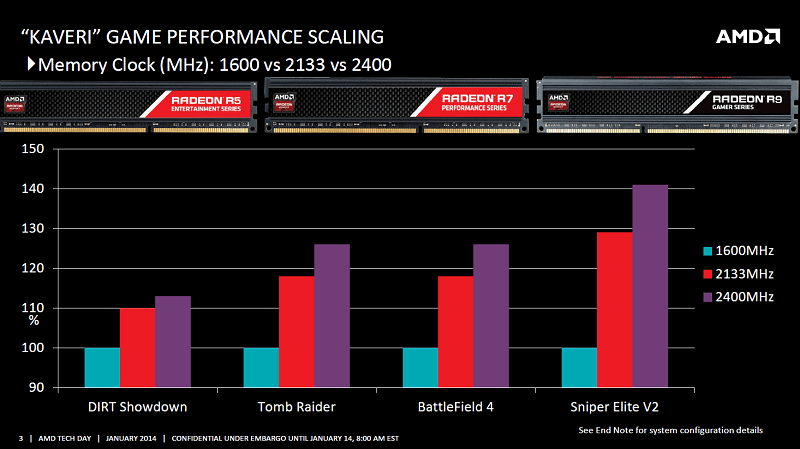 When you stack fast memory with an overclocked GPU AMD is claiming as much as a 50% boost in frame rates in some games. So with your appetite now ready for some overclocking let's get straight into the results!