Antec Kuhler H2O 650 AIO CPU Water Cooler Review
---
---
---
Peter Donnell / 10 years ago
A Closer Look
---
The universal mounting bracket is used to hold the CPU cooling block to the CPU. It features a very cool design that allows the screw brackets to be adjusted around the circle to suit different socket types. Small rubber inserts then clip in to it to keep them in place allowing for a relatively pain-free installation process.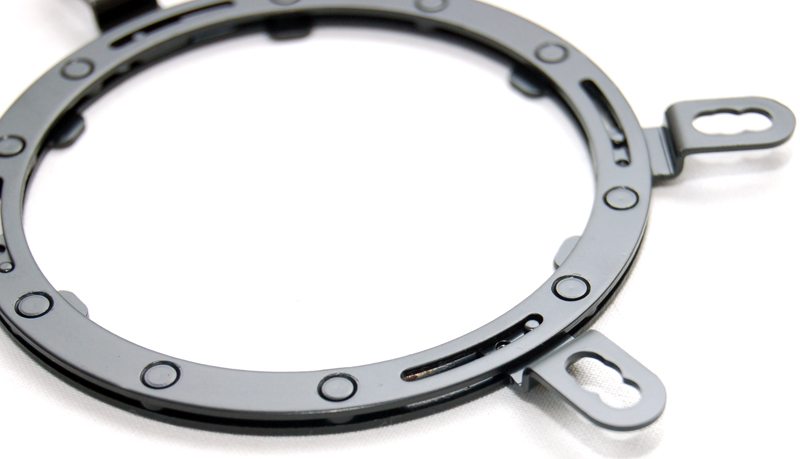 Since this is an all in one unit, the pump, radiator and in this case even the fan comes pre-installed. It is ready to mount right onto the CPU, screw the radiator to your chassis and put it to good use. This makes it incredibly user-friendly. It has a hose length of 11.8″ and that should be more than enough for mounting the radiator on the rear exhaust fan of most chassis.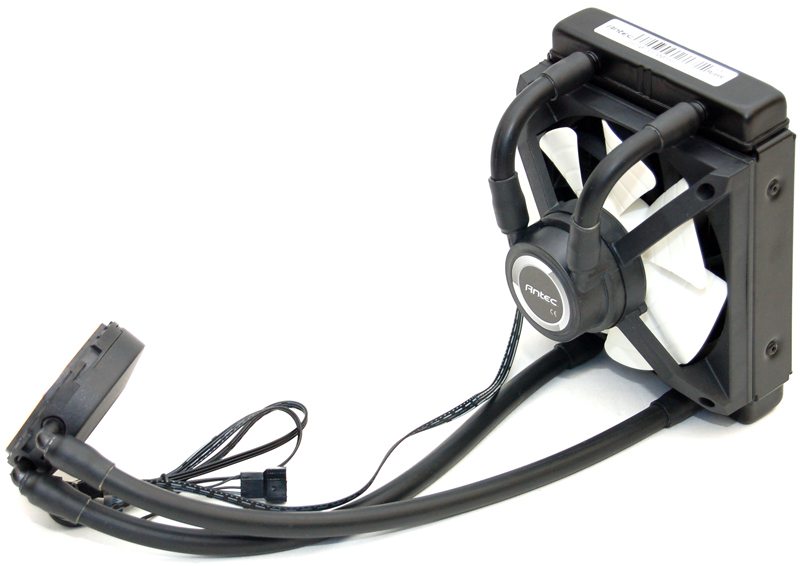 The 120mm radiator features two small reservoirs, one on the top, one on the bottom edge of the radiator. Water flows through the radiator to the pump and then back down into the radiator again. The pump is mounted on top of the integrated PWM fan it truly is a unique design. Personally I think it manages to be both ugly, but cool looking at the same time.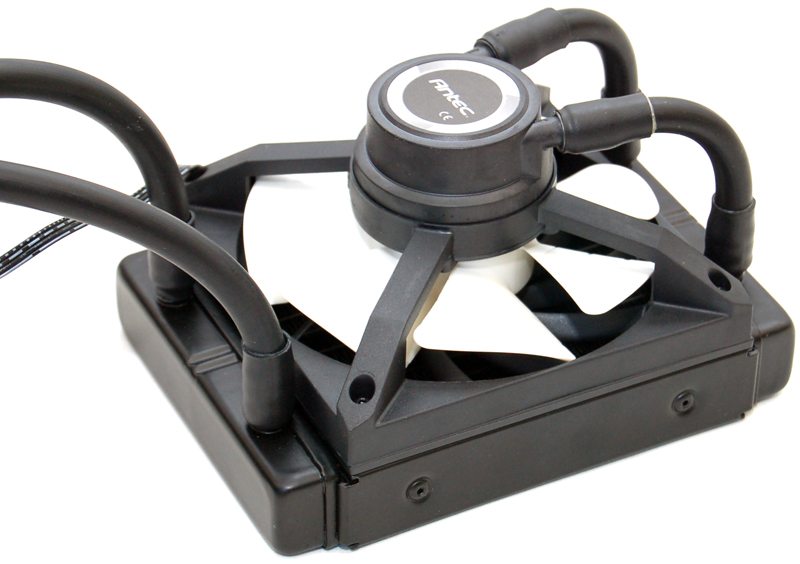 The whole thing feels really solid, the pipes are tough but flexible, the seals look well reinforces and protected and the fan and pump assembly looks rock solid too.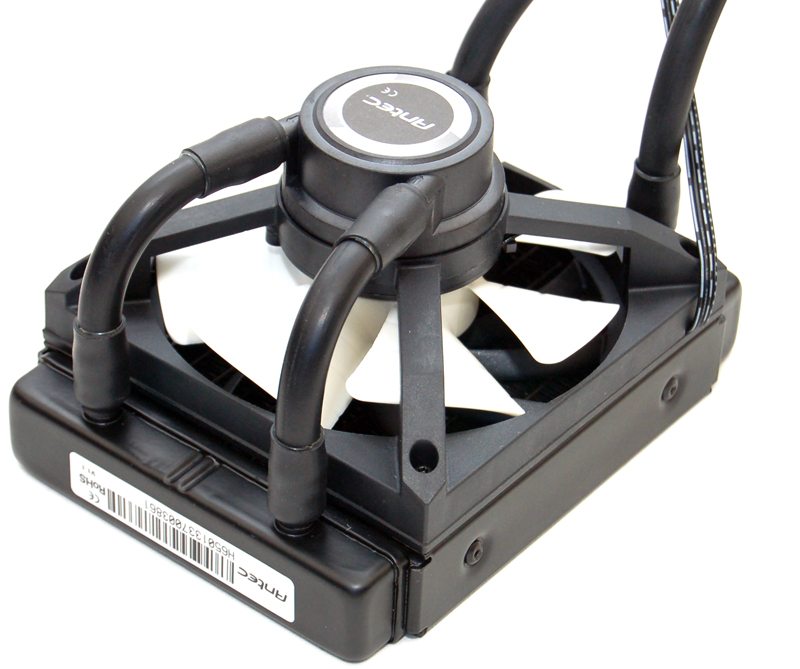 The radiator fins a similar to what we've seen on other Antec water coolers. There are four screw holes here for mounting the cooler to your chassis, but there are longer screws provided so that you can add an extra 120mm fan if you wish. The CPU cooling block have a Y split 4 pin fan connection so that the pump will directly power two fans from a single motherboard fan connection.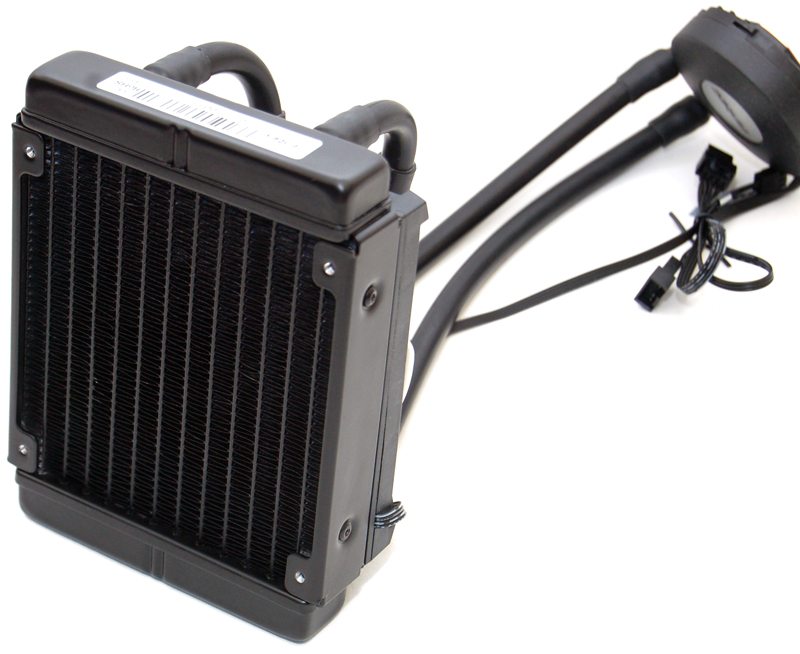 The block is extremely compact and that is mostly due to the fact that the pump is on the back of the radiator. There is an Antec logo in the middle and this area is LED backlit.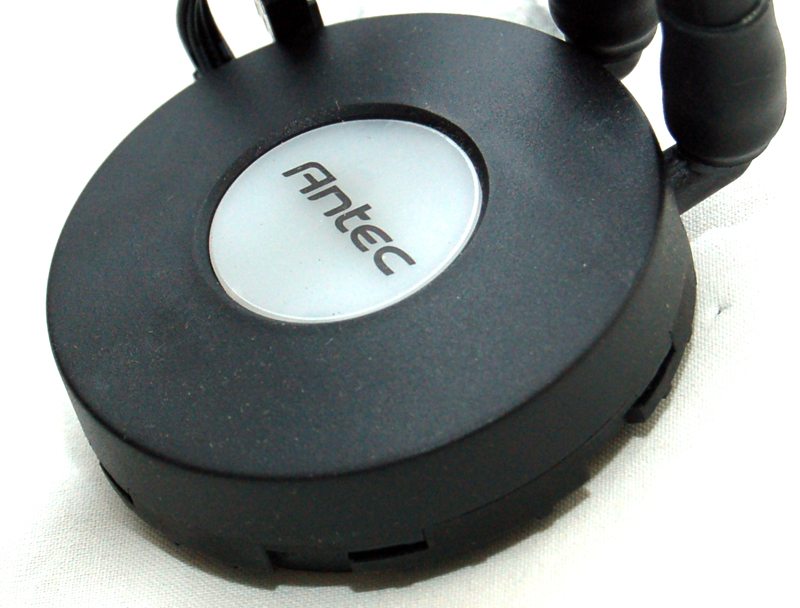 The copper base comes with some thermal paste pre-applied, which is great for those looking for a quick and easy setup. The cooling pies are mounting in a way that allows for some adjustment to their angle on the block, which will also help to make the cooler a little easier to mount.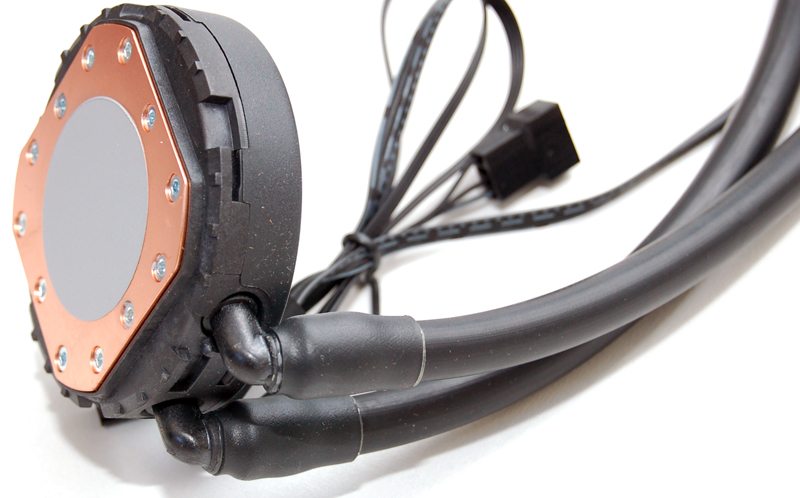 The copper base is nicely polished and is certainly well secured to the mount with small bolts around the exterior. All the required cables are hard-wired to block, which again makes setup easier and the all black cables also look neat and tidy.