Asus ProArt PA249Q 24″ AH-IPS LCD Monitor Review
---
---
---
Chris Hadley / 10 years ago

There are many components within a system setup that are mandatory for the system to be usable or even perform for that matter,and these days there is so much focus from vendors to consumers alike about getting the best for the money and at the same time to avoid compromising on performance or quality. Take power supplies, they are a prime example of the obsession of most users and rightly so – I would not dream of putting a power supply in to a system where I thought the quality was not up to standard. After all, if that fails, then it can be 'bye bye' to your system and an expensive repair bill.
What does the quality of a power supply have to do with a monitor I hear you ask? Well it is a notable fact that for a large percentage of users, so much focus is put in to the system and the graphics output, a consequent side step is made around deciding what screen is going to be used to display the graphics. Take a moment to think about it, you've spend the best part of £1500-2000 on your top end system, but then skimp out on a £100-150 panel, because it 'does the job' of displaying your top end system's output. Doesn't make a lot of sense really – does it?
Since LCDs have been around, the introduction of LED backlit panels vastly improved the quality of the image that we saw on the screen with better depth of colour and brightness to go with it. More recently, the IPS (In-plane Switching) panel has made the LCD screen even more clear and crisp with superior colour output as well as wider viewing angles and more importantly for gamers, a faster response time.
With nearly all users these days using LCD screens, getting the true colours out of the panel is nigh on impossible and whilst there are expensive calibration kits available that will assist in doing so, for a large number of the panels on the market, this is going to be a battle against the odds to get things just how they should be.  But why should we be looking for perfection? If you're a graphic designer or someone who does a lot of photo or video editing, the answer is a no-brainer really, it makes a hell of a difference when getting the work right – first time.
Bringing that bag of challenges to the design table, the R&D team at Asus have been busy working away to get a panel to market that will tick all the boxes for graphics designers and gamers alike with a pre-calibrated panel that will give near perfect colour outputs whilst offering up a 1920×1200 resolution that will give some extra pixel real-estate to play around with over a 1080p panel. Bring forward the PA249Q a 24″ IPS panel that offers all this plus more, but the real question is, is Asus' pre-calibration really that noticeable to the eye?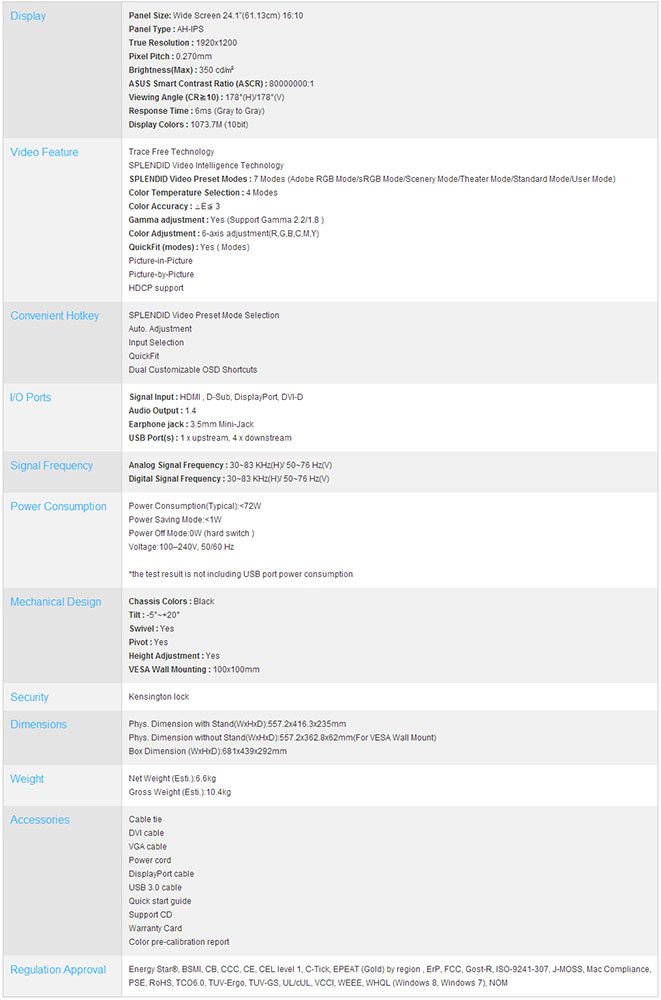 The PA249Q comes in a relatively colourful box, showing off the screen in both its portrait and landscape orientations. On the lower half of the box there are a number of logos, some which have a significant feature within this panel such as the Adobe RGB colour profiling, a supreme level of colour accuracy and a factory colour calibration.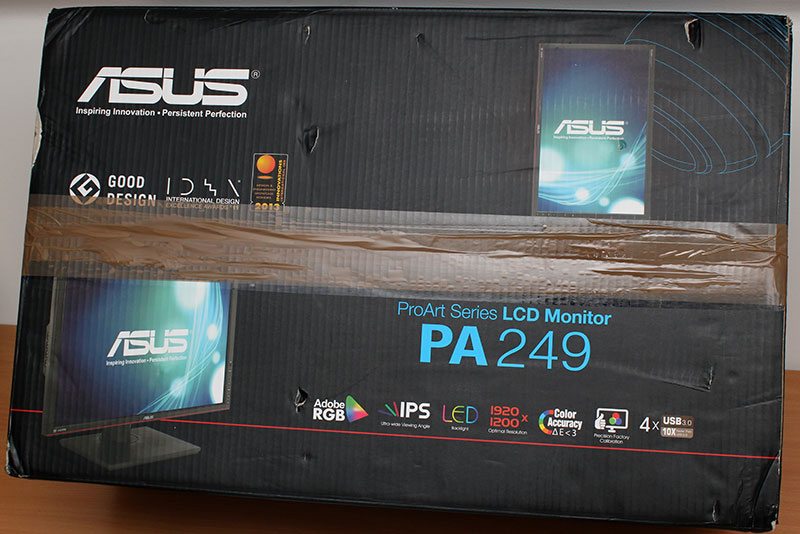 Before we move on to the panel itself, there are a number of accessories to sort  through, including VGA, DVI and DisplayPort cables, a USB3.0 lead, an EU power cable (although regional SKUs will have the required cables included), quick installation guide, Asus VIP notice and a CD with the manual on. Additional to these, there is a pack with Velcro cable ties in which is a welcome addition to keeping everything tidy behind the scenes and most importantly a dedicated report for the calibration of this particular panel.