ASUS ROG MAXIMUS XIII HERO Motherboard Review
---
---
---
Ben Enos / 10 months ago

It's Intel's 11th Gen CPU launch day and as such, we have a load of Z590 motherboard reviews to get you the info you need. ASUS has many ranges of motherboards and their Maximus range of boards are among some of the best. While the Hero is not atop the pile, it isn't fair down the line and is one of their higher-end boards. The ASUS ROG lineup is known to gamers across the world and their Maximus lineup takes things that much farther and offers everything gamers and enthusiasts need and also has a lot of features that professional overclockers can even make use of!
ASUS ROG MAXIMUS XIII HERO
The 11th Gen CPUs have brought some advances to the table as far as Intel-based systems are concerned. We can finally make use of PCIe 4, more PCIe lanes, USB 3.2 Gen 2×2 which is not seen on Z490 boards and now, Z590 based boards offer almost twice as many USB 3 Gen2x1 ports. The ROG MAXIMUS XIII Hero is going to take all of the features to their limits and not only make sure users can access them, but also making sure users can push things as far as they can go!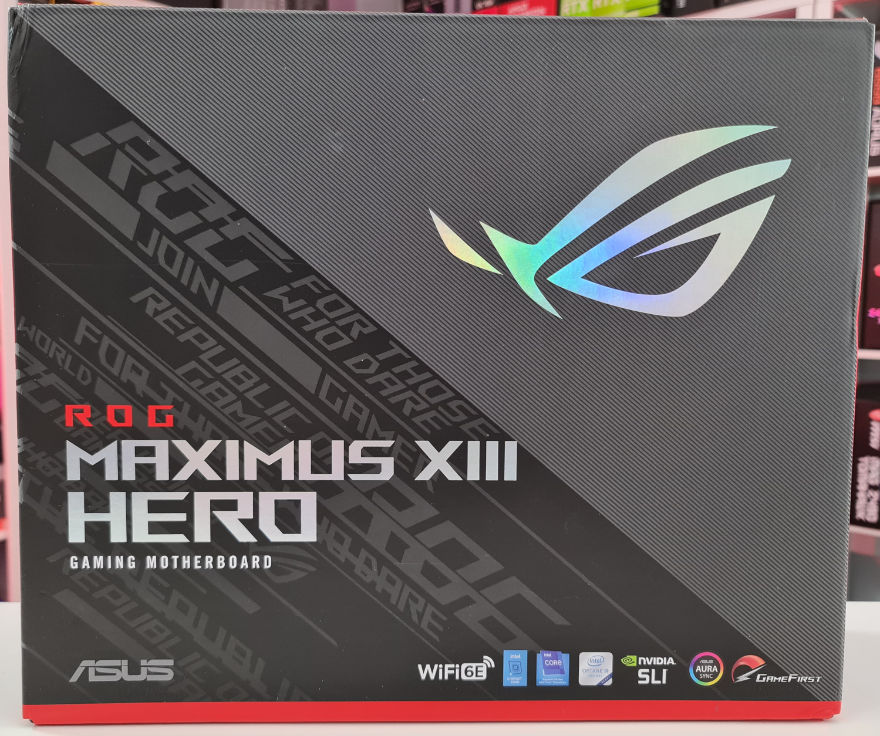 Features
14+2 90amps 10k Japanese capacitors
wifi 6e
dual 2.5GB ethernet
Pcie4.0

* Supports PCIe bandwidth bifurcation for RAID on CPU function.
**PCIEX16_3 shares bandwidth with SATA6G_12 and SATA6G_34. When PCIEX16_ 3 is populated SATA6G_12 and SATA6G_34 will be disabled.

When PCIEX16_3 run at default (x2) mode, SATA6G_34 is disabled.

When PCIEX16_3 run at x4 mode, SATA6G_12 and SATA6G_34 are disabled.
USB 3.2 Gen 2×2 front-panel connector
2x thunderbolt 4
Usb-c
6 x USB 3.2 Gen 2 type a
hdmi 2.0 (only 2.0 w/ 11th gen cpu)
bios flashback and cmos
RGB
128gb ram
6x sata 6gbs
4x m.2

(*When M.2_4 is pupulated, SATA6G_56 will be disabled.)
**M.2_2 shares bandwidth with PCIEX16_1 and PCIEX16_2.
When M.2_2 is enabled, PCIEX16_1 will run at x8 mode and PCIEX16_2 will run at x4 mode.

optical S/PDIF
2-way SLI
For in-depth specifications, please visit the official Manufacturer Motherboard product page here.
Make sure to also check it out on:
AMAZON UK: https://amzn.to/3cp9cuf
AMAZON US: https://amzn.to/2P244DG
SCAN.co.uk: ASUS ROG Maximus XIII HERO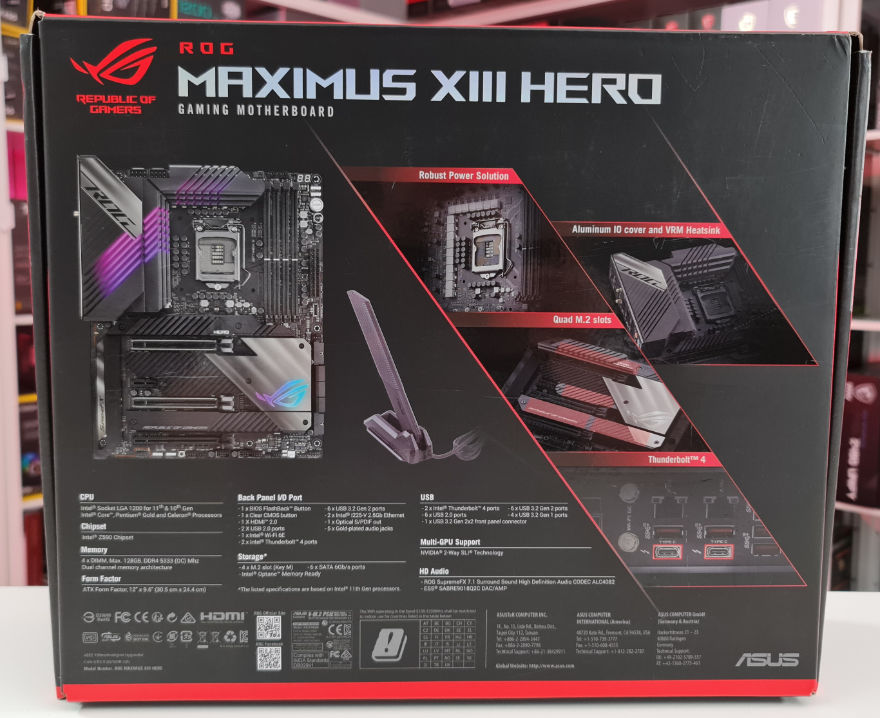 Stickers are starting to become more commonplace when talking about whats comes with a new motherboard. ASUS has added some nice ROG ones, with the MAXIMUS XII alongside the standard users manual.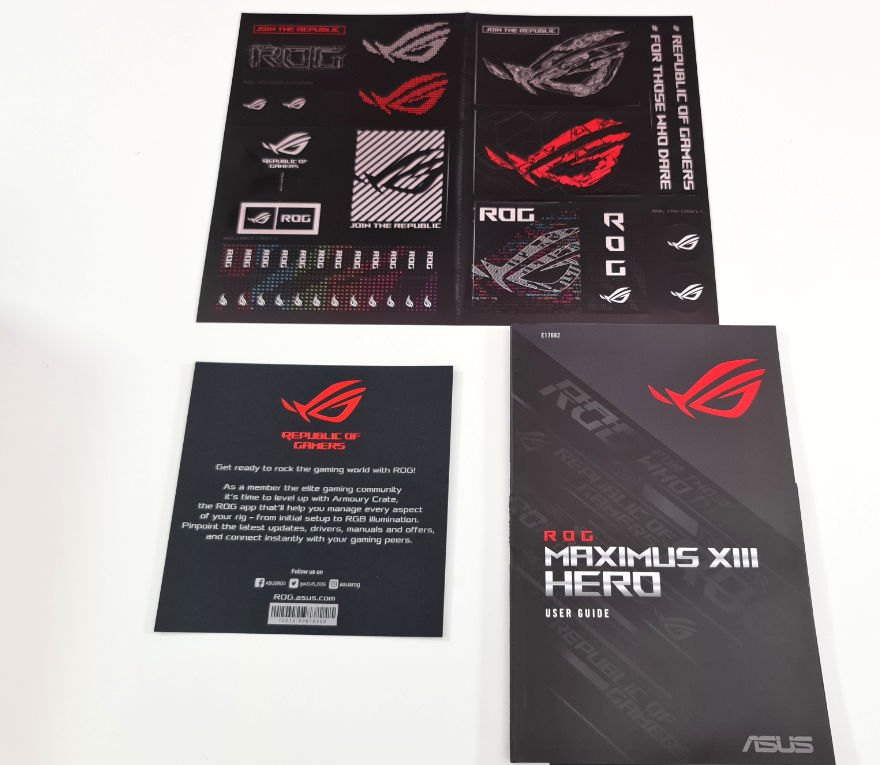 As for accessories, we have a ROG keychain, wifi antenna, SATA cables, RGB extension cable, ARGB RGB extension cable a Q-connector and some M.2 screws. Really doesn't seem like a whole lot when considering the price tag, which is over £450 at the time of writing this.