ASUS ROG Rapture (GT-AC5300) Enthusiast Router Review
---
---
---
Bohs Hansen / 4 years ago
Interface: LAN, WAN, and Wi-Fi Settings
---
We have gone through the special features of the router and now it is time to take a look at the more familiar setup. The rest of the router's interface is more or less what we know from other ASUS routers such as the DSL-AC88U that we reviewed recently.
Network Map
The network map is your one-stop view of all important information. Whether it's connected clients, wireless passwords, or connected USB devices – they can all be viewed and accessed from here.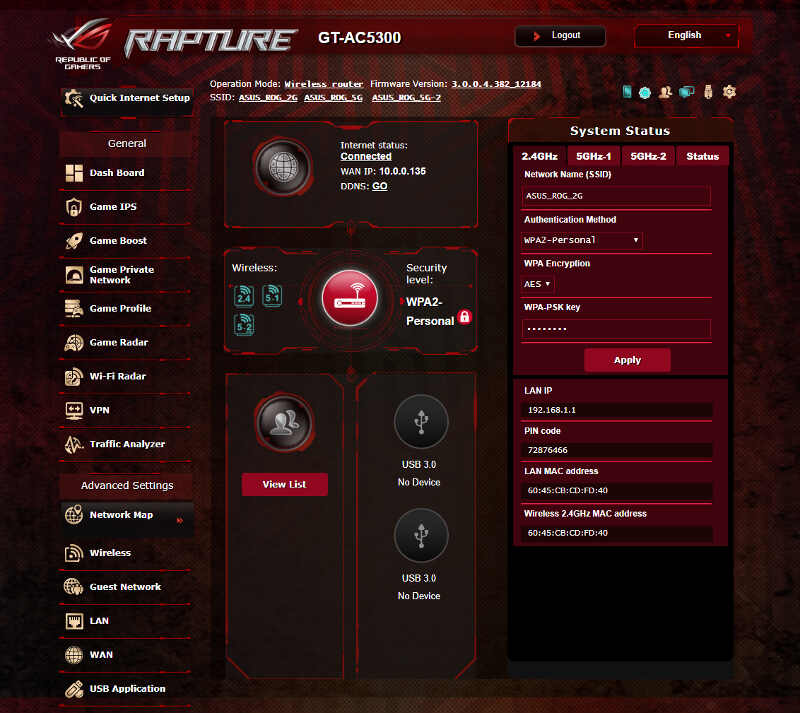 Wired Networking (LAN)
The LAN, or wired networking, features are as you'd expect them to be. You can set the routers local address and specify the range and options for the DHCP server. You can also enable static routers and IPTV functionality here. The last page, the Switch Control, is probably the most interesting here. It is the page that allows you to bond two of the LAN ports into an 802.11ad aggregation.
Internet Connection (WAN)
The great ASUS features continue in the WAN setup that also supports dual WAN setup. With it, you can use a 3G/4G USB modem as a backup connection. It can ensure that you keep a constant connection even if your broadband goes down. Port triggers and forwards are also found here, for apps and games that aren't supported in the previous gaming QoS, or those you just want to control manually.
Wireless Networking
The wireless functions is probably one of the more interesting aspects in these sections of the GUI. After all, the great wireless abilities will be one of the reasons people buy this router. Each of the three bands can be configured individually in close to any aspect. WPS, WDS bridge modes, shared authentication through RADIUS and the advanced settings are found here too.
USB Functionality and Applications
ASUS routers can do a lot of things with connected devices. To keep it simple, it's all connected within a single page. From here, you can access the individual parts which you want to use. May it be the basic sharing and streaming functions or the more advanced such as print server and download clients.
AiCloud 2.0 is also supported. The AiCloud 2.0 feature helps you keep your data syncronised and it makes sure that you have access to it no matter where you are. A great bonus for "ordinary" users who don't want to invest time and money into more business oriented features of the same kind.