ASUS ROG Strix Scar III G531GW Laptop Review
---
---
---
Mike Sanders / 4 years ago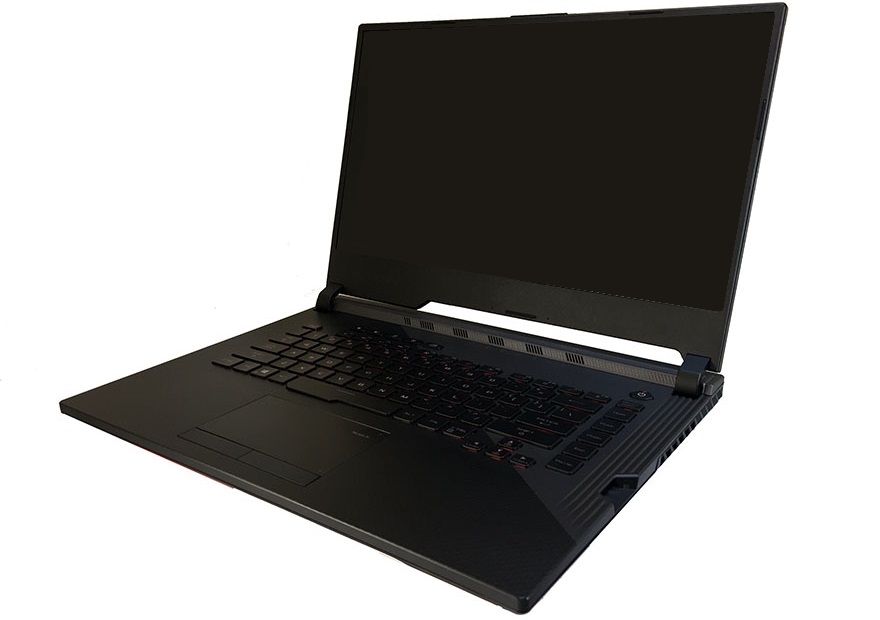 A Closer Look
Out of the box, the ASUS Scar III has a nice matt-black aesthetic. There are, however, more than a few details that make this catch the eye. Firstly, you do, of course, have the ASUS ROG logo to the top of a laptop which lights up when the system is powered on.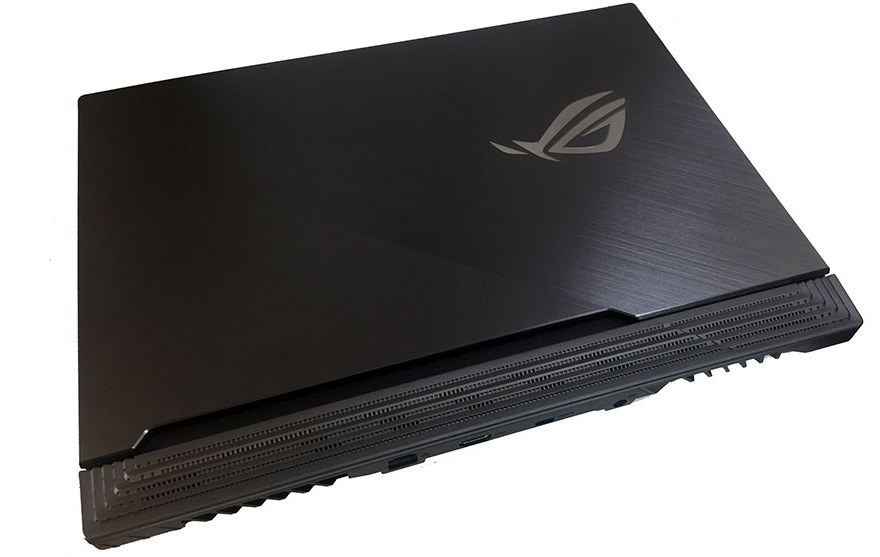 While there is ASUS branding on the laptop, it's surprisingly subtle which, as a whole, makes the laptop carry a very professional style.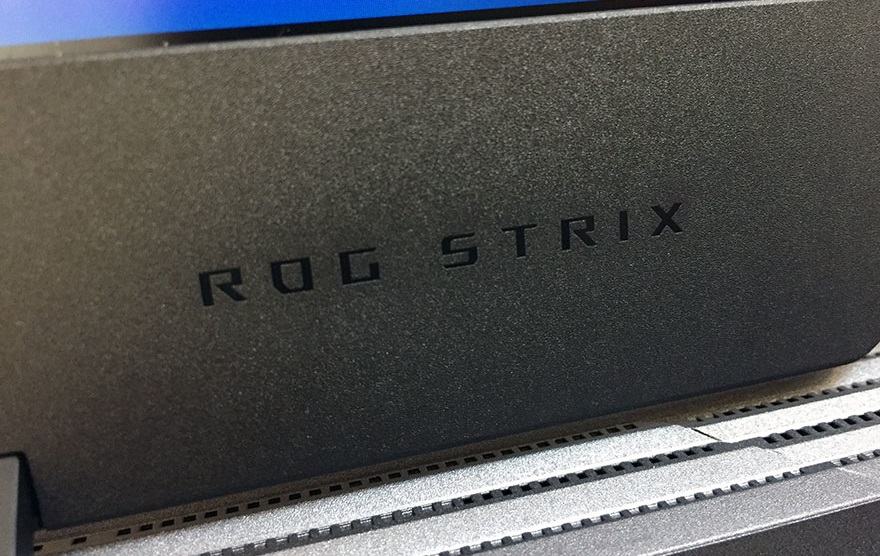 At a glance, and particularly while switched off, the ASUS Scar III may not have much that catches the eye. The attention to detail, however, is excellent. So, let's take a closer look!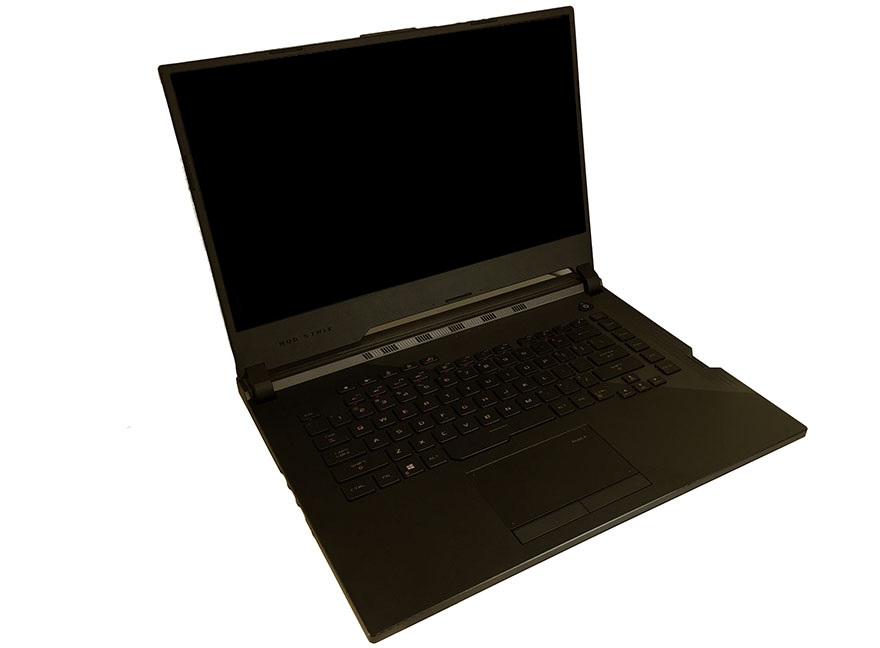 The Laptop
When switched on, the laptop lights up in various places that really catch your attention and, in particular, highlight some of the aspects you may not have noticed before.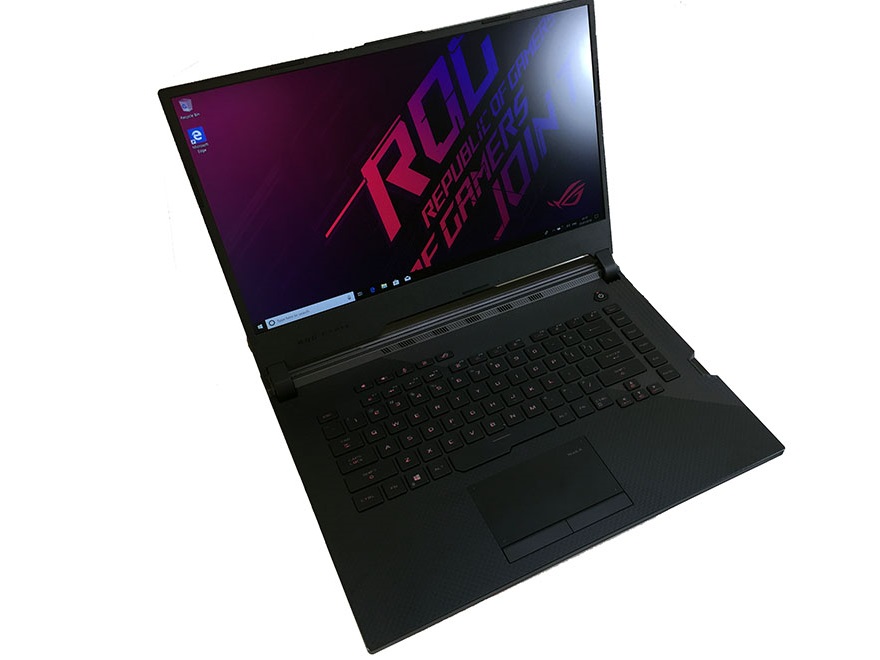 The best example of this is the RGB lighting strip which runs across 3 sides of the base of the laptop. As noted earlier, you may not have noticed this when the laptop was switched off. When turned on, however, it creates a really nice effect on a surface.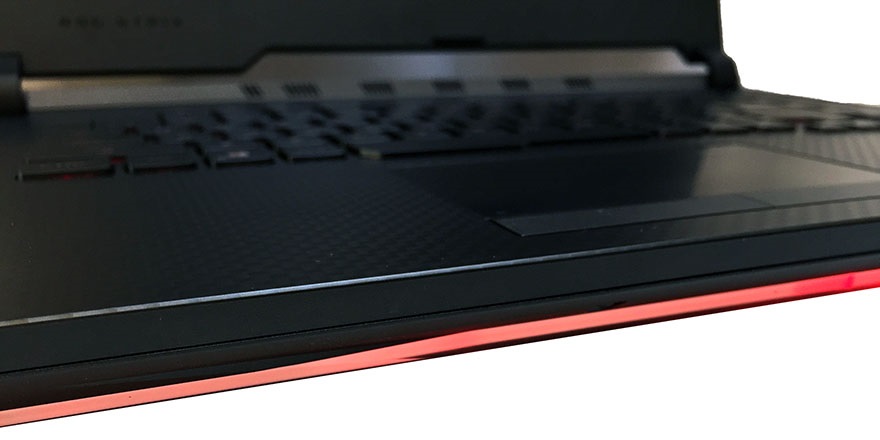 While the effect is nice (and can be turned off if you wish) it is perhaps a little too subtle for its own good as a default setting. Again, however, offering a professional style of aesthetics, it's nice to have it, but you don't have to turn it on if you don't want it.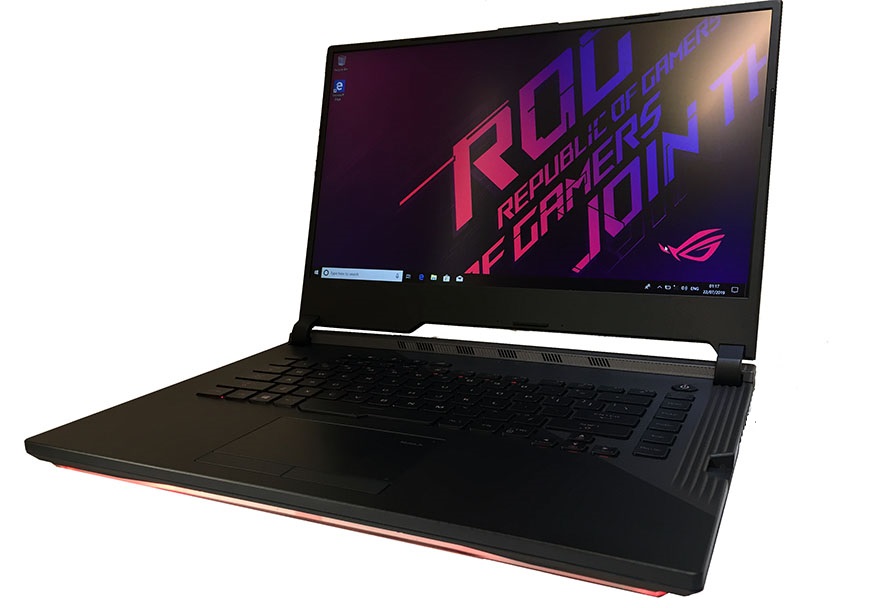 Ventilation
As this is a high-performance laptop, one that has a slim and lightweight design, temperature regulation is clearly going to be an important factor. As such, having as much ventilation as possible is clearly going to help the laptop perform to those levels while not getting overly noisy.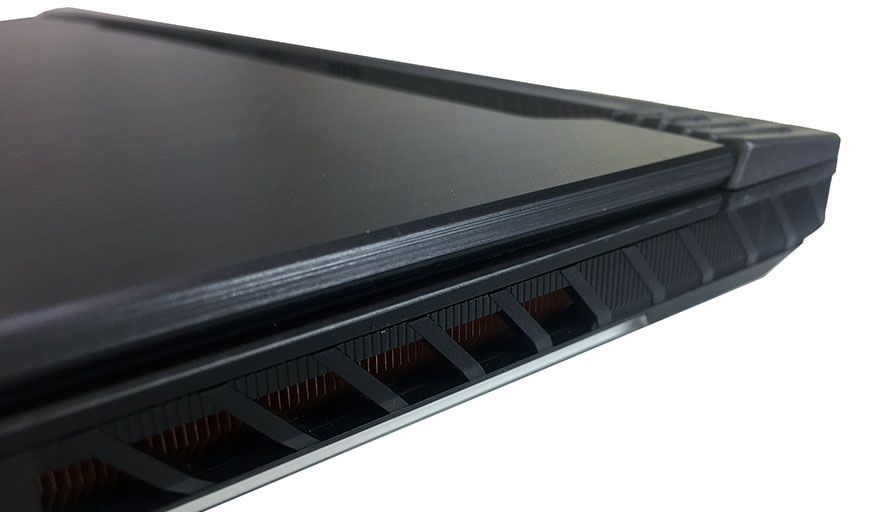 Fortunately, in this regard, the ASUS Scar III has lots of vents both obvious and subtle. For example, the main laptop itself has 4 main vents. Two to the rear and two to the sides. In addition, however, it also has a slightly raised rear area which features hundreds (I didn't count them) of tiny vents.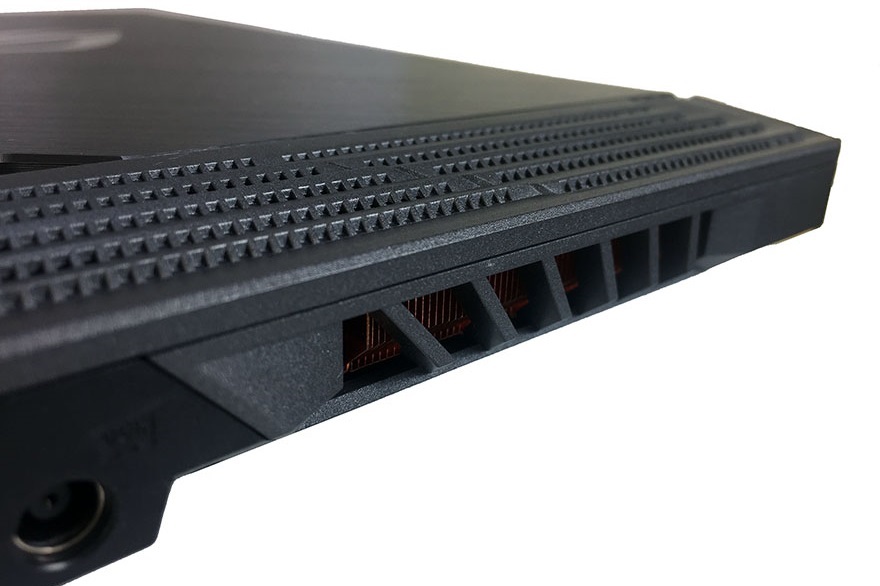 While the laptop doesn't feature the (very clever) lifting technology of the ASUS Zephyrus range, this is a clever workaround which should (hopefully) result in good airflow and low noise levels.

The Keyboard
The keyboard carries a (relatively) low-profile key design which is surprisingly nice and responsive to the touch. I could quite happily use this keyboard for work or play.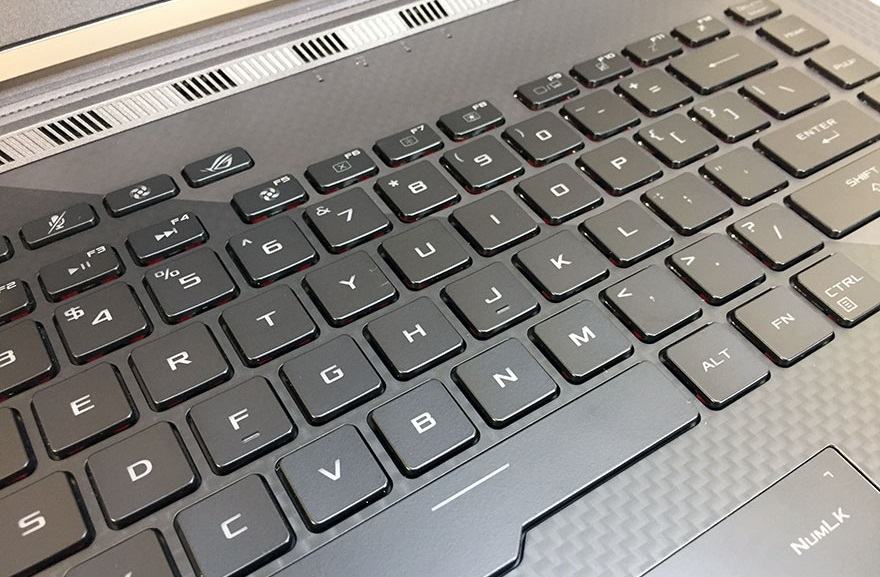 The keys have a nice clean and crisp representation and, as you might expect, you have a number of shortcuts to help you quickly access some of the laptop's features including; sound control, microphone, lighting and fan speed.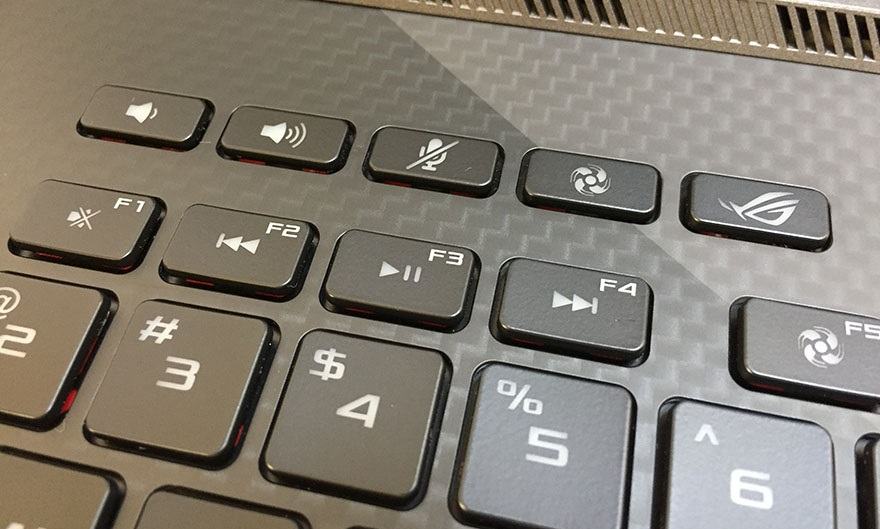 Similar to the RGB strip to the side of the system, the lighting effects to the keyboard are subtle and, again, perhaps too much for their own good. The lighting looks its best in a darker environment, but again, with the option to turn it off, you have the control at your fingertips.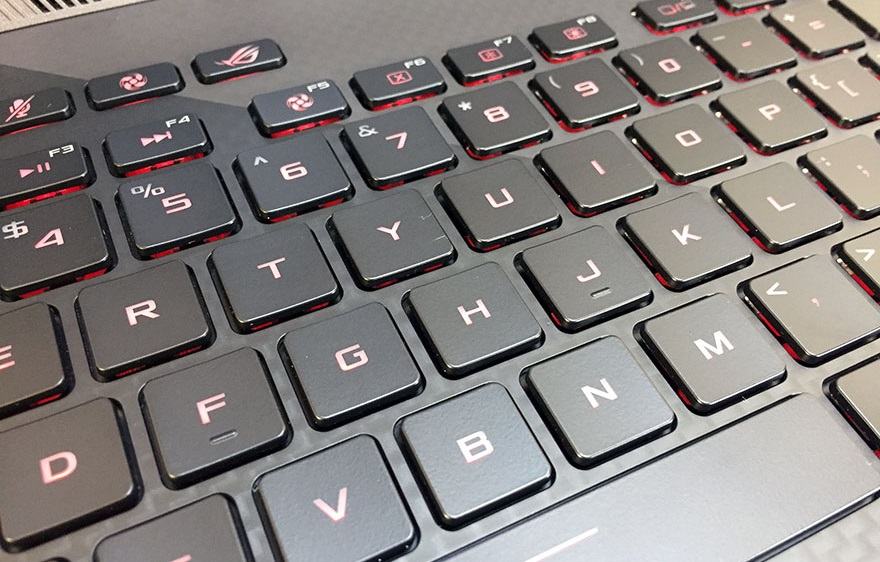 Mouse Pad
I have never been a particularly huge fan of laptop scratch pads and always carry a standard USB mouse with mine. In regards to the ASUS Scar III, however, it is both a nice size and well responsive to the touch. It does, however, carry a secret weapon.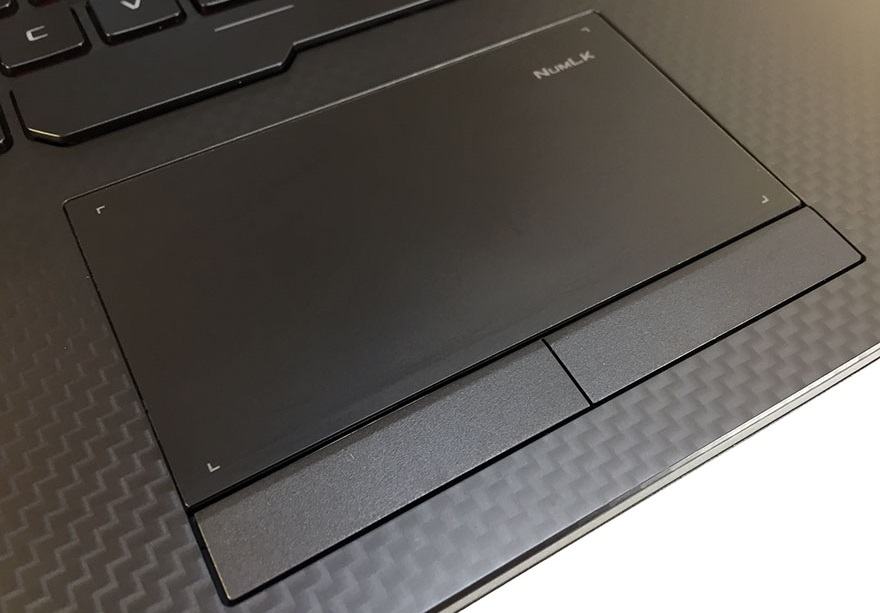 By pressing the 'NumLK' button in the top right corner, the scratchpad converts into a full LED number keypad. This is amazingly useful if you have to type in figures. It is, again, another example of that functionality within the ASUS range that makes their laptops suitable for all situations.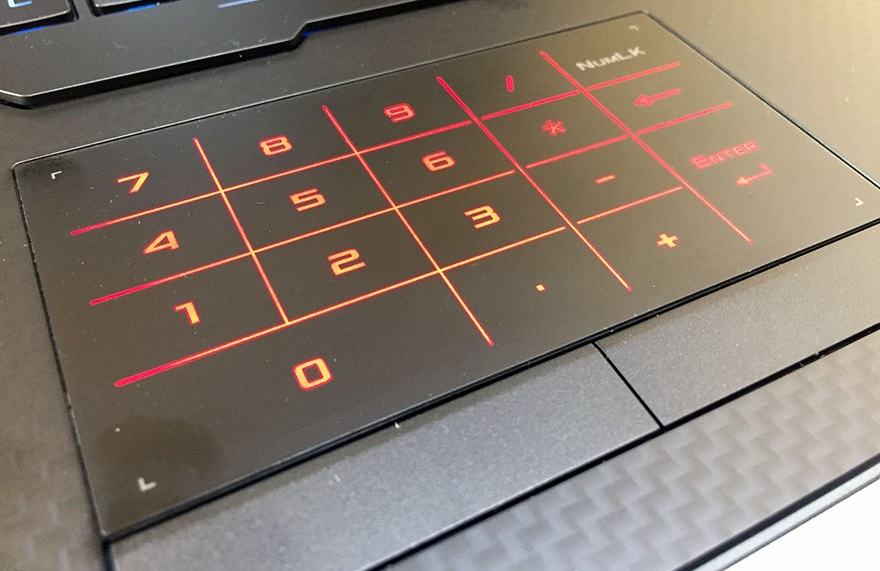 Display
This model of the ASUS Scar III display carries a 1080p resolution which operates at 240Hz. The screen quality is undoubtedly good as images look nice, crisp and clear. In addition, the 3ms response time would clearly be highly desirable for gamers looking for that extra advantage.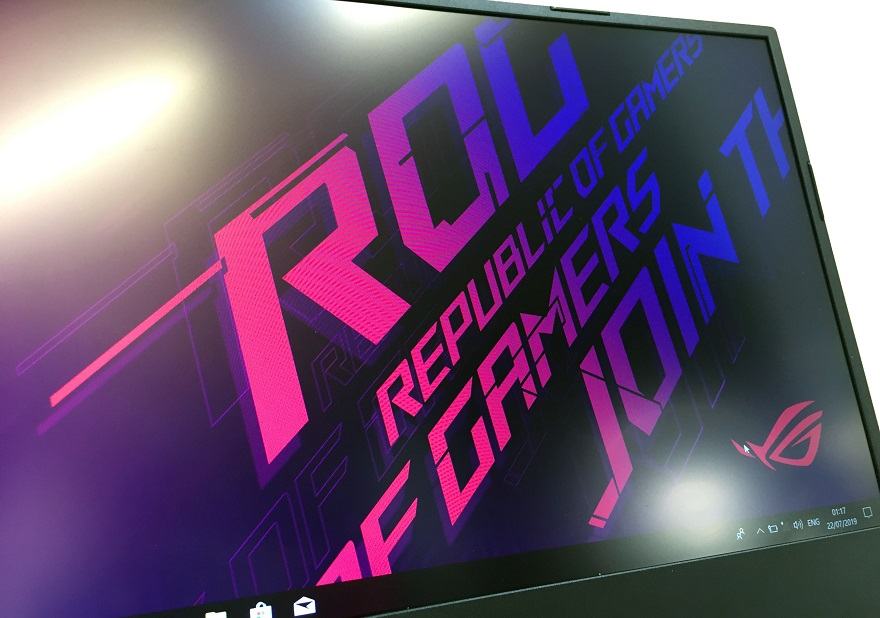 Speakers
Laptops do (generally) have a reputation for having pretty poor quality when it comes to the sound output. It is, after all, difficult to fit good quality speakers in an already cramped environment.
The ASUS Scar III, however, has a surprisingly excellent audio quality which actually manages to cope with some of the 'bass' aspects really well. No, it will likely not be as good as if you were using a headset, but it's definitely good enough for music, gaming and anything else you can think of.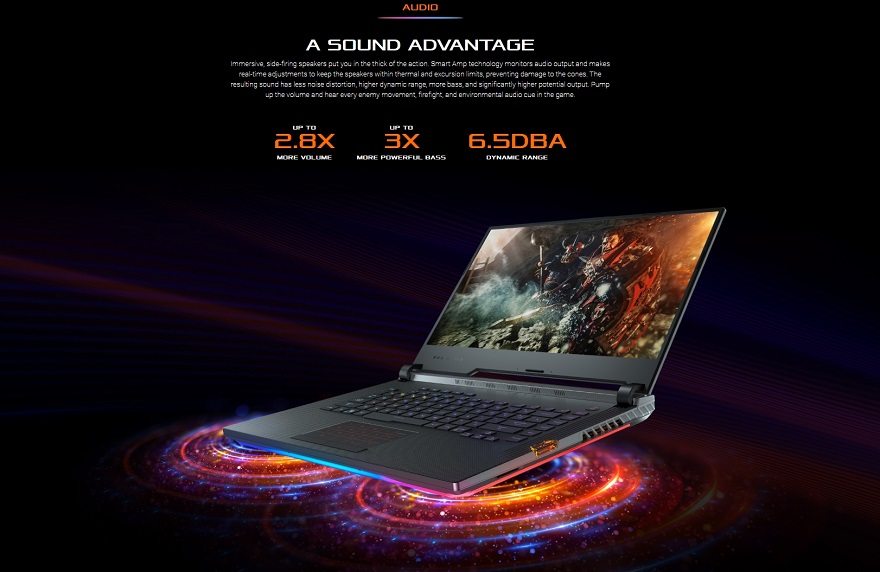 Connections
The ASUS Scar III has 3 main banks of connection ports which are located to the rear, left and right side of the laptop. Starting with the rear, it includes;
Power input
Ethernet port
HDMI output
USB 3.1 (type C) port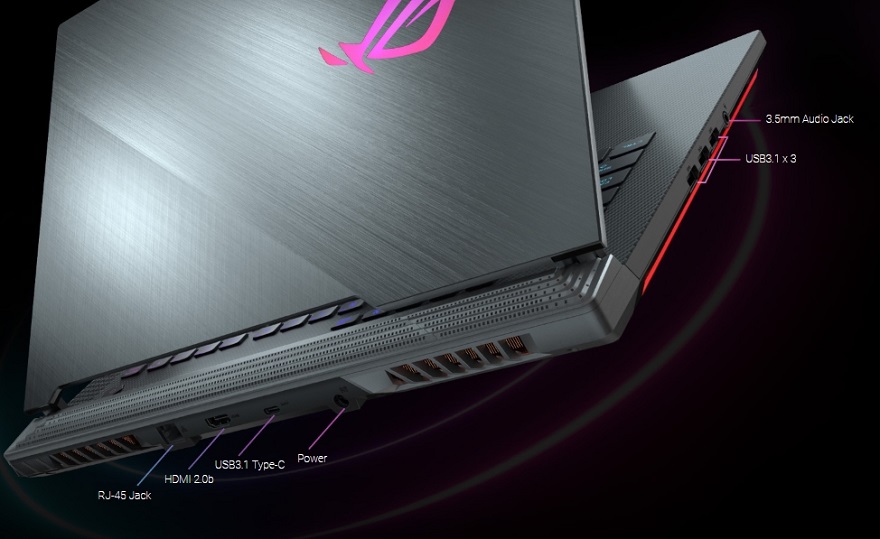 The right side is a little more low key featuring:
3 x USB 3.1 ports
Audio output 3.5 port.
SD card insert.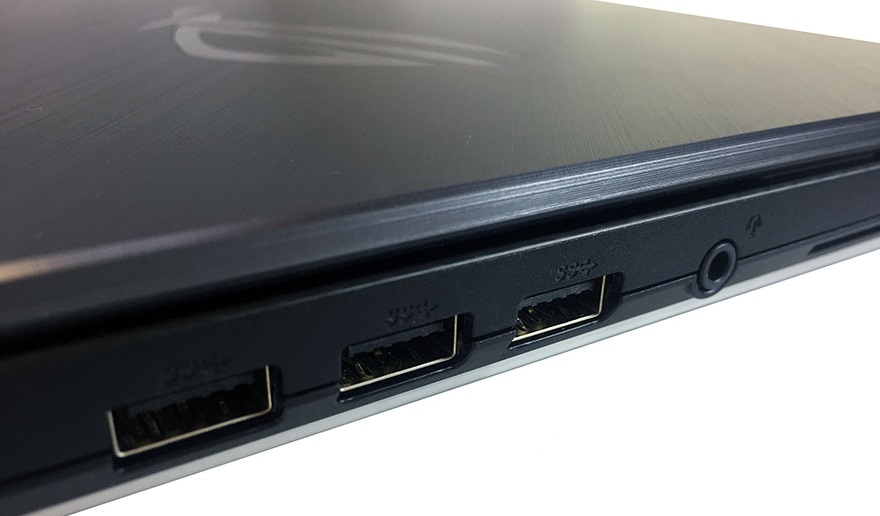 The right side of the laptop features something new for ASUS. Specifically, their Keystone technology which looks to give users extra levels of customisation and security.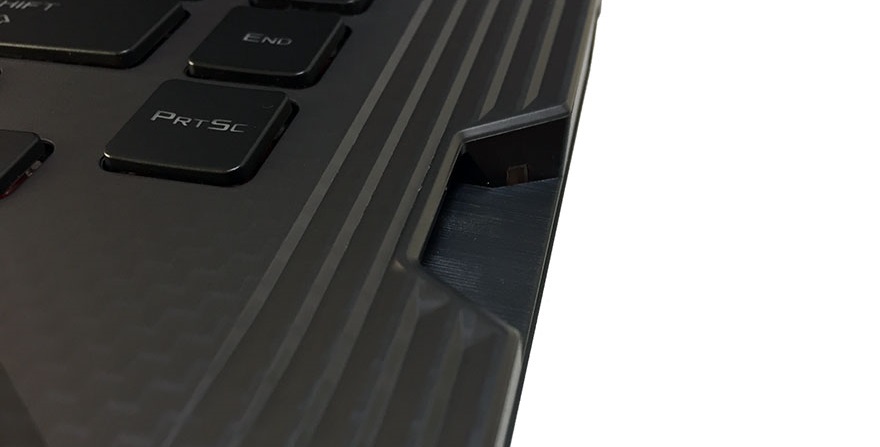 The port has an insert which a 'USB' style stick can be inserted. This allows users to have customised features and, more specifically, allow documents within the system to be 'locked-out' without it inserted. It's a security device essentially, but a clever one none-the-less.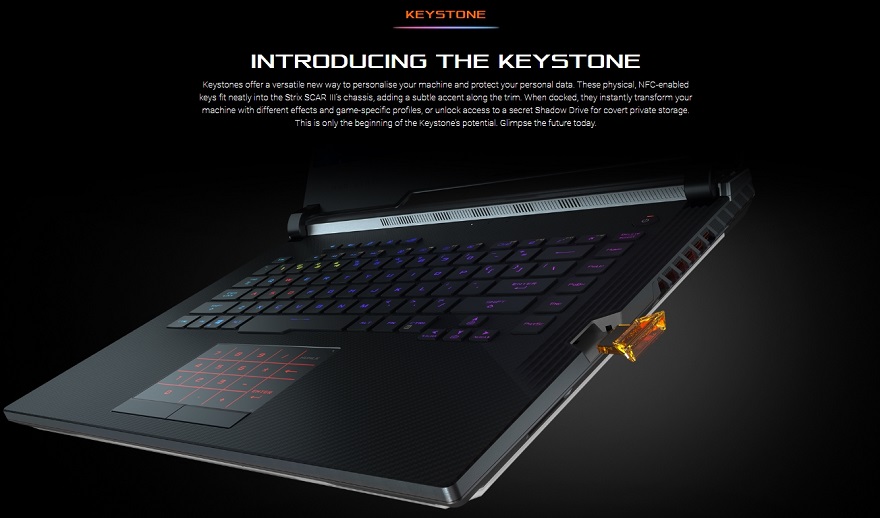 Overall
So, what do we think about the aesthetics and design of the ASUS Scar II? Well, essentially, it's a laptop that has clearly looked (with more than a little success) to combine a work-like aesthetics with features that would appeal to any gamer.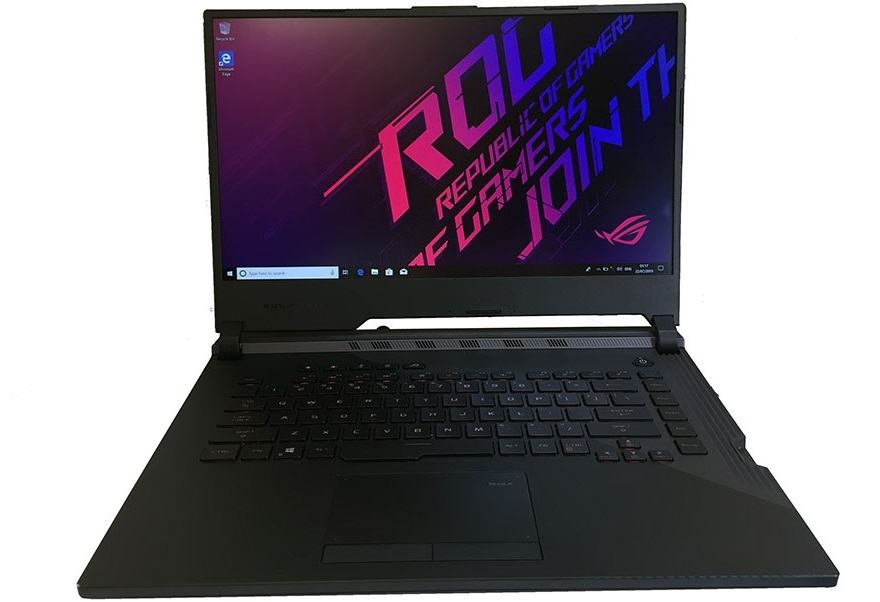 With the subtle RGB features, this laptop would not look out of place be it in an office, coffee shop or on a desk playing Fortnite. Some might think this is understated too much, but we think this is perfect.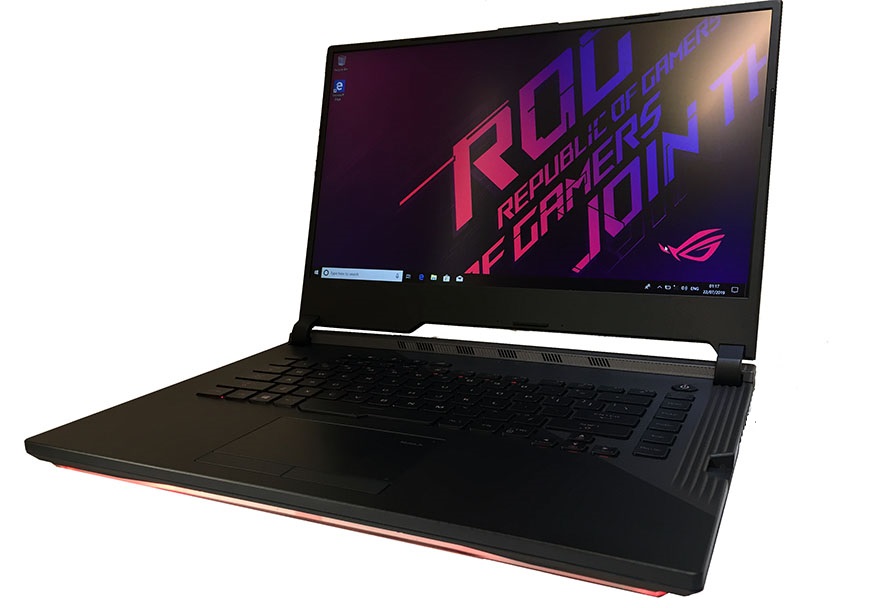 So, in terms of design, the ASUS Scar III looks and feels fantastic. it's a perfect combination of work and play that, as above, should suit practically everyone looking for a high-performance laptop.