ASUS STRIX GAMING GTX 1070 OC Graphics Card Review
---
---
---
John Williamson / 6 years ago
Introduction
---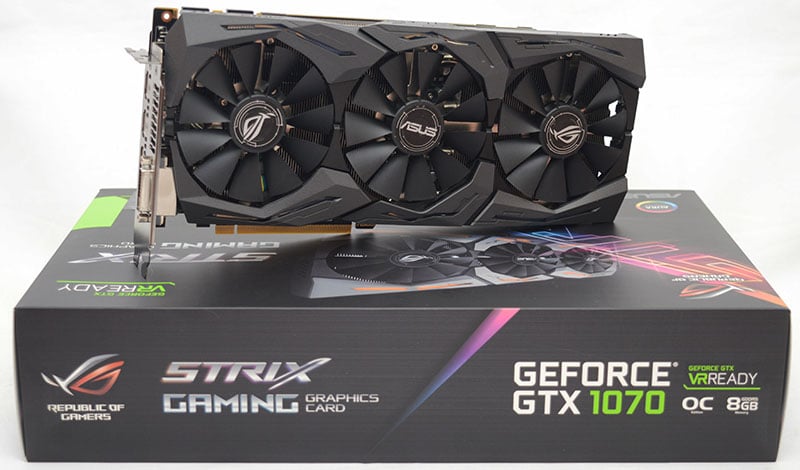 Aftermarket GTX 1070 models typically start around the £380 mark which is a substantial saving compared to the GTX 1080. Unfortunately, NVIDIA's premium solutions remain extremely expensive and recent price rises in the UK haven't helped matters. As a result, many enthusiasts are unable to afford the GTX 1080 and even if they can, struggle to justify a £600+ investment. This is especially the case when rumours circulate regarding the GTX 1080Ti being prepared and the possible performance gains. Saying that, it's highly unlikely NVIDIA will unveil a faster graphics card within a similar price bracket judging by the Titan X's recent launch. Evidently, the GTX 1070 is a more sensible option unless you're using a 4K display.
It's important to remember that the devaluation of Sterling has resulted in wild pricing fluctuations and I'm expecting further price rises in the next quarter as the retail stock is purchased at a lower exchange rate. Therefore, it's probably a good idea to consider upgrading your hardware relatively soon and examine the current offerings. ASUS' STRIX GAMING range has received widespread acclaim from reviewers and rightfully so given the astounding build quality. Not only that, the company's graphics cards feature gorgeous RGB lighting and allow you directly cool the GPU with case fans. This is an ingenious idea and makes sense given the GPU's higher thermal loads.
Today, we're taking a look at the ASUS STRIX GAMING GTX 1070 OC which utilises a 1658MHz base clock and 1860MHz boost. Please note, this is with the OC mode and the Gaming profile runs at a 1632MHz base and 1835MHz boost. The memory on both profiles operates at a speed of 8008MHz. As you can see, this is a major enhancement compared to the Founders Edition and I'm interested to see how the GPU fares when pitted against the Palit GameRock Premium GTX 1070. The Palit model sports a 1670MHz base and 1873MHz boost with a memory speed of 8500MHz. Whether or not this makes a substantial difference during games remains to be seen, but I'm expecting the ASUS STRIX GAMING GTX 1070 OC to have decent overclocking headroom and provide a stellar gaming experience.
Specifications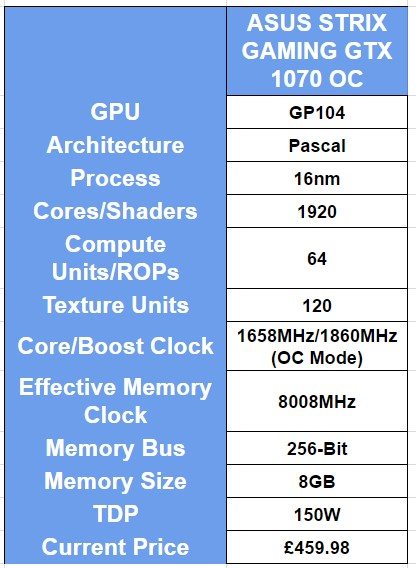 Packing and Accessories
As expected, the packaging is almost identical to ASUS' GTX 1080 STRIX GAMING OC apart from the GTX 1070 model name. The attractive product snapshot and bold branding combine rather well to create an eye-catching box art. Personally, I think the multicoloured STRIX lettering is wonderful and outlines the GPU's beautiful AURA lighting technology in a subtle manner.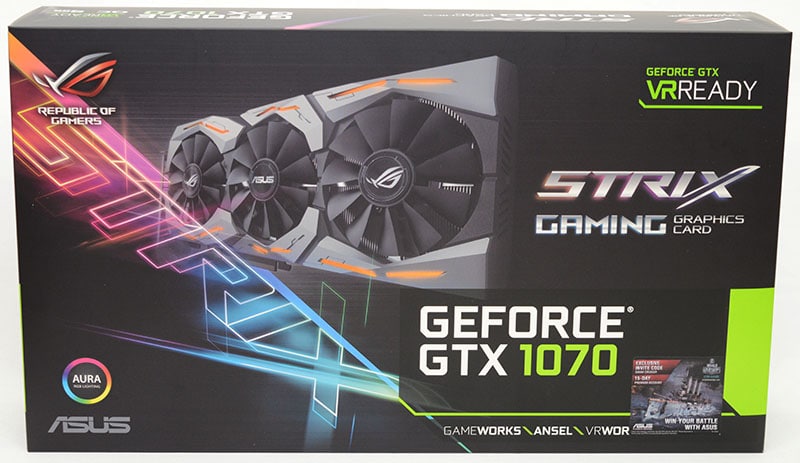 On the opposite side, there's a synopsis of the GPU's DirectCU III cooling hardware, automated production line, VR-friendly HDMI port and much more. The level of presentation is fantastic with clear headings and stylish photographs which encourage the end-user to learn more about the product's innovative features.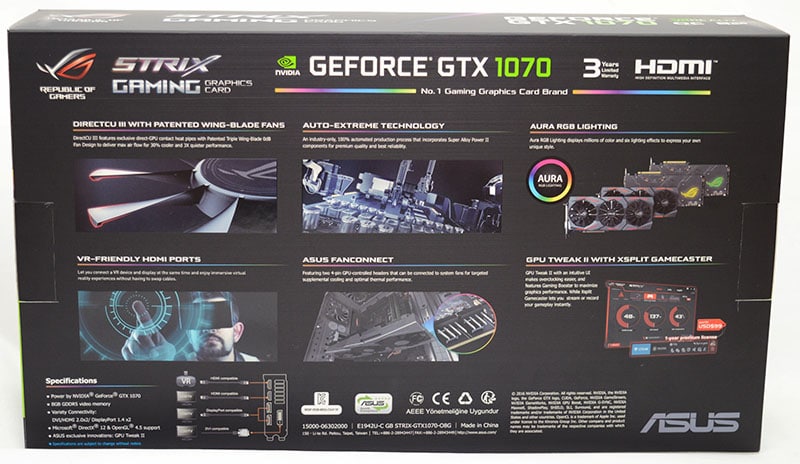 In terms of accessories, the graphics card comes with a World of Warships promotion, user's guide, Republic of Gamers velcro ties and driver/software disk.