ASUS STRIX GAMING RX 480 OC Graphics Card Review
---
---
---
John Williamson / 7 years ago
Introduction
---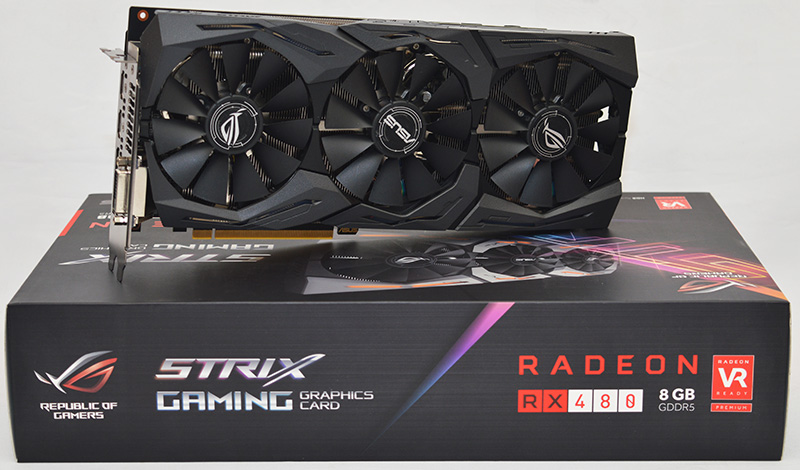 Some time ago, AMD officially launched the RX 480 as a VR-compliment GPU which targets a mainstream price point. Prior to this release, affordable graphics solutions struggled to contend with demanding presets and provided a sub-par user experience. The RX 480, especially in the 4GB flavour is superb value and can even maintain fluid frame rates alongside a 2560×1440 display with modest settings. Not only that, the RX 480 excels in modern titles which employ the latest APIs and supports asynchronous compute. Of course, custom models have been unveiled sporting improved power delivery, significant factory overclocks and more attractive visual designs.
One notable example is the ASUS STRIX GAMING RX 480 OC which utilises a 1310MHz default engine clock and 8GB of GDDR5 running at 8000MHz. If you require additional performance, it's possible to enable the OC profile through the company's overclocking utility which boosts the engine clock to 1330MHz. Additionally, ASUS' DirectCU III cooling system with patented Wing-Blade fans is renowned for being extremely quiet and exudes a premium feel. The GPU also incorporates 4-pin fan headers, the spectacular Aura lighting system and VR-friendly HDMI ports. Currently priced at £279.46, the ASUS STRIX GAMING RX 480 OC is more expensive than competing models from a wide range of vendors including PowerColor, MSI, Sapphire and XFX. The question remains, is it worth the extra?
Specifications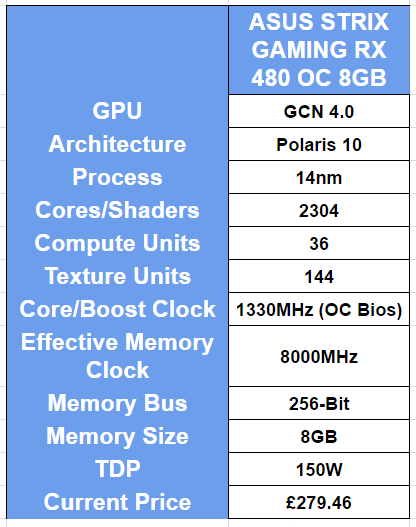 Packaging and Accessories
The product comes in a really attractive box which outlines the Polaris architecture's main features and VR Ready credentials. Furthermore, the colourful STRIX branding gives you an insight into graphics card's RGB illumination and contrasts rather well with the dark background.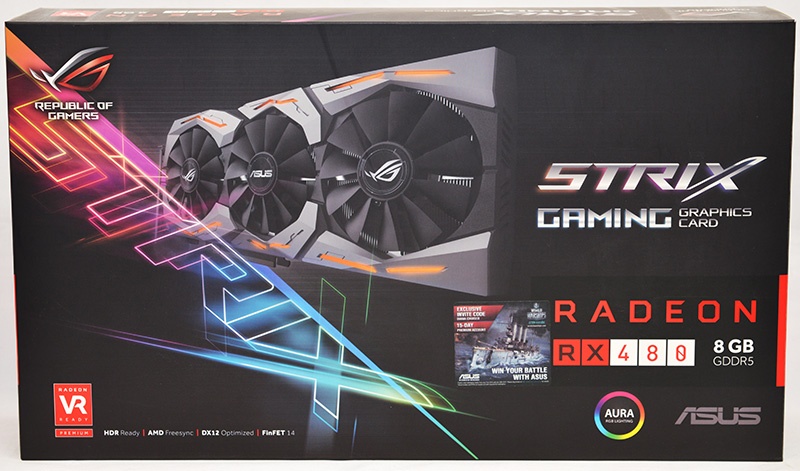 On the rear section, the graphics card's cooling system, Super Alloy Power II electronics and other elements are discussed in a clear and concise manner. The gorgeous macro shots and logical layout encourage you to learn more about the product instead of rapidly dismissing the box's contents.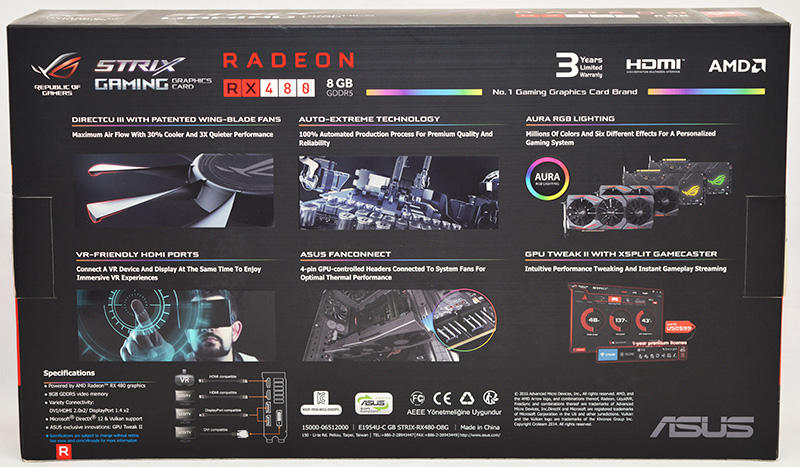 In terms of accessories, the graphics card is bundled with a driver/utilities disk, World of Warships promotion leaflet, user's guide and thick velcro cable ties.