ASUS X99-A II (LGA2011-3) Motherboard Review
---
---
---
John Williamson / 5 years ago
A Closer Look & Layout Analysis
---
The ASUS X99-A II adopts a classic black and white formula which looks fantastic and should suit a wide range of popular components. Additionally, the stylish blue streaks and I/O cover evokes a premium feel and makes the motherboard appear rather unique. The heatsinks' base colour is actually silver and complements the white finish in a seamless manner. Another great addition is the pattern design positioned on the audio segment which adds a noticeable contrast against the jet black PCB. ASUS have incorporated LEDs into the PCI-E slot tabs and there's additional lighting emanating from the PCH.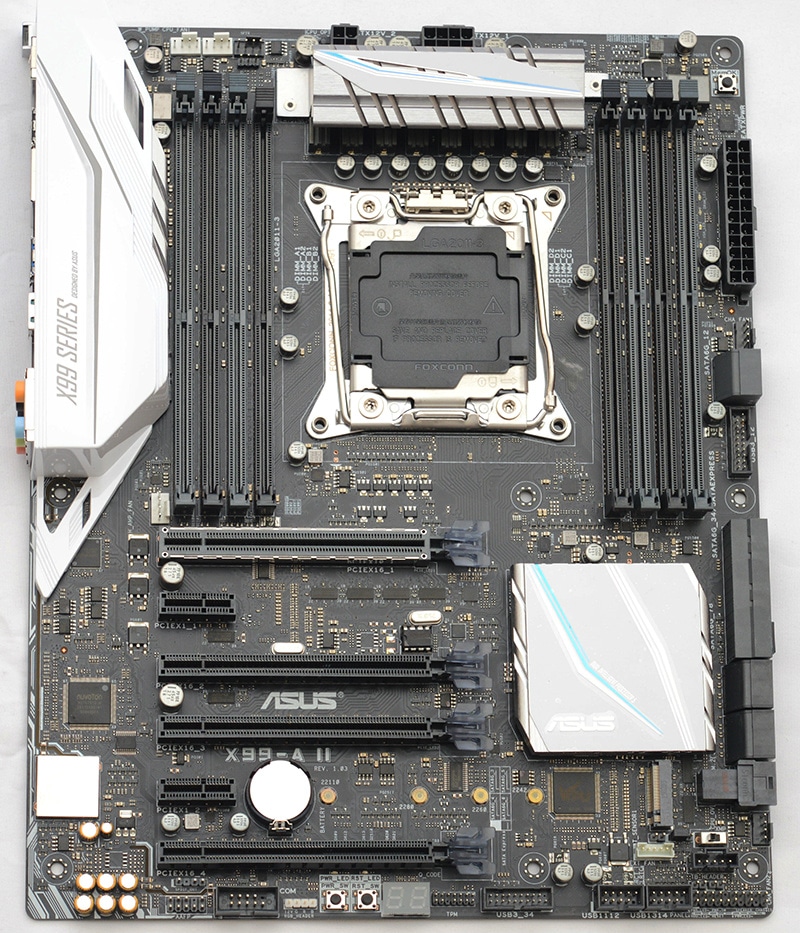 The motherboard houses an industry leading digital 8-phase power design for the CPU which provides superb reliability when applying heavy voltages during extreme overclocking. On another note, the DIMMs have their own 4-phase power delivery to reach frequencies of 3333MHz and beyond. The motherboard also opts for premium 10K rated capacitors and has a no-comprise approach when selecting components.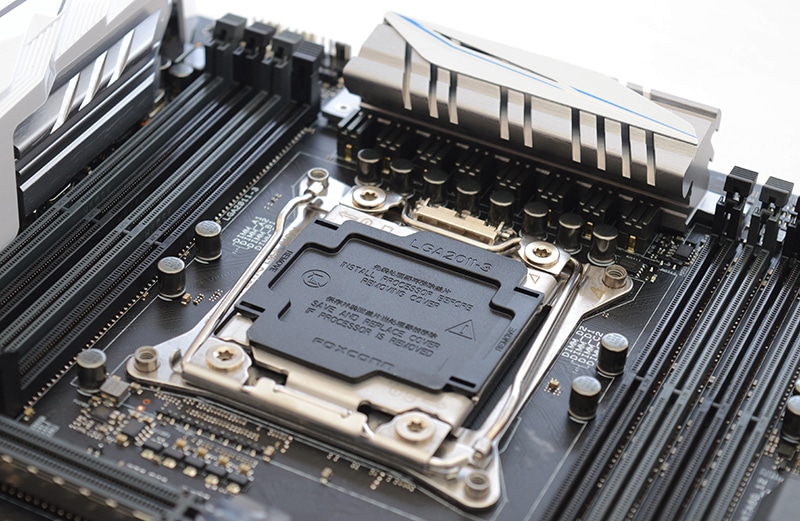 ASUS' OC socket utilises extra pins to connect a proprietary circuit to contacts found on the land grid array (LGA). This means, there's almost zero voltage drop which is a significant improvement compared to the standard 2011-3 pin arrangement. Theoretically, you should be able to maintain a more consistent Vcore when using LN2 or other high-end cooling apparatus. This is essential to maintain stability and reach your CPU's thermal limitations instead of experiencing voltage drop off. Clearly, this provides greater freedom when attempting to set overclocking records or aiming for a particular frequency for screenshot purposes. The motherboard's unique cache bus links areas such as CPU cores, DDR4 memory controllers, system agent and the shared L3 cache to accelerate sub-system performance. Being able to reach a higher cache-bus makes this possible and ASUS provides you with the tools to tweak the very important cache ratio.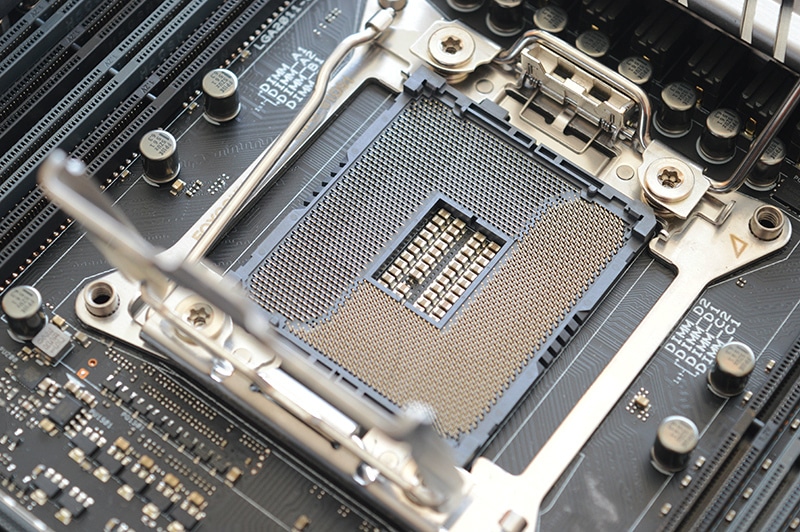 Towards the top portion of the motherboard is an 8-pin EPS power connector and additional 4-pin to balance power loads and reach higher frequencies. Please note this is only going to be a necessary inclusion for professional overclockers using a staggering power draw with huge voltage readings. On this particular model, ASUS has developed a dedicated water pump header which provides full PWM or DC control to find a suitable balance between pump noise and thermal dissipation. Throughout the motherboard, there's a total of five fan connectors to connect a huge range of high-performance fans like the Noctua NF-F12. One of these can supply up to 3A of power and is a great addition if you're using fans with a high draw.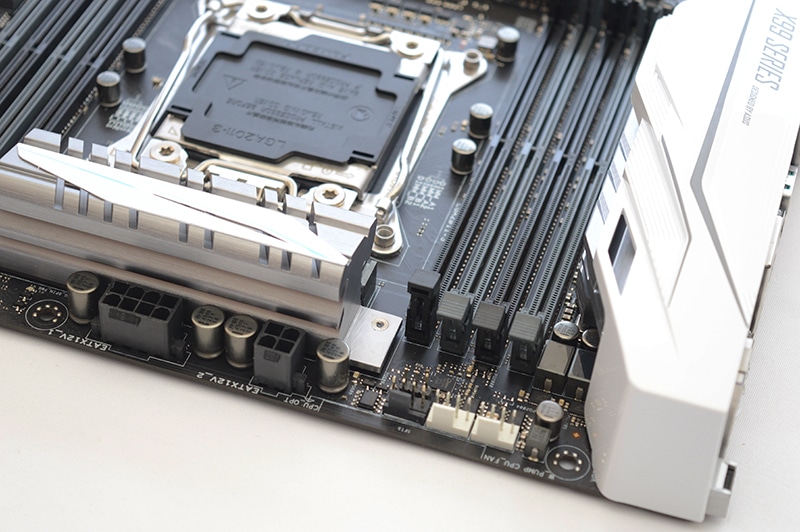 As expected, the ASUS X99-A II supports up to 128GB of DDR4 memory and can accommodate speeds well in advance of 3200MHz. The Mem OK! button is a really superb feature and tests for memory issues during the boot process. From this image, we can also see the 24-pin connector in its optimal position, a 4-pin fan header, two SATA ports and a USB 3.0 header.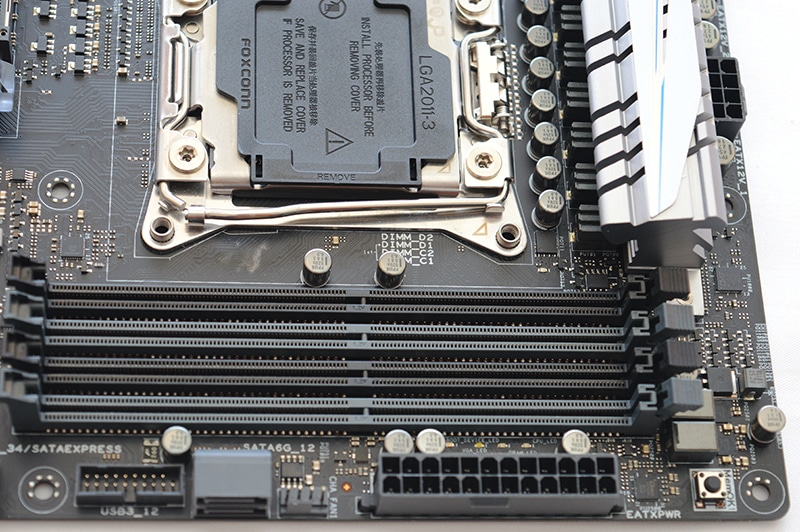 In terms of PCI-E layout, the motherboard can house both 3-way SLI and 3-way CrossfireX configurations. Of course, the operating speed will depend on your CPU's PCI-E lanes; either 28 for the 5820K or 40 lanes if you own a 5930K or 5960X. Furthermore, the new SafeSlot design reinforces the primary PCI-E slot to offer 1.6 times improved retention force compared to traditional alternatives. ASUS have positioned a reset switch, power switch, LED read out for diagnostics and external fan header to plug in an optional controller. Additionally, the motherboard has a dedicated connector to attach 5050 RGB LED strips and create a much cleaner aesthetic.
The audio segment has separate layers for the left and right track to ensure both channels deliver consistent audio clarity. Additionally, the use of audio shielding reduces multi-lateral interference and there's even a power pre-regulator which allows for lower mV input noise. Other superb features include an integrated audio amplifier, De-pop circuit and premium Japanese audio capacitors.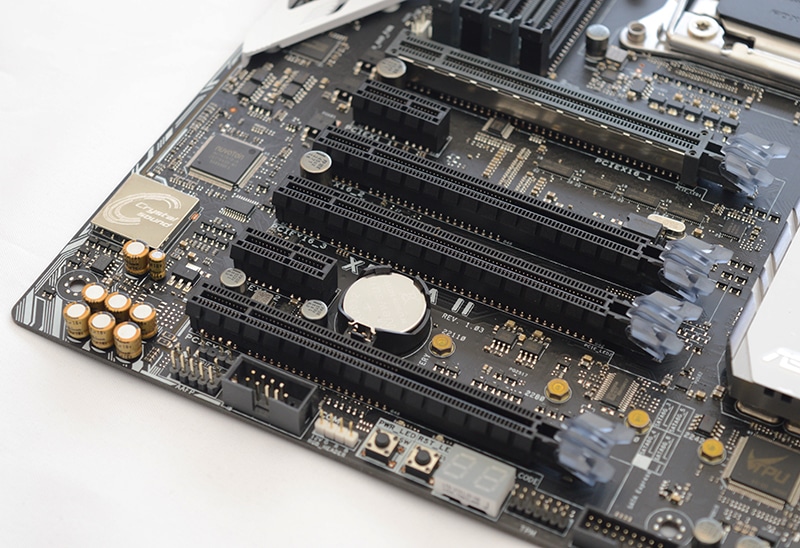 Here we cam see the breathtaking LED illumination which comes from the isolated audio circuit and PCI-E clips. Unfortunately, it's quite difficult to capture the lighting's beauty on camera especially since the GPU covers the PCH's LEDs.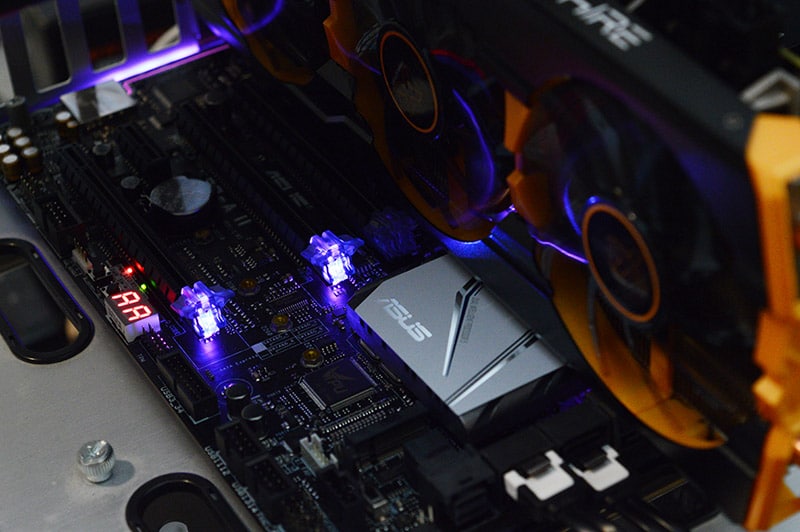 Connectivity-wise, the motherboard has an M.2 x4 Socket 3 port which supports type 2242/2260/2280/22110 storage devices, U.2 port, one SATA Express and eight SATA 6Gb/s ports.
Here we can see the chipset design in all its glory which features a gorgeous finish.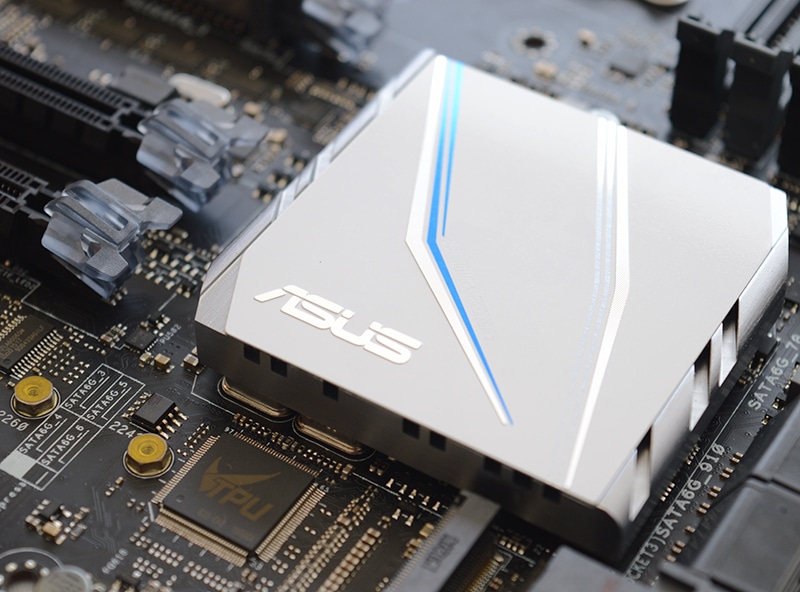 The rear I/O incorporates a BIOS flashback button, PS/2 keyboard/mouse combo port,  four USB 2.0, four USB 3.0, USB 3.1 Type-A, USB 3.1 Type-C, S/PDIF optical out and 5 audio jacks.