be quiet! Dark Rock 4 Pro Air Cooler Review
---
---
---
Mike Sanders / 3 years ago
---

be quiet! Dark Rock 4 Pro
At CES 2018 be quiet! featured some of their latest editions in the market for their air cooling range. Having had a look ourselves, we have been anxious for some time to see exactly how this would perform under the scrutiny of testing. At the time, we were highly impressed with the looks and knew from previous models that the Dark Rock series was to be taken seriously.
In addition, we were, if nothing else, curious to see the changes to the mounting system which for the prior model (the Dark Rock Pro 3) was perhaps one of the hardest we had ever encountered. It is no joke to suggest that it was one of the rare occasions where we nearly gave up on a review. Not because we wanted to, but because it was simply just a nightmare to fit.
Fortunately, when we spoke with be quiet! they were aware of the problem. I think, putting it diplomatically, the prior design may have suffered from some over-engineering. They did, however, thank us for the feedback and assured us that it would be remedied in the new release.
With this being marketed as a 'high-end' air cooler, it doesn't take too much of a leap to understand who they are looking to compete with here. So, let's have a look and see exactly how the Dark Rock Pro 4 competes and, in addition, what improvements can be seen from the previous model.
Features
Two virtually inaudible Silent Wings PWM fans
A funnel-shaped frame of the front fan for high air pressure
Achieves only 24.3dB(A) at the maximum fan speed
Seven high-performance copper heat pipes
Airflow-optimized cooling fins; cutouts enhance the RAM compatibility
Easily installable black installation kit can be mounted from above
Brushed aluminium top cover with a diamond cut finish
3-year manufacturer's warranty
German product conception, design and quality control
What be quiet! had to say
"No compromise in silence and performance for overclocked systems and demanding graphics applications! Dark Rock Pro 4 provides an impressive rating of 250W TDP and achieves low temperatures even during periods of peak CPU performance." – Dark Rock Pro 4
Specifications
For in-depth specifications, please visit the official be quiet! product page here.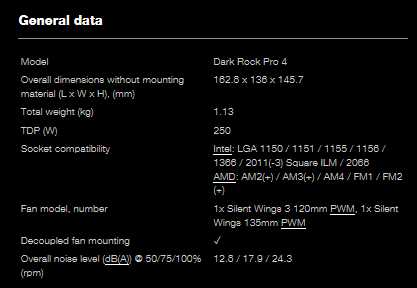 Packaging and Accessories
The box work shows a nice clean layout and presentation. The colour choice was a little unusual. This is, after all, a black product on black-boxing. As such, it can make seeing the cooler a little tricky. Everything does kind of get lost in that black. This is, however, in no small part due to their specific black ceramic design for heat distribution on the cooler itself.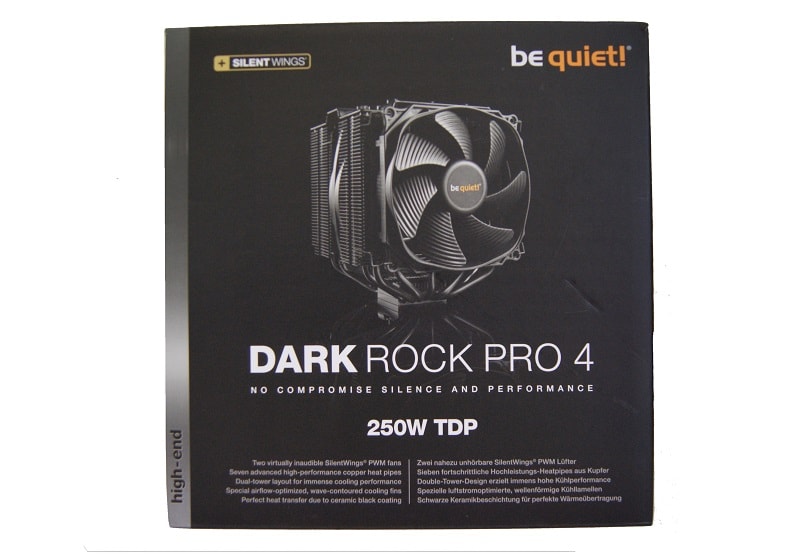 Around the back, you will find the product specification including technical data on the SilentWings PWM fans. In addition, it also lists all of the bracket chipset options, which put simply, is all major types for both Intel and AMD. It's certainly nice that compared to other products, this really does put all the information you could possibly want on the box. Better still, it is clearly displayed.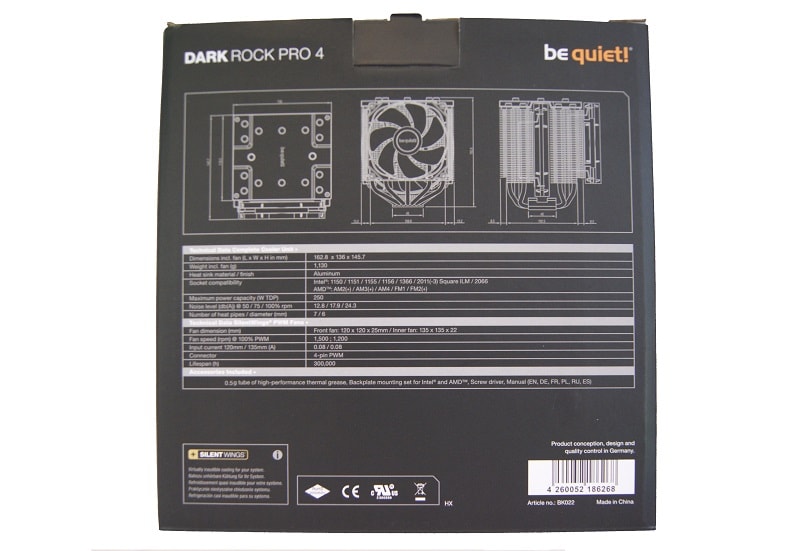 Whats inside the box?
Inside the box, you will find everything you need to get going. This includes several instruction manuals (depending on your processor), installation brackets (separated for Intel and AMD) as well as the 2nd fan which is individually packaged. Many high-performance air coolers can be very intimidating in parts. In this instance though, be quiet! have tried (and succeeded) in keeping everything as simple as possible.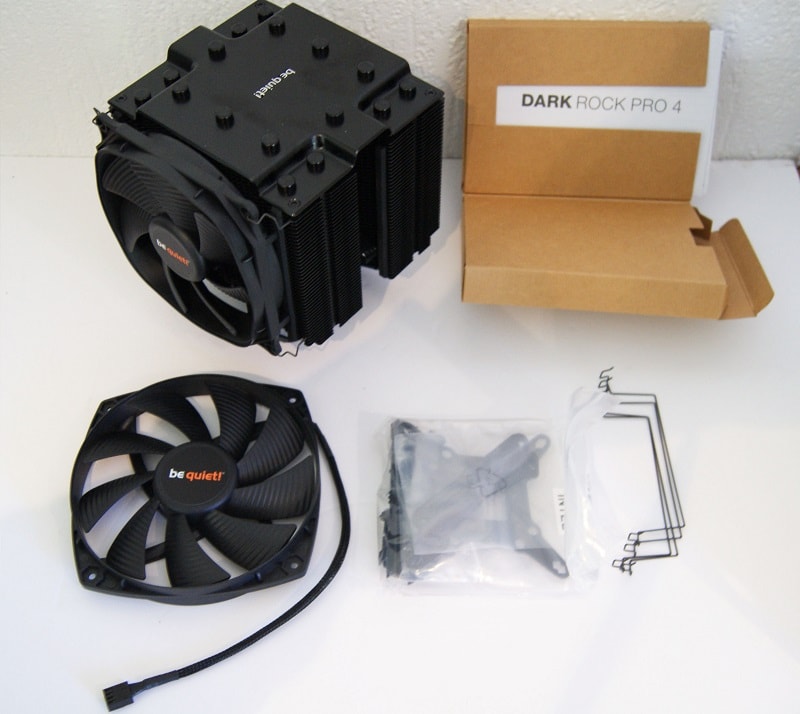 The front fan comes pre-mounted to the cooler with the 2nd to be installed after you have fitted it to your motherboard. You can, of course, remove the pre-installed fan and re-install depending on the preference of the in/out and air flow needs.
In addition to this, the 2nd fan slots into the gap quite nicely. It sounds silly, but on some coolers that can be a fiddly affair. On this one, however, no such problems exist. The brackets holding both fans in place are a little tight and do require a little dexterity to get in place. Once fitted, however, the fans are nice and secure.
A Closer Look
---
High performance air-coolers are often, not much to look at. Some models are simply a large plain metal cooler with a big fan strapped to the side. Effective, but not exactly subtle. In this instance, however, be quiet! has worked hard on the design.
They have successfully made it high performing while still sleek and understated in design. The large black ceramic plate at the top hides most of the vents and fan and as such, with this installed on a system, particularly one with a clear side panel, all you would see is the neat 'be quiet!' logo.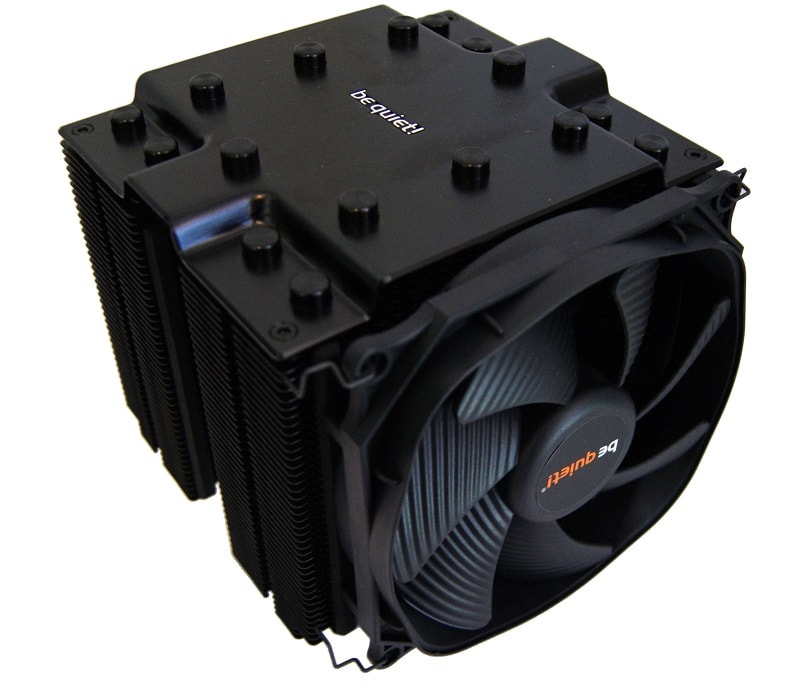 The CPU block looks very impressive and sturdy. With the 7 cooling pipes (all in the black ceramic coating) promises to provide excellent heat distribution to the cooler itself. Frankly, it looks an absolute beast of a performer. The large CPU contact plate, combined with the 14 (7 on each side) pipes will allow for optimal heat dissapation and performance, even under heavy pressure.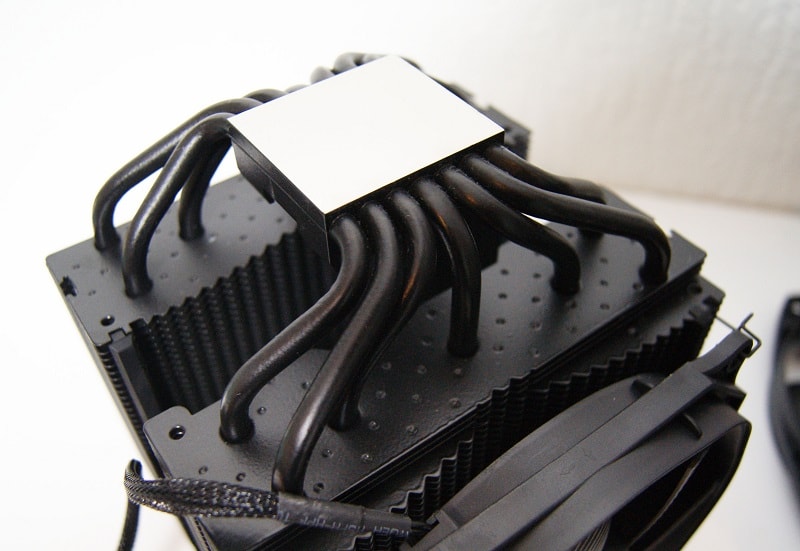 The fans look very impressive as we would expect from Silent Wing technology. The internal fan is slightly larger than the external based on the design of the cooler. While this design choice might initially seem confusing, the small exterior fan means better RAM clearance.
Often one of the major problems with large air coolers is RAM clearance. Particularly if you own large RAM with LED lighting or heat sinks. In this instance, however, given the front fans slightly smaller size, we found no issues when installing or fitting this onto our test bench.
Test System and Methodology
---
Please note that our testing system was completely revised in September 2017. That means all previous results have been scrapped, and a new set of benchmarks introduced. For a look at our previous reviews, please consult our most recent review that used that system. Please note that we re-tested the Noctua NH-D15S as our base benchmark for cooling results.
Test system:
Gigabyte Aorus Gaming 9 Z270
Intel Core i7-7700K Delidded w/ NT-H1 under IHS
8GB Crucial DDR4 2400 MHz
512GB OCZ SSD
Seasonic M12II Evo Edition 500w Power Supply
Lian Li T80 Test Bench
All testing conducted using NT-H1 thermal paste
We'd like to say a big thank you to Gigabyte, Noctua, Crucial, Intel, OCZ, be quiet!, and Lian Li for providing us with the above testing equipment and their on-going support.
Testing Methodology
We always use Noctua Noctua NT-H1 thermal paste to make sure testing reveals the efficiency of the tested coolers not the efficiency of the bundled thermal paste
Prime 95 is run for 10 minutes to calculate "load" results
Unigine Superposition is run for 10 minutes to calculate "gaming" results
The average temperature across all cores is taken
Fans are left to operate at default PWM profile speeds unless otherwise stated
For water cooling tests, all pumps have been operated at 12 volts unless otherwise stated
Ambient temperatures should be between 21-23 degrees in all our tests unless otherwise stated
Acoustic measurements are taken 10cm horizontally and 10cm vertically away from the CPU cooler with the VGA fan disabled
Stock tests are performed using "out of the box" settings for the CPU
Overclocking tests are performed with the CPU set to 5 GHz and 1.345v
All coolers were tested under identical settings unless otherwise stated.
There is approximately a 1-degree Celsius margin of error in our temperature recording software CPUID HW Monitor
There is approximately a 1.5dBA margin of error with our Benetech GM1351 decibel meter
In all these graphs we may have a few "reference" results of particular products that do not fit within that category for comparative purposes.
Software Used
Performance
---
Stock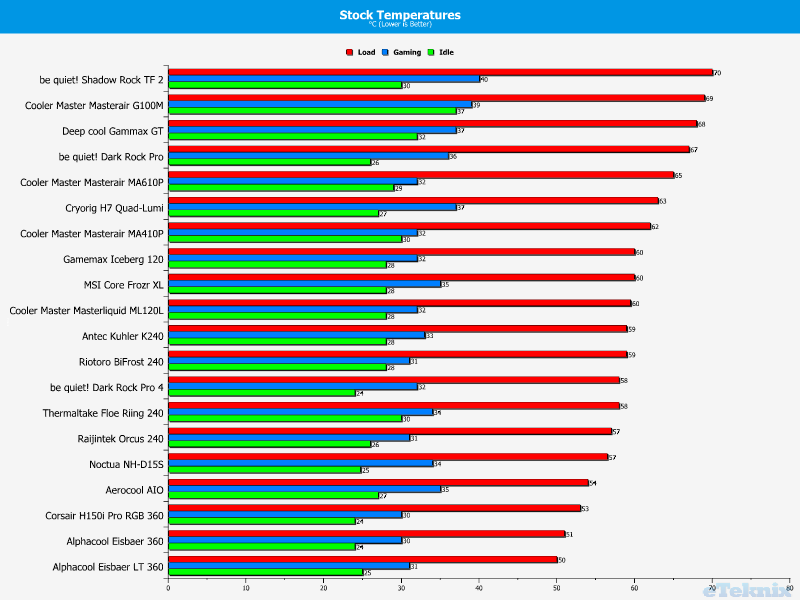 As expected this is a strong performer and in comparison to its co-release of the Dark Rock 4, the Dark Rock Pro 4 clearly has a strong advantage. It is no surprise that it is capable of achieving figures more often seen in the AIO market. While it doesn't achieve the high-end heights of other coolers, this is clearly a strong outting for be quiet!
Overclocked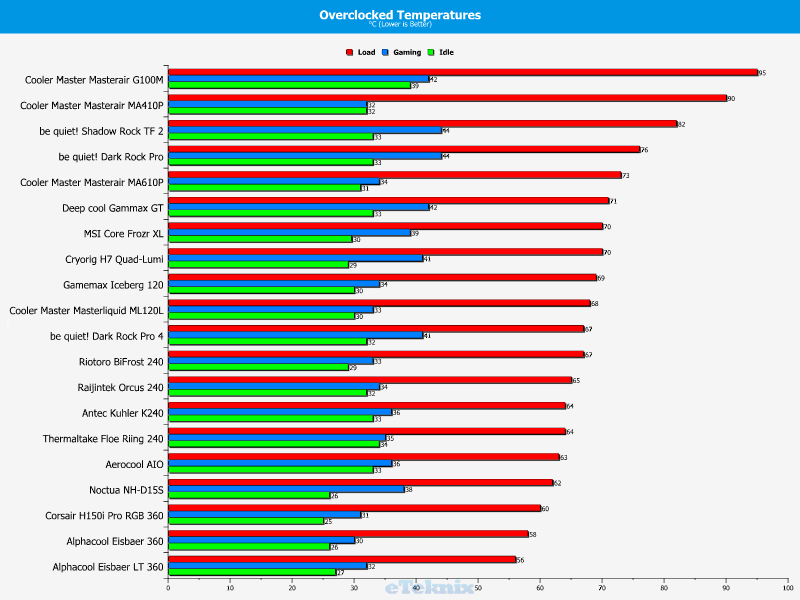 High-performance air-coolers should be capable of easily coping with overclocking. It is, after all, a fairly common factor that people look to apply to their systems. Putting this cooler under a maximum load test found that the highest temperature reached was 62. For an air-cooler under maximum load, this was very impressive and beat many brands in the competing market.
Stock Acoustics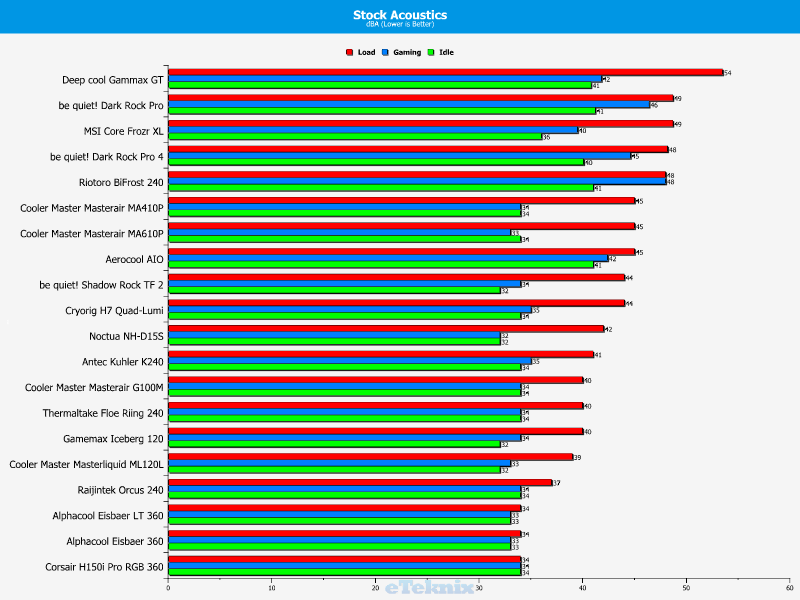 I will be truthful enough to say that while the processor is remarkably quiet, the sound levels can get a lot more notable when it is under heavy CPU load pressure. Despite that though, it still achieved noise figures on par with much larger AIO coolers which are primarily intended to be quieter and better to look at. In this area, the be quiet! Dark Rock 4 Pro did an amazing job.
Overclocked Acoustics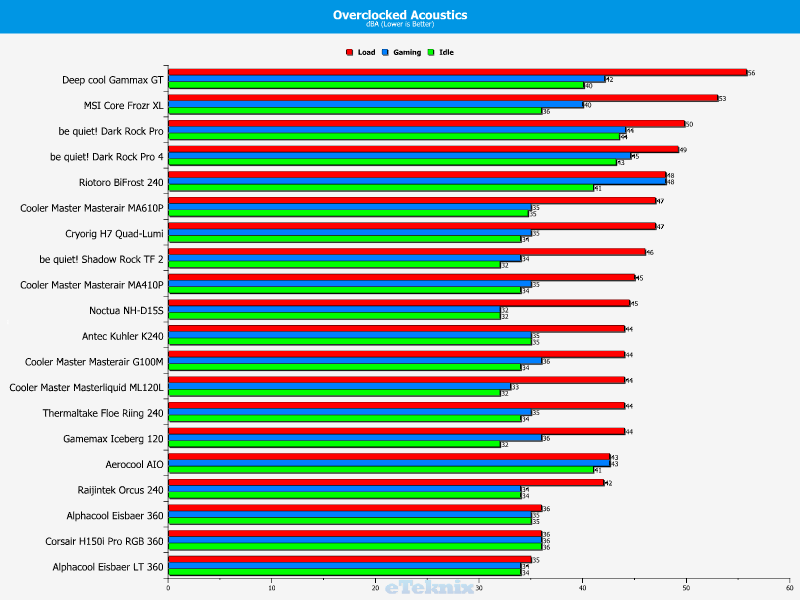 As a whole, the overclocked sound levels were fairly consistent with those of stock. This cooler, therefore, appears to perform as well, if not better when put to the test than when left in a regular operating mode.
There are some of you who may have noted the similarity in noise levels to the single fan Dark Rock 4. There are, however, factors for this particular model that need to be taken into consideration. The main factor being that this model has 2 fans instead of 1. Despite this, the fact that the pro was able to operate on a par shows just how excellent the design of the Silent Wing fans is.
Final Thoughts
---
Pricing
The be quiet! Dark Rock 4 Pro is retailing for a price of around £80. For a high-performance air cooler this is quite notably less than many other alternative brands and as such it makes this a very attractive alternative. It is a question of price vs performance. In this area, we think that the be quiet! Dark Rock 4 Pro has a strong case to make. This is, after all, around £20-£40 less expensive than other high-end air cooler alternatives.
Overview
For a combination of looks, performance and noise levels, the be quiet! Dark Rock Pro 4 is an excellent option for your cooling requirements. The product is excellently presented with its black ceramic coating. If you were looking for an air-cooler that offers style and a heck of a punch, you would struggle to do better than this for the same price.
Build Quality
Everything on this product speaks of a quality design. The mounting system, which was one of the biggest issues with the Dark Rock Pro 3, has been improved massively. Just to clarify, by improved, we mean that it's actually possible to do now without requiring 3 pairs of hands trained with the finesse of a watchmaker.
Once installed you can see that great care and attention has been put into the design of this cooler. I have often felt that high-end air-coolers are an excellent option if for no other reason than one can last you a very long time. With this model particularly, I believe that you could still be using this cooler 3-4 systems down the road and still be entirely happy with its performance.
Fans
This cooler comes with 2 x 135mm PWN fans which each have nine airflow-optimized blades. Being designed for low noise and system vibration they were remarkably quiet and if noise levels are a high priority, these are definitely for you.
In addition though, and on a purely aesthetic level, they are fantastically good to look at. Particularly with the contoured tips.
Performance
Addressing the elephant in the room here, when dealing with high-end air coolers your main competitor is Noctua. Based on those terms, the Dark Rock Pro 4 did not perform as well as, for example, the DH-D14S. There is, however, a key factor in this comparison. This looks a lot better and costs significantly less.
While the performance figures are not as high as we may have liked, it still did excellently well. Under maximum CPU load, which you will not find in gaming, this still only reached 62c which for air cooler on a significant overclock speaks of a top performance.
Should I Buy One
If you want an excellent air cooler, that looks good, runs quiet and performs well, then yes. We would definitely recommend this. As above, there have been significant improvements on the previous model. Ones which were, if we're being honest, desperately needed.
Yes, there may be better performing air coolers out there. There are, however, few that do it with such style as the be quiet! Dark Rock Pro 4. This, in addition to the price point of this product, makes it an excellent option.
Based on the joint launch, you can check out our review of the be quiet! Dark Rock 4 here!
Pros
For a large air cooler, the design is very sleek.
Exceptionally quiet performance.
Packaging is very professional and, in addition, the instructions are easy to follow.
The mounting design is massively better.
A genuine high-performance air cooler.
High compatibility for all major AMD and Intel sockets.
Cons
Neutral
No lighting – Make of that what you will.
Mount design is still a tricky business but is a lot simpler.