Chieftec DX-02B Full-Tower Chassis Review
---
---
---
Peter Donnell / 8 years ago
Introduction
---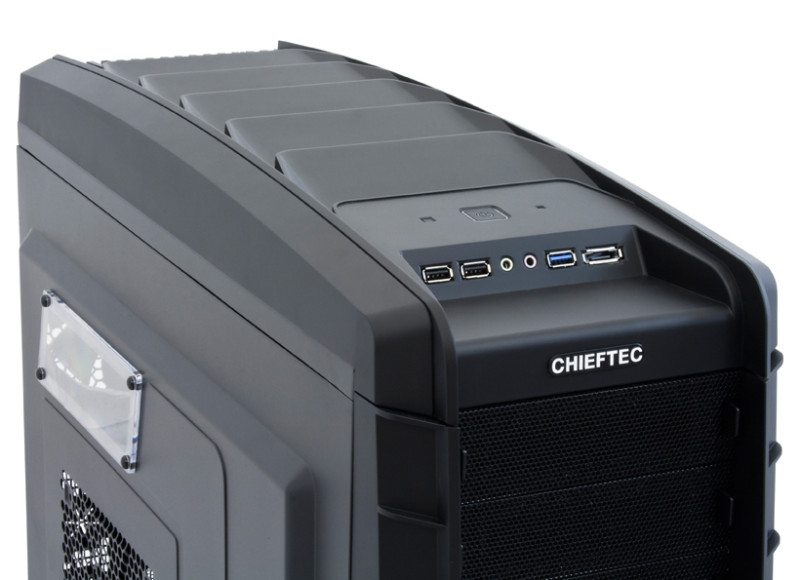 Chieftec used to be one of the biggest names in the UK chassis market, but a snag in their distribution efforts meant the company had to pull out of the market for a few years. This isn't to say they failed, as the company has being going strong ever since in global markets, but this year marks their return to the UK and to celebrate we've decided to grab hold of one of their current popular chassis to see what all the fuss is about. Now some of you may know already that the DX-02B full-tower that we have here today isn't a new product, it has been on the market for a year or two now, albeit not in the UK until now. So while this may not be their latest and greatest, it should get the ball rolling and you can expect even more great Chieftec reviews from us in the coming weeks and months.
"DX-02B –An unpredicted story of success continues with Chieftec´s new model DX-02B. A whole generation of gamers and modders will remember the legendary CS-601, better known as the Dragon DX. Hundreds of thousands of people have grown up with this case in the last decade. With the DX-02B you are receiving a case, which convinces with its design, and its high-end quality finishing. Besides the integrated fan controller, the case also has an elegantly conceived Hot-Swap solution for hard drives." reads the Chieftec website
Targeted at the enthusiast system builder market the DX-02B packs in plenty of features that tailor it towards high-end systems. There are style points that will no doubt appeal to the gaming and modding scene, but from what I know so far, it also looks heavily tailored towards those who require high-performance systems for professional use, so think rendering rigs, work stations and networking. Ticking so many boxes is no bad thing and I'm eager to see what this chassis has to offer, so lets jump right to it and take a closer look at what Chieftec have to offer.
Features:
Ergonomically positioned front interfaces
Rubber inlets pre-installed, allowing for water cooling system
Patented locking mechanism for drives
Two low-noise 200mm cooler fans in the case ceiling for optimised air flow
Support up to 340mm VGA Card
As you can see from the specifications below the DX-02B will hold anything from mATX right up to EATX motherboards, loads of storage bys, hot swap bays and plenty of fan mounts; well take a close look at them all in just a moment.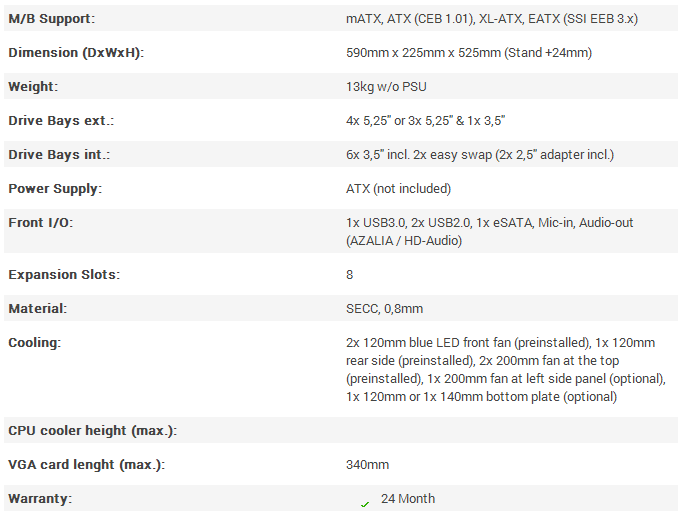 The packaging is nicely designed, a few logos at the top and bottom with a huge and clear image of the chassis on the front.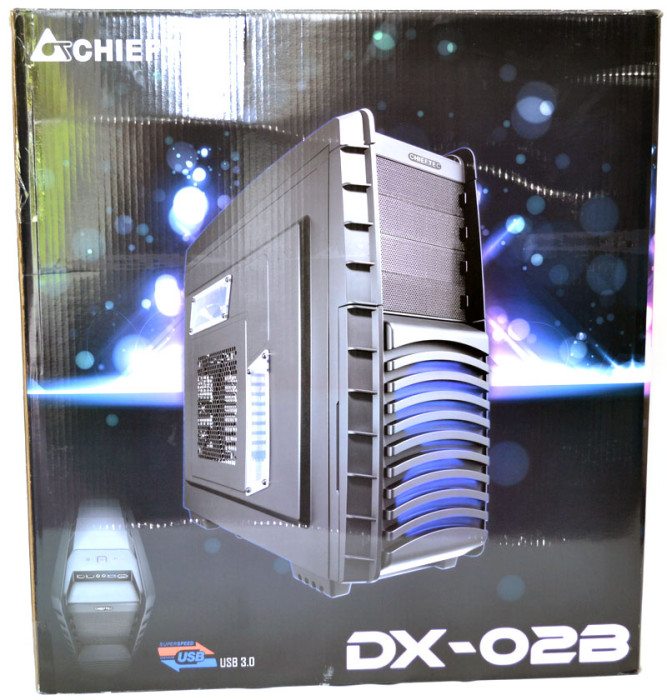 Around the back we have a technical break down of the major features as well as the full specifications (see above) on the side.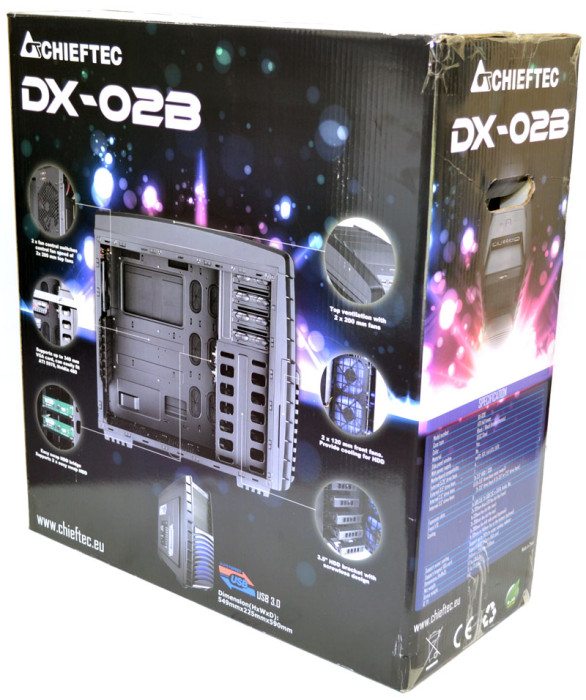 In the box you'll find a user manual, molex Y-splitter adaptor, SATA cable, screws, cable ties, pull ties, front panel 5.25″ to FDD adaptor and 5.25″ to FDD drive bay adaptor.