Corsair Nightsword RGB Tunable Gaming Mouse Review
---
---
---
Peter Donnell / 2 years ago
A Closer Look & Performance
Without a doubt, this is one gorgeous looking mouse. Nothing on here looks like it's an original idea, but the mixtures of surfaces and textures really give it a big dose of wow factor. There's a bunch of LED lighting on here, four zones in total. As you can see, there's a mesh cover on the lighting at the front, which we'll see in action shortly.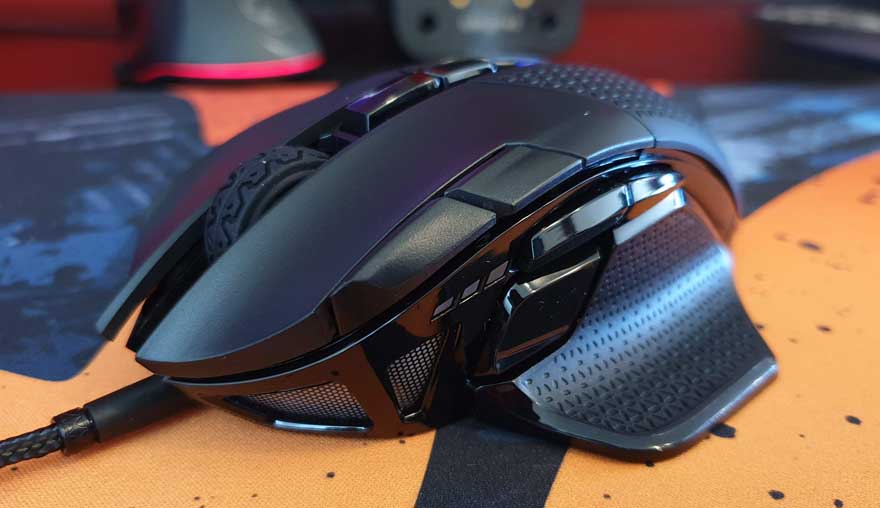 Right-Handed
This is a right-handed only mouse, but that does mean Corsair can tune the ergonomics for long-term comfort (of right-handed people). There's a huge wing on the side, which forms a comfortable thumb rest. Plus, with the addition of two side navigation buttons, as well as a large sniper button, you've got plenty of options here. I should stress, all the buttons are fully programmable, and the mouse has on-board profiles, so you can really go to town with game and work configurations here.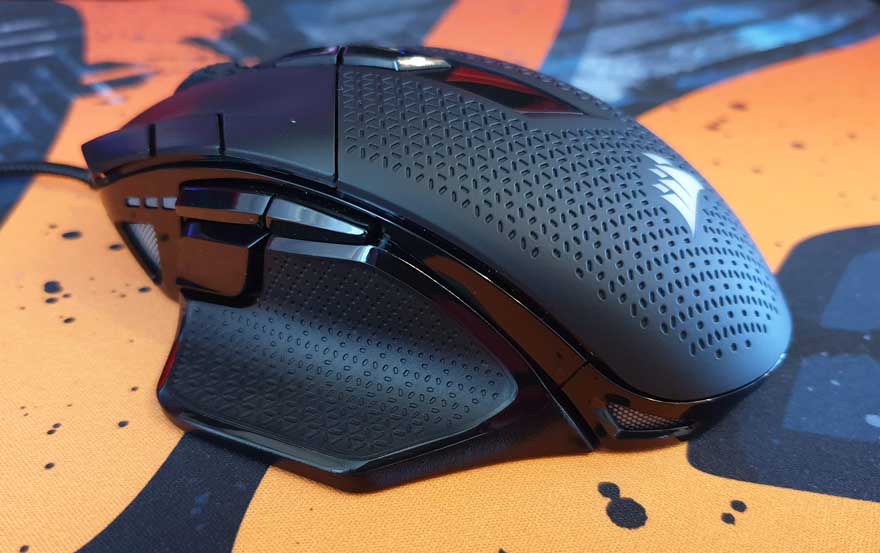 Texture
The new textured design looks superb too, and you'll find a similar design on all the grippy panels of the Nightsword. Any other contact surfaces, such as the LBM/RMB are a matte finish hard-wearing finish. Finally, any surfaces that join these together, such as the side trim, as all finish in a glossy black.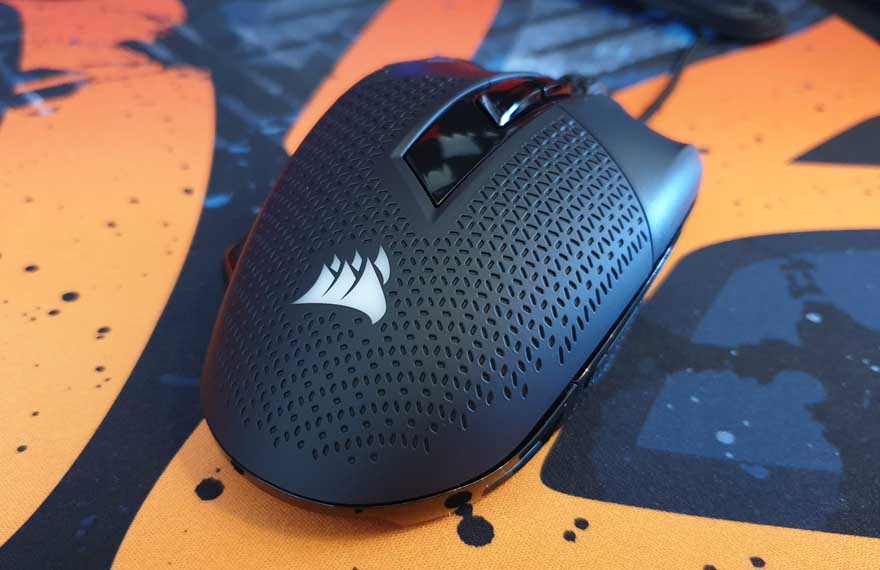 Down the right side, a smaller but still very welcome rubber grip. Again, matching up with the left wing and top panel texture.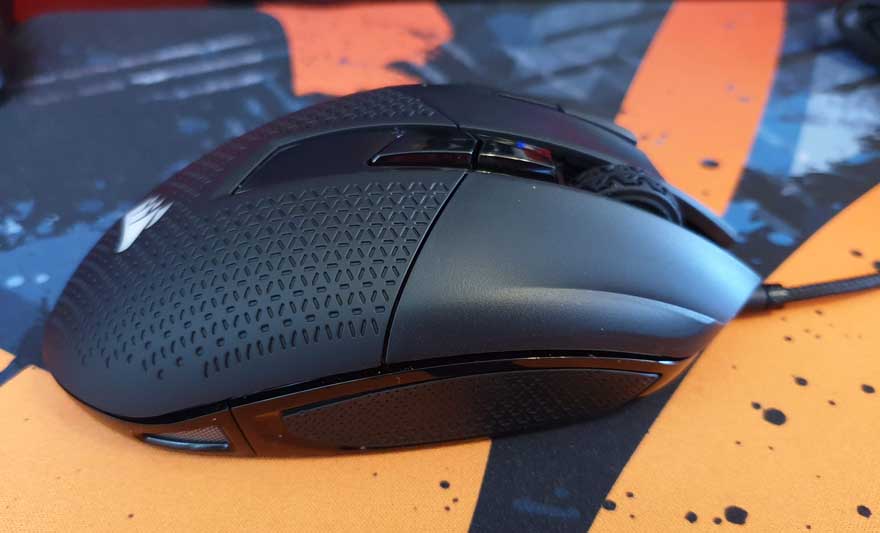 Aggressive
The Nightsword is a fitting name, it sounds like a famous weapon or a codename for a fighter jet. In my opinion, the mouse manages to look like both. The LMB/RMB are heavily scooped out to promote a comfortable finger position. Plus, they're extended way out front so even my long fingers can be comfortable in a palm-rest grip. I love how they sweep down to a point too like it's ready to cut through the air.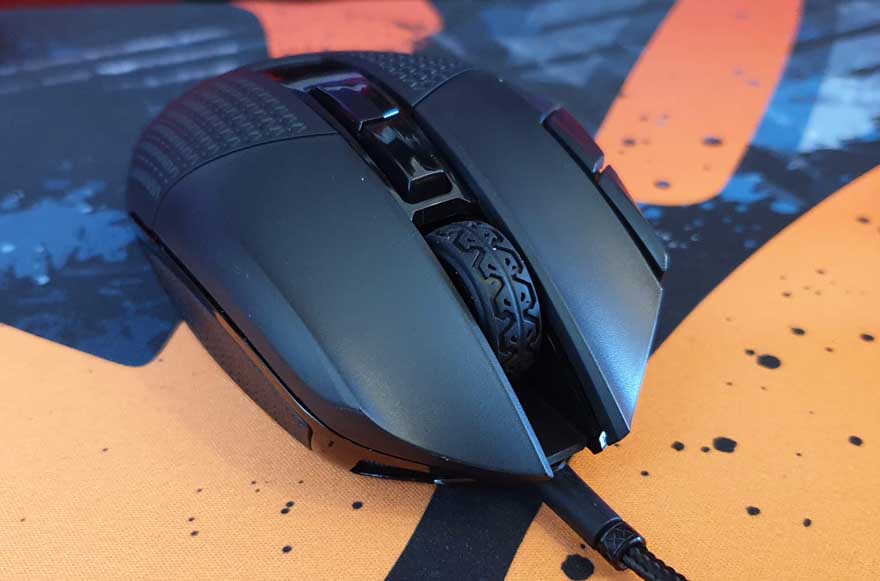 Recess
The mouse wheel is huge, and extra wide too. It features a thick and soft rubber coating too, making it very comfortable and easy to control. The larger size means you have plenty of surface area, but also makes it easy to both make fine adjustments as well as perform rapid scrolling moves if required.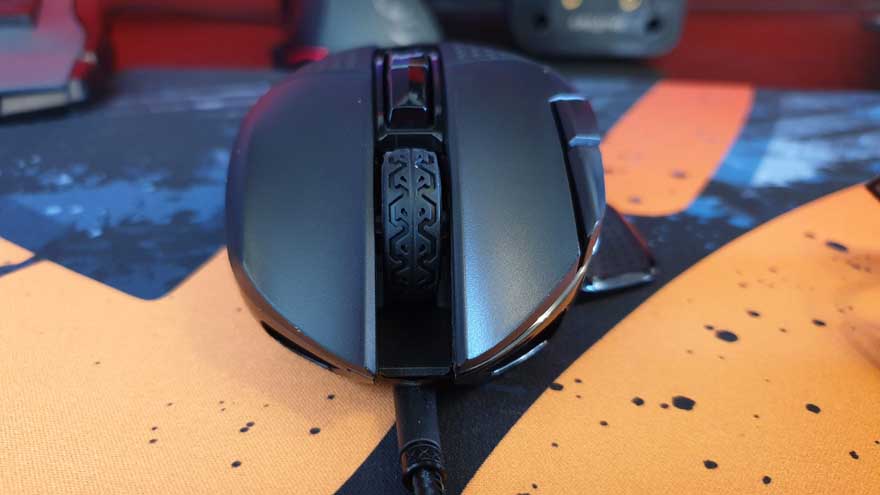 MOAR BUTTONS!
On the top side of the mouse, you've got two more switches. These are perfect for cycling through profiles, triggering macros, and anything else you desire really. For me, I have these set to copy/paste functions while I'm working, and I set the sniper button on the side to Enter. Of course, while gaming, they're perfect for some action macros in Elder Scrolls Online, and I can use the sniper button for a… well, as a sniper button in FPS games.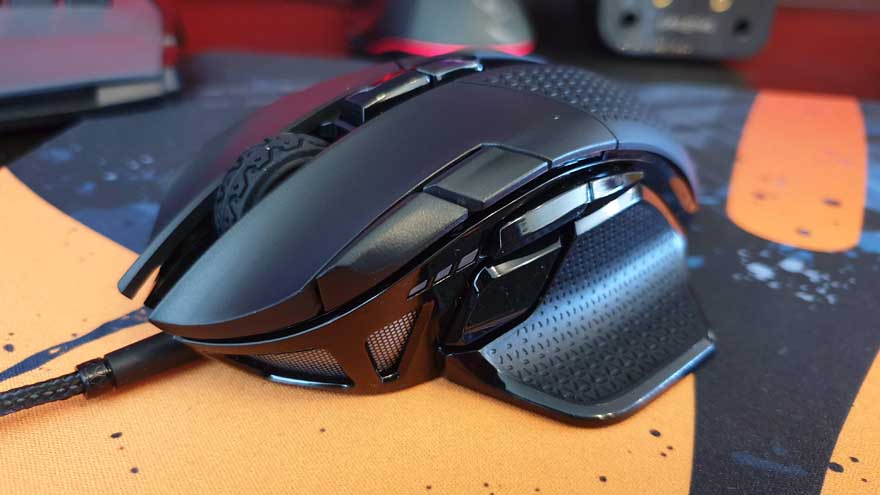 Finally, two more buttons up on the top. Sure, they're set as DPI toggles by default, but you can set these to anything you like.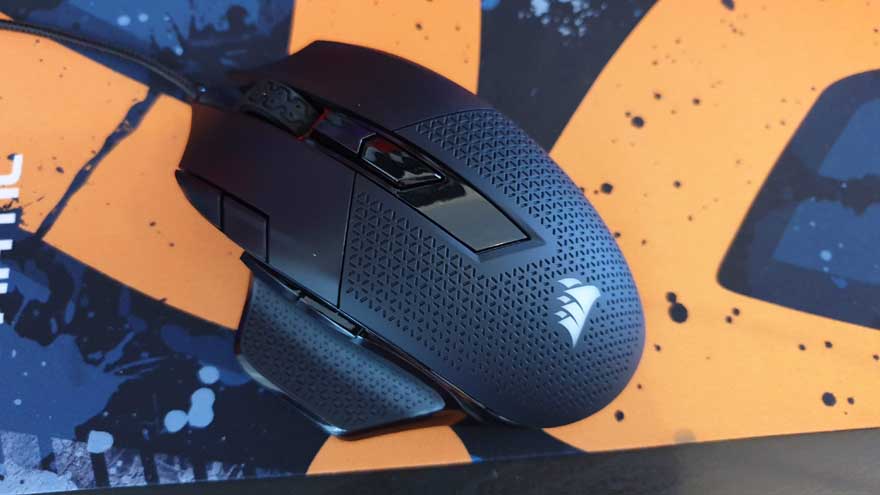 Underside
The bottom of the mouse is superbly clean, which helps reduce drag and makes the mouse easy to control even on softer surfaces. Plus, it has five of the largest slipmats I've ever seen, helping to further reduce drag.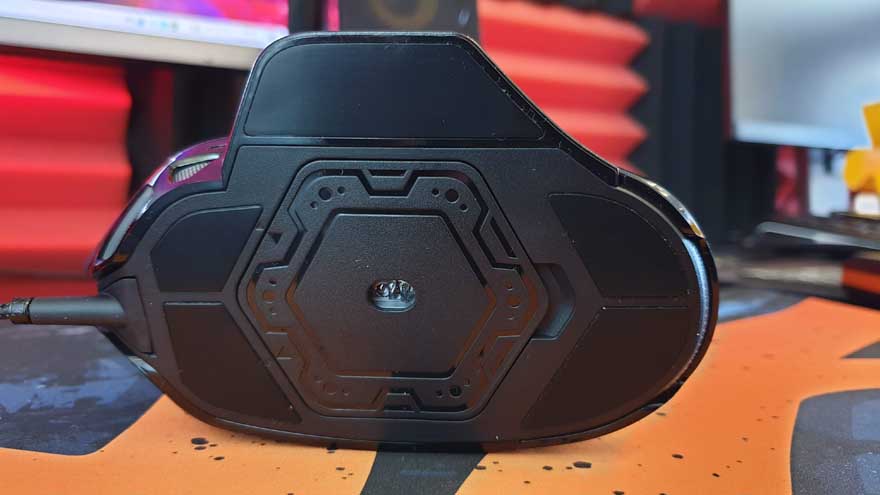 Jam your fingernail under that tiny little tab, however, and you can open up the base. It's a clever design, that goes around the sensor; I don't think I've ever seen a weight system configuration like this.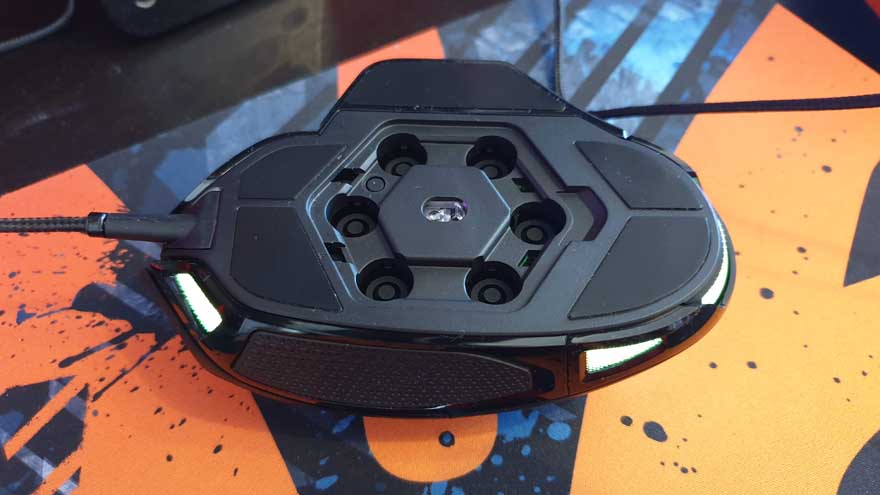 There are six weights, three lighter, three heavier. How you choose to lay them out, that's really up to you. It's worth experimenting though, and it's not exactly hard to make quick changes anyway.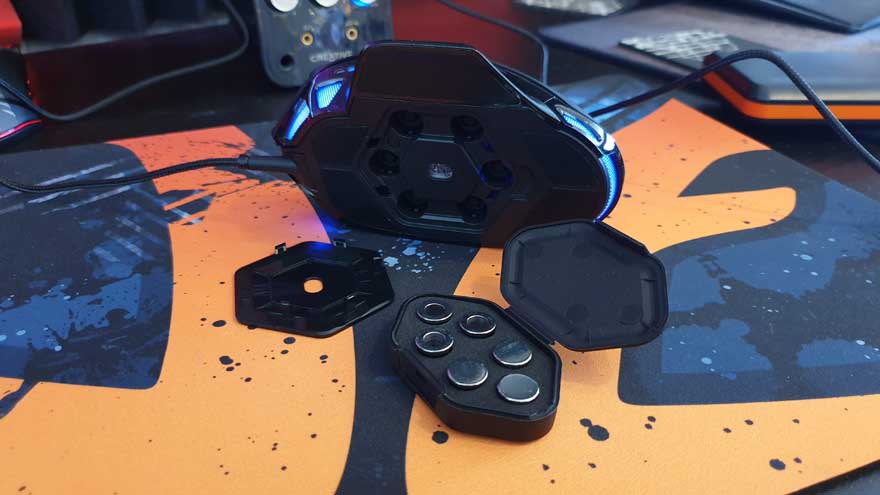 Drop some weights in, close it up, and you're ready to rock.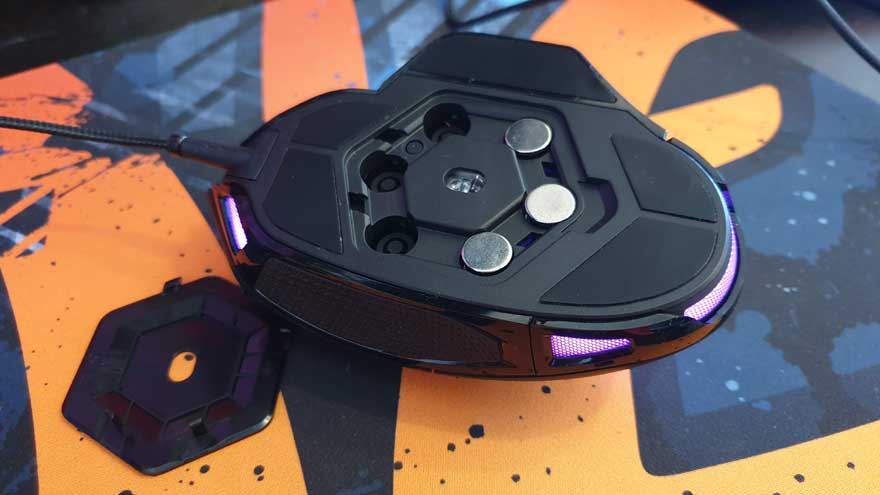 RGB, and Plenty of it
I love the RGB design on this mouse, and that instead of really bright lights, they've broken them up with a mesh diffuser of sorts. It makes them look more like the air intakes on a supercar. Attention to detail on the design was clearly high on the list of priorities. Lots of textures and patterns going on here, yet it doesn't look out of place.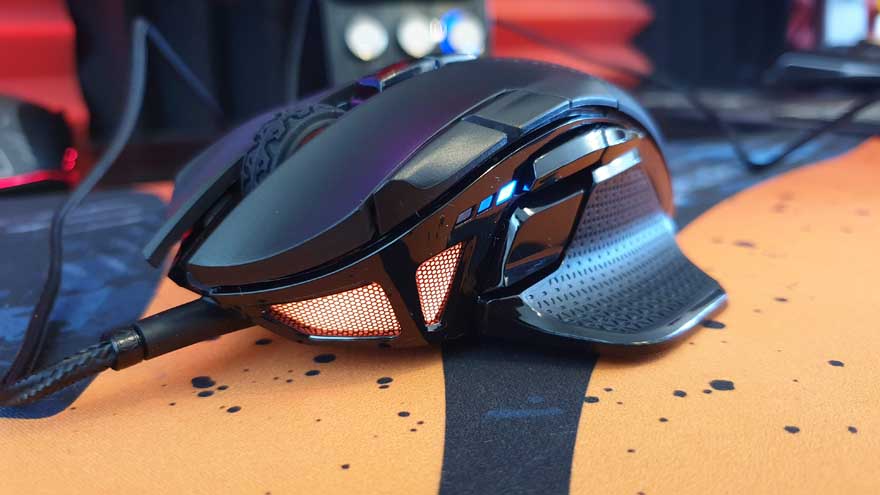 Towards the rear, there are three more RGB lights at the back, albeit they count as one zone. Then there's another zone on the Corsair sails logo on the palm rest. So that's front, rear, top and one more zone in the mouse wheel. That should be more than enough customisation for you iCUE lovers.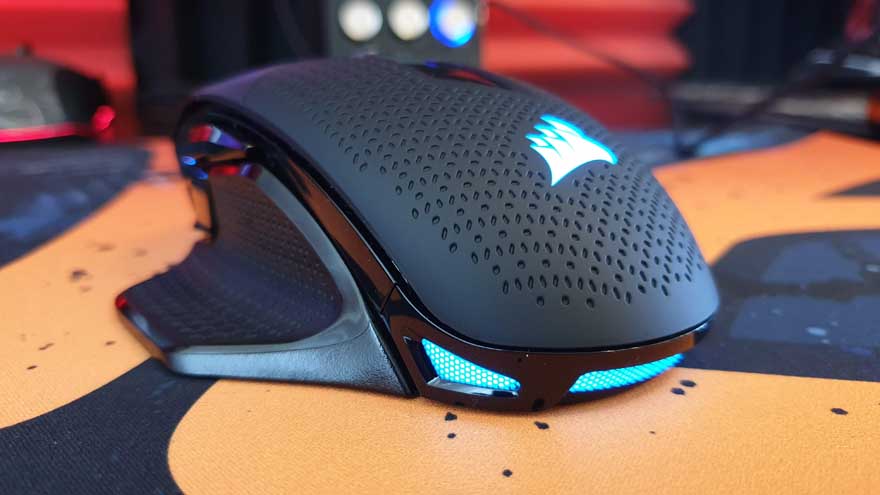 Smooth as Silk
The bottom of the mouse is pretty smooth already, but the large slipmats make a huge difference. Even with all the weights installed, the mouse is exceptionally nimble to move around. It's just as adept at fine detailed tracking as it is a low-DPI huge movements over a large gaming surface style tracking. Of course, with the sensor adjustable in 1 DPI increments, all the way up to 18K, fine tuning the speed and performance is easy.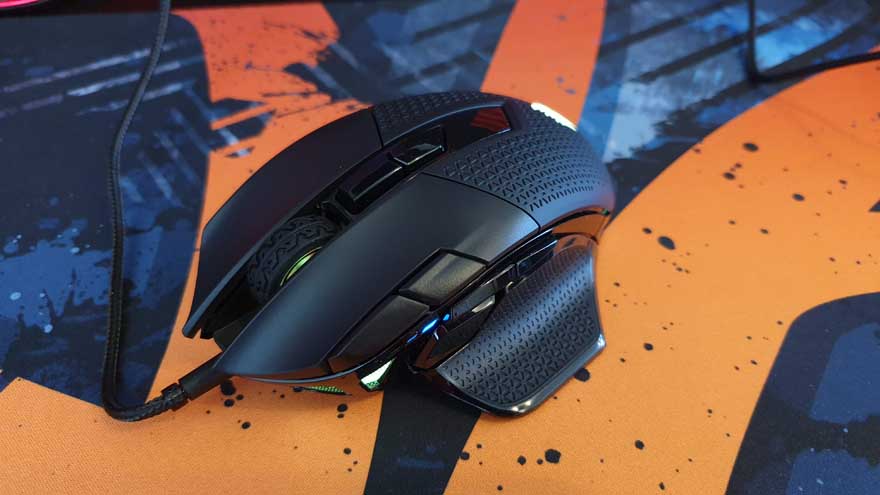 The sensor is as good as you might expect too, being Corsair's new flagship sensor and PixArm making some truly remarkable advances in the last few years. It's hard to find a bad sensor these days, but the one in this mouse is properly fantastic. Silky smooth tracking, no jitter, and plenty of customisation; what's not to love!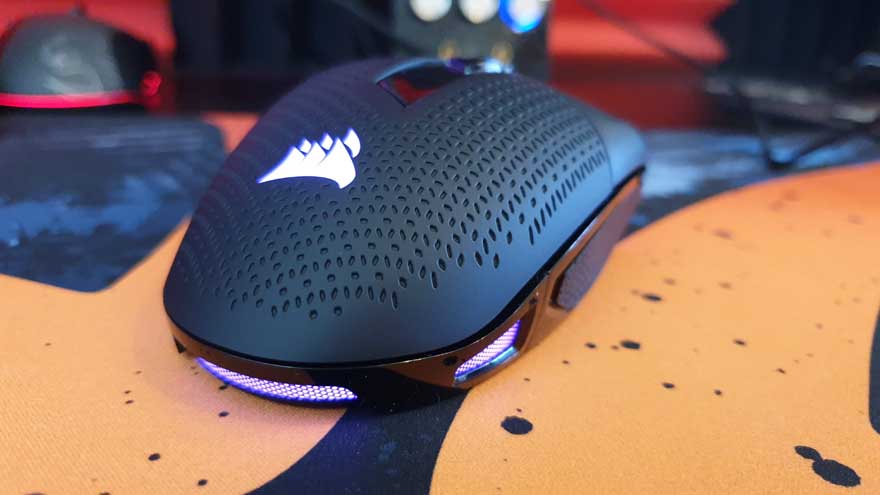 Switches
The LMB and RMB are tight and responsive, and each rated for around 50m+ clicks. Pretty much what we've come to expect from Omron switches really. The other buttons are less clicky, with a softer action to them, especially the extra top left buttons. I suspect this is to reduce the instance of accidental clicks, but they otherwise feel responsive enough for their purpose.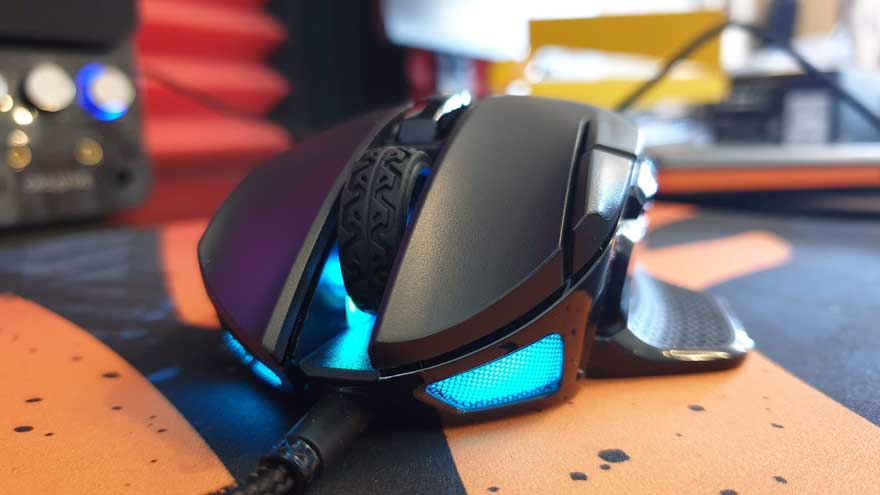 The Nightsword borrows heavily from designs that have come before it. However, it has been fine-tuned, refined, tweaked, to be the best mouse it can be. That both shows in the aesthetics and even more so in the performance.