Corsair Voyager Air 1TB Wireless Hard Drive Review
---
---
---
Chris Hadley / 11 years ago

Over the last few months, the number of wireless storage products and options has been growing and each of them has their own individual selling points; Patriots Gauntlet Node for example allows the user to install a drive of their own choosing based on their capacity needs, whilst ADATA's DashDrive Air provides storage by connecting a USB hard drive or SD card whilst internally it houses a battery pack to charge a device through the USB port. There are also options from Kingston and Seagate as well, but overall there is one option that every other product of this nature on the market lacks and this is LAN.
In such a tightly fought market, Corsair have thrown a new connectivity option into the mix and this sets the Voyager Air apart making it usable not only over wireless and USB like other drives can, but also over a wired network when at home or the office. This simple addition along with a massive 1TB capacity in the case of the drive I'm looking at today, swiftly pushes the Voyager Air in front of the competition.
On top of the LAN connectivity and massive 1TB capacity, Corsair's drive also houses a large capacity Li-On battery allowing for up to seven hours of use from a single charge, USB3.0 is also available to use allowing for faster direct transfers to the drive and considering this is a portable drive, there is also an in-car power adaptor allowing the device to be charged whilst on the go – ideal for those long car journeys and allowing the kids to watch their favourite episodes of Dora the Explorer on an iPad or Android tablet without having to fill both devices with content of their own.
There are certainly a lot going for the Voyager Air, but it really comes down to how well it performs in the real world. After all it's no use if the battery doesn't last long or the mobile app is very ropey around the edges making connecting and using the drive hard or even impossible.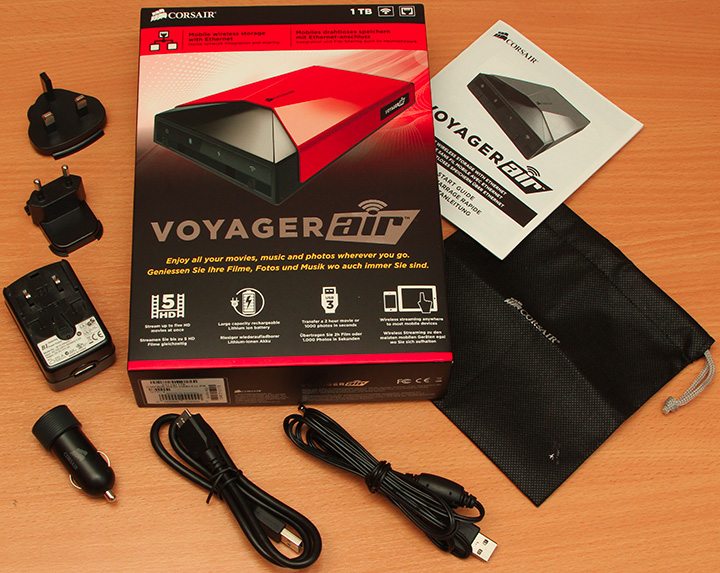 Aside the drive itself, Corsair include a regional accessory pack with mains power adaptor with UK and European tip in our case (naturally US customers will get a different tip), the in-car 12V charger, a USB3.0 cable and USB to DC power cable. All this can be kept together in the included bag and a user manual gives information on how to get yourself up and running.