Cougar PURI RGB Mechanical Gaming Keyboard
---
---
---
Peter Donnell / 1 year ago
A Closer Look & Performance
The overall design is pretty much what you would expect from a full-size keyboard. They haven't mucked about with too much and, of course, that's a good thing. It's a strange finish though, it's quite a dark black-plastic finish, but the keys themselves are actually quite reflective; perhaps they put a few extra coats of UV on there.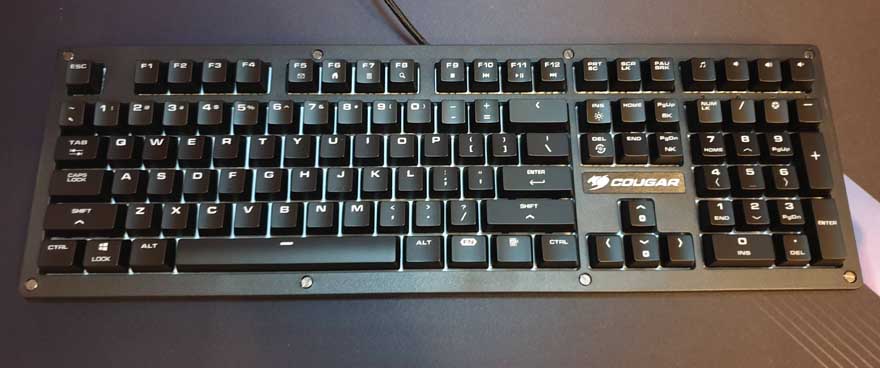 There is a nice lightly textured design to the main body though, and it gives a nice contrast to the glossy finish of the keycaps. I'm sure both will look even more amazing when we fire up the built-in RGB lighting.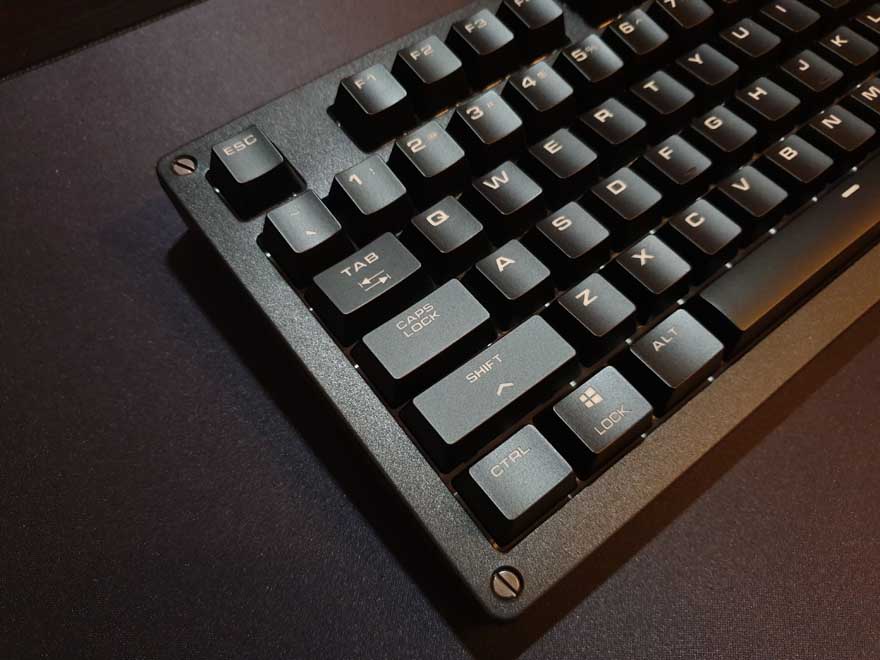 While the keyboard looks like it has been screwed together, and actually, it very well might be, these are actually magnet mounts. The hard case that I told you about has the other part of the magnetic mount and will lock into place on these exposed screws/magnets. A pretty cool feature but also a nice touch of style too.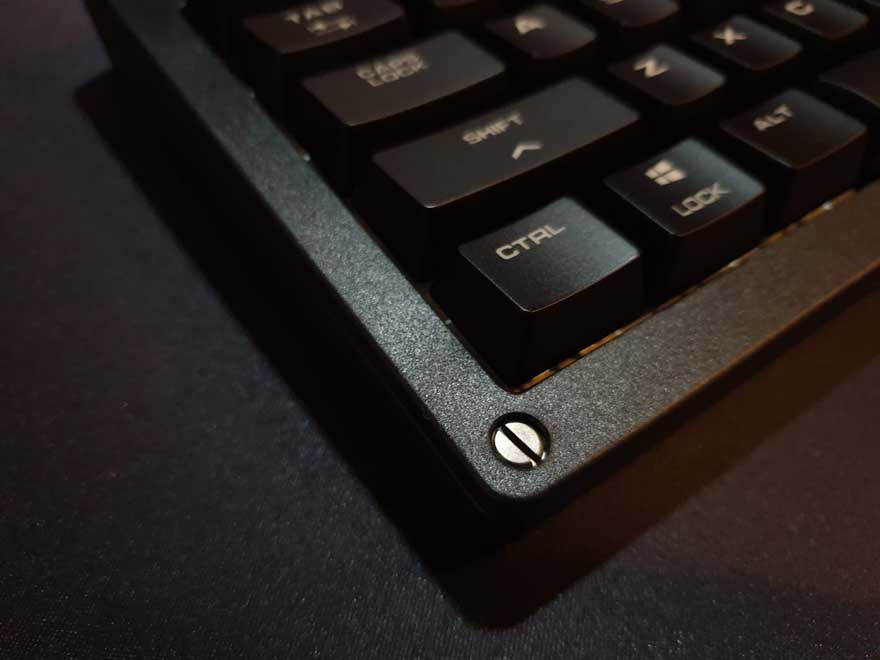 Being a mechanical keyboard, you pretty much know what you're going to get the moment you take it out of the box. The PURI features a nicely weighted body, and a strong metal plate running throughout. That means the keyboard doesn't flex or rattle when you're mashing at the keys. Overall, it just feels like any other well constructed mechanical keyboard, and honestly, that's no bad thing.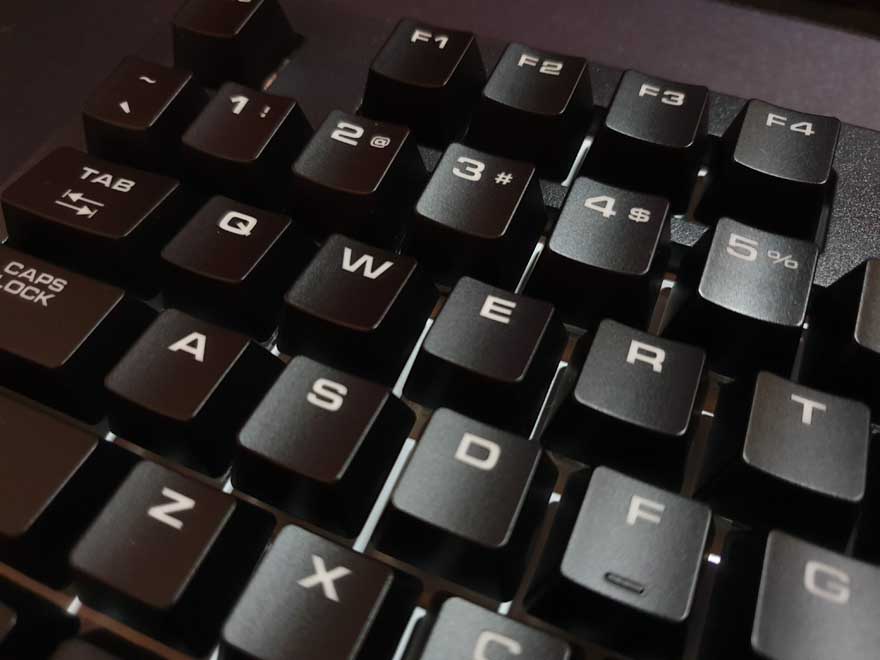 There are a few extra features tucked away though, such as these simple launcher keys on F5-F8. You'll need to use the FN-Shift key to access those features, obviously.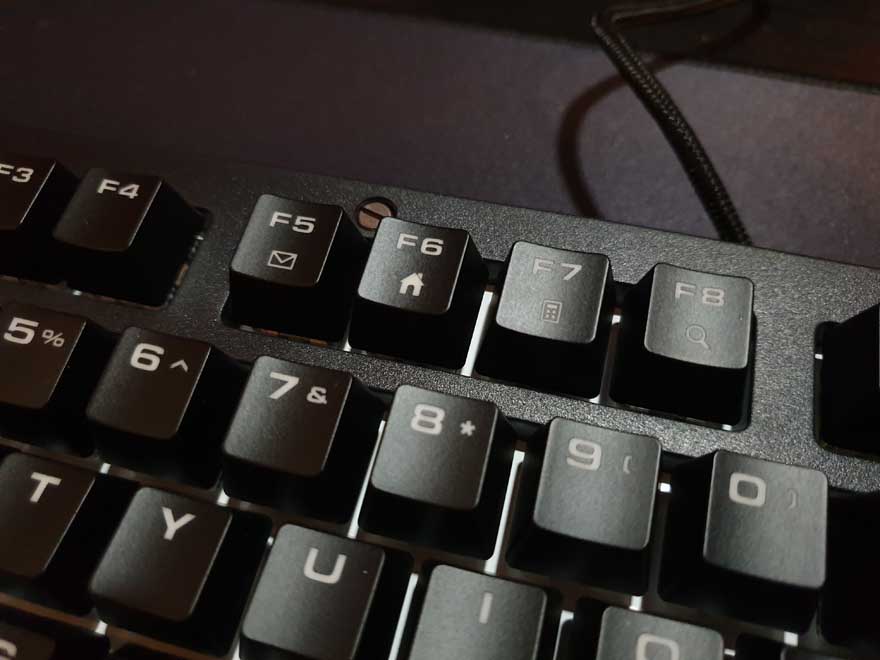 Always my favourite inclusion on a keyboard, a set of multimedia controls. They're pretty basic, but for skipping a few songs while working and gaming, they're more than up to the job. It certainly beats having to tab out of an online game, that's for sure!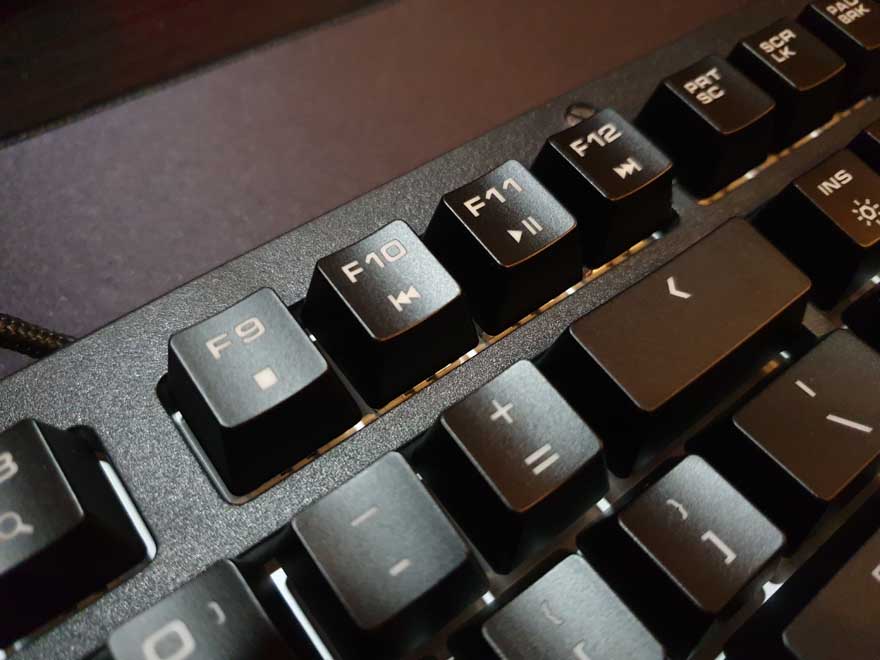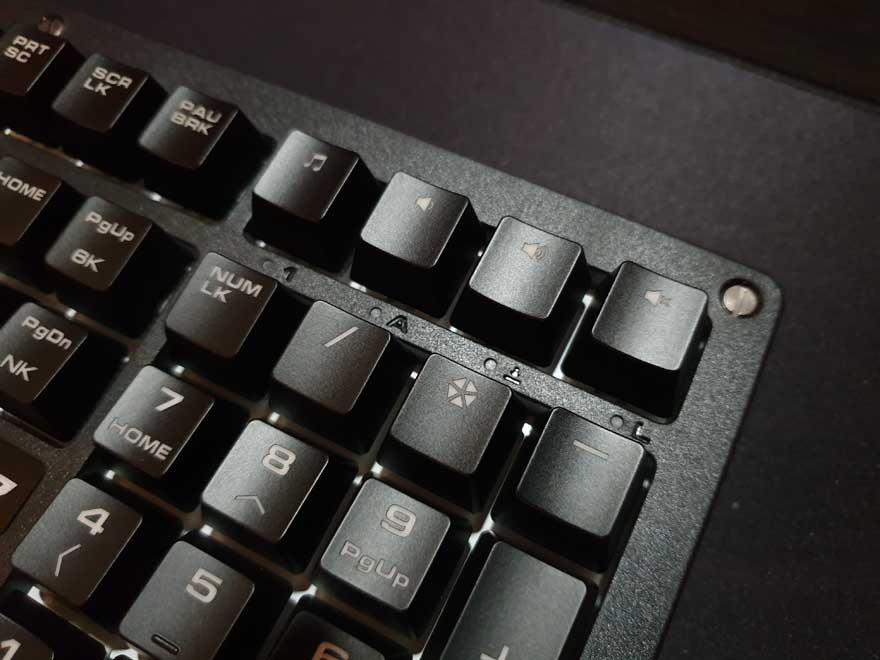 With built-in RGB lighting, you don't always want to load some software just to make a few changes to the lighting, or even turn it on/off. Fortunately, you can quickly cycle the brightness using the arrow keys. You can turn it all the way down (off) or crank it up for extra brightness.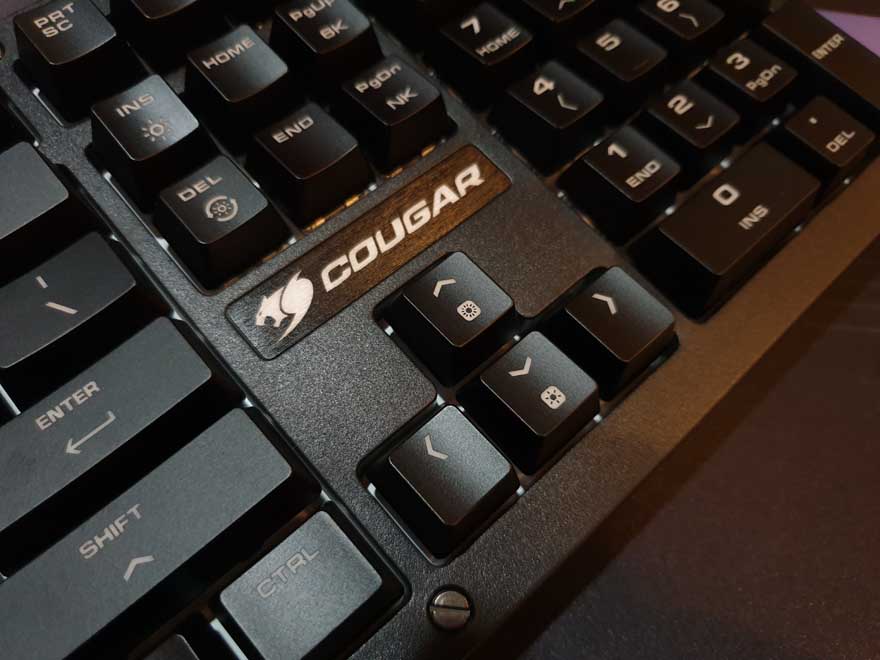 There are even more lighting controls here, however, it's strange that the profile keys are actually not labelled. You can use Fn-Shift plus the number keys to cycle through your lighting profiles too. Of course, if you read the damn instruction book, you would know this anyway.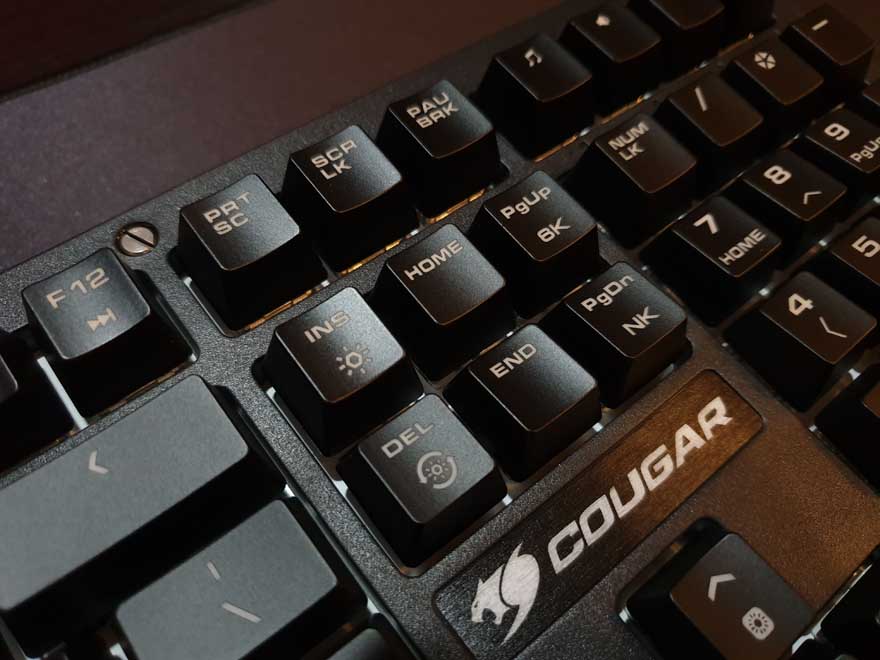 The underside of the keyboard features a removable micro-USB cable. There's a narrow channel, allowing you to take the cable out the back, or either side of the keyboard.

The little details always add up though, such as these three height kickstands. They can be flat (as seen above), or you can fold up the smaller feet light this.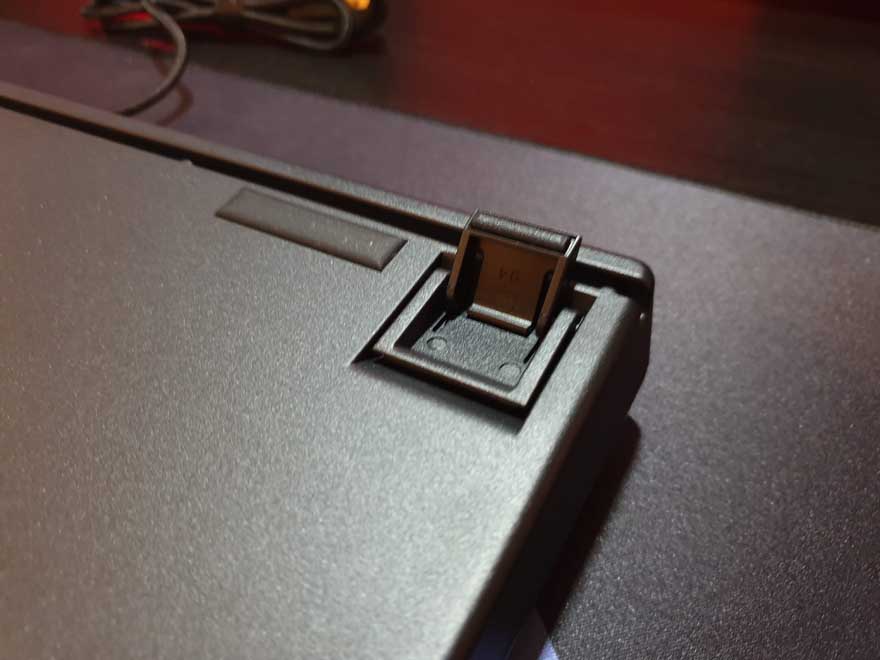 Need more height/angle? Then pull up the larger feet too, giving you a choice of three levels of height/angle.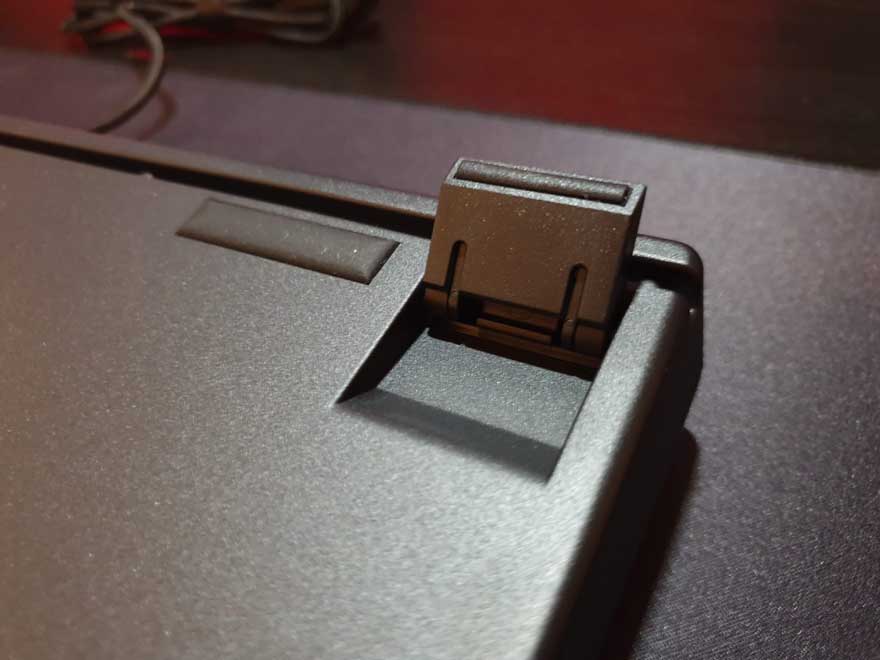 The RGB on this keyboard is pretty vibrant, and the darker black plastics of the keyboard provide a really strong contrast, making the colours pop even more.

The keycaps are slightly recessed into the housing, so there isn't a huge amount of light bleed. However, you obviously still get illumination between the keys too.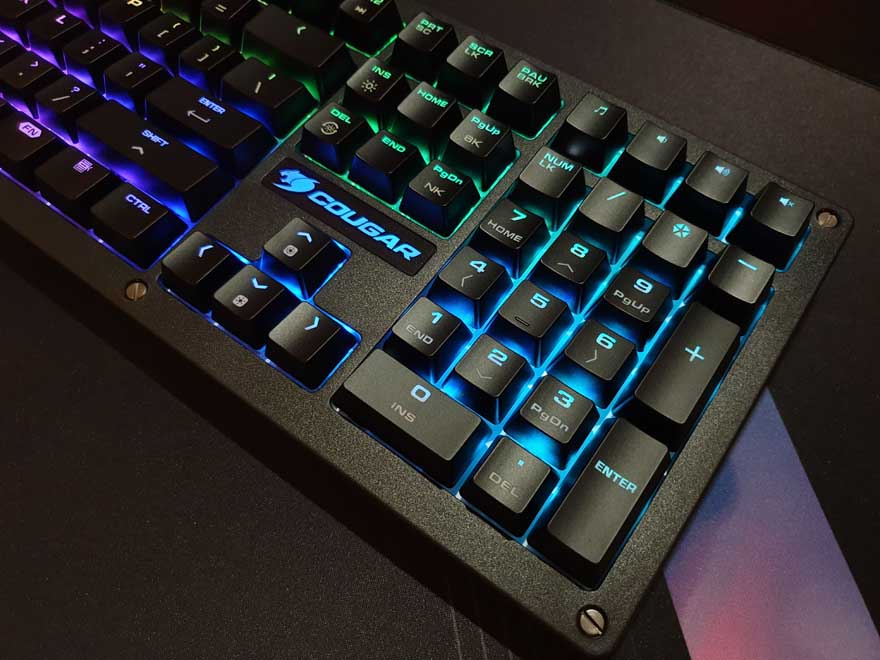 When it comes down to it, it's a fantastic looking keyboard, and easily competitive with just about any other lighting from other brands. Perhaps Corsair or Razer have the edge for effects, but honestly, there's enough on offer here.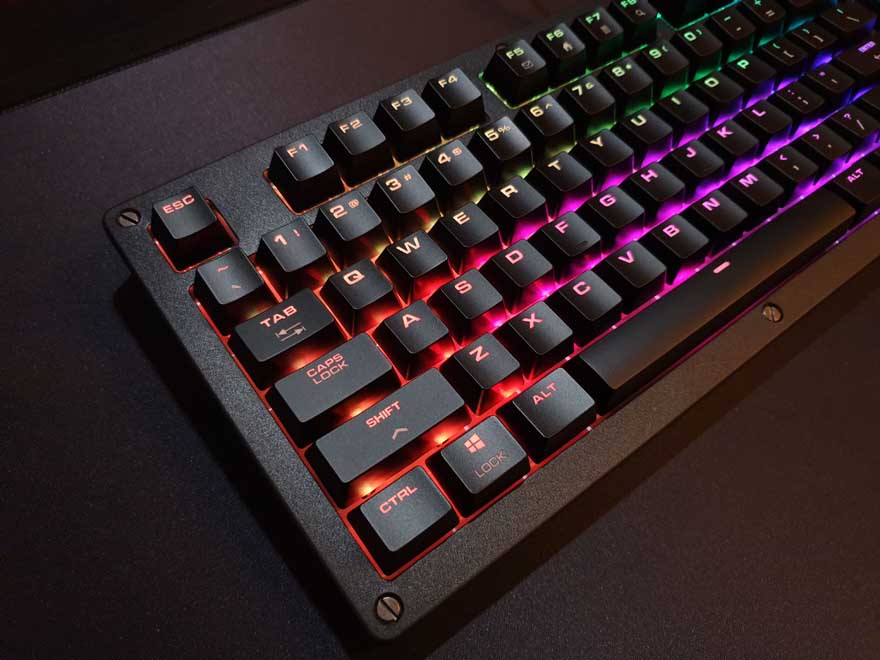 I love the little Cougar logo too, as even that has RGB lighting!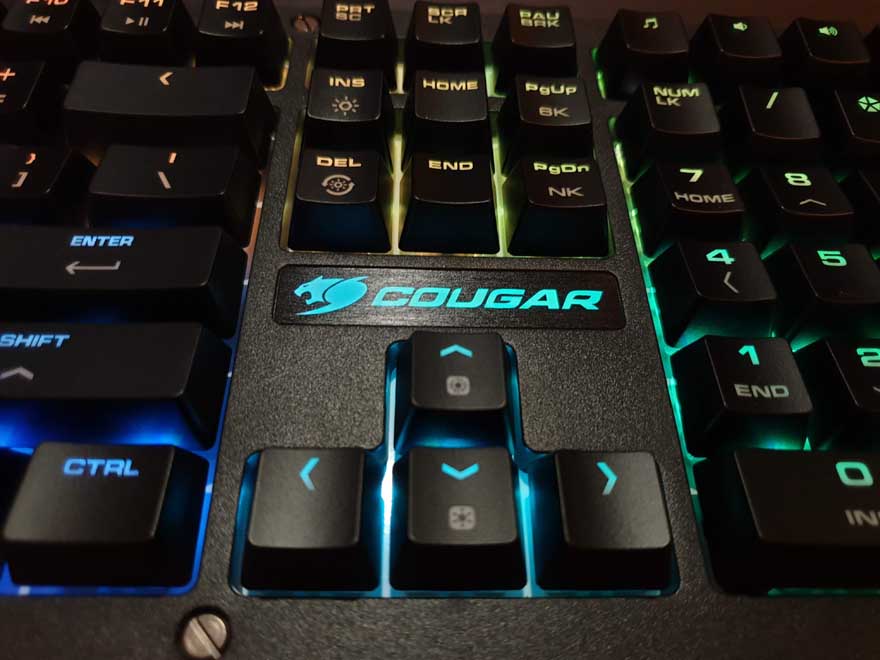 As a gaming keyboard, the switches are fast and accurate, and I really can't find anything to complain about. They're genuine Cherry MX Switches, so you know immediately that they're as good as they can be. If you've used that switch type before, you'll find no surprises here.

It lacks a few party tricks, such as a macro editor or desktop software. However, for most people, there's enough options built into the keyboard, that it will keep you plenty entertained.


Of course, when you're done with your hard day's gaming, simply drop on the protective hardcover and it'll keep pet hair, dust, and any other crud out of the keys too.