Creative Sound BlasterX Pro-Gaming Katana Review
---
---
---
Peter Donnell / 7 years ago
Introduction
---
Desktop audio is something worth caring about, from being able to hear the footsteps of your enemies in multiplayer shooters, to simply rocking out to your favourite songs while working, pretty much everyone has a need for good quality sound at their desktop. Creative have long been one of the biggest names in desktop audio, with many years of experience of creating fantastic speaker setups for everything from day-to-day office use, to movie fans, to gaming. Now they're back again with one of their proudest creations, the Sound BlasterX Katana, a multi-channel gaming soundbar and subwoofer that's set to give you the enthusiast grade audio processing, drivers and bone-shaking power you desire.
"Named after the sword that's sometimes referred to as the Soul of a Samurai, the Sound BlasterX Katana exhibits the same sleek sophistication and formidable strength in its design and audio prowess.The Katana fits right under your monitor with a slimness that's unmatched by other gaming soundbars, making it the world's first true Under Monitor Audio System (UMAS). It also features the Aurora Reactive lighting system, a series of 49 programmable LED lights lined from edge to edge of the Katana chassis, making it the perfect addition to fully optimize and customize your PC and desktop setup."
Featuring a powerful 24-bit DAC, five drivers powered by a tri-amp design, and each driver runs through individually controlled DSP-amps, with a plethora of connection options, Dolby Digital 5.1 support, as well as the truly fantastic BlasterX Acoustic Engine technology and software, the Katana is set to impress, and we're eager to get it out of the box to see (and hear!) what it has to offer.
"The Katana gives you an immersive audio experience for your games and movies with the BlasterX Acoustic Engine and Dolby Digital 5.1 Decoder. This audio system embodies the perfect combination of our most powerful 24-bit high resolution DAC and sophisticated 5-driver system. Housing a tri-amplified design where the 5 drivers are individually powered by DSP-controlled amplifiers, the Katana delivers ultra-precise audio at each part of the audio spectrum. Equipped with a plethora of connectivity options, you can trust the Katana to be one of the most versatile and most powerful speakers to ever grace your desktop."
System Requirements
For Wireless Streaming:
Compatible Bluetooth devices that support the Stereo Bluetooth Profile (A2DP)
For Wireless Control:
Compatible Bluetooth devices that support the Bluetooth Remote Control (AVRCP)
For 7.1 Virtual Surround Audio Playback:
Windows PC
For Digital 5.1 Audio Playback:
Optical-in
For High-resolution 24-bit 96kHz Audio Playback:
For PC via USB Connection
For Playback via USB Flash Drive:
Up to 128GB formatted in FAT16/32/exFAT.
Common audio formats such as MP3, WMA, FLAC and WAV.
(MP3 and WMA up to 320kbps and FLAC up to 1.3Mbps).
For Sound Blaster Connect:
For Windows® OS
Intel Core™2 Duo processor 2.2 GHz, AMD Athlon 64×2 Dual Core or equivalent processor
Microsoft® Windows 10, Microsoft Windows 8.1 32-bit or 64-bit
1GB RAM
600MB of free hard disk space
Available USB 2.0 or 3.0 port
Internet connection (optional)
For Direct Connection to AUX-in Jack:
Analog audio devices with a 3.5mm output
Packaging and Accessories
The box is pretty huge, but that's to be expected given it houses a subwoofer and soundbar, as well as plenty of protective packaging to ensure the items are protected. On the front, you can see a few of the main spec, as well as features like the Aurora Reactive RGB lighting.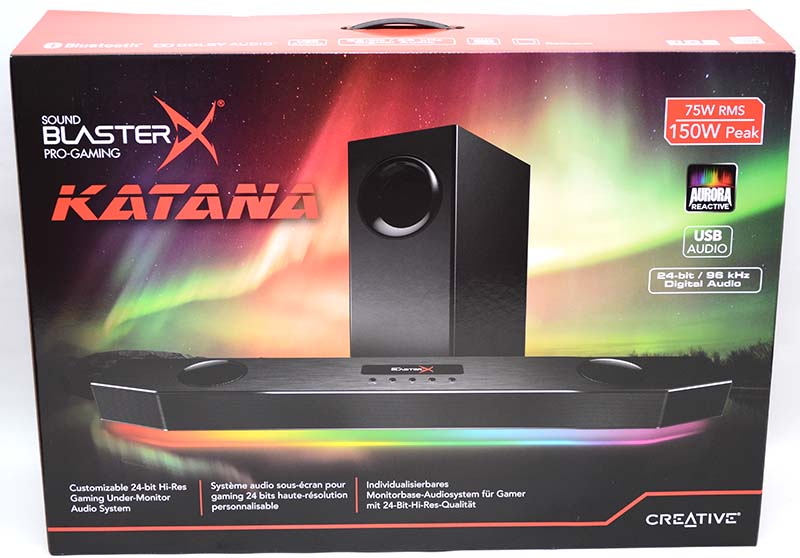 Around the back, you can see a quick breakdown of the main features, and it's immediately clear there are a lot of them!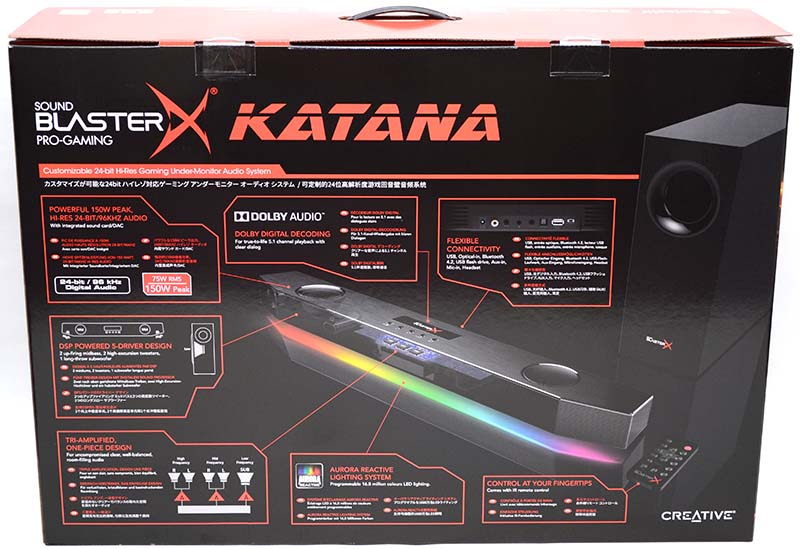 In the box, you'll find international power cables, two USB cables, wall mounting brackets, a remote control, as well as the usual setup and warranty documentation. Now, let's get the big bits out of the box and take a closer look!