Drobo 5N2 5-Bay Self-Managing NAS Review
---
---
---
Bohs Hansen / 5 years ago
Introduction
---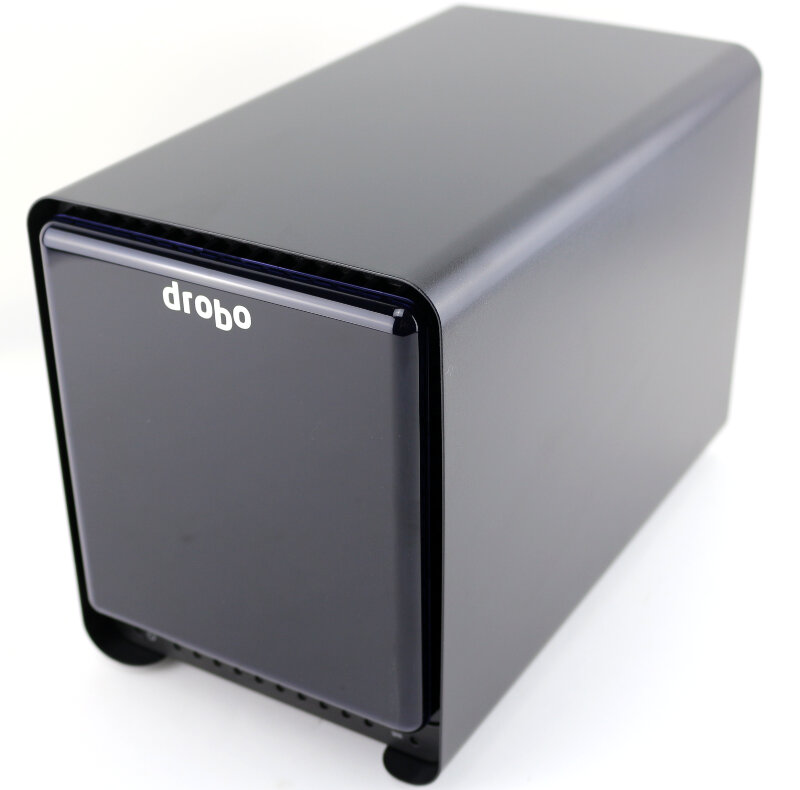 Drobo only just released their newest NAS device and I already have the pleasure to have one of them in the office for a review and some benchmarking. The new Drobo 5N2 brings double the network connectivity and an improved processor when compared to the predecessor, the Drobo 5N.
The latest generation 5 Bay NAS, the Drobo 5N2 delivers an unparalleled user experience for data sharing, secure backup, remote access, and disaster recovery solutions. The 5N2 is the fastest network-attached Drobo available to prosumers and it provides a performance boost of up to two times with its upgraded processor and port bonding option.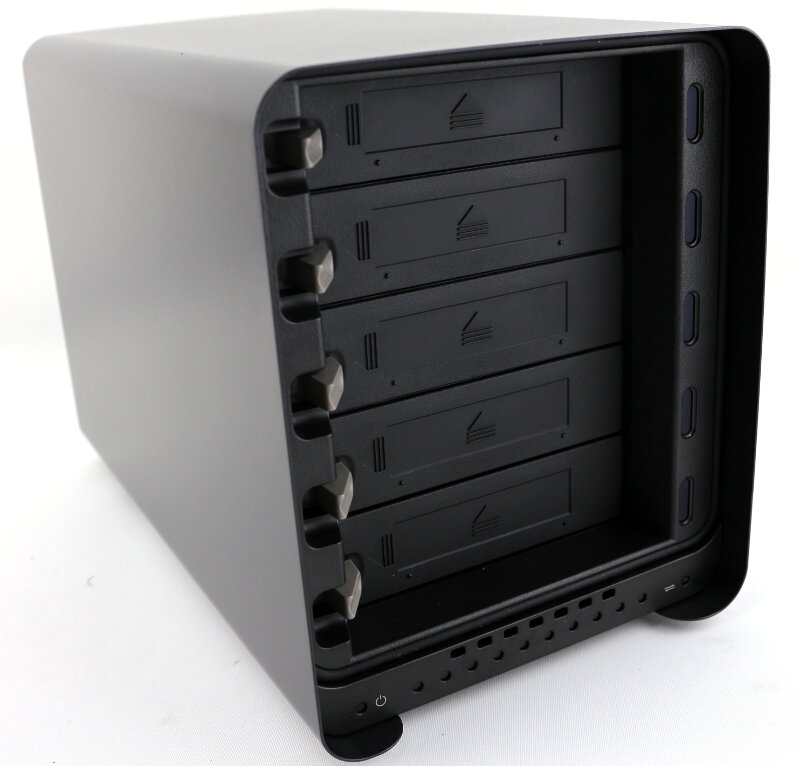 There are a few things that set Drobo apart from the rest of the NAS devices on the market and the primary feature that does so is the patented BeyondRAID technology. While there are some similarities to ordinary RAID setups, there are more differences. For example, you need to use neither the same drive brand, drive type, nor drive size in order to use BeyondRAID. This allows for great flexibility in your setup as you can start out with the drives you have and slowly add larger drives as your storage needs grow. You still retain the extra security if a drive should fail. BeyondRAID can be set with one or two disk redundancy, allowing up to two drives to fail completely without you losing any of your valuable data.
To further enhance your experience, every Drobo comes with Smart Volume technology. Smart Volumes are thinly provisioned volumes that automatically utilise capacity as needed from a common pool of storage. Additionally, as data is deleted, free capacity is returned to that common pool, immediately increasing the available capacity.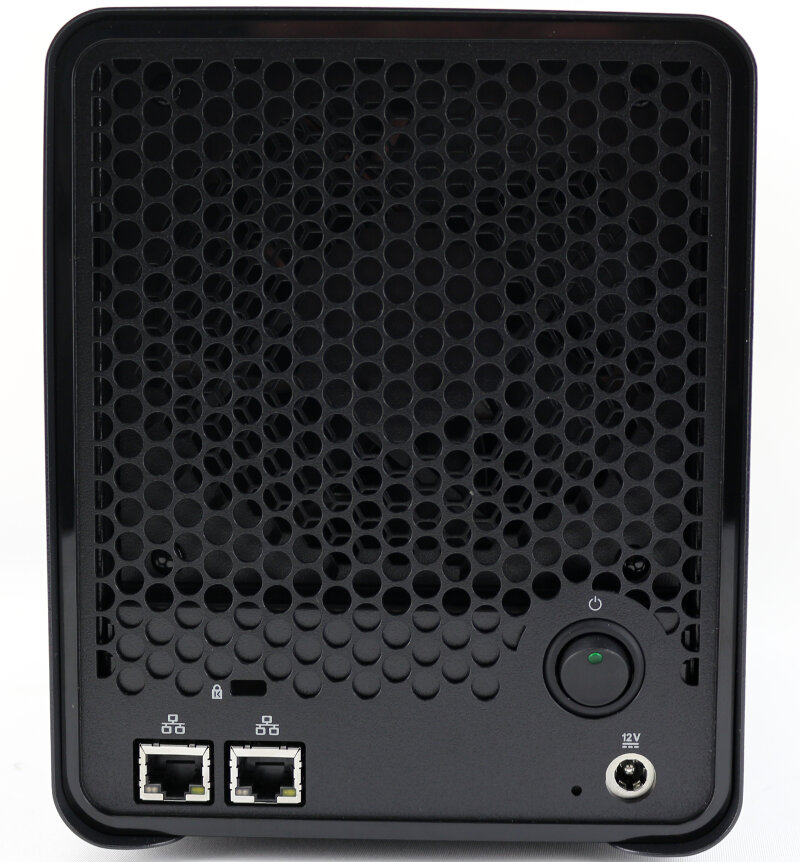 Drobo went one step further with the 5N2 and added some of their enterprise-level product features. One of these is the DroboDR for disaster recovery backup.
With DroboDR you can set up a pair of 5N2 NAS' to automatically make an offsite copy of your data. This feature is just as simple to set up and manage like the rest of the Drobo NAS features. The DroboDR will seamlessly replicate your data to another 5N2 which ensures that your data stays available even in the case of a disaster. This could be theft, fire, or other damages. And it isn't just the data that's kept safe this way, the remote system will store all information, including the user account information. That makes a quick recovery as painless as it possibly could be.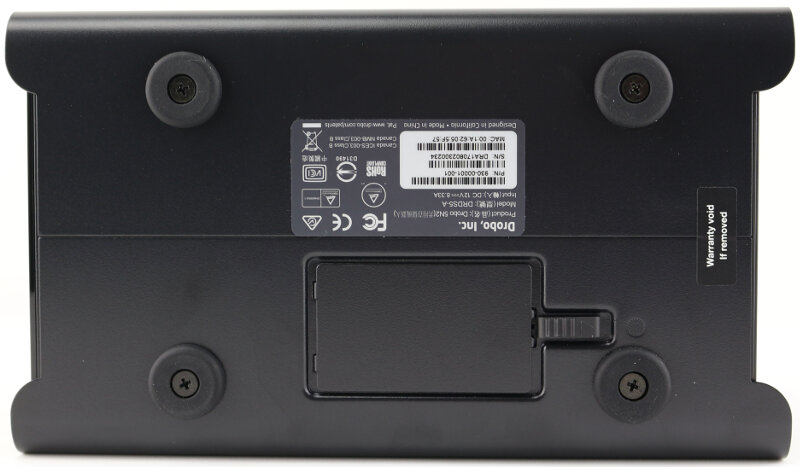 Another feature that's often only found in enterprise-grade storage solutions is what's located on the bottom of the Drobo 5N2 NAS. There's a tiny cover that you can open and install an mSATA SSD module into. This module will then work as for hot data caching, significantly improving the transfers speeds possible. This will be a particularly useful feature when a lot of small to medium sized files are accessed by many people. The entire process is automated, so you don't need to worry about making changes and setting it up yourself.
It leaves you all five drive bays available for your storage drives and the mSATA slot accepts any standard module. Even better, you don't need any tools what so ever to install it. Just power your Drobo down, open the cover, insert the drive, and close it again. Power it on and the firmware will enable it automatically. Should that still not be enough performance, then you got the option to load the NAS itself with SSDs instead of HDDs. Drobo leaves the choice up to you.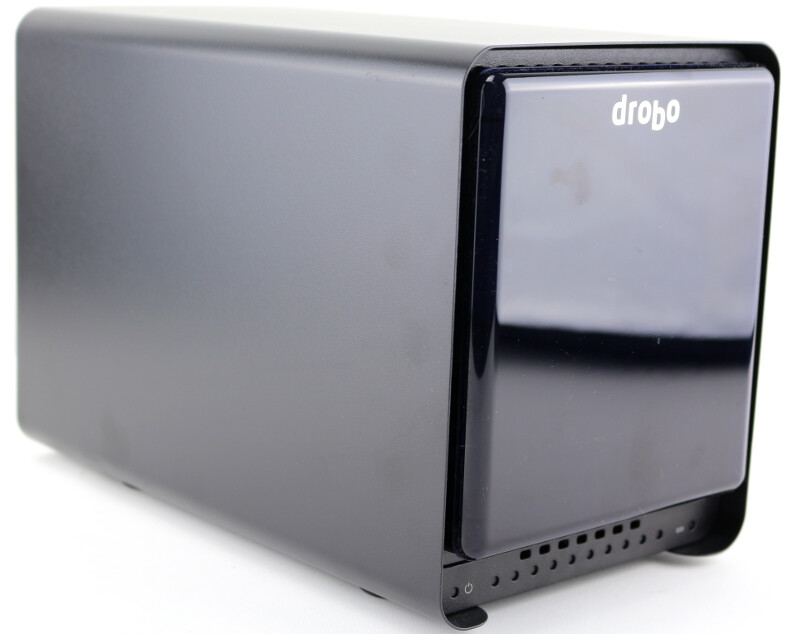 The built-in security and backup features aren't just for your files, the device itself is protected too. The Drobo 5N2 has a built-in battery backup system that will protect all data in the memory or cache in the event of a power outage. With such a feature built-in, you won't need to invest in a standalone and extra UPS device in order to make sure that your files are safe and secure, during any event. The battery will make sure that the Drobo stays alive long enough for the data to be written to the disk and then it powers itself off. As soon as power is back, the battery will start to recharge itself. The built-in battery is also why you might consider the NAS heavy when you unpack it.
As I mentioned in the introduction above, the Drobo 5N2 has dual Gigabit Ethernet ports. These can be bonded together to provide approximately twice the read/write performance you get via a single port. Or they can be used to provide a connection to two different subnets. Furthermore, they can be used in an "active/passive" mode so that if one port fails the other takes over. The three features you'll want from a multi-LAN device.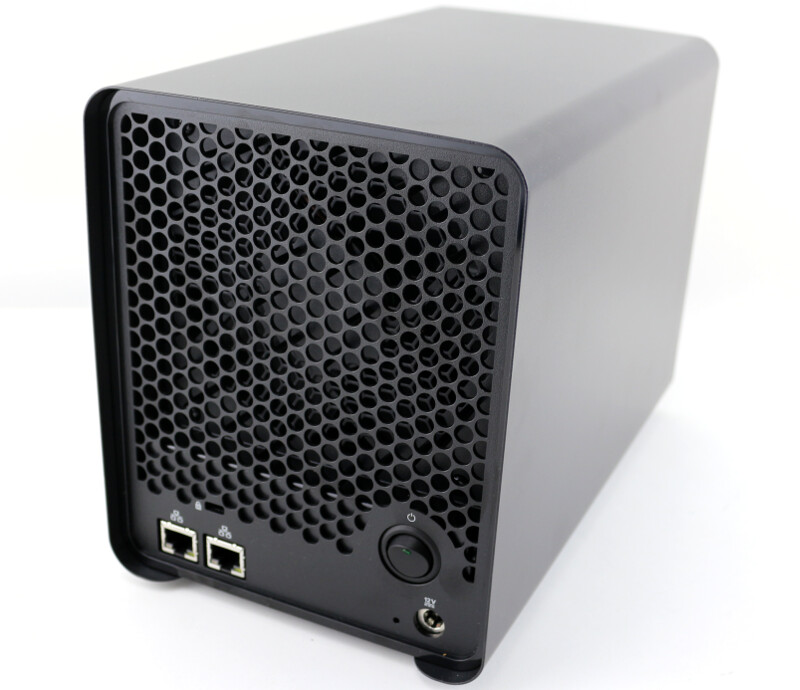 No NAS is complete without additional apps to add extra functionality to it. The Drobo 5N2 naturally features a list of those too, including but not limited to ElephantDrive, Resilio Sync, and Plex. The DroboApps are designed to be as simple to install and configure as just the Drobo is in itself. The installation is performed from within Drobo Dashboard, and all applications are fully supported by Drobo and their technology partners.
There's also the myDrobo platform which essentially is a dynamic DNS service for Drobo units. It provides end-to-end secure access to services on your Drobo from the public internet, through a user-chosen mydrobo.com address. It also enables services such as DroboAccess, Koken, and WordPress to be accessed remotely in a secure fashion. DroboPix is the mobile companion for Android and iOS and it allows secure and automatic uploads of mobile photos and videos to your Drobo unit.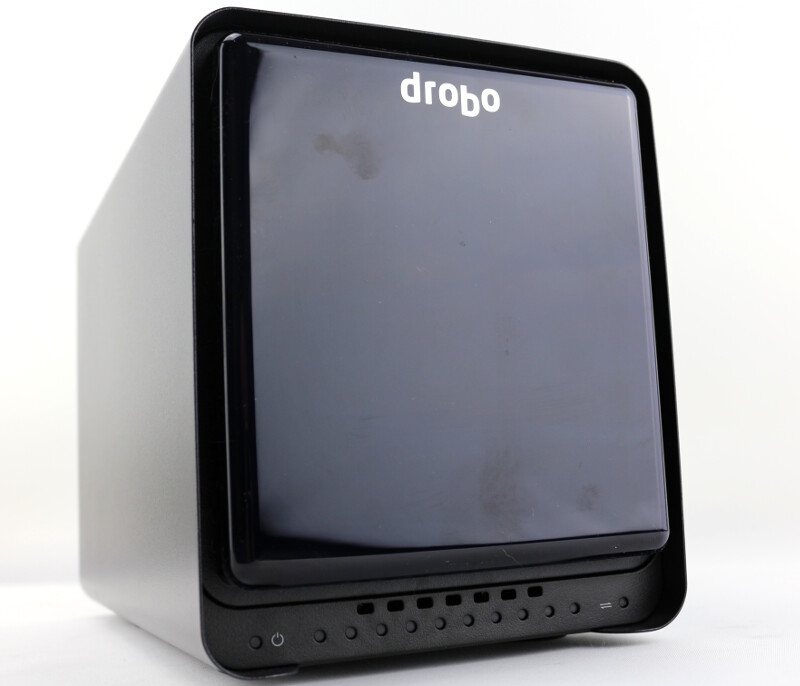 While the Drobo is easy to use and does most things without the need for any user interaction, there are times where it's needed. Especially if you should run into trouble. Drobo also offers the DroboCare support where trained professionals are available around the clock to help. In addition to extending technical phone support, DroboCare offers a wide array of benefits over the standard warranty. This includes migration assistance and expedited hardware and rescue kits. There is a trial membership included with every Drobo which then can be extended as you need it.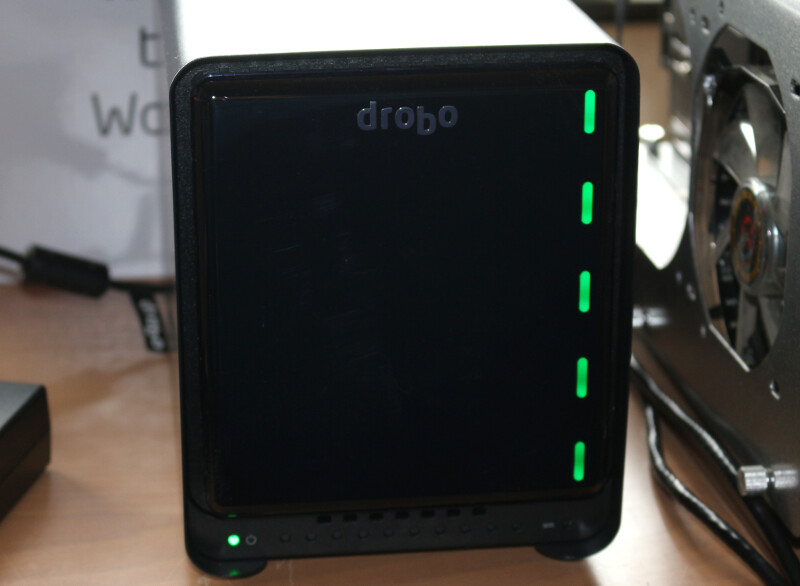 Feature Highlights
BeyondRAID that makes data protection and expandability simple
Dual GbE LAN for high-speed connectivity and redundancy
Improved Processor compared to 5N
Secure remote connection through myDrobo platform
DroboDR duplication for Disaster Recovery
Expand functionality with DroboApps
Package and Accessories
The Drobo 5N2 comes in a simple why box, displaying the unit itself as well as the main feature highlights on the front.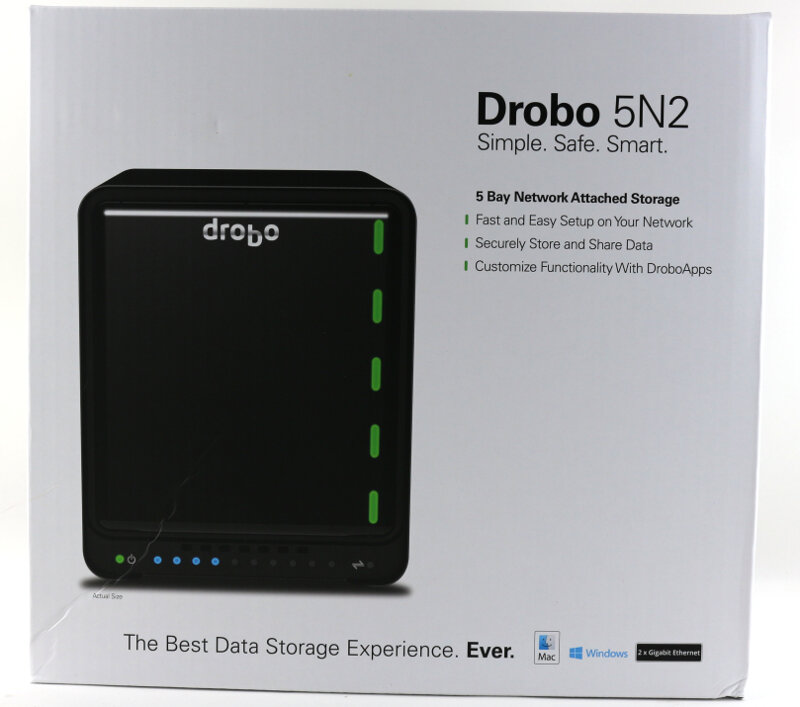 On the side, you'll find a comparison to other Drobo units such as the Direct Attached Storage models as well as the enterprise-class ones. This will make sure that you walk out of the store with the right unit for your needs.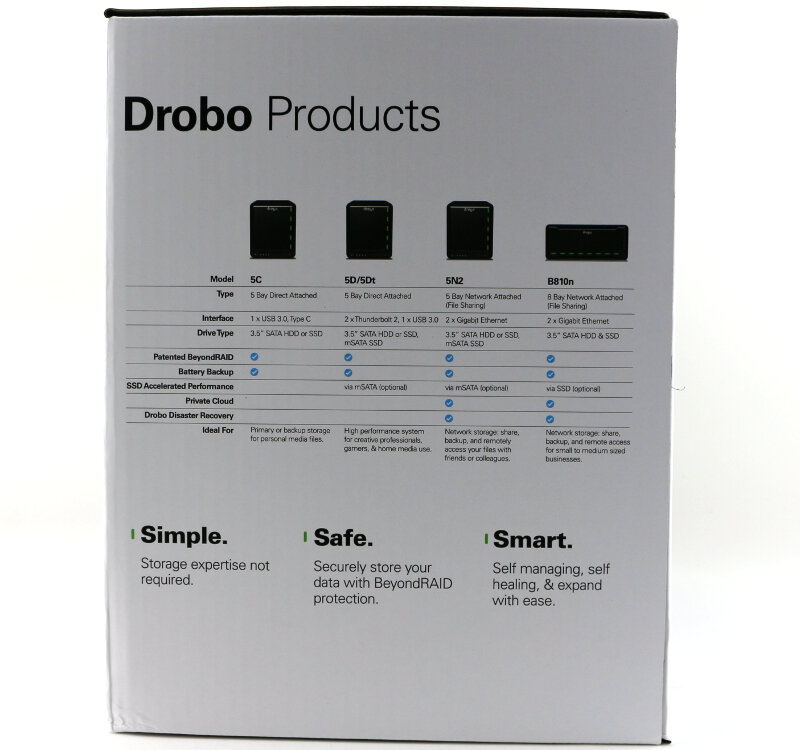 The rear side has the specifications in detail, and it also shows the rear side of the NAS unit.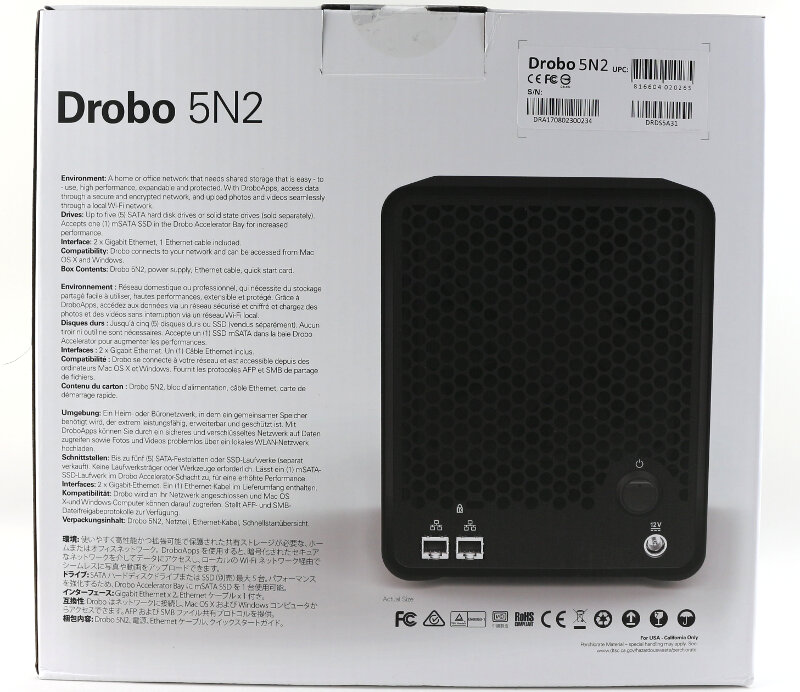 Inside the box, you'll find the Drobo 5N2 packed in a nice carry bag that you afterwards can use for your grocery shopping and show off your Drobo pride to everyone.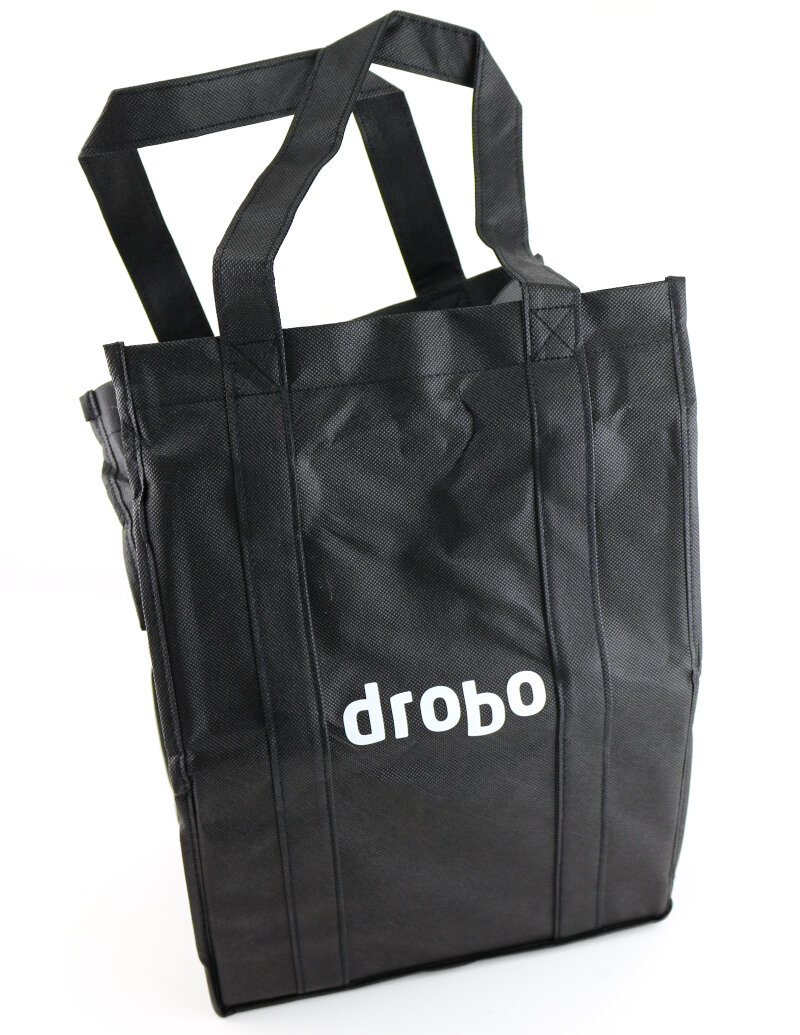 The front cover on the NAS is protected with adhesive plastic to make sure that it arrives scratch-free in your home or office.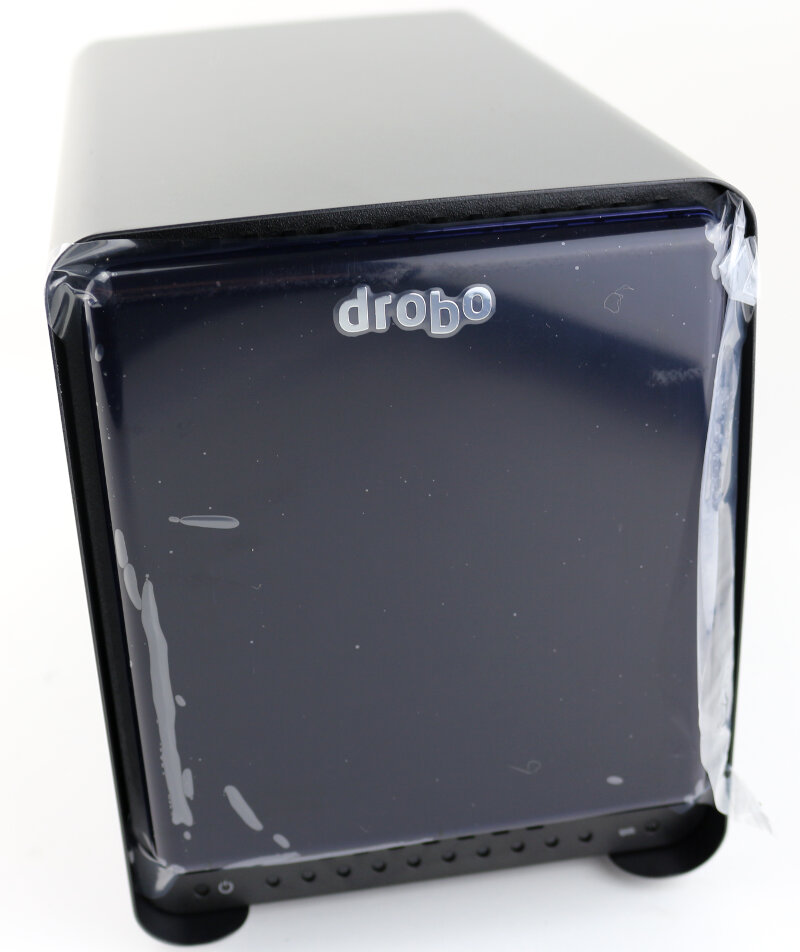 Besides the NAS, there's a power supply AC/DC brick as well as connector cables for the region you purchased it in. In this case, there is a cable for use in the UK and one for DE/EU.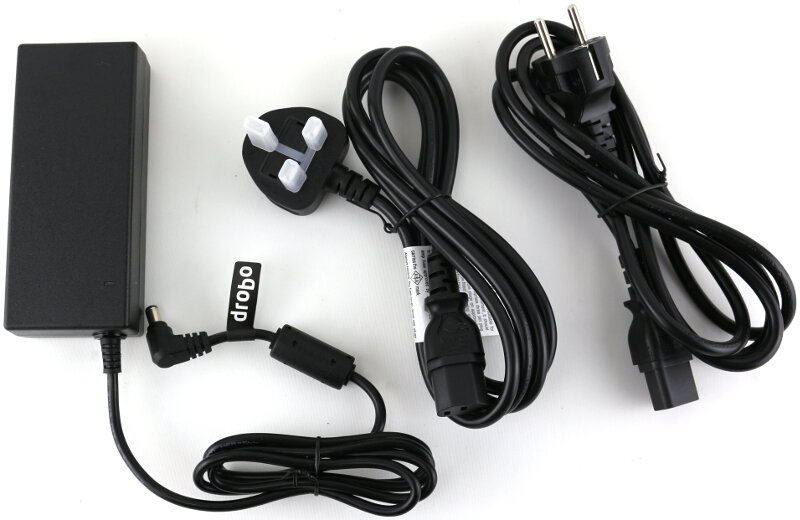 You also get two RJ45 Gigabit Ethernet cables, allowing you to connect it with both available ports right away. I like it when everything you need to get the full effect of a device is available right out of the box, and it is here.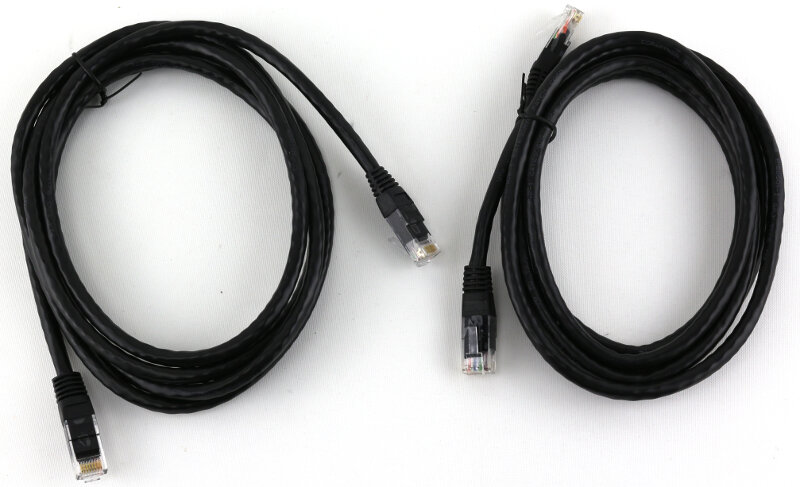 Among the accessories are a bunch of notes and stickers too. There are replacement stickers for the inside of the front cover in various languages, warranty and safety notes, a normal sticker to place where ever you like, and a 90-day trial for the Data Recovery Service Plan.