Elgato Thunderbolt 3 Mini Dock Docking Station Review
---
---
---
Bohs Hansen / 4 years ago
Introduction
---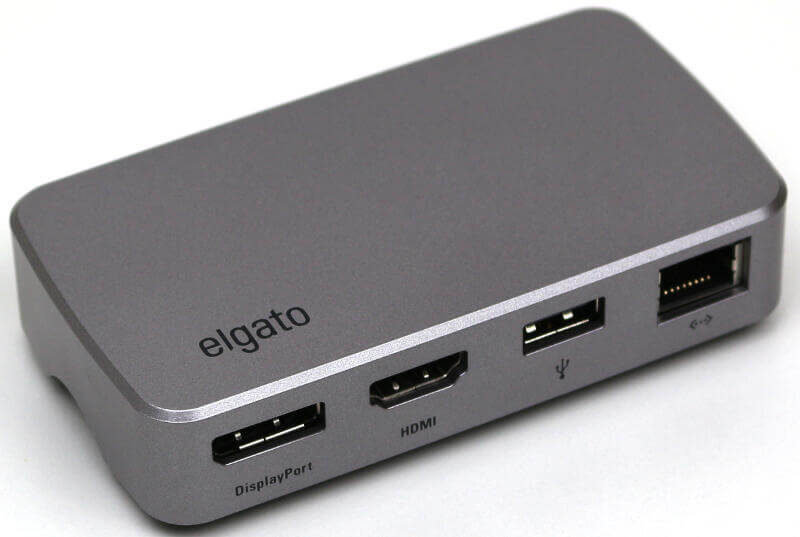 Elgato Thunderbolt 3 Mini Dock Review
Having a portable computer is awesome, in most cases. You can take it with you everywhere and do what do you do with it there and then. However, when you get back home again, you might want to hook up all your stationary devices, from monitors to storage and input devices. That can be a hassle with all those cables, that is unless you have a docking station. And that is what I have in the office for a test today. Elgato's new Thunderbolt 3 Mini Dock.
Thunderbolt 3 Mini Dock
Elgato's Thunderbolt 3 Mini Dock targets the people who need extra connectors for their portable system and those who do not want to connect every single cable individually. But, as the name suggests, this Mini Dock doesn't offer a lot of different connectors such as full-sized docking stations do. If you need that, then you might want to look at the previously released Elgato Thunderbolt 3 docking station.
While we don't get a lot of connectors, we do get some important ones. There are two ports for monitors, which both support 4K at 60Hz, a USB port, and an RJ45 network port. While that doesn't sound like a lot, it will suffice for a lot of people out there.
Portable computers, whether they're a Mac Book or a Windows-based PC, get smaller and smaller. Consumers demand a light and portable solution, and manufacturers oblige that demand. However, the shrinking of size does demand some compromises. There simply isn't room for as many connectors as there are on thicker systems. A good example is the RJ45 LAN port. It is quite high when compared to other ports such as USB and monitor connectors, which can be a problem for thin notebooks. They solely rely on wireless networking which might not be optimal at all times.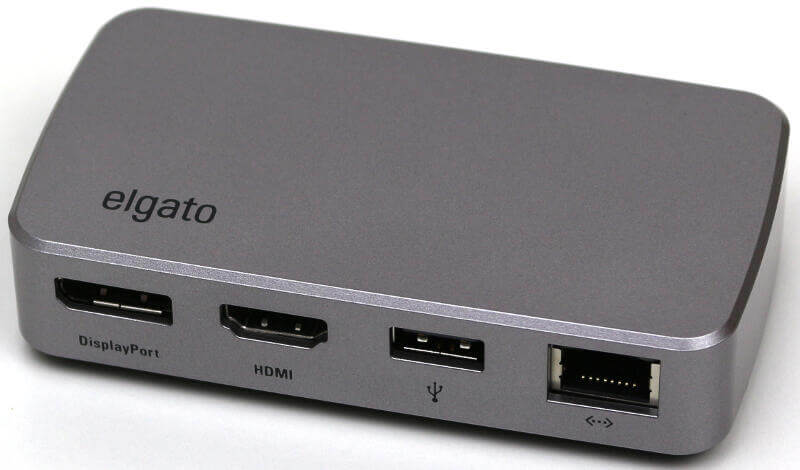 Thunderbolt 3 Makes it Possible
With a docking station, you can avoid all this trouble and still enjoy all the connectivity. Especially when your system is equipped with a Thunderbolt 3 port. Thunderbolt 3 offers 40 Gbps bandwidth which is enough to drive a whole lot of devices. For comparison, USB 3.1 Gen.1 (USB 3.0) only offers 5 Gbps bandwidth.
So, the Elgato Thunderbolt 3 Mini Dock is hooked up to a 40 Gbps ports. With 1Gbps for the networking and 5Gbps for the USB port, there's still 34Gbps left for the two monitor connections. A single 4K 60Hz output only requires 14.85Gbps which means that there's plenty to spare to run both without bottlenecks, while you use everything else too. That's how a docking station should be!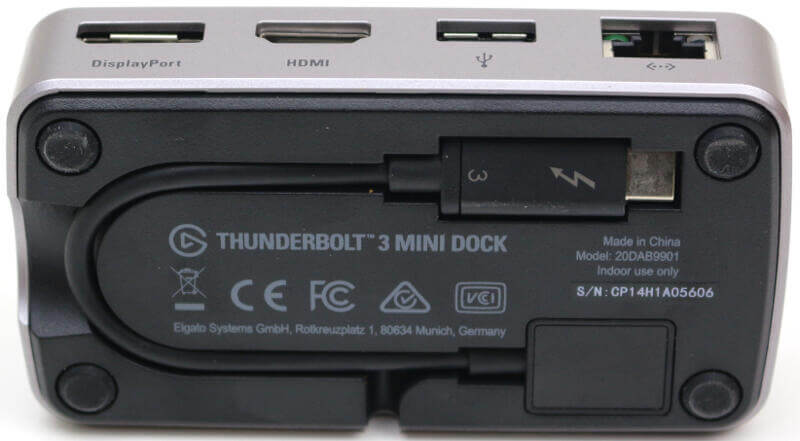 As Good on-the-Go as It Is at Home
Elgato's Thunderbolt 3 Mini Dock is as useful when you're on the go as it is at home. The docking station is both small and lightweight enough to take anywhere. It only measures 10.5 by 5.7 cm and it's 2.5cm thin. The weight comes in at a tiny 125 grammes.
The short, built-in cable is another convenience factor when you take it with you. There's no chance that you misplace or forget the connection cable anywhere. Thanks to the unit being bus-powered, there's no need to carry bulky or heavy power supplies either.
There can be multiple reasons why you would want to take your docking station with you when you're out and about. The most common reason will be that your system simply lacks the ports you need. But there are other reasons too. Whatever they might be, the Thunderbolt 3 Mini Dock from Elgato will be great.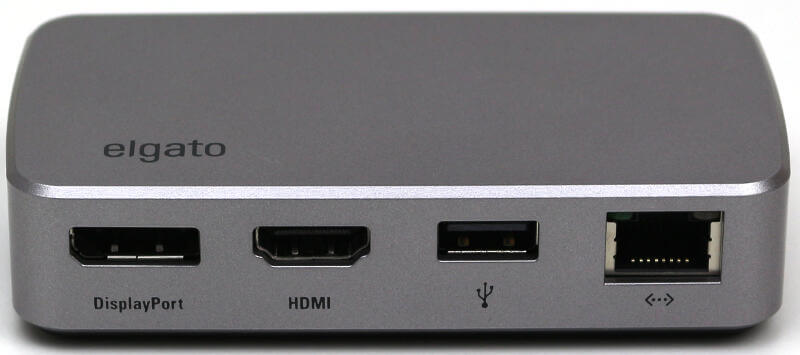 Connection Options
I've more or less covered the connection options in the paragraphs above, but it can't hurt to summarise them here.  The host port is a Thunderbolt 3 40Gbps with built-in USB-C cable. The cable has a length of just 12cm which can be an issue if your ports are located on the screen part of your laptop. Some 2-in-1 devices have a setup like that as the keyboard part is removable. Just something to remember.
Among the four device ports are a DisplayPort and an HDMI port which both support 4K at 60Hz. The HDMI port is HDCP compliant too for the situations where that's needed. If you'd rather have smoother motion over image detail? Then that's no problem either. Thunderbolt 3 Mini Dock handles refresh rates up to 144 Hz just as easily.
Besides the monitor connectors, there's also a USB 3.1 Gen.1 (5Gbps) Type-A port and an RJ45 port with support for Gigabit Ethernet. Naturally, the Ethernet port is backwards compatible with 10 and 100 Mbps networking.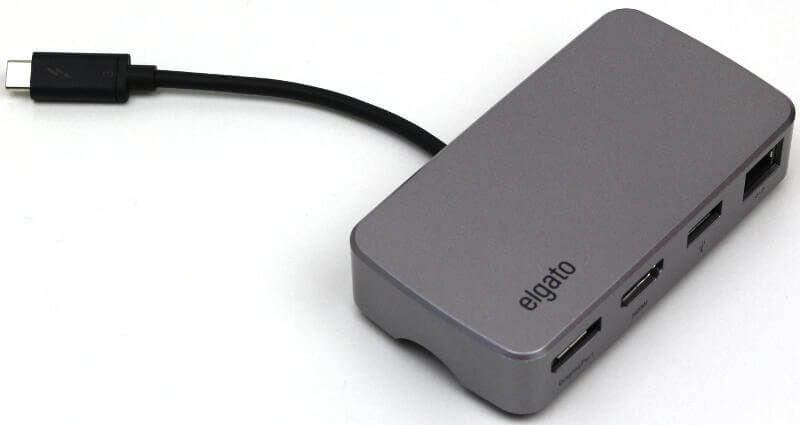 The Physical Design
There really isn't a lot to say to the design. What you see is what you get. A sleek, space grey enclosure that fits in the palm of your hand. The rounded edges and slightly curved sides give it a great look and feel, while the colour matches that of a lot of systems, including the grey MacBook Pro.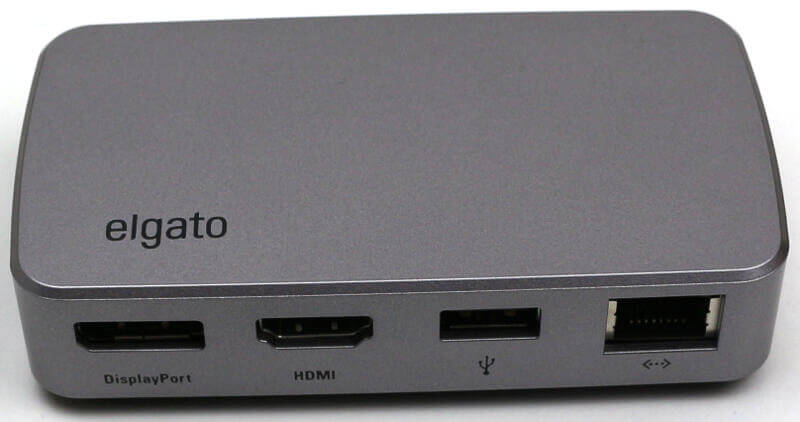 Feature Highlights
Single 40Gbps Thunderbolt 3 connection
DisplayPort with 4K 60Hz
HDMI Port with 4K 60Hz
USB 3.1 Gen.1 (USB 3.0)
Gigabit Ethernet
Lightweight, small, and built-in cable
Package and Accessories
The packaging isn't a lot larger than the docking station itself, because there's no need for any more. Since the connector cable is built-in and it doesn't require a power supply, there only needs to be room for the docking station itself.
The front displays the unit itself and the name, but not a lot more.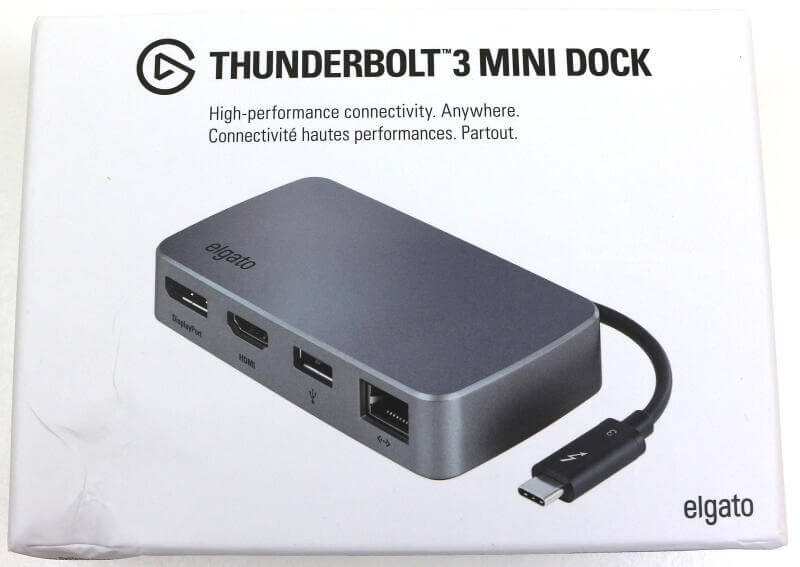 The rear side shows and describes all the available ports and system requirements. Everything you'll want to know about such a device.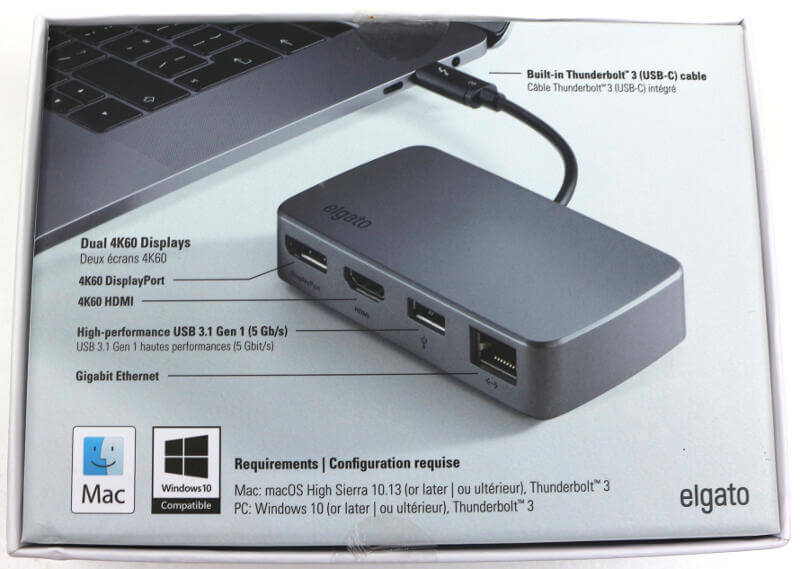 Since the cable is built-in and there is no need for an external power supply, the Thunderbolt 3 Mini Dock doesn't come with a whole lot of accessories. There's a small booklet with "important safety instructions" and a leaflet with the download link to the Mac OS software.