Fractal Design Define S Full-Tower Chassis Review
---
---
---
Peter Donnell / 8 years ago
Introduction
---
Fractal Design is one of the biggest names in the chassis industry. Time and time again they've delivered premium quality products for the enthusiast market and today they're promising us a repeat performance. The Define S is their latest and hopefully one of their greatest chassis', bringing all the support for high-end hardware you could hope for.
The Define S is equipped with all the usual high-end features that you would expect from a Fractal Design product. We've got sound-dampening materials, an innovative internal layout, extreme air and water cooling support, ModuVent fan vent covers and high-quality Dynamic Series fans.
Everything you need to get you started is included in the box, such as this nice collection of high-quality screws and fittings.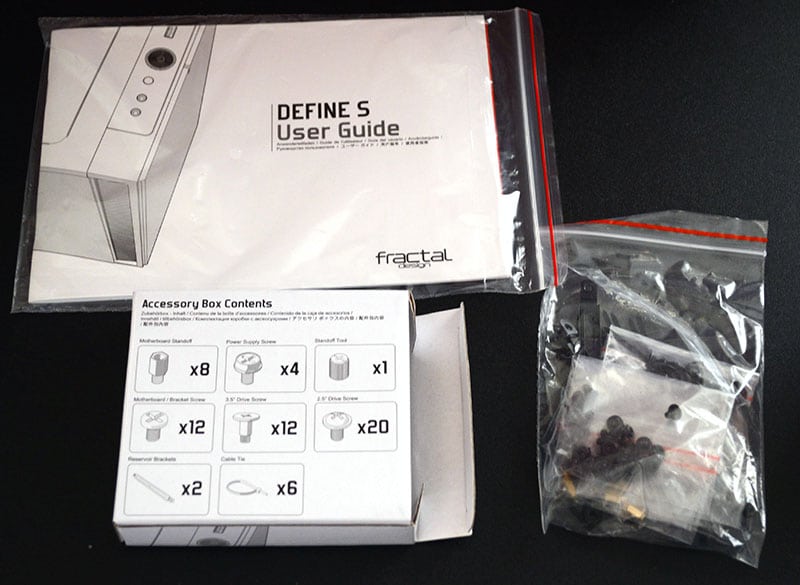 The first impression of the Define S is very good indeed. It clearly borrows heavily from the Define series in terms of external design, although that uniform look has become quite the norm for most Fractal Design products. As you can see, we've got the side panel window edition, although there is a solid panel edition with extra sound dampening material on the interior for those who favor silence over appearance.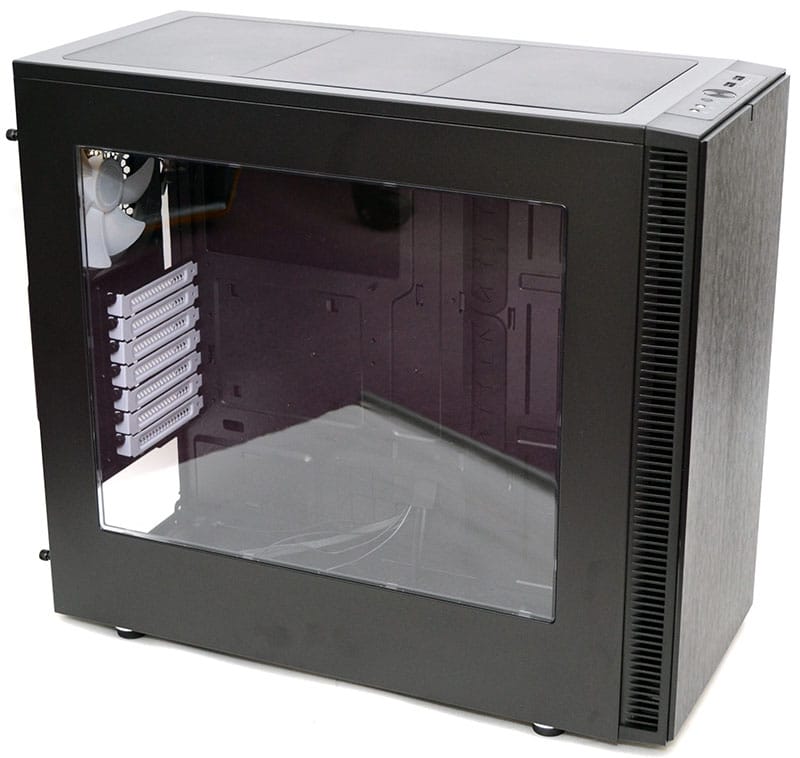 The right side panel is a solid panel and both side panels are held in place with a pair of fixed thumbs screws at the rear; this allows quick and easy access to the chassis interior.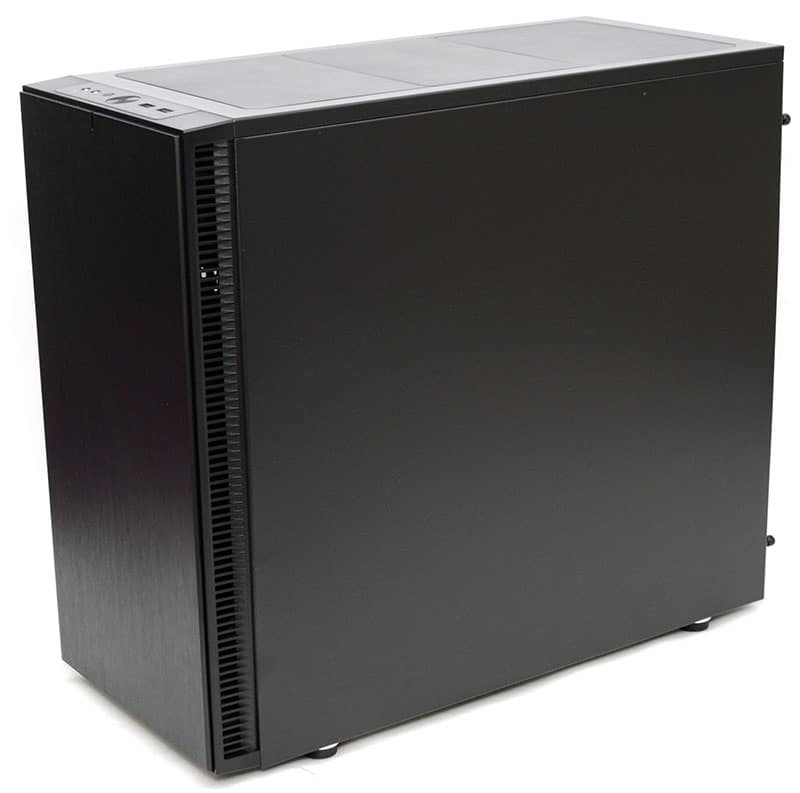 The front panel is very similar to other Define series chassis', however, the front panel is no longer a hinge door design, as the optical bays have been completely removed to allow more room for cooling components.
Around the back, you'll find a 120/140mm fan mount at the top, with a Dynamic Series 140mm fan pre-installed. There are seven expansion slots, each fitted with a high-quality reusable cover.
The top panel has a nice clean look thanks to the ModuVent fan vent covers. These are removable for those who want to install top mounted fans or radiators;  those who want to leave them in place can benefit from improved sound dampening.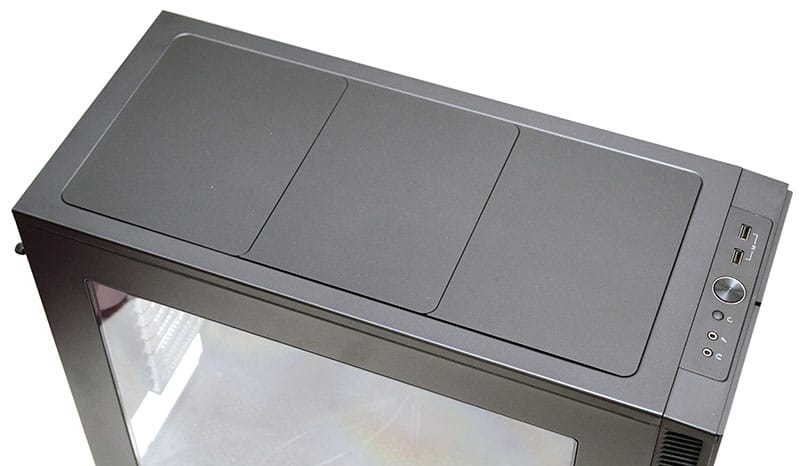 The main I/O is neat and tidy, with all the basics in place and a pair of USB 3.0 ports. Interestingly, the port connectors are black, not the usual USB 3.0 blue, which helps keep the front panel looking nice and uniform.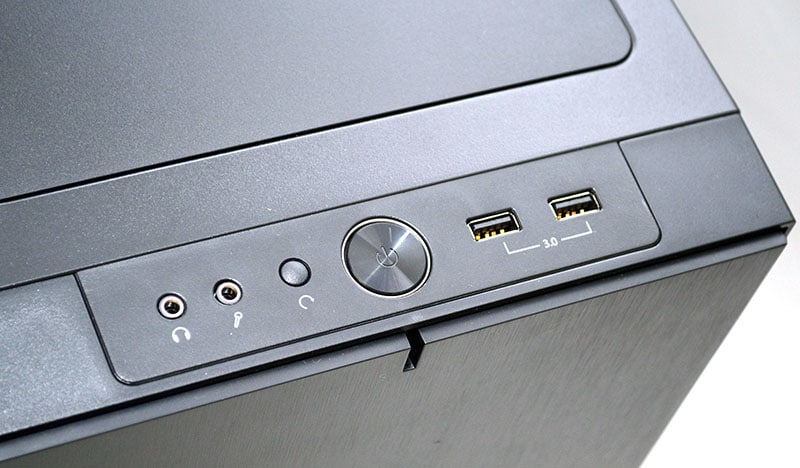 The underside has four small feet, which have rubber grip pads on them to help reduce vibration, whilst also providing ground clearance for any bottom mounted cooling.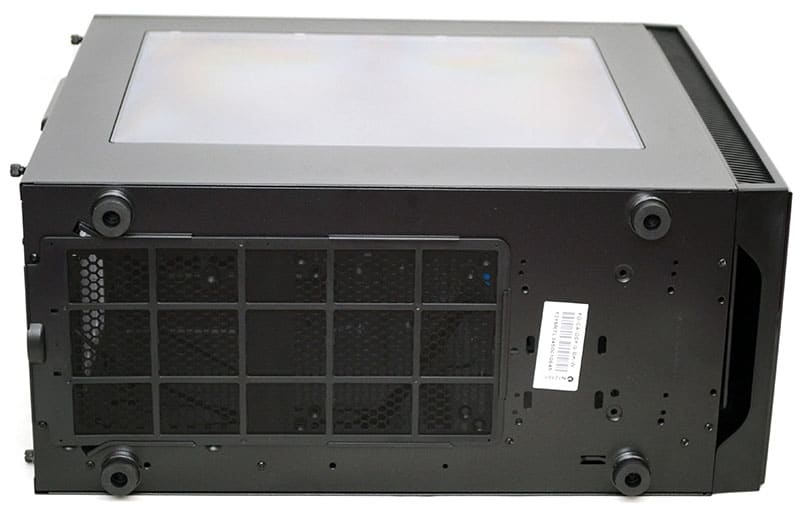 The bottom filter is magnetic fitting and washable, which should make maintenance nice and easy.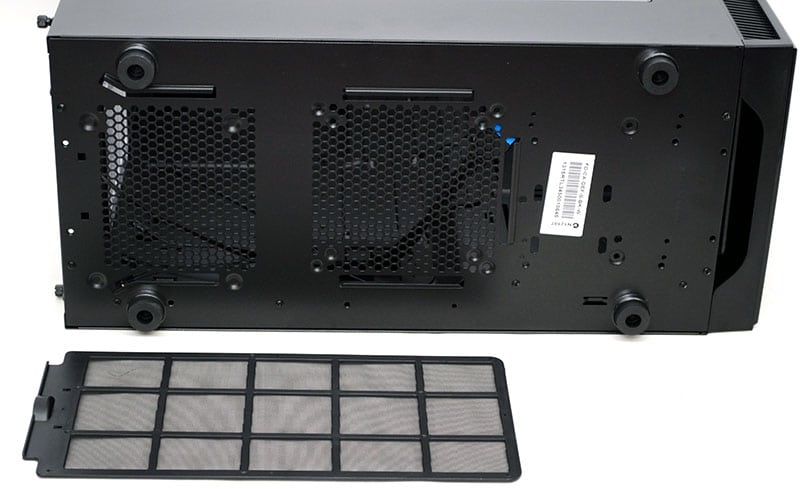 ———————–
Interior
---
The interior of the Define S is vast, which comes as no surprise since it appears that there is nothing in here! All the optical and hard drive bays we often see inside a chassis are gone; all this space is designed for graphics cards, motherboards and extreme cooling.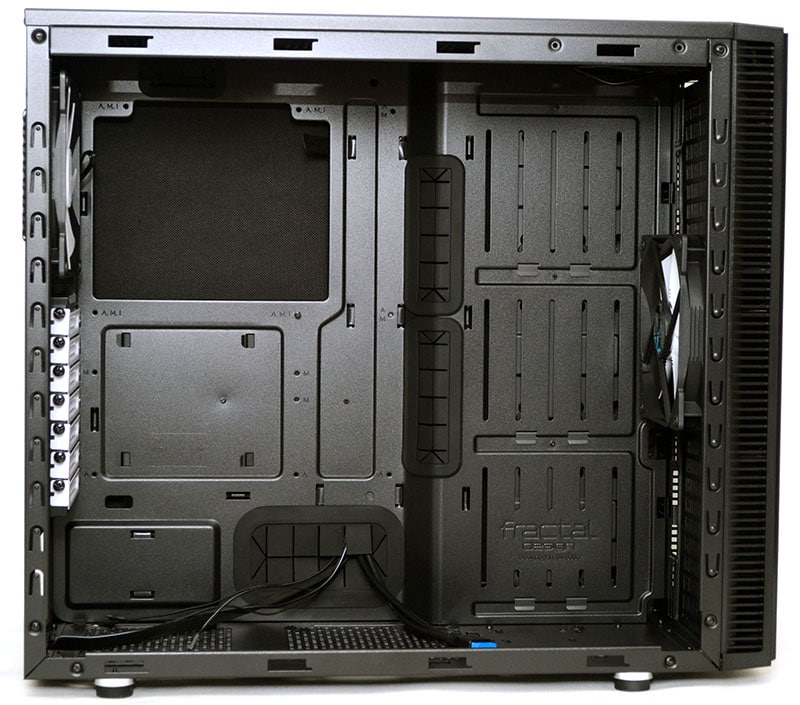 There's a huge space in the top of the chassis, which can support 120/140/360mm long thick-style radiators or 140/280/420mm thin-style of no more than 55mm including a fan.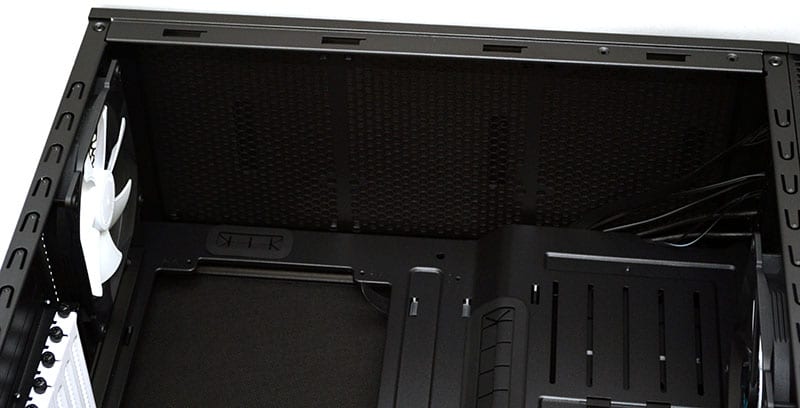 In the base of the chassis, you'll find the PSU mount, which takes advantage of the bottom air filter, as well as a 120mm fan mount, which can also support a 120mm thick-style radiator.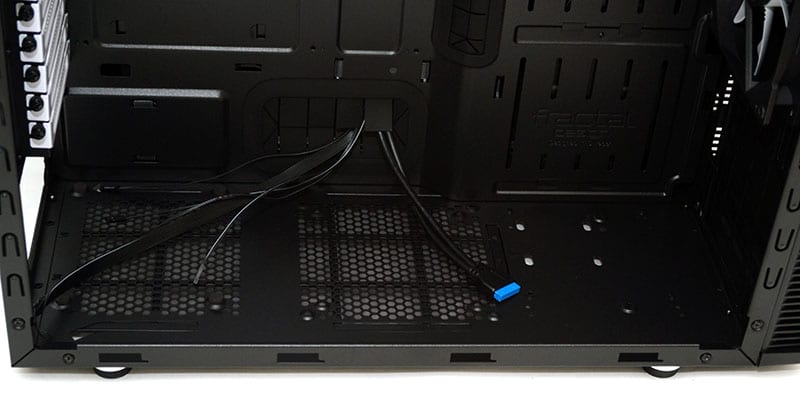 There's a single 140mm Dynamic fan installed in the front, which doesn't seem a lot, but it's more a courtesy fan than anything else, as this chassis is designed for the enthusiast market, who are more likely wanting to install their own after-market cooling solutions anyway.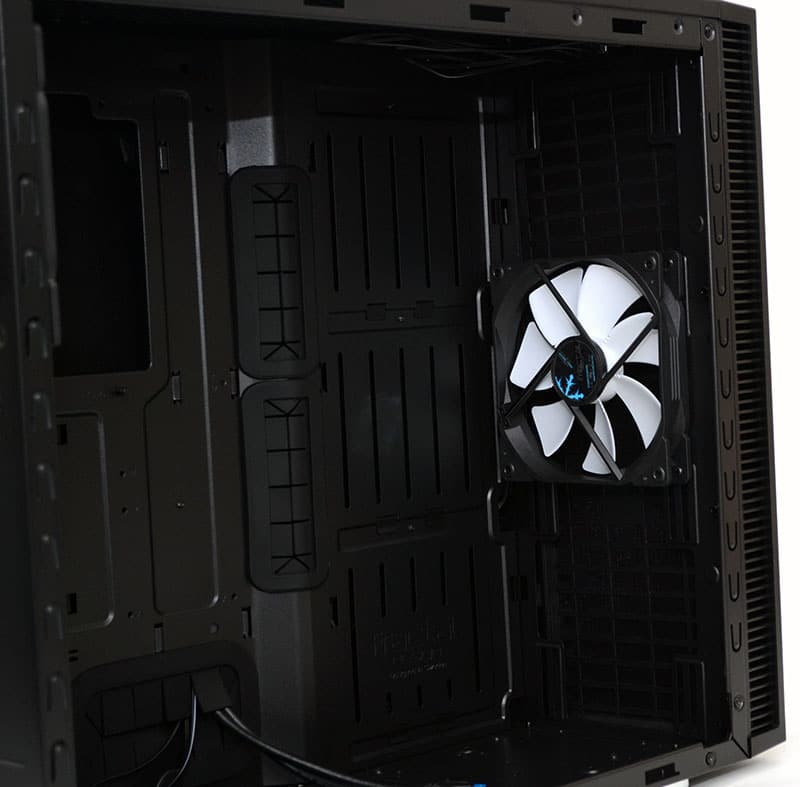 The front panel is equipped with 120/140mm fan fittings, with elongated screw holes for maximum compatibility. The front panel will house 120/140/240/280/360mm thick-style radiators!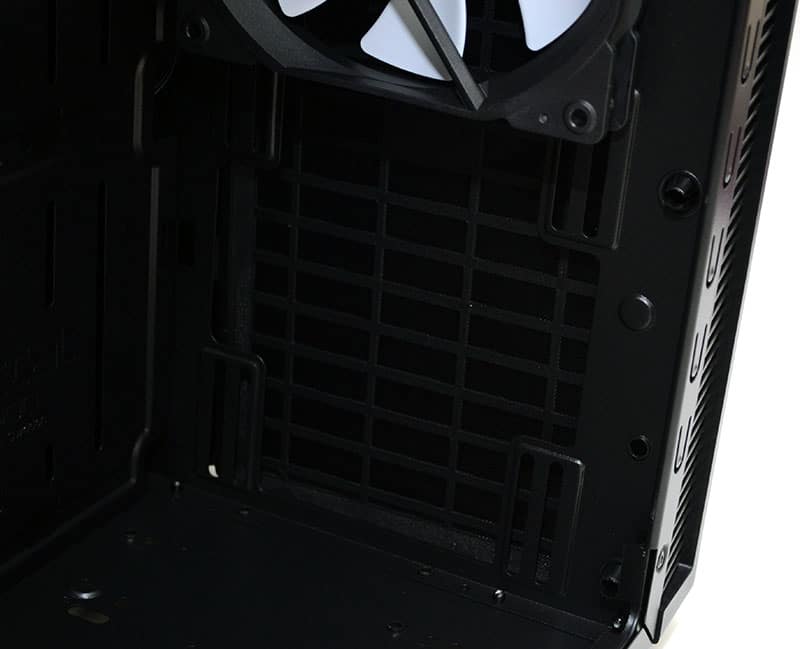 The rear 140mm fan mount, with a pre-installed Dynamic 140mm fan, this mount can also support 120/140 thick-style radiators. The Define S is quite wide too, giving you room for a 180mm tall CPU cooling tower.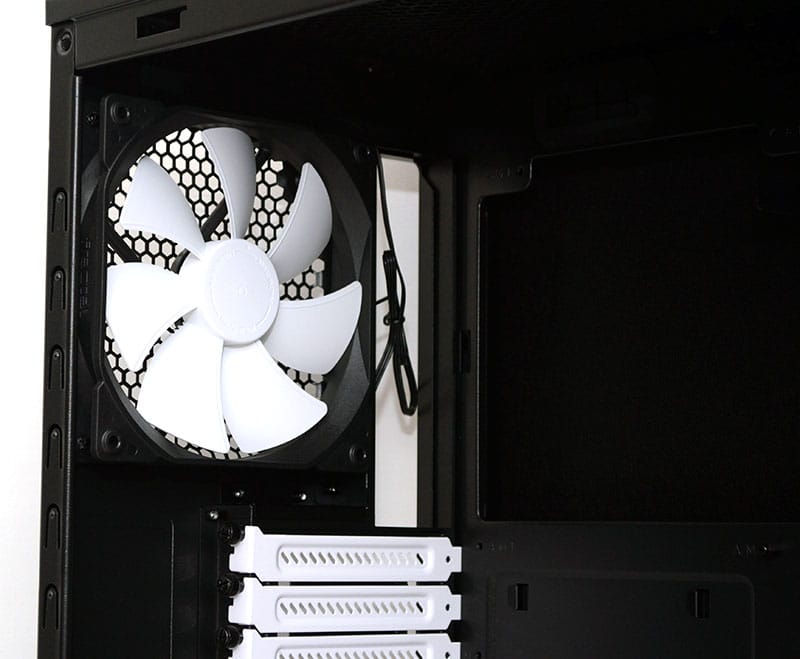 All of the expansion slots are fitted with thumb screws and just like any other high-end Fractal Design chassis' the covers are painted in a gloss white.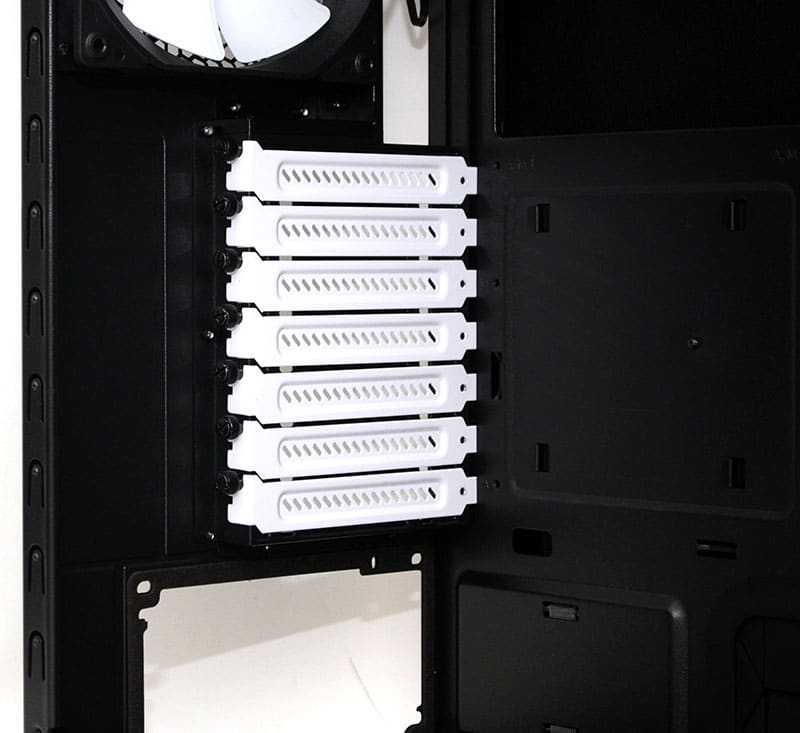 Since there's virtually nothing in the front of the chassis, there's loads of room for even the biggest PSUs on the market. The PSU mount has four rubber pads for the PSU to mount on, as well as a soft trim at the back of the chassis; both will help reduce vibrations and ensure a nice fit.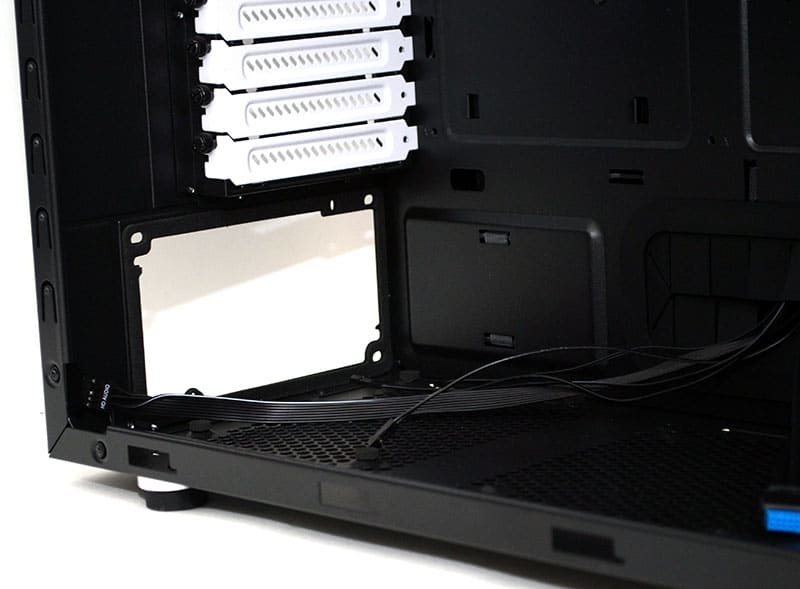 Since the front of the chassis is so empty, a lot of action is going on behind the motherboard. All hard drives are mounted on this side of the chassis, leaving the front section looking neat and tidy.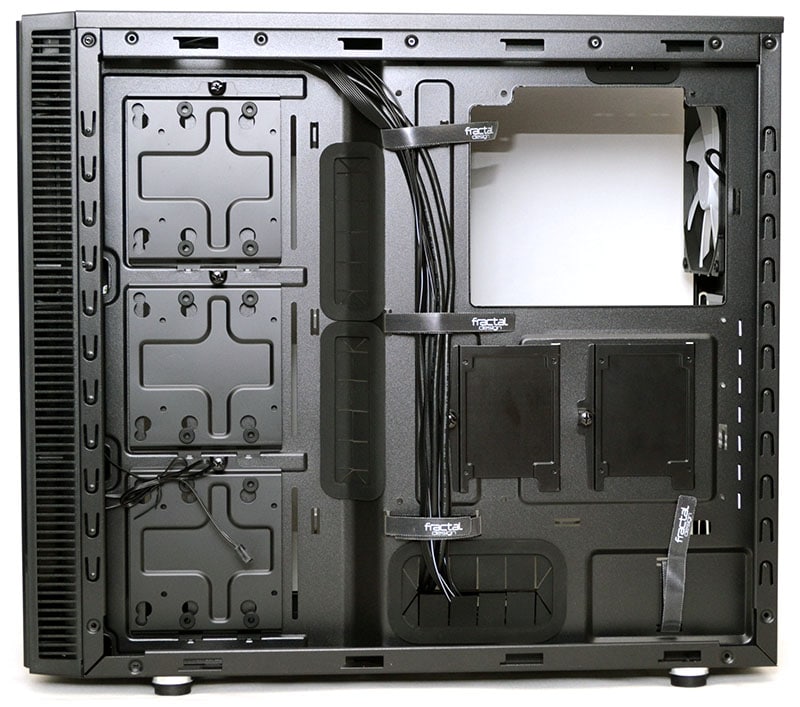 There's a vast amount of space for cable routing, as well as a selection of pre-fitted Velcro ties and cable tie loops to help keep everything neat and tidy.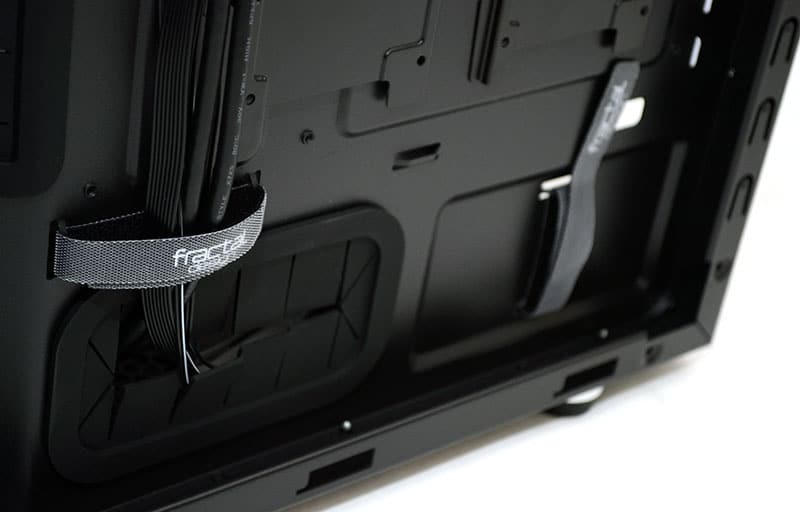 There are three removable hard drive mounts down the left side; each can accommodate a 3.5″ or 2.5″ hard drive.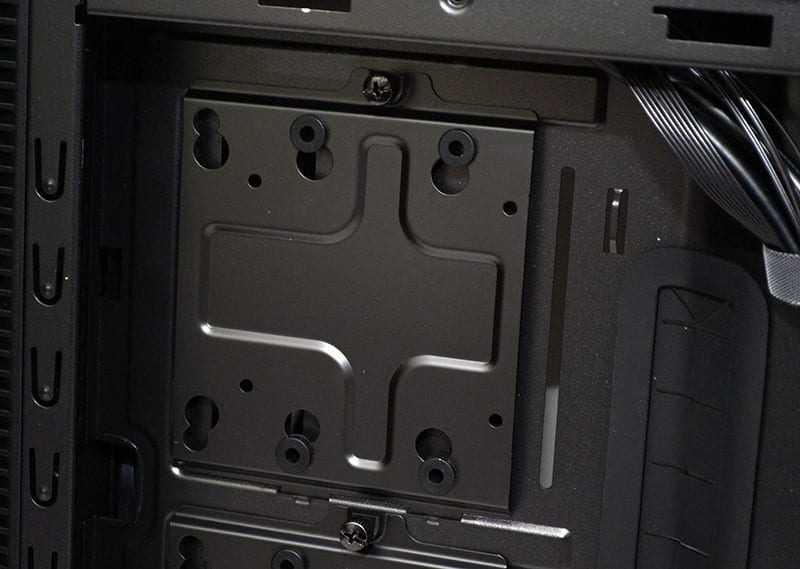 Directly behind the motherboard, you'll find a further two 2.5″ drive bays with removable brackets to allow for quick and easy installation.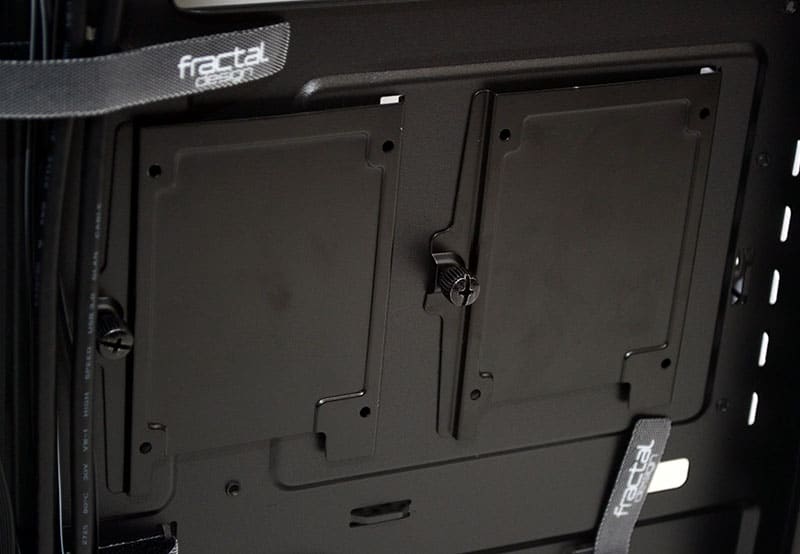 Behind the front panel, which can be removed by pulling at the bottom edge, you'll find another washable dust filter, which is held in place by magnets.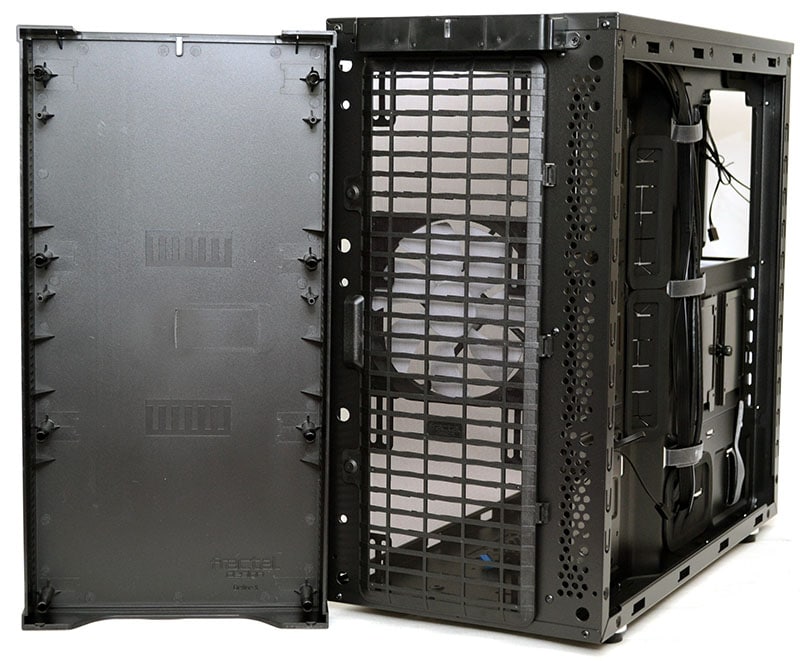 Here you can better see the front panel fan mounts. With the front, top, back and bottom fan mounts combined, there's room for eight fans in total; there is room for 9 fans on the windowless model of the Define S.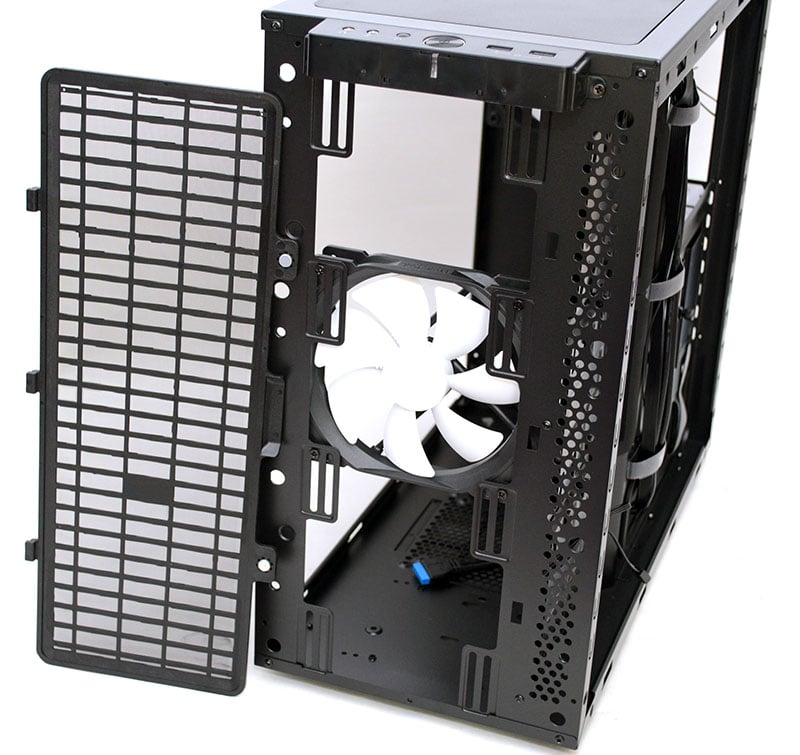 Both the side panels are quite heavy and durable, but the rear panel also has a thick layer of high-quality sound dampening material; perfect for helping you reduce unwanted noise from your system.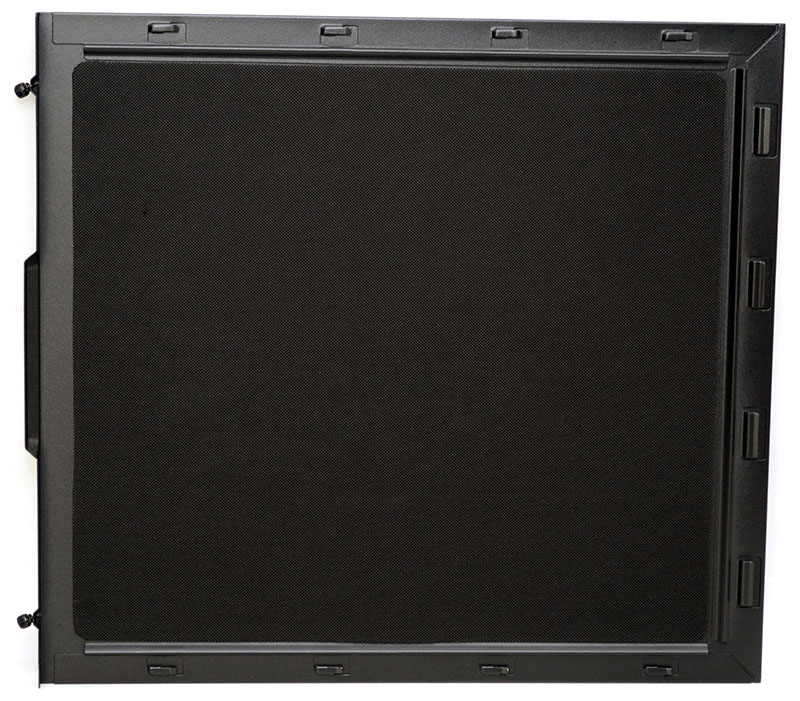 ———————–
Complete System
---
It took me around twenty minutes to complete this system build, but given it's rather cavernous on the interior, there were hardly going to be any issues with component compatibility. As you can see from the picture below, cable management is incredibly good; those velcro straps certainly come in handy. The rear hard drive mounts are very easy to work with and while I love showing off my SSD, having them out of the way is going to free up a lot of space for cooling components and keep even more cables out of sight.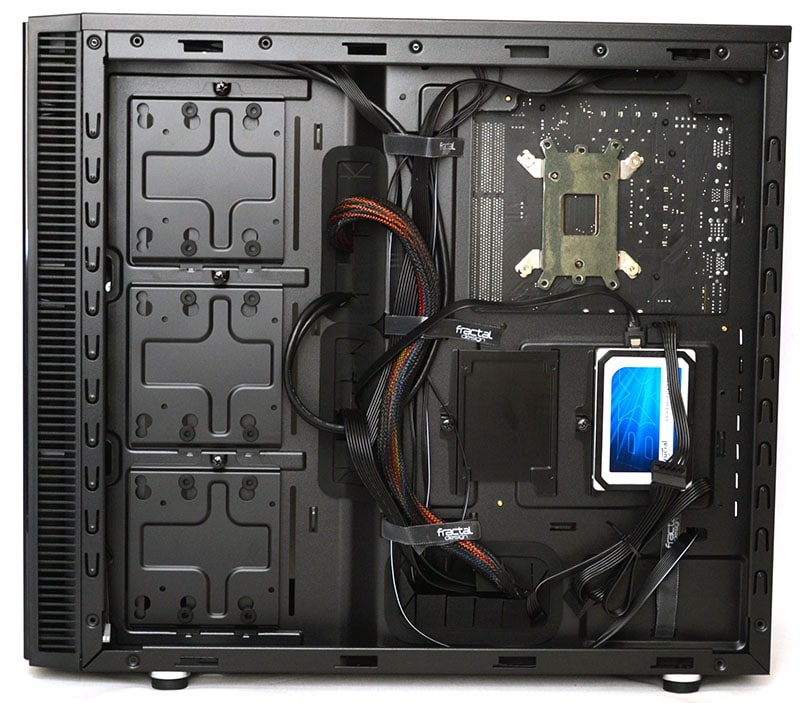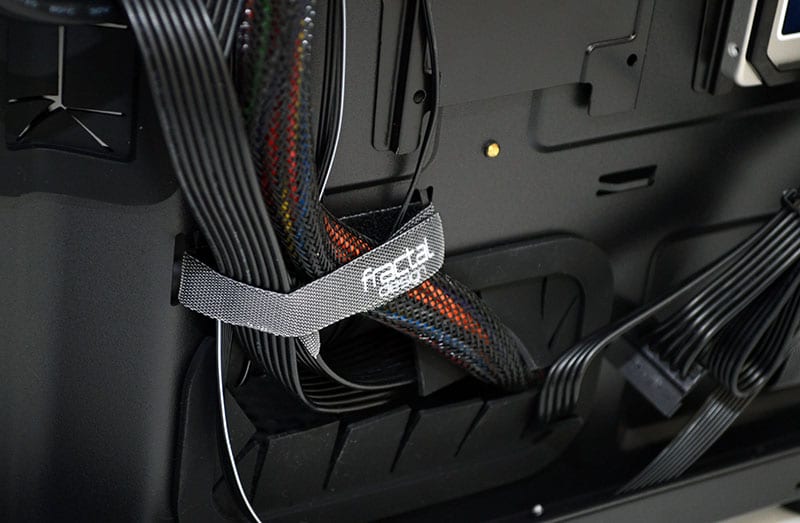 Where's the rest of the system! You would be fooled to thinking this was a Mini-ITX rig in a super tower, but that's a full ATX motherboard and a not so small GTA 980 graphics card in there. The amount of space towards the front of the chassis is simply staggering and if you're wanting to install thick radiators and a vertical mounted reservoir, you'll have absolutely no problems in doing so.
The clearance from the back of the GPU to the front fan is massive, almost room for another graphics card in terms of length; this is good news for those investing in any of the ultra-long graphics cards that are on the market.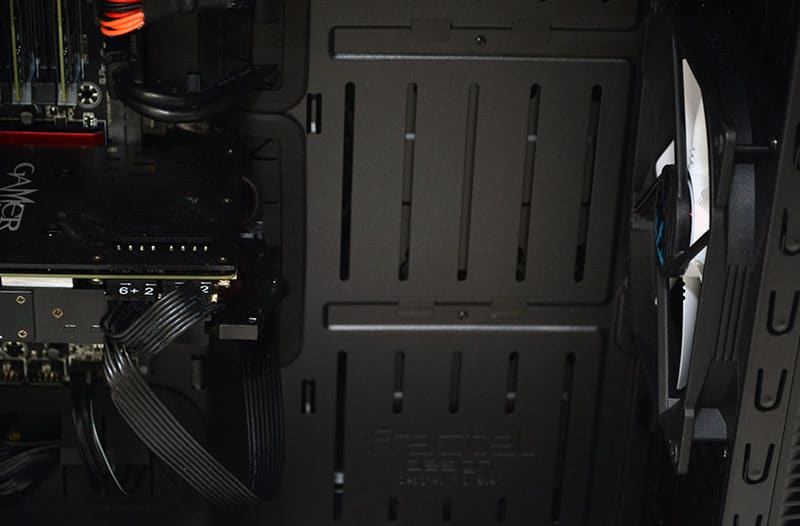 A nice little touch, a small cable routing hole at the bottom of the chassis, saving me from routing the front panel audio cable across the bottom of the motherboard.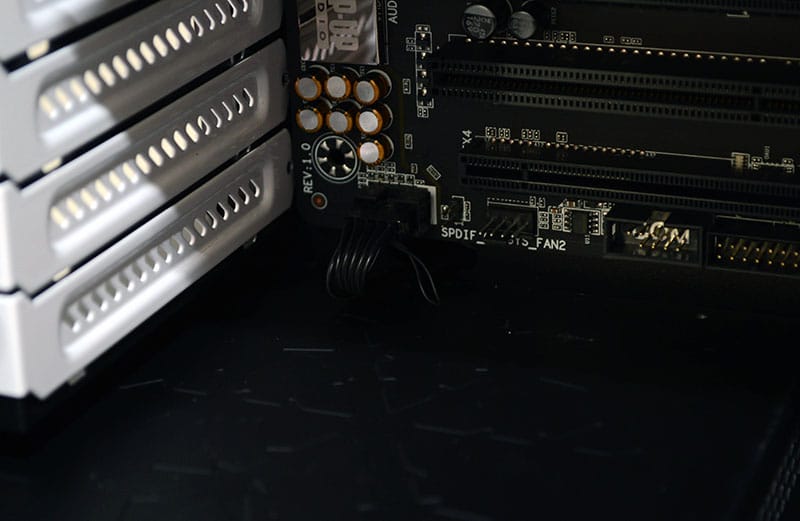 Clearance from the top of the motherboard to the top of the chassis is very good, leaving plenty of space to work with while installing your radiators.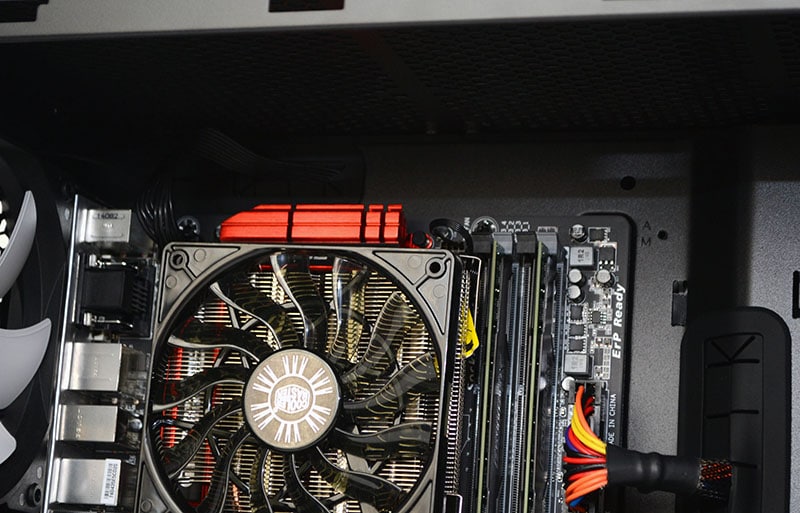 The cable routing grommets are angled slightly towards the motherboard, which allows you to keep things looking even neater.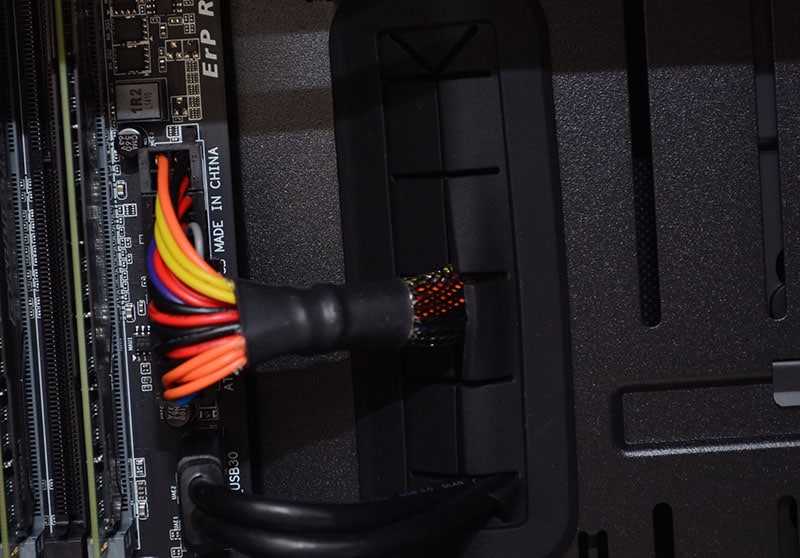 All panels back in place and there's no doubt that the Define S is a stunning looking chassis, that clean cable management really paying off as the view through the side panel window is crystal clear.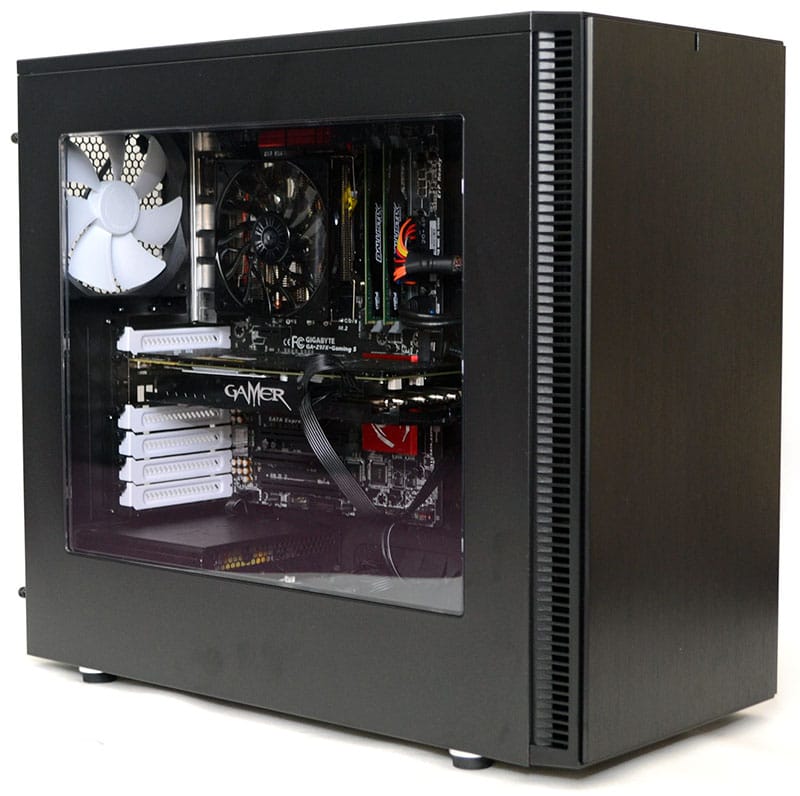 ———————–
Final Thoughts
---
Pricing
The Fractal Design Define S will be available very soon from all major retailers for around $79.99 for the none windowed version and $89.99 for the windowed version I reviewed today. In the UK, prices are expected to be £64.99 and £69.99, while the rest of Europe can expect prices of €89.99 and €99.99. It doesn't take a rocket scientist to realise this is a very good price, especially given the quality and capabilities of this chassis.
Overview
I'm simply blown away by the latest chassis from Fractal Design. The Define S promised support for high-end hardware and the premium quality we've come to know and love from Fractal Designs and it hasn't disappointed one bit.
Build quality is very good overall, the front panel is plastic, but it's very nicely finished and there's enough extra touches that help define this as a premium grade products. Magnetic and washable dust filters on every intake, removable covers on the top panel, two high-quality fans pre-installed, cable routing grommets and velcro fittings; all small things in their own way, but they all add extra value to the chassis.
Attention to detail is great, this is the first big chassis I've seen that only has stealth mounted hard drives, with room for up to five drives in a chassis, without having to sacrifice on cooling configuration is simply staggering and the enthusiast water cooling crowd are going to be falling over themselves to get a Define S.
Support for huge graphics card, extra-long PSUs, tall CPU coolers, massive radiators in the top and front, as well as extra thick-style radiators in the bottom and back, sound dampening material, a side panel window edition, even little details such as the black USB 3.0 ports; there's really nothing that Fractal Design haven't thought about here.
I really was expecting the price to be over £100, the fact that Fractal Design have made such a great product at such a competitive price is very impressive.
Pros
Great build quality
Support for extreme water cooling setups
Stealth-mounted hard drive bays
Side panel window
Sound dampening material
Long GPU support
Excellent cable management
ModuVent covers
Magnetic dust filters
Competitive price
Cons
"Fractal Desing have really made something special here. From the exterior, it's as stylish and bold as any other Fractal Design chassis, but the interior is a breath of fresh air. If your next build is going to feature high-end water cooling, this is the perfect chassis for the job."
Thank you Fractal Design for providing us with this sample.