Game Max Strike RGB Mechanical Keyboard Review
---
---
---
Peter Donnell / 3 years ago
The brand new Game Max Strike RGB Mechanical keyboard is here. It promises to pack the features gamers want at a price point that your wallet will love. That's not an easy task to do either. When you slash the price, something has to give. Features, performance, build quality? You have to compromise somewhere. At a little over £40, the Game Max Strike is certainly affordable, but still promises some impressive features for the money.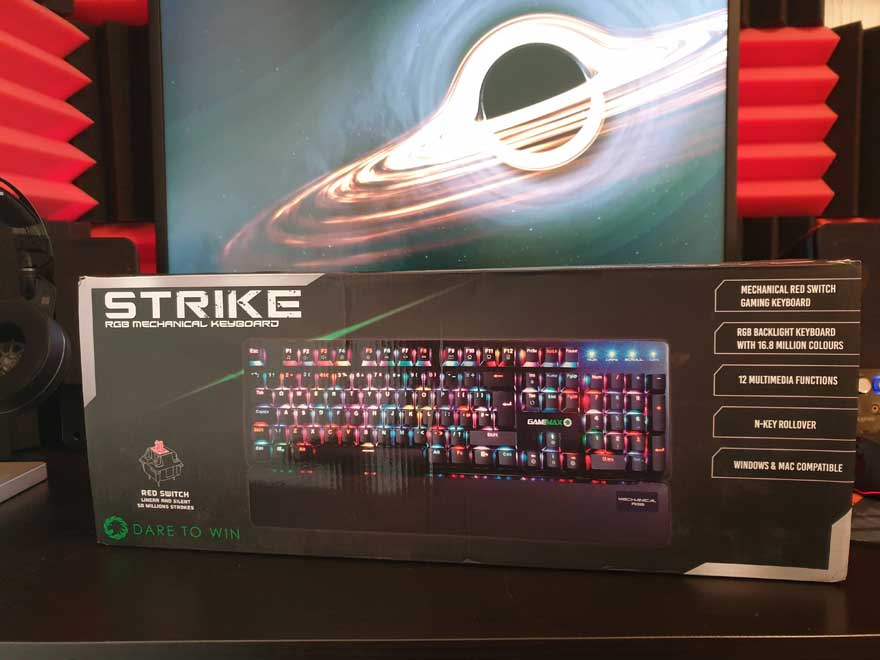 Game Max Strike
Fully mechanical, per-key RGB lighting with built-in effects and profiles, anti-ghosting, and much more. It's ticking all the right boxes. There's even an included wrist rest to keep you comfortable during those long gaming sessions.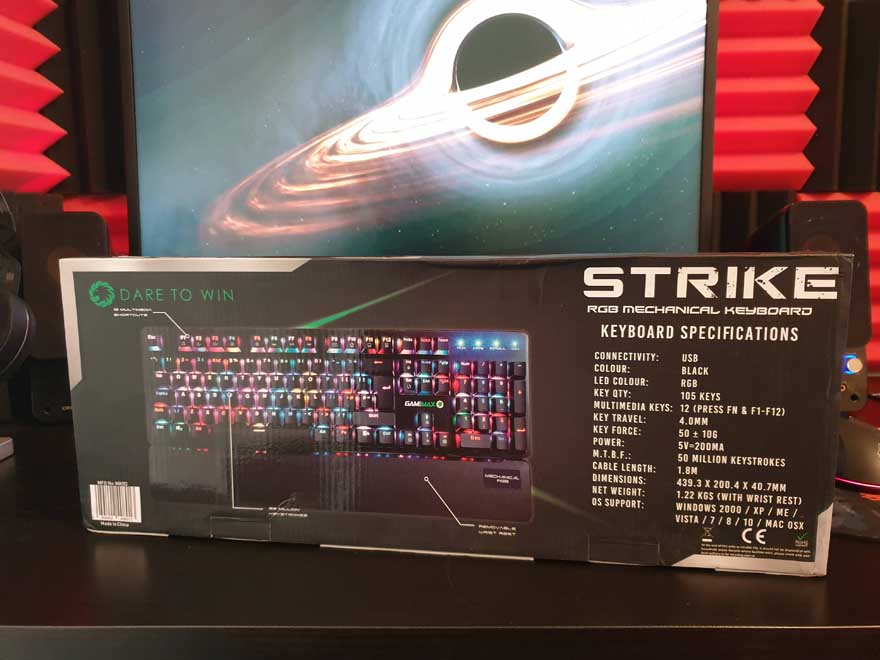 Features
Outemu Switches – The mechanical keyboard comes with red outemu switches ensuring precise and comfortable gaming. Outemu switches are often paired with cherry MX switches for quality but for half the price they make a great alternative.
RGB Backlight – The strike has individual keys with LED backlight to create a powerful RGB glow and with 13 different colour modes and 7 static colours, the Strike will be the perfect keyboard for any gaming set-up.
Durable keycaps – Unique Bicolour mould ensure durable keycaps, the character of the keycaps with double-shot moulding, never fade.
All Keys Anti-ghosting – Never worry about duplicate key strokes in game again. All the keys are anti-ghosting ensuring every press will be registered, for the ultimate gaming performance.
Wrist Rest Included – The Strike includes a wrist rest which has been designed to support palms and wrists during long gaming sessions.
OS Compatibility – Supported computer system includes Windows & Mac OSX to suit a wider audience.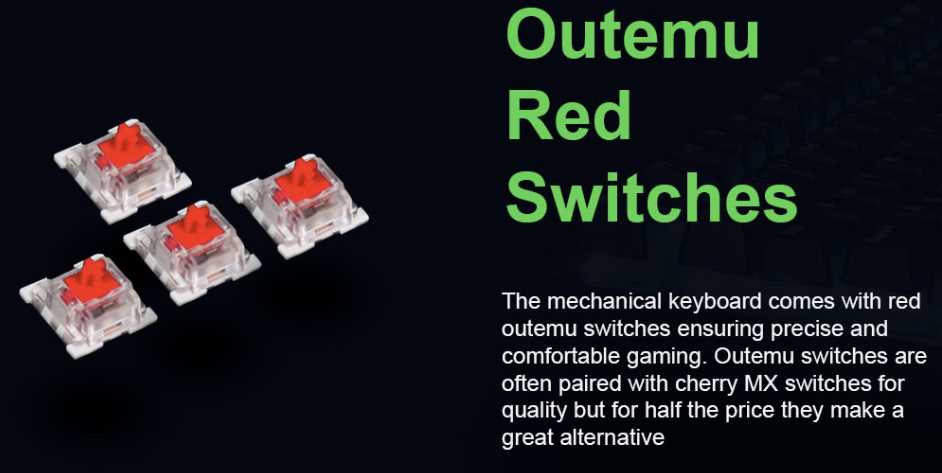 Specifications
For in-depth specifications, please visit the official Game Max Strike product page here.
What Game Max Had to Say
"Made using Outemu red switches these switches are built to ensure the best quality for precise gaming and comfortable typing. The Strike also features n-key rollover to ensure each key press is correctly detected.
The Strike has 13 different LED lighting modes to choose from which are easily changeable at the touch of a button. You can adjust the speed and the brightness with ease and the keyboard benefits from individual key LED backlight for a bright and smooth blend of colours." – Game Max
Product Trailer
———————–
A Closer Look & Performance
The Strike comes bundled with a detachable wrist rest. It's just a hard plastic one that clips on, nothing too fancy. It's hard plastic, but it has been given a bit of texture too, that's pleasant enough to look at and to touch. The USB cable is hard-wired, rather than detachable. However, the cable is braided, which improves the overall aesthetics.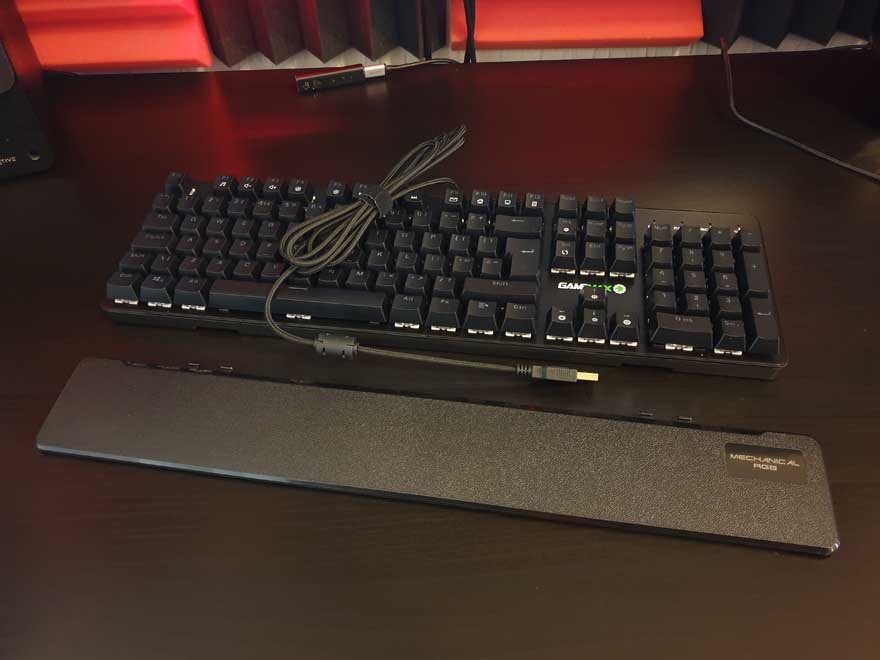 Not sure why they put this here, it may have looked better to leave it blank or include the Game Max logo here.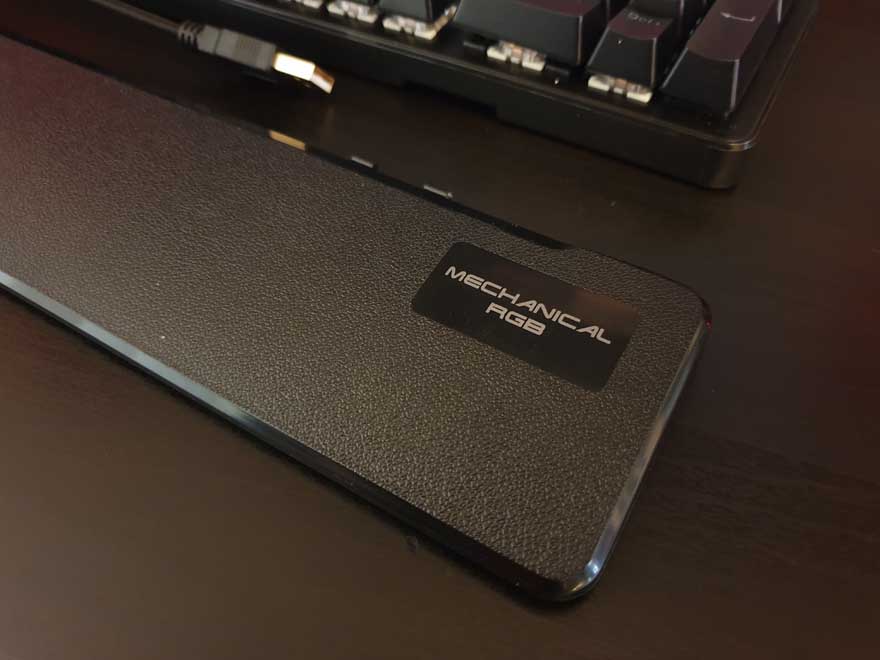 Mechanical
The keyboard actually looks pretty decent. I mean, it's not an innovative design in any way, it's just a keyboard. What I do like is that the overall bezel around the edges is pretty minimal. Of course, it's full-size, but it doesn't take up any more space than it really needs to either.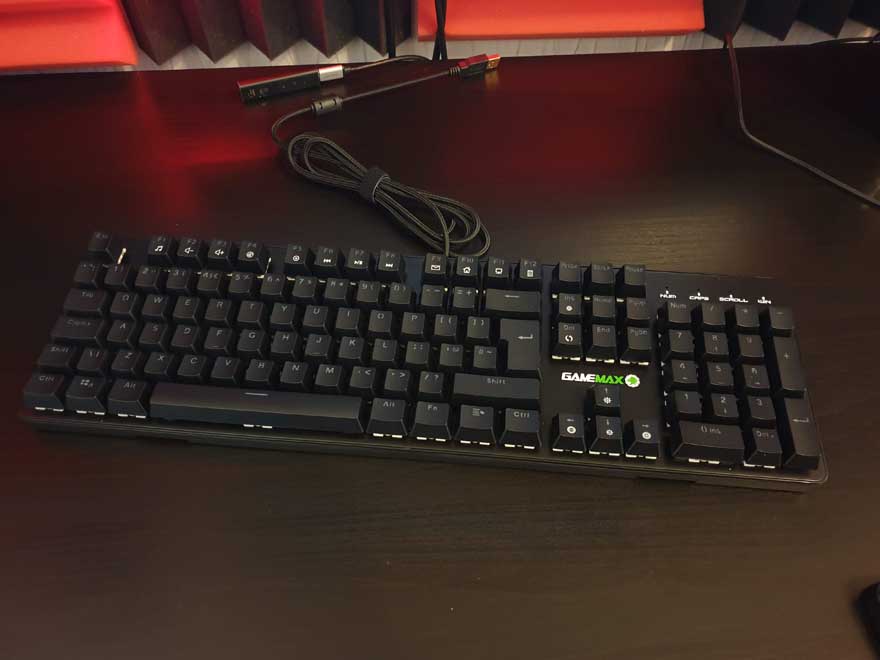 The top panel is metal, and also has a light texture to it. It's fairly subtle overall and the all-black finish looks superb. The only bit of branding here is the Game Max logo above the arrow keys too, which is tidy enough overall.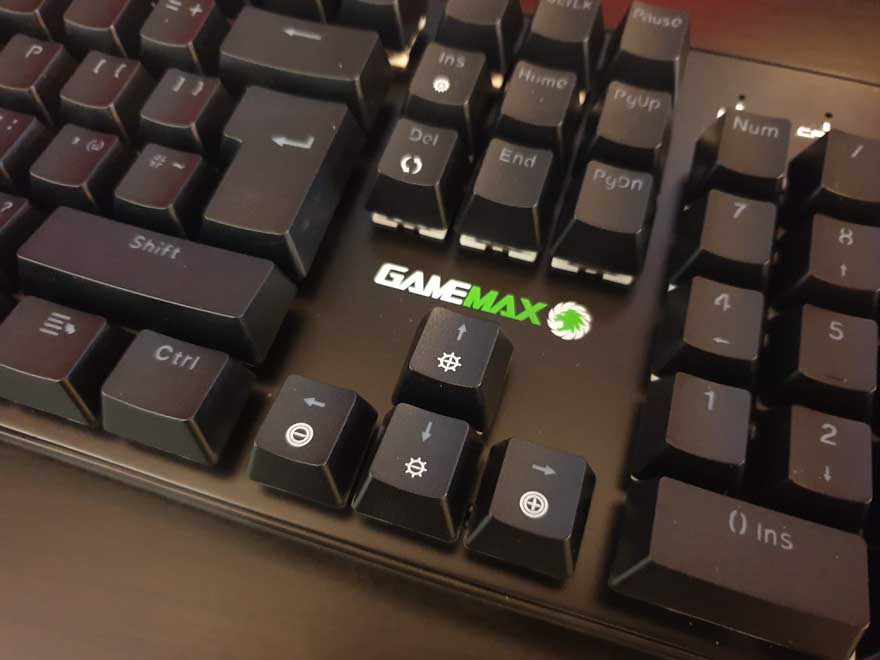 Control
The keyboard doesn't use any desktop software, so it's just plug-and-play ready. That's great to be honest, less software to muck about with is fine with me. What you do get, however, is plenty of on-keyboard control Ins and Del will allow you to cycle through lighting modes and colours easily enough. Just hold the Fn-Shift key to access any secondary functions.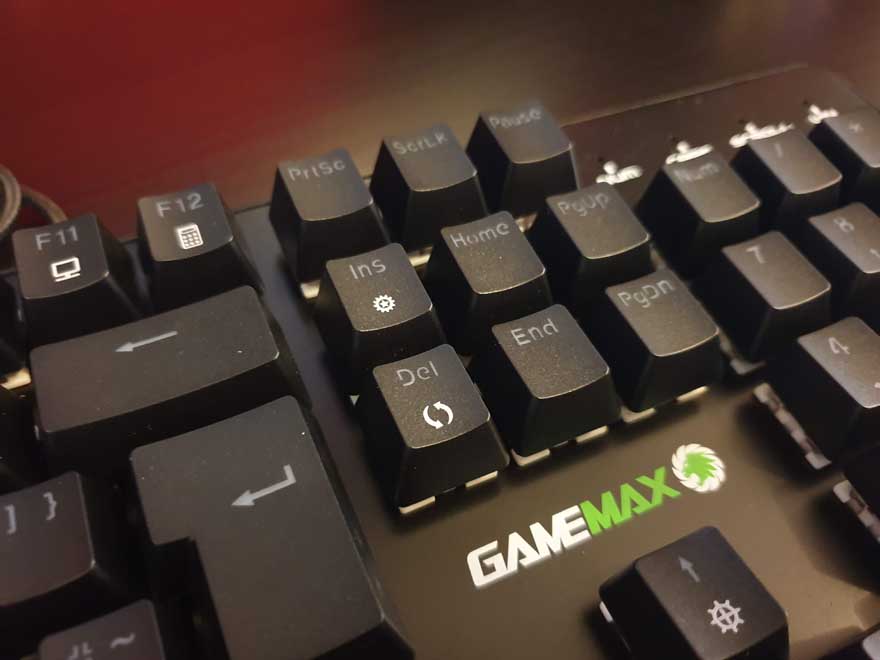 Multimedia
You can take control of your music easily enough too. There are some standard volume controls up in the top here, which are self-explanatory really.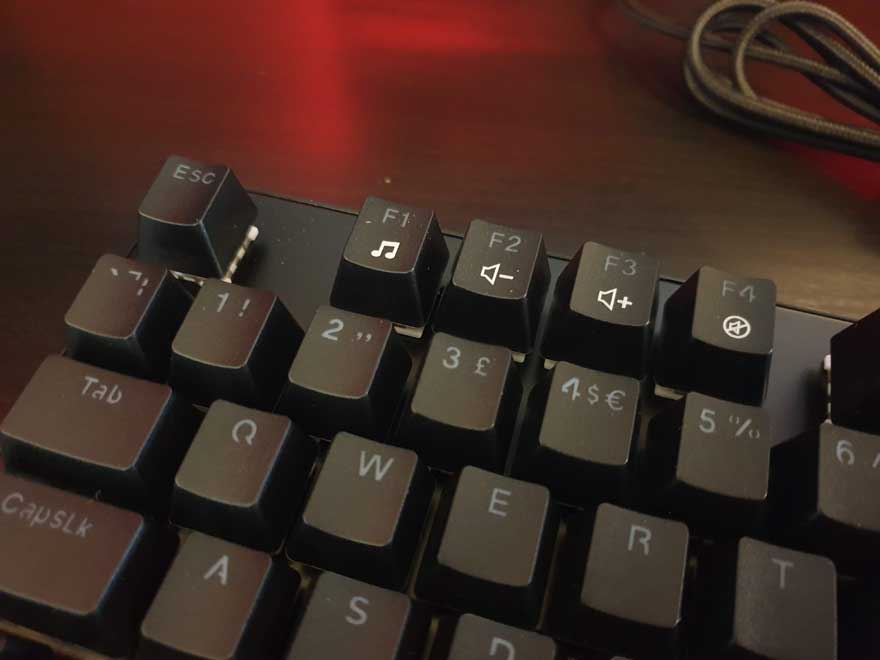 Plus a bunch of play, pause, skip, etc further along. These are great for when you're working or even more so for gaming. Rather than having to tab out of your game, you just hit Fn-Shift and one of these. I prefer dedicated media keys, but honestly, this is still a welcome addition.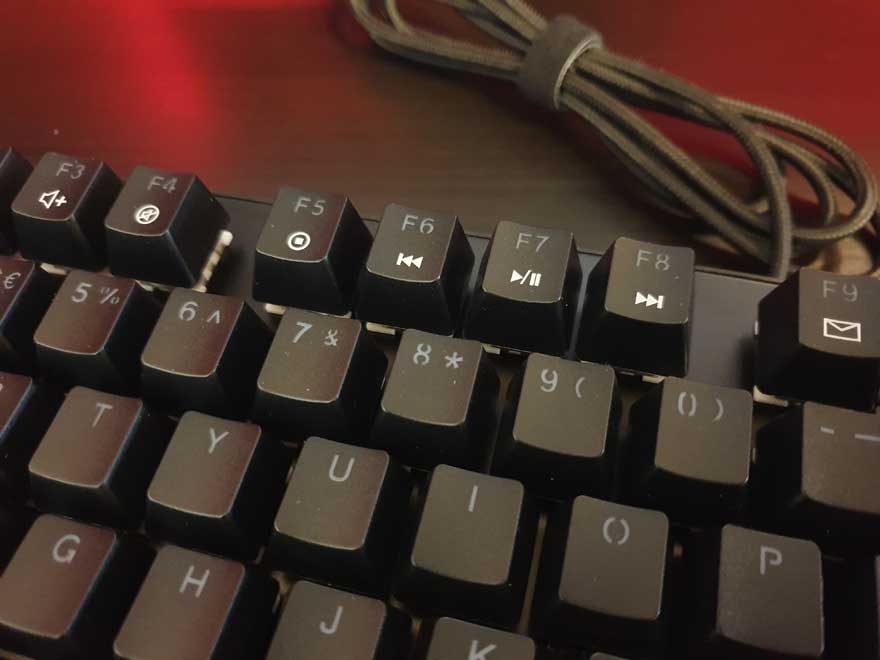 Plus there are some old-school app launch buttons here. However, I don't really think anyone uses them, do they? Either way, it's not hurting the keyboard to have them I guess.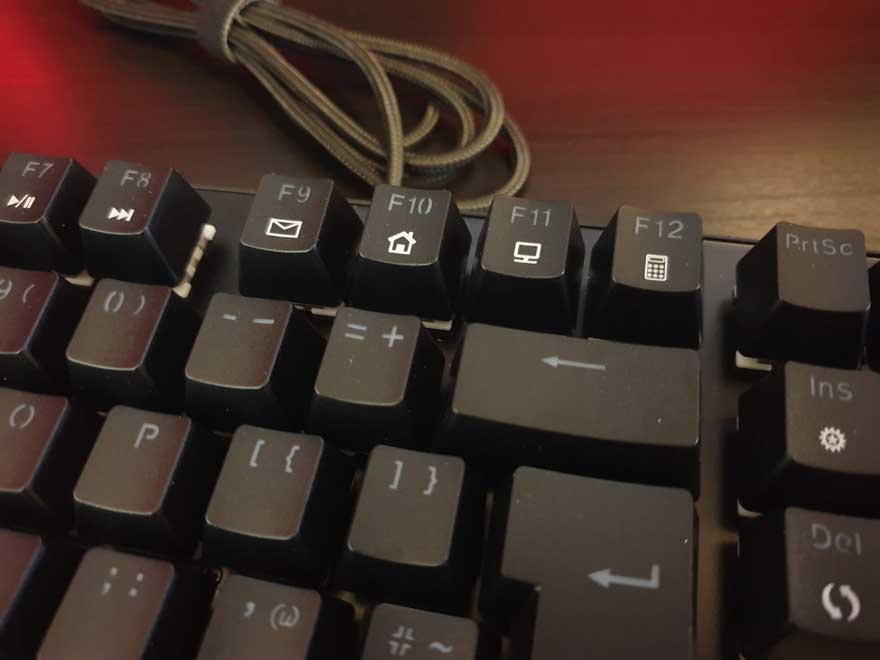 Gaming Modes
There's a Windows Lock function on the keyboard, which is always a handy tool to have for gaming. That way, when you go to crouch, you're not accidentally triggering the start menu.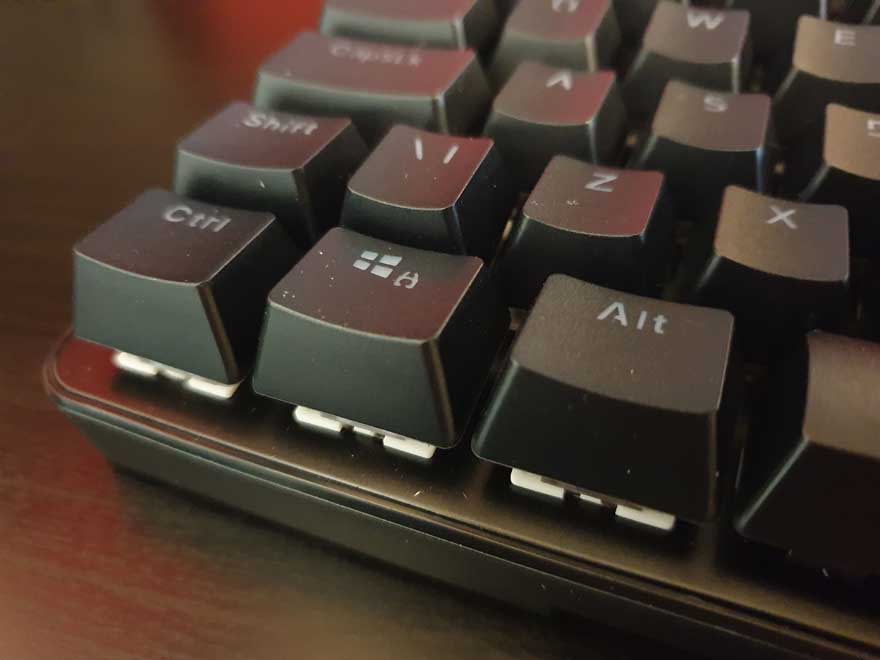 The keyboard is pretty standard in terms of layout really. Everything is where it should be, and the key spacing is pretty stock, so you feel right at home as a touch typer. What I do like is that it caters to left and right-handed gamers. You can move the WASD to the arrow keys using Fn-Shift+W. That's not something I need, but I'm sure some gamers will love that it's included, obviously.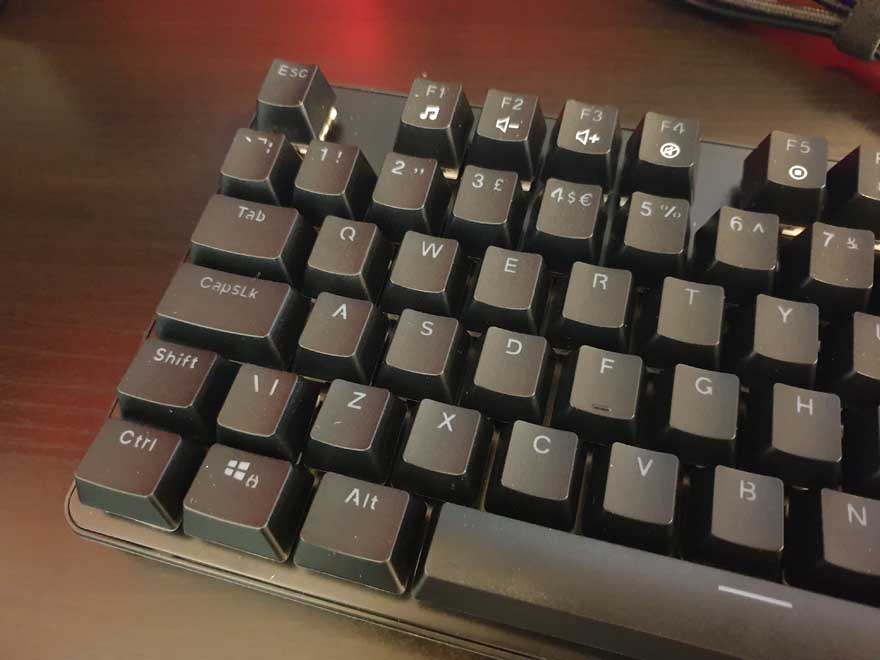 Outemu
Honestly, I hadn't heard or seen of Outemu switches before. They're very similar in design to Cherry, TTC, Kailh, etc. They're colour mimics that of the Cherry Red though, as these are a light, fast and linear switch design. They're rated for 50 million strokes, and honestly, they feel pretty great to type on. Perhaps a little lighter than MX Reds to hit, which is fine, and certainly smoother than Kailh Red.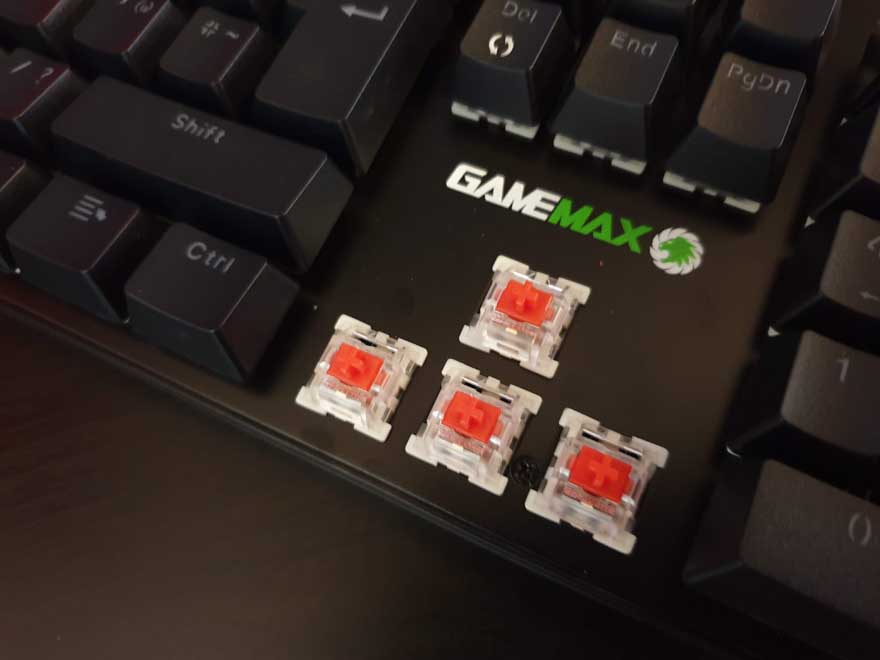 Ergonomics
The keyboard has a slight wedge shape to it, but it is honestly quite flat overall. There's virtually no curve to the key ergonomics from front to back either, which I find makes it well suited to gaming setups.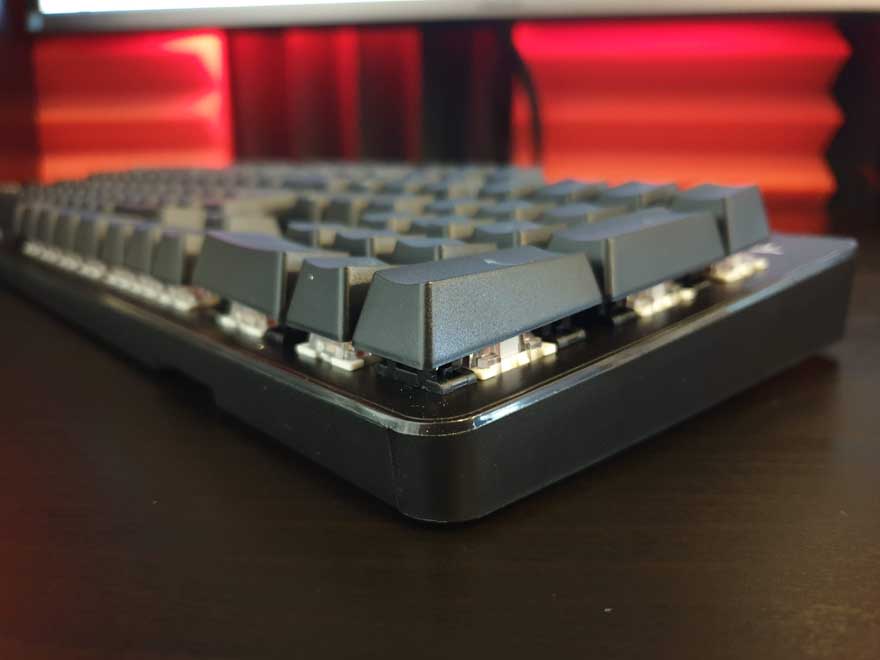 You can adjust the height a little bit though. There's some sturdy rubber footed kickstands on the bottom. They give you a little more angle, but it's really subjective if you want to use them at all.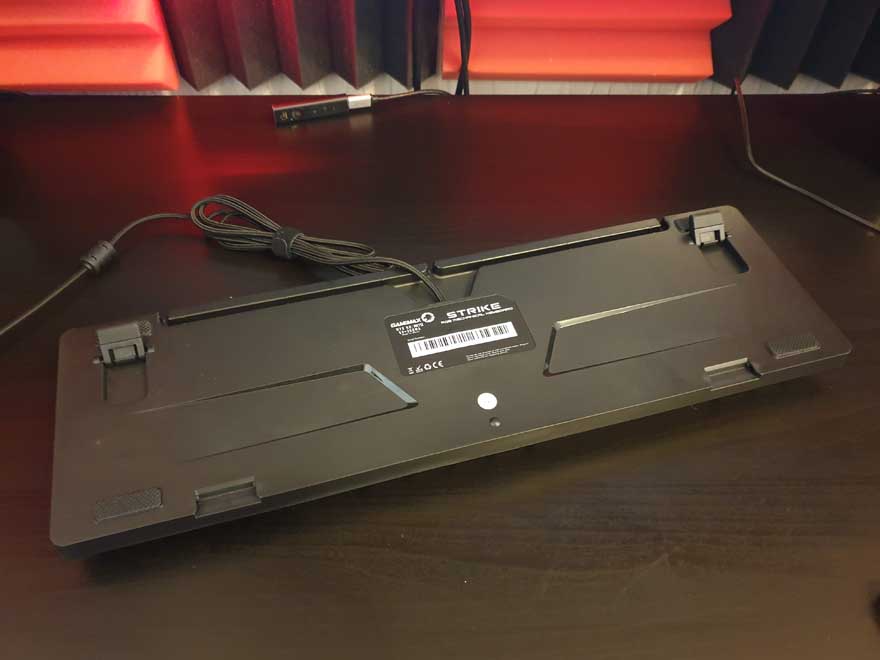 RGB
The wrist rest looks fantastic. Honestly, I can't use a keyboard without one these days. So, for Game Max to include one at this price point is nothing short of astonishing. It really completes the look. They win more points here too, as the default lighting profile is a soft blue. Too many keyboards default to 100% brightness RGB rainbow. This is about 75% brightness blue.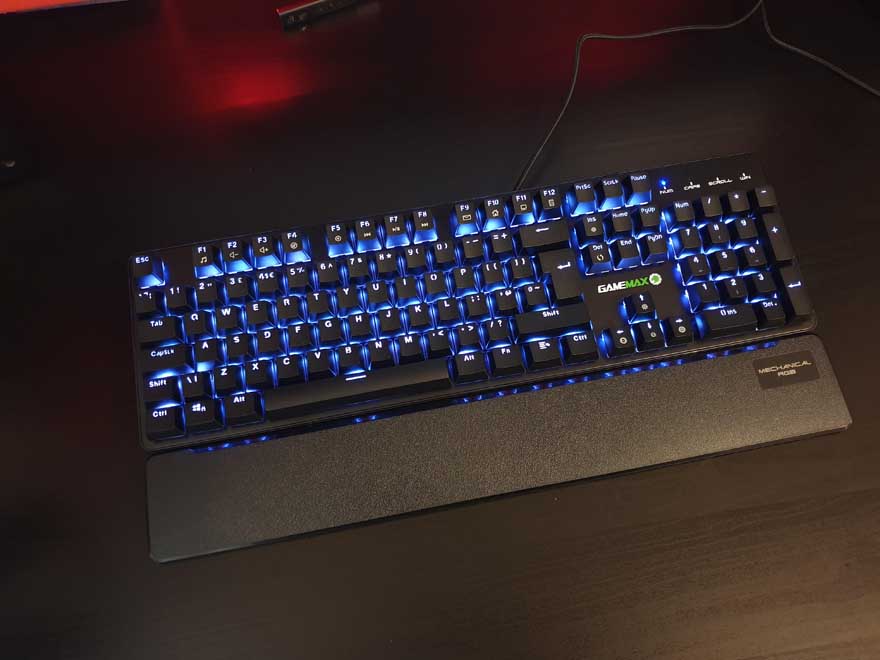 For a relatively unknown switch type (to me), the lighting is pretty robust. It looks very uniform and provides good lighting on the keycap and between them.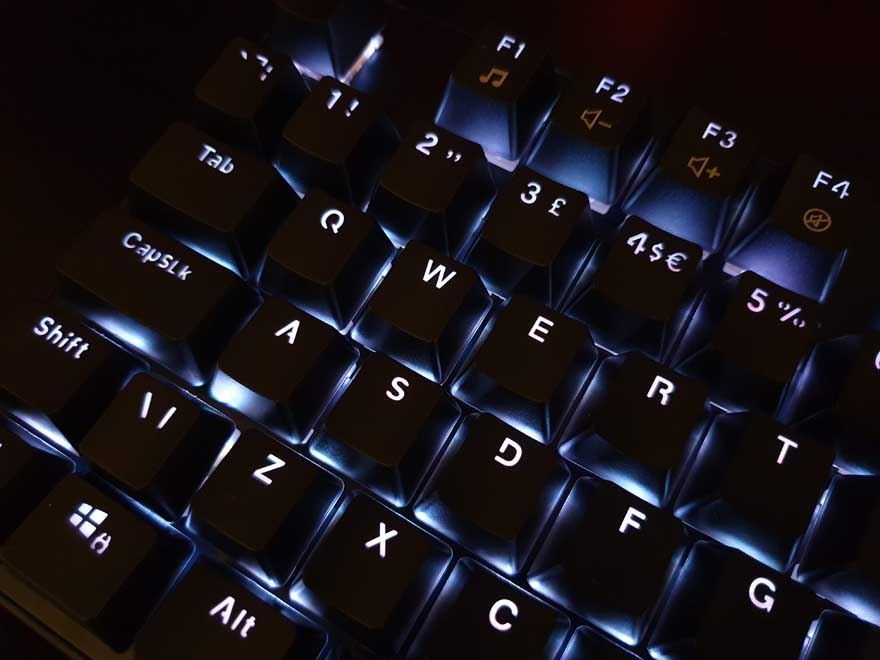 More RGB
The lighting profiles are easily toggled and cycled via the built-in controls on the keyboard. A few taps and you can quickly set the mode and colours you desire. The colours are pretty fantastic too, with plenty of rich tones and a good level of brightness. You can also dim the lights, or turn them off entirely if you so desire.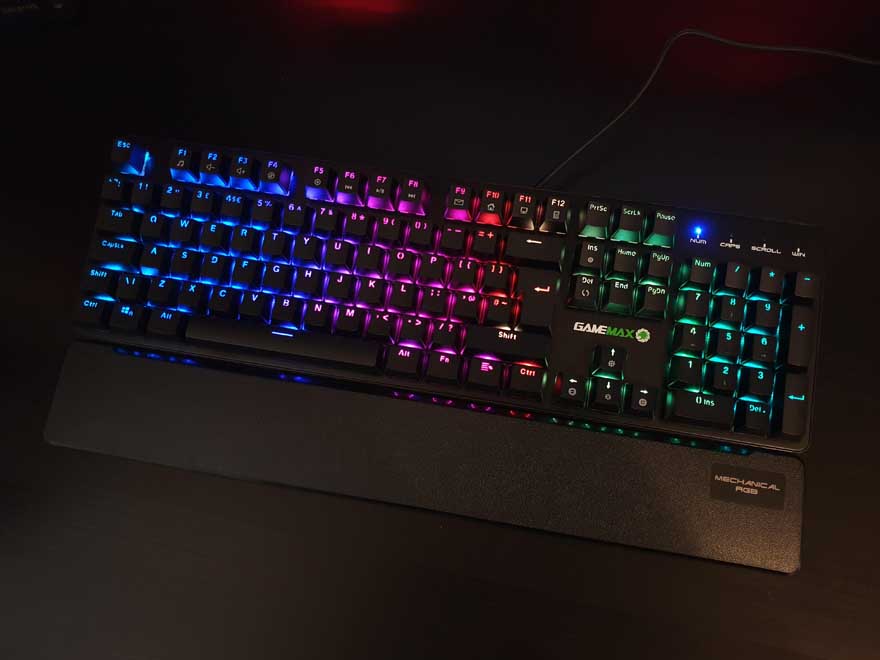 Effects range is pretty good too. Random colours, star effects, fades, waves, solid colours, reactions, etc. They're all here, and easy to cycle through.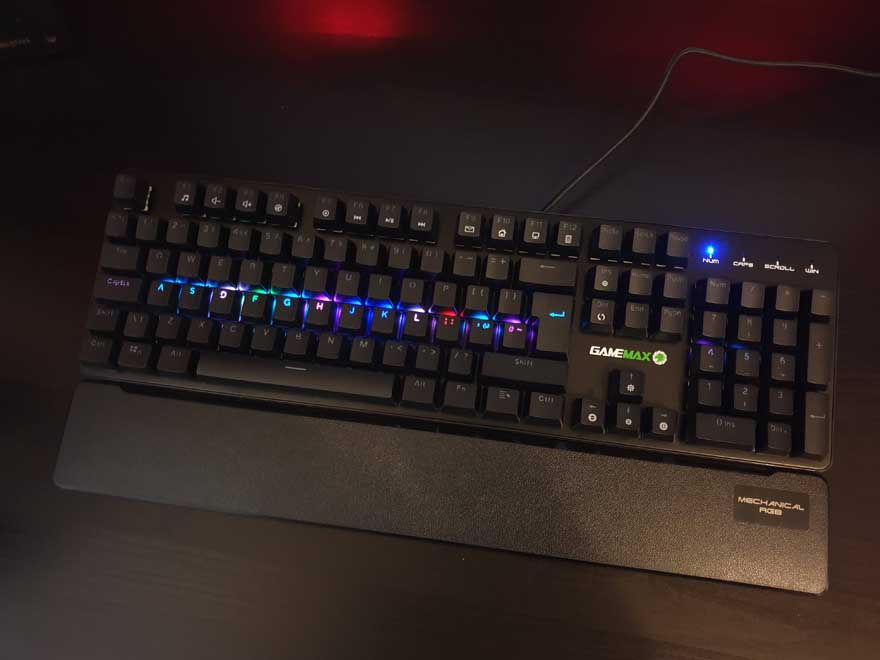 Gaming
The keyboard is light and fast to type on. Honestly, it feels as nimble to type on as anything that costs easily twice as much. It's not perfect though, but at this price, I think that would be a lofty expectation. The wrist rest is a little short for my long hands, especially if you use the kickstands, the angle feels off. Laid flat though, I found it pretty competent.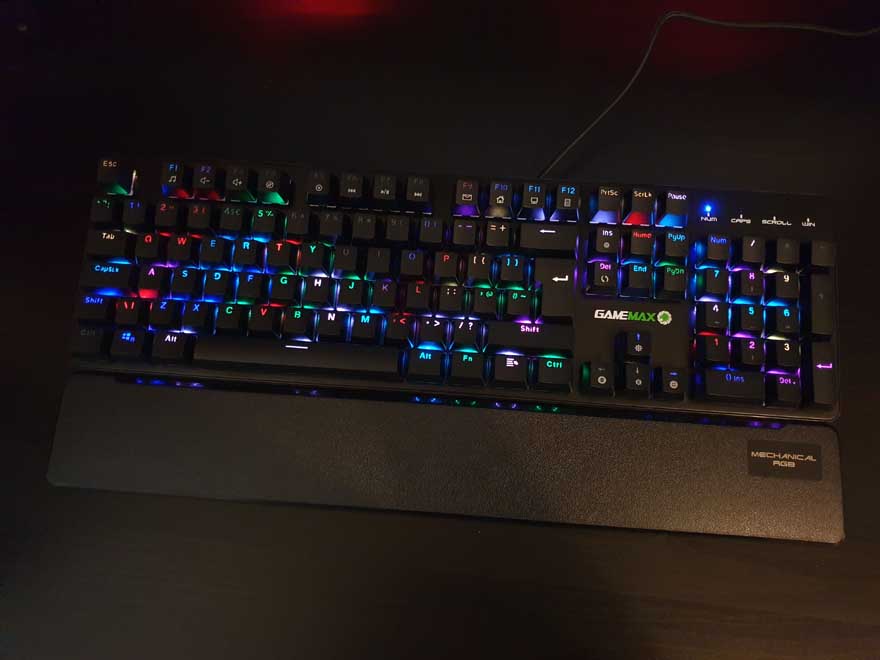 The key caps feel good, as do the switches. You really can mash away with confidence and the anti-ghosting keeps things running smoothly. For fast-paced gaming, with light and nimble taps from your fingers, it doesn't skip a beat… but it does generate a beat…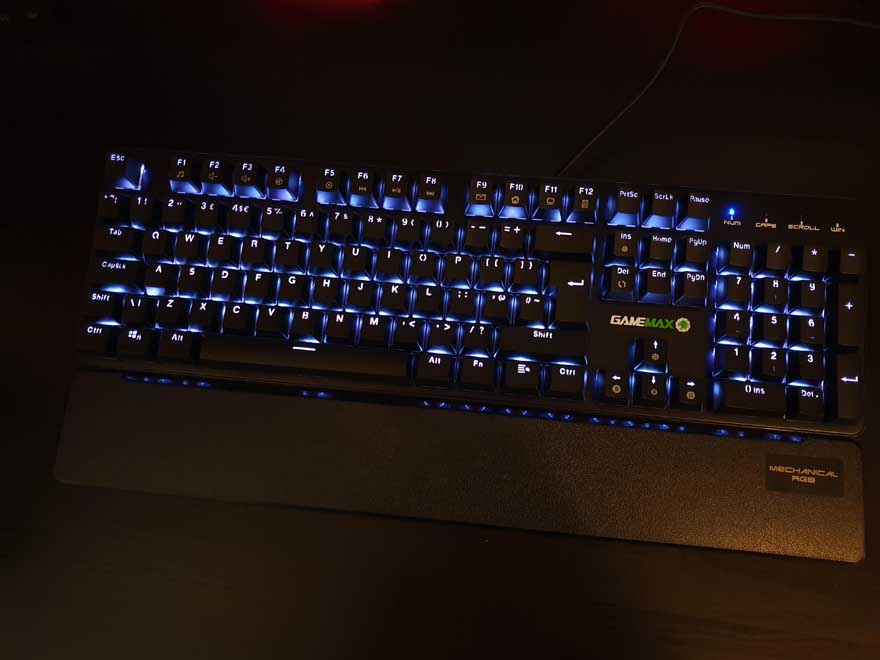 The keyboard sounds a little hollow to me. It feels sturdy enough, and it really is. It has a good weight to it too. However, there's something hollow in there that tends to ring out like a tiny cymbal when you tap on the keyboard. I'm quite sensitive to higher frequencies though. I'd be tempted to open it up and wedge a bit of foam against the switch mounting plate; that should fix it up easily enough.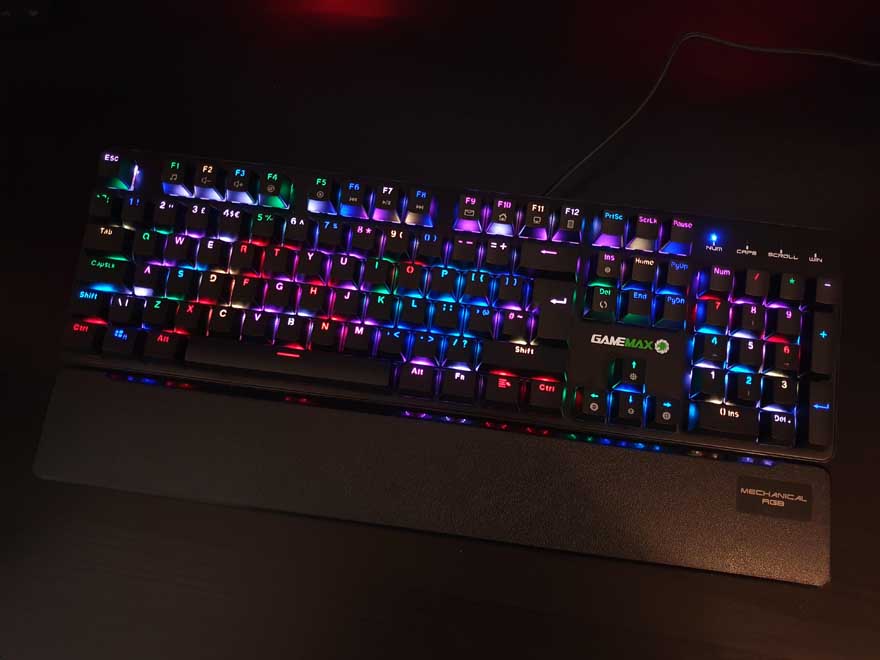 RGB Again
Overall though, I can't fault the action of the keyboard. It games great, it looks fantastic, and at this price, any little issues are pretty easy to overlook.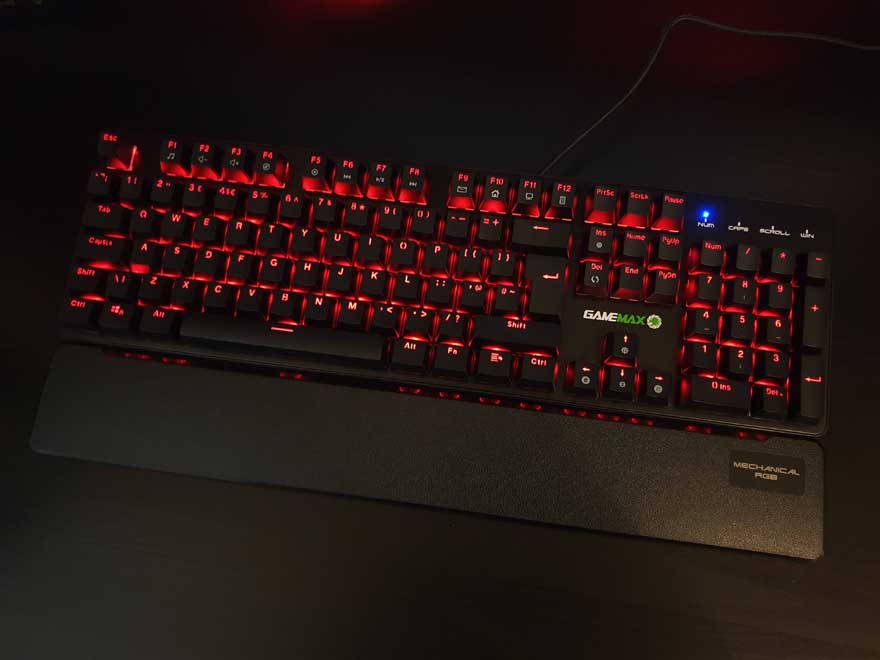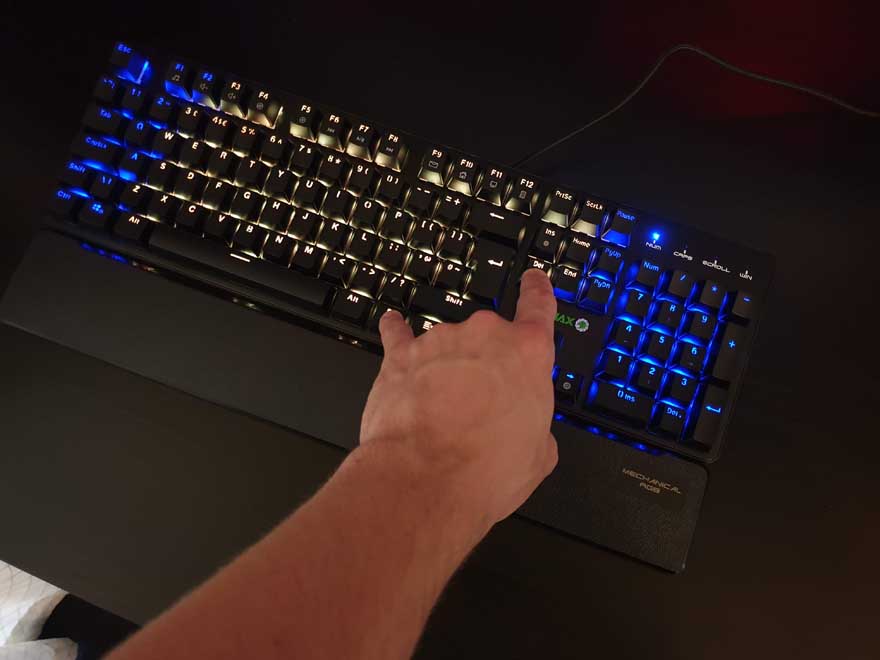 ———————–
How Much Does it Cost?
The Game Max Strike RGB Mechanical Gaming Keyboard is available now from a lot of retailers. We saw it on Amazon UK for just £43.95. However, I have occasionally seen deals pushing it as low as £38. That's right, sub £40 for a fully mechanical keyboard from a pretty big name in the PC market. Minor issues aside, that's a bloody good deal.
Overview
OK, so let's get right down to the gritty stuff first. A few minor issues I could draw up about this keyboard. The cable is hard-wired, and we all know that a detachable one is preferred, as it's easy to replace should it get damaged. The wrist rest uses those cheap plastic clip mounts. The switches are from a brand that I've never heard of. Plus, it sounds little hollow when you bash away at the keys. These are all the hallmarks of a "cheaper" model keyboard. And, well, that's exactly what it is. The "issues" are reflected in the price and I think that's fair enough. If it were £80 I'd flame it do death, but it's not.
Performance
I really can't fault these switches. They may be a new brand to me, but I think they feel way better than any of the other MX Red clones I've tried over the years. The keyboard has a good response to it, anti-ghosting, and all the usual stuff. When it comes to smashing through a game of Borderlands 3 or another binge of Elder Scrolls Online, I can't say I ran into any problems at all.
Build Quality
It's good enough, and I think that's pretty fair of me to say. The housing could do with something added inside to stop it sounding a bit hollow. However, it's pretty durable feeling, the quality is there. The caps look good, the cable is braided, and there's a wrist rest. At this price range, I think it stands tall in a market littered with shoddy import models.
Should I Buy One?
Honestly, at this price, the Game Max Strike is pretty hard to beat. If you're looking for your first entry into the mechanical RGB keyboard market, it's a winner. It's a fraction of the price of the big-name brands but still offers competitive features, aesthetics and performance. It's not perfect, but the price more than makes up for the difference.