Gamer Storm Captain 240EX RGB AIO CPU Cooler Review
---
---
---
Mike Sanders / 4 years ago
---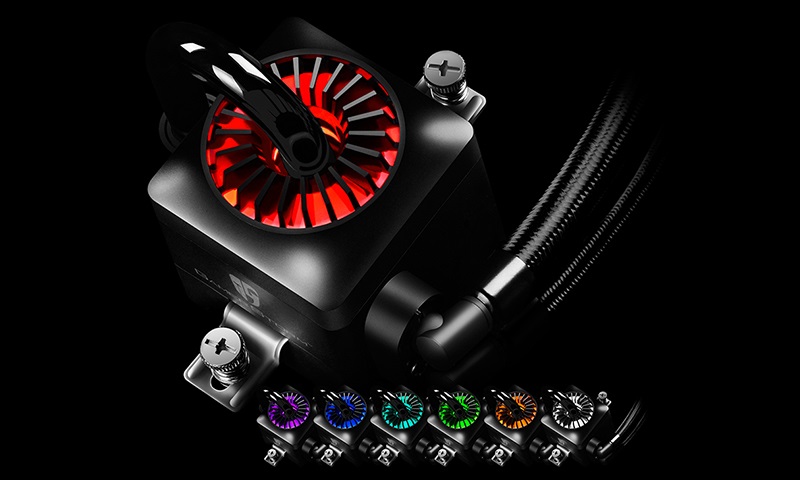 Gamer Storm Captain 240EX RGB
Gamer Storm has quite a unique range of products and concerning manufacturing make a lot of sensible decisions. For example in many of their cooler releases, not only do they release a standard model, but they also release an equivalent with RGB lighting. At the very least, this allows consumers to make a choice based on the divided opinion on RGB lighting in systems.
One of the latest coolers of their to come to our attention is the Gamer Storm Captain 240EX RGB. Yes, the game might be a little bit of a mouthful in a sentence, but this cooler promises a lot of action. Featuring an RGB water block, this might not appear to be anything different than many other RGB coolers, in this instance, however, Gamer Storm is offering something a little extra and different. The cooler may not have lighting on the fans or radiator, but it does come with a totally separate LED lighting strip. This lighting strip adds a whole new dimension to the case and chassis design meaning that you get the RGB lighting where you want it.
Lets, therefore, take a deeper look into the CPU cooler to see how impressive it performs and what the light show is like.
Features
RGB variable lighting system with waterblock and LED strip controllable using a cable controller or lighting software for a supporting motherboard with an RGB Header.
Enhanced high-density water micro-channels with powerful autonomous circulation system provides 10% more efficient heat dissipation.
Amazing glass design & patented visible external-circulation system.
Updated tool-free installation solution with 100% metal clips for solid and secure attachments.
Unique TF 120 double-blade fans offer a higher air pressure for the radiator and achieves more efficient heat dissipation.
Upgraded anti-explosion rubber tube manufactured using an anti-corrosion, crush resistant & thermostable material.
Closed impeller driven by powerful three-phase induction motor delivering stronger liquid flow & pressure.
Ceramic bearing with a long service life of MTBF 120,000 hours.
Insanely awesome steam punk appearance & unique reactor-style pump housing.
Specifications
For in-depth specifications, please visit the official product page here.
What Gamer Storm have to say
"Captain EX RGB retains all the key features of the Captain EX Series, and now integrates the latest RGB variable lighting system with water blocks and LED strips to provide a vastly enhanced visual experience. Use the cable controller (included with product) or RGB Header lighting software (for supporting motherboards) to easily adjust the lighting modes and effects just as you like them." – Gamer Storm
Packaging and Accessories
The packaging puts the water block on nice clear display front and centre. Usually, a manufacturer might include the radiator, which if we're honest doesn't tell you much. A bit of a generalisation I know, but most 240 radiators look the same. In this instance, though it does make sense. The RGB lighting effects are after all the main focus of this product. As such, you might as well make it the highlight of your packaging.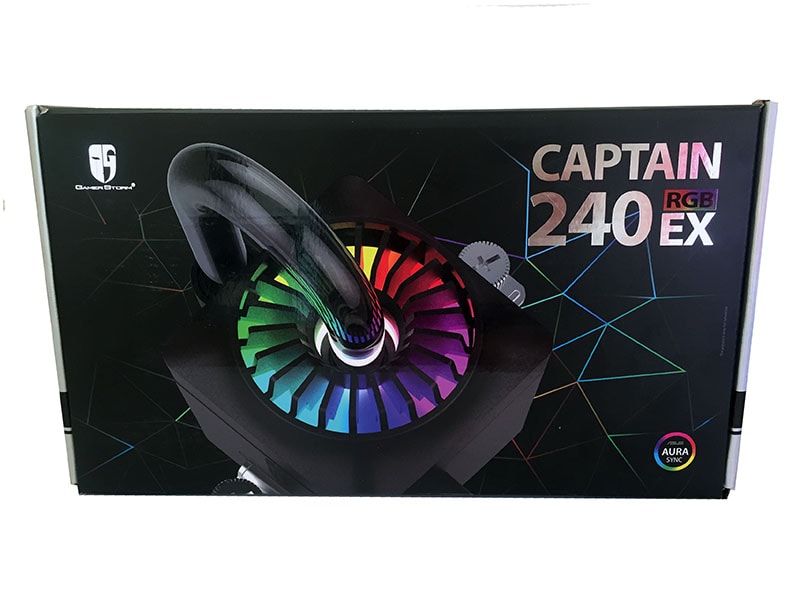 On the back of the box, you are treated to all the technical specification you could want. This includes the dimensions of the water block, fan, and radiator; the Intel and AMD socket compatibility as well as the key features of the product in bullet points. I must credit Gamer Storm for putting all this relevant information not only on the box but clearly legible. It's something that more manufacturers should consider with their packaging. Particularly the product dimensions as they could be quite critical to your system build. You will note on the box that this product is made by Deep Cool and that is a point we will be returning to later.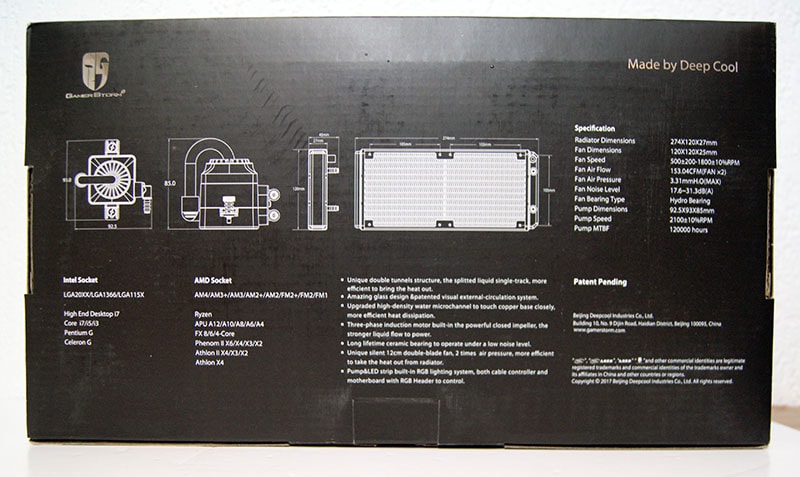 What's in the Box?
When you open the box, you will be pleased to find that everything is well presented and, more importantly, well organised. Everything has a well-spaced insert within the cardboard, and all the major components are individually wrapped in plastic containers. This is fairly standard, but I feel that Gamer Storm has made a little extra effort to make things as nice and unintimidating as possible.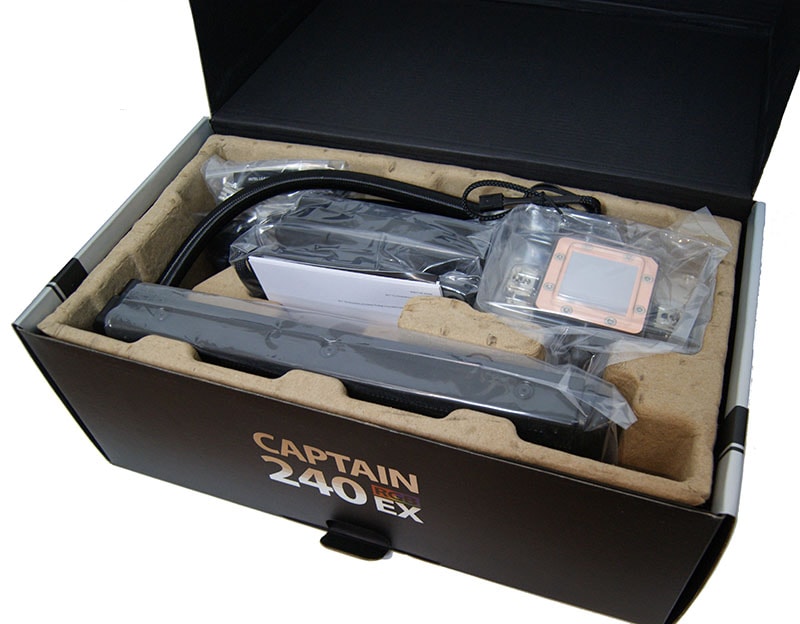 Everything in the packaging is nicely separated with different packaging for the Intel and AMD sockets. In addition to this, you get a multi-port for the RGB lighting effects (which you do not often see and is a nice addition to allow you to get everything and more hooked up); the mounting plate and also a little Gamer Storm badge to mount on your system if you wish.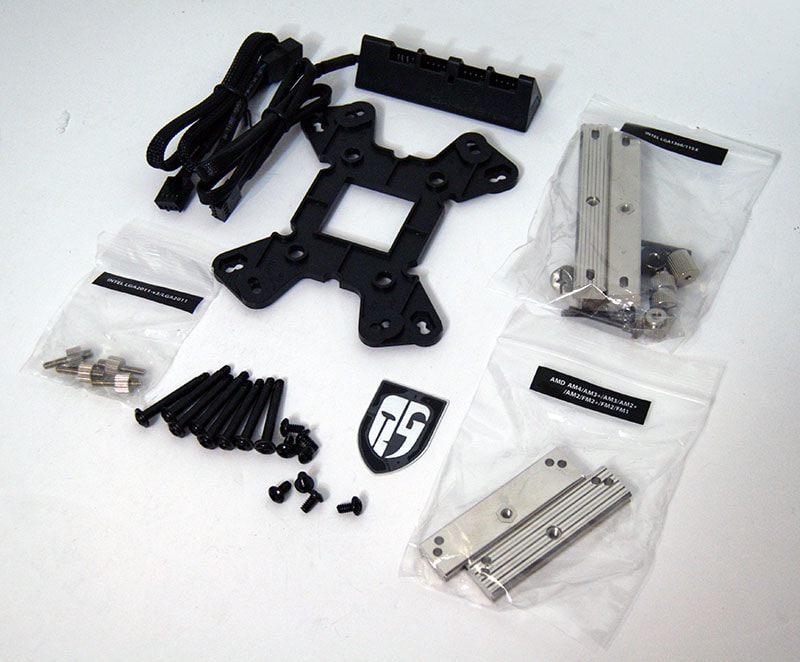 In addition, you get an instruction manual, an RGB lighting strip, the RGB sync adaptor (if your motherboard supports this) and the manual lighting control. The manual lighting control allows you to set up your lighting rotation. This can be particularly useful if, as aforementioned, your motherboard does not support RGB sync technology.