Gigabyte AORUS Z270X-Gaming 9 Review
---
---
---
John Williamson / 5 years ago
A Closer Look
---
The Gigabyte AORUS Z270X-Gaming 9 utilises the same colour scheme as the lower-end model which indicates the entire range has a recurring theme. Personally, I quite like the black and white shades and think they contrast rather nicely to form an elegant appearance. Also, the neutral design should appeal to a wide range of customers while ensuring the colours don't clash with various components. The EK water block adds a more rugged, industrial look and slots next to the large I/O cover. Furthermore, the stunning PCH is reminiscent of a sturdy shield from the medieval age.
As expected, the motherboard employs the E-ATX form factor to accommodate every modern connectivity protocol and offer comprehensive multi-GPU support. Not only that, Gigabyte positioned eight hybrid fan headers around the motherboard which make it easy to install a large number of fans and water cooling pump. The fan headers automatically detect if the cooling device uses a PWM or voltage mode and configures the settings accordingly. Even more impressive, the fan headers can contend with high current fans up to 24W (2Ax12V). As a result, it's possible to use a Y-Splitter and control 3000RPM fans like the Noctua IndustrialPPCs without worrying about the power draw. The motherboard also has nine thermal sensors located at key points including the PCH, power delivery and audio segment. Using Gigabyte's revamped fan control software, you can monitor the thermal values and investigate any problems areas which need tuning.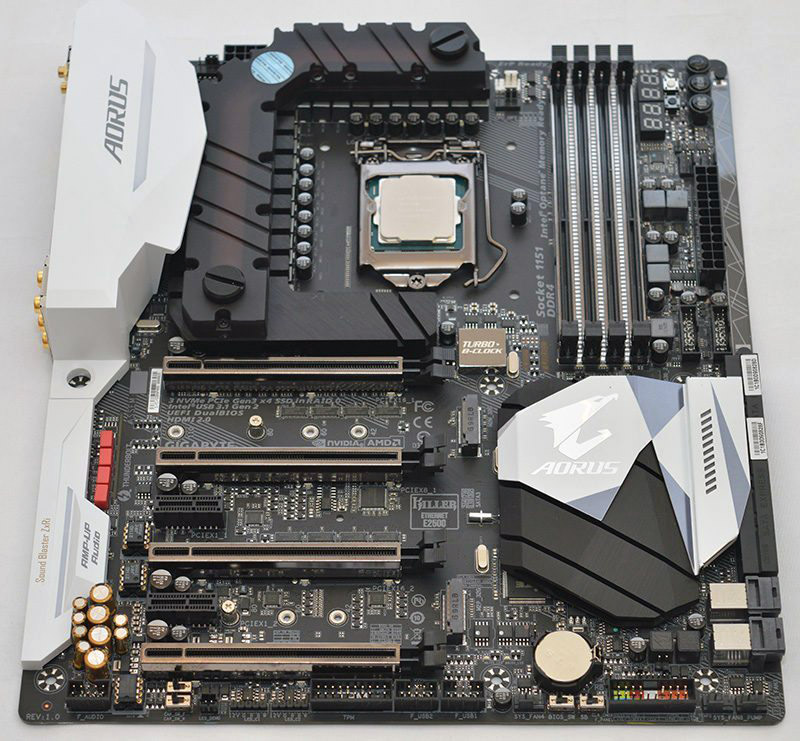 The motherboard utilises a 22-phase a power delivery equipped with 4th generation IR digital power controllers and 3rd generation PowerlRstage ICs featuring iSense technology. This provides a more precise current sensing accuracy and works its magic to evenly distribute the thermal loading between the PowerIRstage ICs. Essentially, this means the probability of overheating is vastly reduced resulting in a longer lifespan and better reliability.
On another note, the motherboard has 10K-rated, low-ESR black capacitors with a higher thermal tolerance and longevity than traditional 5K alternatives. The product's 2X copper, fabric-glass PCB design revolves around a 0.70mm thickness which upholds a sufficient power trace paths between components to remove heat from the critical CPU area. Gigabyte's anti-sulphur resistor design is another stellar addition because it stops resisters from experiencing chemical change and shorting through a resistive Ru02/Glass layer. The motherboard's CPU socket is 15u gold plated which should stop the pins corroding over time and provides a better contact point. Interestingly, the Turbo B-Clock technology opens up the BCLK overclocking headroom with a new linear range adjustment between 90MHz and 500MHz. Subsequently, you can eke out your CPU's full potential and go beyond the previous 5% strap restriction.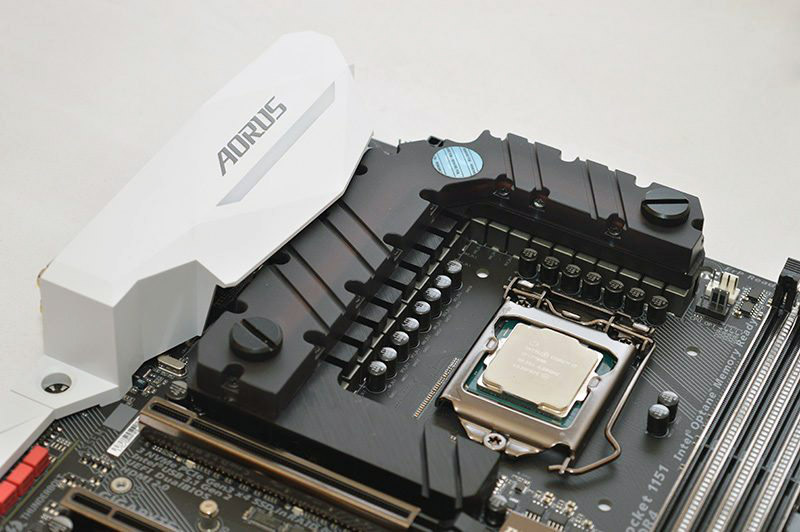 The EK G-Frost water block is an engineering marvel and has G1/4″ threaded fittings to directly cool the VRMs using a custom loop. More specifically, the water block employs an aluminium casing with a large surface density which radiates heat into the air. Also, the copper tubing is milled from a copper block and transfers heat away from liquid passing through. Combining water and electricity isn't without risks and it's imperative to safeguard the motherboard from water damage. Thankfully, the premium water block has a specialised O-Ring design which offers peace-of-mind via a really secure fitting.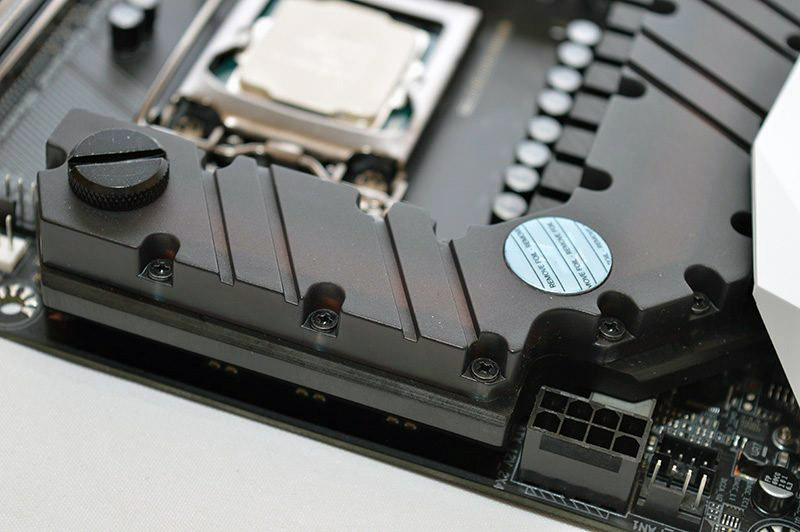 The Gigabyte AORUS Z270X-Gaming 9 supports up to 64GB of DDR4 memory at mammoth speeds of 4000MHz and beyond. Of course, the memory frequency and CPU overclock are intertwined so the stability at higher frequencies depends on the memory controller. The DIMM slots are finished with a stainless steel one-piece shielding which prevents slot damage, plate bending and ESD interference. Also, the memory slots contain LED strips which create the impression that light is pulsating around the individual modules. This is a wonderful effect and you can customise the motherboard's appearance based on your own personal preference.
Given the 22-phase power delivery and other high-end circuitry, it's no surprise that the motherboard caters towards professional overclockers. In particular, the motherboard incorporates voltage points for the VPP_25V, VCCIO, VAXG, VCORE, VDIMM, DDRVTT, PCHIO and VSA. Furthermore, the reset, power and Clear_CMOS buttons help to quickly assess a particular overclock's stability and if it's posts beyond the BIOS. The OC button is another useful extra which instantly loads Gigabyte's optimised profile for your hardware. As the name suggests, the Eco button priorities power efficiency savings, although I doubt anyone will use it on a motherboard of this calibre. Initially, I was really confused by the dual post LED read-out and thought it could be four digits to display codes for the dual-BIOS. However, this doesn't make sense because you can only power one BIOS at any given time. Gigabyte confirmed this with me and said it's simply a move towards clear four digit codes. Another feature to mention is the replacement RGB strip which allows you to modify the pattern and create something really unique.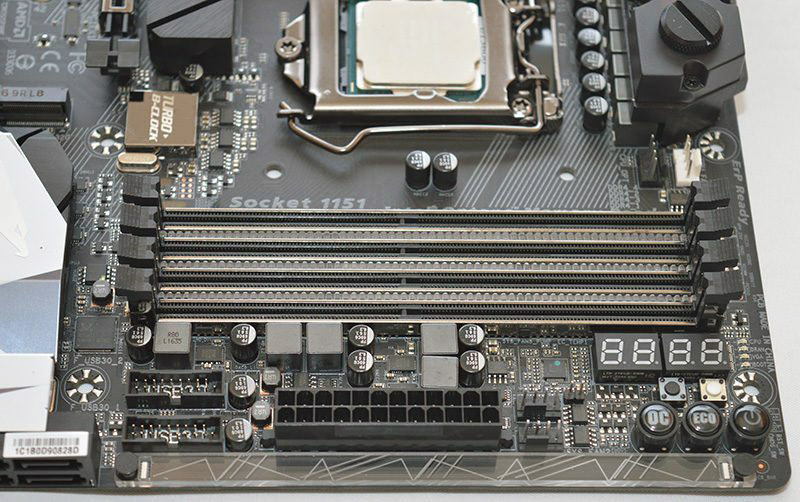 The Creative ZxRi audio solution is a monumental improvement compared to Gigabyte's previous offerings and takes advantage of a dedicated quad-core audio processor and Burr-Brown 127dB DAC. Rather impressively, the audio chipset offers an uncompromised 192KHz/24-bit audio signal which legitimately rivals discrete audio cards. Additionally, no expense has been spared the motherboard includes high-end Nichicon fine gold capacitors which uphold a clear sound at high frequencies. The WIMA FKP2 capacitors are widely deployed in luxury Hi-Fi systems and have an illustrious reputation. After doing some research, I don't think there's another motherboard vendor which uses WIMA capacitors and this is something which makes Gigabyte's flagship unique.
As previously mentioned, the Gigabyte AORUS Z270X-Gaming 9 supports up to 4-way SLI and 4-way CrossfireX configurations. Furthermore, the PEX8747 chip boosts the total PCI-E lanes to 32 which results in a dual-card setup running at x16/x16 compared to the traditional x8/x8 arrangement. If you want to pair four GPUs together for some unknown reason, each card will run at x8 instead of x4. As a result, the motherboard is a wonderful choice for video work, benchmarking and high-end gaming, although multi-GPU support in games is terrible, and NVIDIA restricts gaming SLI support to 2 graphics card on the Pascal architecture. Unlike the majority of rival products on the market, all four PCI-E slots have stainless steel shielding which prevents against GPU droop and provides MEI protection. Gigabyte's design has extra anchor points and is 1.7 times stronger in shearing tests while the retention force is 3.2 times stronger. The double locking bracket adds another source of protection and ensures the slots can withstand a great deal of strain.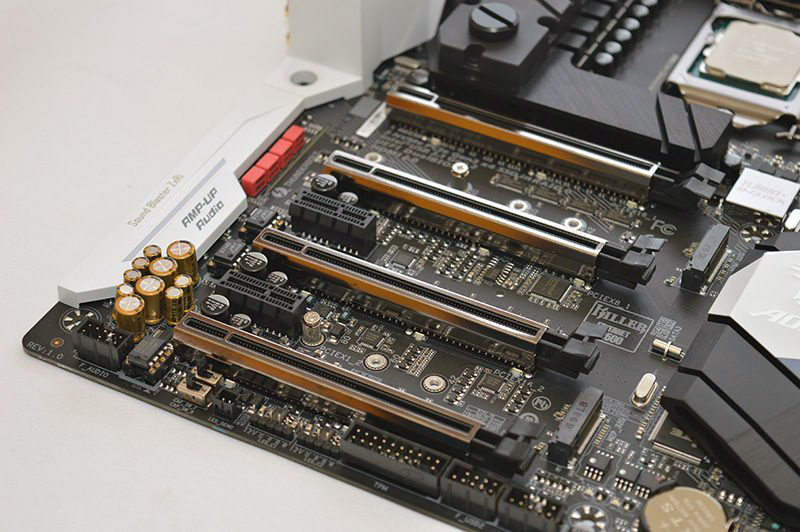 The motherboard contains three upgradable OP-AMPs with each channel using the same PCB trace length. Additionally, the AMPs are reserved for tackling the front audio and left/right channels. The ability to change the OP-AMPs is most welcome and allows you to customise the audio characteristics.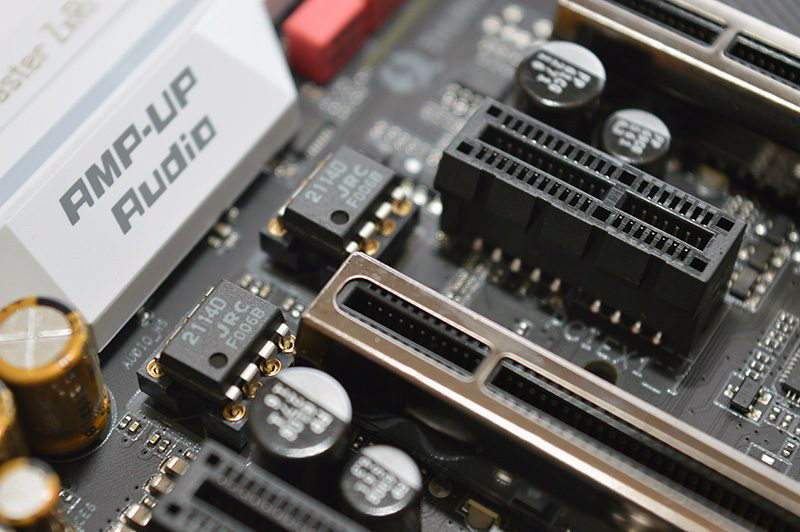 Connectivity-wise, the motherboard is astonishing and caters to heavy users with extreme storage demands. As you can see, the product includes six SATA 3 ports via the Z270 chipset and another two through an ASMedia ASM1061 controller. Furthermore, there's three SATA Express ports, two U.2 ports and two M.2 connectors. One of the M.2 connectors supports type 2242/2260/2280 while the other can work with type 2242/2260/2280/22110 devices. The large supply of fast NVMe storage options means you can reach unbelievable speeds paring an M.2 NVMe drive and two U.2 drives.

The rear I/O houses a PS/2 combo port, five USB 3.1 Gen 1, two MMCX antennas, HDMI 2.0b, DisplayPort 1.4, two Killer E2500 Gigabit LAN, Thunderbolt 3, USB 3.1 Gen 2 Type-A, five audio jacks and S/PDIF Out. Please note, the yellow coloured USB ports utilises a voltage compensator and dedicated power design which creates less noise. This comes in handy when using a USB DAC to reduce interference. The white coloured USB port allows you to perform a BIOS update without the memory or CPU installed!

Gigabyte's RGB Fusion supports 16.8 million colours, 6 light zones and has 8 programmable sections. Not only that, you can attach LED strips directly to two pin headers and control the colours with the company's software suite which has the option to redefine the R/G/B signal. As you can see, the LED around the PCI-E section and really bright and the small hint of colour in the audio chipset's plastic cover is enough to dramatically alter the aesthetic.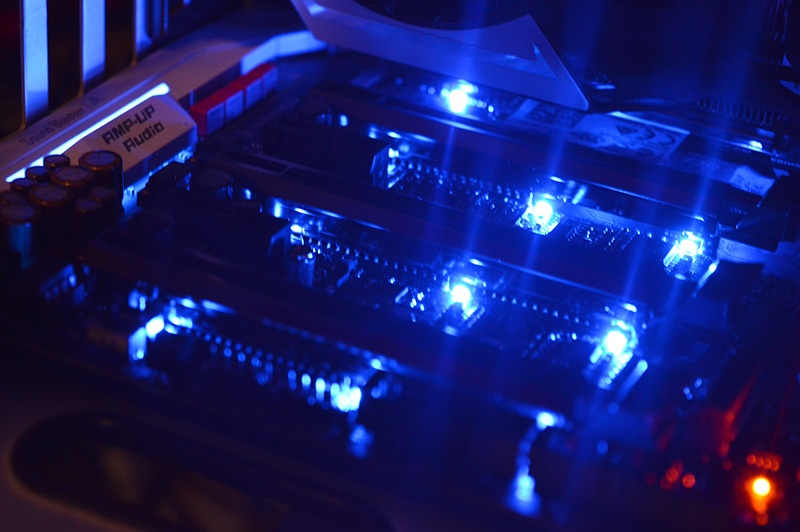 The lighting is embedded into the I/O cover, power delivery and directly onto the PCB. I absolutely adore the LED strip's pattern and think it helps the motherboard to stand out from the crowd.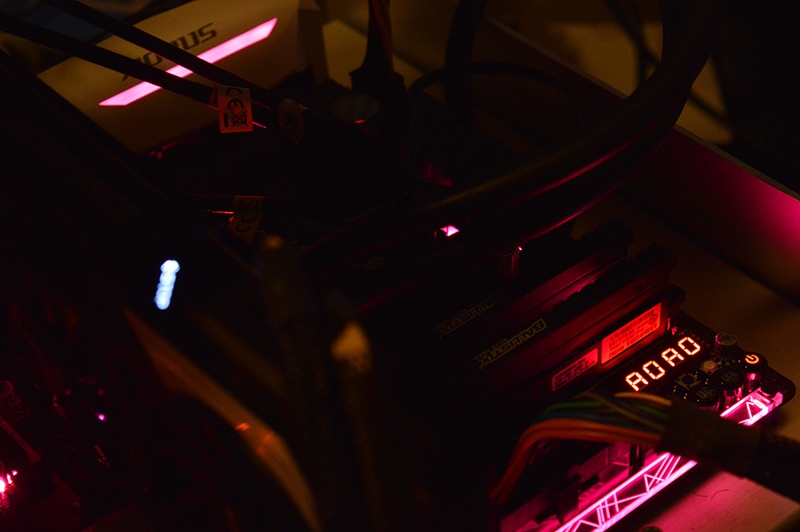 From a wider angle, it's evidently clear that the motherboard's illumination is a real treat and bright enough to change a system's appearance in a striking way.