Gigabyte Brix Pro GB-BXi7-4770R System Review
---
---
---
Chris Hadley / 10 years ago
Introduction
---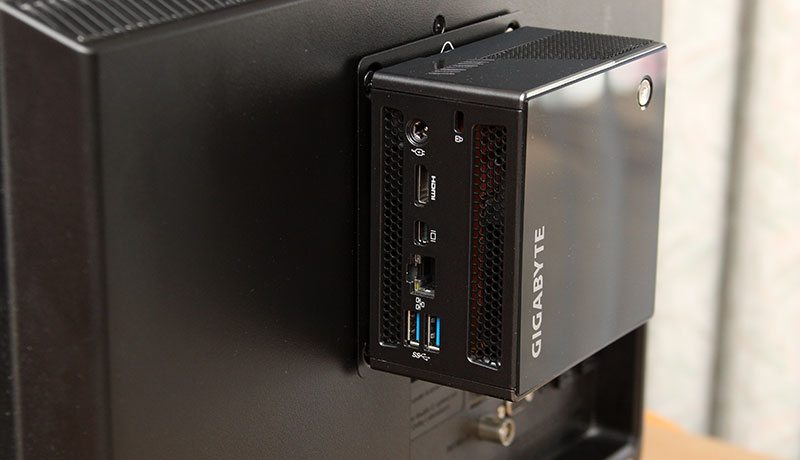 In the early stages of last year, Intel released one of the biggest products of 2013 into the market place and no – it was not Haswell. What I am referring to here is the Next Unit of Computing, or NUC as it is more commonly known. Part of what makes this product so special is its ultra compact design, but on top of that, the system that's tucked inside has a little more to offer over what one would expect from a system of its size. When we took a look at the first generation NUC and also Gigabyte's own first generation Brix, the results that we got back showed the performance to be somewhat average, leaving them at the entry-level end of the scale. Consequently, these systems are ideal for basic home office use, but if you want a little more grunt from your system then sadly these early units just won't cut the mustard.
Since those reviews went live, we have seen a number of Brix branded systems come out of the Gigabyte factories and towards the end of last year we caught wind that there was something special on the way which could potentially remodel the entry-level image that the first generation systems have given us. The question is though, can we really get desktop performance out of a unit this small? Granted this new creation is twice as tall as the first generation Brix, but are we getting substantially more performance as well? Bring forward the Brix Pro GB-BXi7-4770R.
When we take a look at the spec list that the Brix Pro has on offer, the biggest difference that we have to note is the step up to Intel's high performance i7 Haswell CPU. Obviously we shouldn't be expecting a 4770k to be residing in a system of these dimensions, however the 4770R that we do have is actually not a million miles off what its bigger brother has to offer. With a TDP of 65w and a core clock speed of 3.2GHz boosting up to 3.9GHz, there is certainly a lot of poke beneath the covers so we have got the spirit of a 4770k, although overclocking is not present and the power envelope has been reduced to save on the power consumption.
Model: GB-BXi7-4770R
CPU: Intel Core i7-4770R @ 3.9GHz
Cooler: Copper heatsink with blower fan
RAM: Support for up to 16GB 1333 /1600MHz DDR3 SODIMM
Storage: mSATA slot plus SATA header for 7.0/9.5mm 2.5″ drives

GPU: Intel Iris Pro 5200 Onboard GPU
PSU: External 135W DC adaptor
Network: Realtek RTL8111G Gigabit LAN, AzureWave AW-CB161H mini PCIe 802.11ac WLAN / BT 4.0 combo
Misc: HDMI & mDP display outputs, 4x USB3.0, 3.5mm audio / SPDIF, VESA 75 & VESA 100 compatible
Warranty: 2 Year Standard
Naturally it is a little hard to test a barebones system as it is so we need to add in a couple of key components before we can put everything through its paces. Over the specifications listed above, a 240GB Intel 525 series mSATA SSD and a 1TB WD Red 2.5″ HDD have been added for storage along with 8GB of Kingston's 1600MHz ValueRAM.
In addition to the i7 processor, the other key component that the Brix Pro has to offer is Intel's latest Iris Pro 5200 series graphics. Now at this point I can imagine that a few of you out there are shrugging your shoulders at the thought of Intel graphics, but Iris Pro is nothing like the HD4000 series graphics that we find onboard a 4770k for example. Simply put Intel have stepped up their game with Iris and reworked the way in which their graphics core works to offer up much more power and performance. In simple terms this means that there is the potential for gaming at an average level of detail and this is there for the reason why the Brix Pro has been featured recently as part of the Steam Box era.
Whilst I do state that gaming is a potential application for the Brix Pro, the more modest graphics performance that Iris has to offer is not going to make the Brix Pro the perfect alternative for your full-fat pixel pushing gaming rig – it is just a more tame alternative. Where the Brix Pro is also suited is with the prosumer user group, where image editing and design work requires the more powerful Intel processors and where applications such as Adobe Photoshop relish when surrounded by the higher specified components. By the time we take the price of the bare system and add on the extra components that we have used here (not including operating system) we are looking at a ball park purchase price of around £880 in the UK or around $1080 in the US.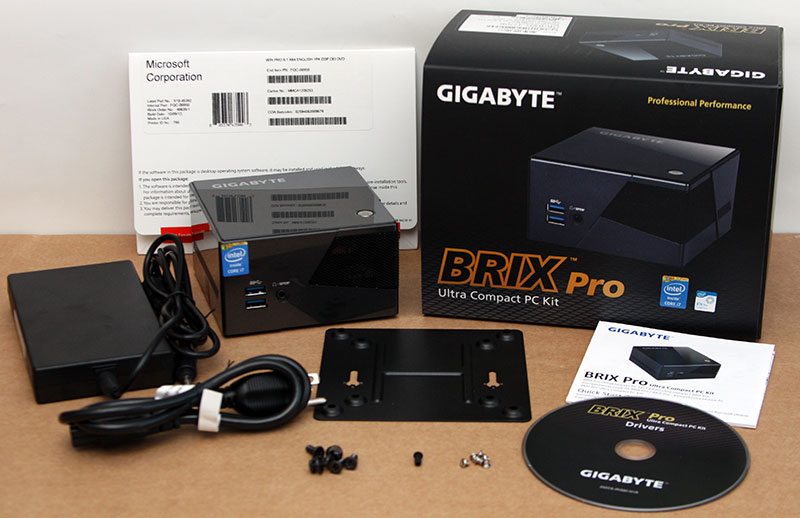 Like the Brix Pro, the packaging is condensed right down with almost no space going to waste. Tucked neatly inside the box, Gigabyte include a full driver set and setup guide, regional power adaptor, VESA bracket and screws for mounting the system to the back of a monitor and finally a small rubber bung to close off the SPDIF output on the front of the system.